Writing Prompt ~ Reported Questions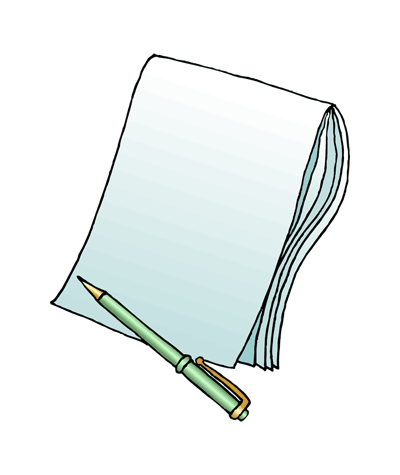 Writing Prompt: We use reported speech to tell someone what we have heard or seen. We use reported questions to tell someone what someone has asked. Review the structure and use of reported questions. Then write a letter to a friend telling her about a visit or chat you had with a long lost relative or friend. Use as many reported questions as possible. Remember that reported questions are punctuated with a full stop [.], not a question mark [?].
Example
Hey Louis,
I phoned our long lost cousin Waverley this weekend. She wanted to know why Jim and I hadn't called her in years. I told her we have been busy raising our kids. She also asked how you were doing. I told her you were studying science at university. She asked if you were going to get your PhD. When I said yes, she asked whether you would come and visit her in Montana. I told her I would ask you. It's funny. She asked if you would visit, but she didn't ask if I would visit. I asked her why she always liked you better. She said you guys spent a lot of time together when we were kids. Just before she left, I asked if I could come and visit her sometime. She said she was pretty busy.
Jim asked if I would ever call her again. I doubt I will.
Leah
33 comments
Madhav says:


Hi Raju,

I hope you are settling in well in the new city. Last week I stopped by our school while taking a stroll. It felt like a long time, a lot has changed. I learnt that all our teachers except Mr. Srinu had dispersed. I had a nice and lengthy conversation with him over coffee. He asked about my education progress and during the talk your name came up.
He asked me where you are. I told him you got accepted in to an Engineering college in the country's capital. He said he was delighted to hear that. He then asked me your major and I told him you chose Civil Engineering. I told him of your aspirations to upgrade the country for the 21st century. He said he cannot believe how quickly we have grown and is really proud of us.
He said he will be exuberant if both of us can visit him sometime. I told him I will check with your holidays and your availability. He gave me his number and also tole me to pass it to you. I am copying the number below. Be sure to call him and also tell me of your thoughts to visit in your holidays.

Take care,
Madhav

Michelle says:


Hi Jack,

Mom called me yesterday. She said she saw the news and asked if we were safe. I told her we were safe and no need to worry. She asked how you were doing with school and wondered if we could go home during winter break. I told her I would love to go to visit her after the pandemic was under control. She also asked if you could call her when you were free and she said she had not heard from you since July. She also told me that Aunt Mary would travel to Boston next month and asked whether we would like to meet with her. I said I would love to but I would check with you.

M

alwafaa says:


I called my mom yesterday, I asked her about my dad after surgery,she saied recentely he is better,she requred from me to make pray for him and all then,she asked me if I feel alone or sickhome in USA aduring civid 19 ,I told her I am fine and everything very well ,I did not go out from home for long time but,my son go out just for shopping and we do every thing for safety

TMsolarbean says:


Hello Júlia,
I meet Amanda yesterday, she asks me if I've been talking with you, and how you doing. I said you're good and studying dance in new york, she wants to know about your life in NY. If you make new friends and fall in love with someone, well, I'm waiting for your responses, see you in December, I love you!!!
With the love of your big sis.
Thais Májory.

Raied shamoon says:


Michael I phoned our long long friend Ivanka.I ask her how is she now. She said she was having a graduation today as a flight Stewardess and after her graduation there having a dinner with her parents. I ask her if she come and visit us.She said yeah early next year.

Mohamed says:


Dear Mohamed,
Thinking about, one day there was a girl who was friend with ahmed during winter weeks, she wrote a long email with him each Friday and requested him to meet with her but unfortunately he had never met with her before and that time was for the first time they met face to face.
The fun story was he had never been knew where she has been found his contact both email and phone, when he told me I surprised and asked myself how this is possible when he did not meet for her and there was no communication between.

Best regards,

Phathutshedzo says:


Dear Fifi,
Guess what, remember that girl who was friends with Oratilwe Matiea at winter week, she texted me on Friday and asked me if I am a co-worker and I said yes i was shocked where she got my numbers from, her name is Mathapelo if you have forgotten her name.

Love,
Phathu

leehuy says:


I called mom last Sunday when I had traveled in Madrid. She asked me if I felt alone and homesick in this time. And I answered I was fine and felt better day by day because it would be the value time for me to experient at new one place with my friends.

assma says:


hi every one , I read your comments on how to write ? i had no idea before , about daily writing., but when i started searching about it by chance i have got many ideas from your written opinions , i intend thanks to every body

Budi says:


Hi Dad

Yesterday, your friend Rudy, came home. He asked me wether you were at home or not. I said that you were going abroad. He said to me where his book was. He said that the book was borrowed by you 2 weeks ago. He asked me wether I knew the book was saved. I did not know where the book was. So, I asked him to wait for a week until you back home.

budi

Fernanda Fareli says:


In times to Coronavirus, my Mom and I went to go shopping in a Supermaket. I asked her to use disposable gloves to avoid contagion. She asked me if it would be enough and I answered that no. I told her that she would have to take a shower when we arrived at home.

Haz says:


Linda.
Last weekend was nuts. We had so much fun in that trip to the montains. I tried to reach you by phone a few times but nobody answer.I writing this to yo to make sure you're all right, please let me know you're okay and if you need something. I'm planning to make dinner next friday and obviuosly, you're invited. It will be something small and just with Ana, Carlos, Lauren have confirmed.

Haz.

Uraniumfever says:


So I give it a shot and I'am so very sorry for my bad English:

Dear Canopus,

I want to tell you something since you're asleep when I went off and I don't want to disturb you. Mom told me that you should take the dogs for a bathe and don't forget to feed them for lunch and dinner. I can't say if I will be home before dinner. And she added that don't forget to throw the garbage at night or you will be pissed off. HAHA!

Hack

Smada says:


Hi twins,

I hope you feeling very good, Mum said " you learn the alphabet, and you are very good on", I hope for that it is true. I will comeback for the holidays, Don't forget my plants and keep my bedroom clean.

OSMMAN says:


Hi Dad
Lastly I talked to my mother about missing her a lot since I left my country looking for good life for my family and to increase my income by getting the present job which I do it here the nights here are very long without my family , Many times I keep studying to improve my skills and I am always having pretty experiences during my learning journey.

Anna says:


I phoned my mom this morning. She was hanging out with her friends. I asked Her if She was well and was having a good time. She said that everything was fine and She was going to have lunch with Her friends . She said that later would talk to me. I said I was okay and would wait for Her call.

Esteban Rayo says:


Hey Anna

I phoned our long lost friend Chiara this weekend. She wanted to know what why you and I hadn't called her in years. I told her that I had been trying to communicate with her but I did not have her phone number. She asked also how you were doing. I told her that you were studying Literature in Alabama. She asked if you were going to do your PhD. When I said yes She asked whether you would visit her in Italia. It's funny. She asked if you would visit. But she didn't ask if I would visit. I asked her why she always liked you better. She said you guys spent a lot of time when we were children. When we said goodbye to each other I aske her if I could make her a visit. She said she was too busy.

I probably will not call her again in the future.

abdi says:


i got phone call from my lost brother who was gone for more than 30 years. He says "" Hello is this abdi. I was like yes what do you want. Then he told lets meet in this place , he give the location. I took me and my brothers go to the location
and when i saw him i couldn't believe it . My reaction was suspicious tiers on my eyes. We talked a lot. I asked where you been he told me he was in the businesses

Juli says:


I received a call from a friend who I did not talk to in a long time. She asked me, if I am back in my home country. I said yes, she was surprised why I did not tell her that I have returned back to my country. I told her I sent messages to her phone several time, but I did not receive an answer.

J H says:


I recieved a call yesterday , somone asked me , can u talk to me for awhile , I told her , yes, tell me what do you want?she said I just want to talk with you for a hour.I asked her,for what purpose she replied , I am feeling alone and I need to share my secrets.I told her I am really sorry I cant talk , she asked me why ? Any reason for not talking to me , I told her , how I talk to you even I dont know you , and I dnt like to talk with stranger , she said I am not stranger I am your friend than I said all right! so please introduce yourself who are u ? She said I am your soulfriend. I shocked, after few second gap I told her are u kidding me?
No I am not kidding but I saw you in my dream last night than she started saying peculiar things.

estrella says:


i getting rape help me my brother is hurting me a lot help me please i don want to get raped help! l am going to die please help i am going to kill myself!

Tania says:


Hi Pam:

I called Yunn last weekend and she asked me about you. She told me she missed us, she would like to know why you had gotten angry with her after your birthday party because since then you had not spoken with her. I even did not know you hadn't talked to each other since then. She also suggested why we don't meet in the coffee shop in downtown. I hope you could, I told her I would like to.

Tania

may says:


Dear Nataley,

how are you? I'm pretty good. I had a conversation with my father last week, i thought it's time for me to tell him how i feel about our closeness to each other. it wasn't easy for me to tell him all this things after years of desire to be more close and caring even though i felt a relef after everything been said.

i hope it will make a change.

Molly says:


I phoned my mum last night. I asked her how she was doing. She said she was pretty good. She wanted to know why I hadn't gone back her home last weekend. I told her I have been busy studying. She also asked if I would go to her home this weekend. I said yes. Then she asked me if I wanted her to pick me up. I said I was not sure, I would walk home from the bus station if the weather was fine. I asked her to cook dinner for me on the weekend. She asked me what I would like for dinner. I answered dumplings.

Lucy says:


Last week a wife of my cousin asked me if I were ready to prepare a short video greeting for her husbands birthday. I was surprised, as we have never talked before. I asked her why she would need it from me. She responded that she is about to organise some surprising video with best wishes from all his relatives and I was one of them. Of course, I said yes, I liked the idea. I promised her to be able to prepare all she has asked for just the very next week and send it to her through my mobile phone. She was pleased to hear that.
We then chatted for a while and hunged on.

Vivi says:


My daughter called me at work this morning, asking me if I would be home for lunch, I answered "no, I`m working", She then asked me what could she get for lunch? I suggested mashed potato and chicken, She then asked me If I would be home for dinner, I answered her "yes, I will", she then asked me to cook dinner for her, I asked her, What would you like for dinner? She answered me, Mashed potato and chicken. That's her favorite food.

Gaetano says:


Hey Giuseppe,
I called Francesco last night. He is in London. So I asked you why and for many time he will stay there. He said he is working for a periodical and won't came back in Cosenza for this month. He will came back in December for Christma's day.
At the end he asked me if have you a girlfriend. I said no. However, what do you thing about his new job?

Gaetano

Nick says:


Hey Jack,

I met our common school friend Mike last week. He was asking me about you and your professional life since he had no contact with us for a long time. Also, he asked me if both of us could meet him before he moves to another country to work and live. You can expect a call from him as I gave him your contact number.

Haveaball says:


Dear family!
The beginning of the letter, I don't know to speak things arpart from sending best wishes to our family. At the moment, I'm studying well at university. If there's not change, I will graduate from Science College on next September. The last Thurday, I called father to ask whether this summer I could go back home to take my bike with me. I'm going to go camping together with some friends and I need it to use. This could be final activity of mine prior to leaving school.
Mother's son.

Garima says:


Hey Namita,
I called Manju yesterday. She was asking about you and your fiance. She wanted to know whether everything is alright between both of you. I told her that everything is fine.Further, she asked when two of you are getting married.I told her that you are trying to resolve the family issues, once everyone is convince, you will get married.

Garima

Paola Suarez says:


I was talking on phone with my Dad and he asked me how I was doing, I told him that I had traveled to NY last week, then I asked him how he was doing and he told me that he had been reading a new book from Dan Brown because he already had read the book from Benedetti

andrea says:


Paulo

I was speaking with my mother, she is in Chile. I was asked when she come back to visit, she asked me whether we have space in our house, I told her that we have one bedroom to visit. She asked if she need visa, I said yes. Finally she asked me if she can flie by the end of the year.
What do you think?
Andrea

Nhan says:


if she asked me, I would say "I am pretty busy, please don't ask me more" 🙂