Writing Prompt ~ Going To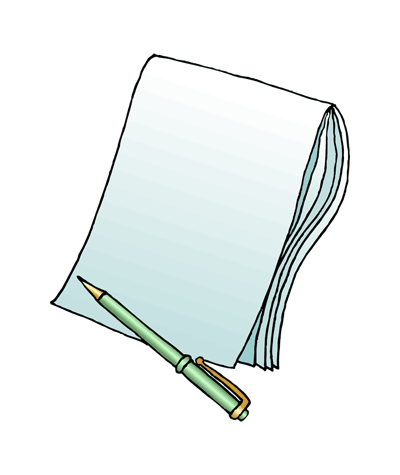 Writing Prompt: What are you going to do today? "Going to" is used for future plans or intentions. It can also be used to predict the future based on evidence. Review how to use going to here. Then demonstrate your understanding by writing a postcard to a friend or family member from a destination you just reached. Explain what you are going to do this week. Include some predictions based on evidence.
Example
Hi Tracey,
We just arrived in Florida. I am going to unpack our bags after I write this postcard. It is raining now, but I think it's going to clear up soon. We're going to go to the beach when the sun comes out. It's going to be very hot. I'm going to bring an umbrella, a hat, and some sunscreen. We're going to order a pizza tonight. Your dad doesn't feel like going out for dinner tonight because we're going to be eating out a lot this week. I'm going to miss you! See you next week.
Love Mom
PS: When are you going to go on holiday?
Try this writing prompt in your notebook or on your MyEC blog.
333 comments
Asnakech Tinkish says:


Asnakech, says

Hi Samah?

I am going to work today and after work I am going to shop from Giant. Because it's close to me, I am going to cook our dinner. But my husband doesn't feel like going to do Laundry for his dad. There for I am going to do Laundry for my father-in-law. see you tomorrow.

thanks
see you

Santos valdés says:


Hi Nilson
Friends told me about a tourist site in Antioquia called Jardin this weekend we are going to travel with my wife.
The weather has been cold, but I think the weekend will be sunny.
The town is small but you have many tourist sites, we are going to visit the path of the herrera, then we are going to enter a tunnel that has bats, from there we are going to walk 20 minutes and we are going to get off on an aerial cable called "La Garrucha "to the city. The next day we are going to visit we are going to go to many restaurants to try typical foods and try the different coffee sweets.

If you want to join us, call me and we meet to go.
Regards

Brandon Yael Padrón Velez says:


To Ian
Hi Ian, how are you, I hope really fine, I am in my vacation in Acapulco, the weather in warm but i think son is going to rain, right now i am unpacking my suitcase, after i'm going to eat at the hotel cafeteria, the next saturday, I'm going to swim in the sea and i think the next week i'm going to buy souvenirs, well i hope to see you soon.
Your great friend Yael

Gloria says:


Hello aldahir
Today I am going for a walk through the center, would you like to join me? We could buy some candy. Then I will go to my house to play video games.

I await your response, brother.

Aldahir says:


Hello, Gloria
At 1 in the afternoon going to your house, you know, sit on the couch, play Clash and eat potatoes with maruchan. We can also take photos, which you like very much XD.
I'm excited since I want to tell you what happened to me last week

See you in a while.
With love, your brother, Aldahir

Samantha says:


hi Dayanne. How are you?
I just go to japón
I will arrive at the arport at 2:00 pm
it´s a day cloudy but is perfect to wolk.
i´m going to go the un pack our bags after i write the podcast with my friend. we are going to tokio in the tomorrow. i´m realy realy exited. then, we are toing to the japanise restaurant because i need try the ramen. the next day i´m going to go the kiyomizu-dera, then i´m going to stay in a hotel center and i´ll be back.

See you in this week sister!
i miss you..

Valeria says:


Hi Linney, how are you?
I´m going to arrive in Mexico city, i´m going to visit my family and maybe my mom leave me go to the center. I´m arrive at 5:20 pm of monday, maybe you can go for me. we can go to take a ice cream and talk about everything we do this 4 mounthsI really hope see u miss your laught.
all the love xxx:)

Ilse Reyes says:


Hi Isa, I hope you are well. Lately I have been very busy with my jobs and I have not had time to talk to you. Even so, I hope you are having a good time on your trip to Mexico. I heard there are incredible videogames. I miss you too much, I hope we can meet one of these days that is free.
Oh right, I haven't told you, well, I'm thinking of getting into design courses because in my career they ask me a lot, so it would be great to get into one, wouldn't you like to come with me?
You can not tell me later, I hope you are well, I send you a kiss I love you and take care of yourself.

atte: ilse.

Laura says:


Hi Mom!
We have just arrived in Mazatlan and the first thing I did is write to you, I am very excited about this trip with my friends, we plan to do many activities. In the evening we´re going to a restaurant for dinner and then go for a drink. Tomorrow we´re gooing to visit museums and the center, I hope to find something nice to take as souvenirs for everyone. On Saturday we´re going to a boat trip to see some beautiful caves and islands.
I wish you were here, I love you mom.
Someday we will meet you and me together. Take care, see you soon.

Axel says:


Hello Jesus
I just arrived in Mexico a few hours ago I think I should go out a little to know the place and I going to Spanish classes so I am very excited going go to swimming lessons which is very good good I say goodbye I hope be fine.

Paolo Lucio says:


I just arrived from my trip, I am very tired and I really do not think we can play today, but I was thinking about going to eat tomorrow, also to give you some things that I bought for you and your brother, besides, I want to tell you how I am going to go out with a woman who is really beautiful
Ps: Tell your cousin that I'm going to his house to deliver what he asked for

Brenda Martinez says:


Hi mom
I'm very happy to write this postcard, i just arrived in Amsterdam and i'm in the airport, i'm going to go to hotel to leave my bags and rest a little, tomorrow i'm going to go to tour te city with my friends, we're going to visit the canals of Amsterdam and the House of Anna Frank, i'm going to go to shopping. On friday i'm going to visit the flower market and The Van Gogh Museum.

These weeks that i'm going to be without you i'm going to miss you so much, take care, see you soon.

Brenda

flor marina mata avila says:


Hi Nhoemi
we just arrived in acapulco.i am going to unpack our bags after i write this postcard. it is sunny now. we are going to the beach when in the afternoon. i am going to bring an umbrella, a hat, and some suncreen.we are going to order chinese food tonight. my mother does not feel like going out for dinner tonight because we are go to eating out a lot this week.i am going to miss you! see you next week.

Luisiana says:


Hi, Sofi!
I want to tell you that today I'm going to do all my homework that I needed to do on vacation. I have a lot. I'm also going to de DUI department because I have to do a practice then. Then I'm going to come back home. Hope to see youy soon.
XO XO.

Aridai says:


Hi Mom.
I just got to cancun
I will arrive at the airport at 4:00 p.m.
I love the day, it is cloudy and I can take to take pictures.
I'm going to see my aunt how she laughed at 5:00 p.m. and then
I'm going to walk along the beach. I need to reflect
See you n a month mom, I love you.

FERNANDA says:


Hi Maria , I just arrive in new york. i am going to arrive in the airport at 7:30 am. It is a day cloudy but is perfect to walk.
i am going to go the theater, i like to watch the comedy.
i am going to take the dinner after the match. I will buy a pizza and some beer ,you recommend some restaurant.

i am going to stay in a hotel in the center.
see you in this week,
bye

Patricia says:


Hi susan!

I Almost arrived at queretaro city, I am going to stay first in a hotel near the main square, Im going to look for a restaurant that my aunts recomemded me, Im going to a night bar to dance with my friends and tomorrow I will gp tp the water park which is one hour from here.
we are in touch Ilove you friend.
see you:)

Lizbeth says:


Hi Ana justo arrived in New York, i arrived at 5:30 am. I going to unpack my suitcase and ofter going for a walk through the streets of the city, it is a sunny day it is very good to walk and go to some park.
I found a friend and i'm going to have dinner with hin after or to visita mi brother.
I would like you to be here, i will miss you. See you when the holidays are over.

Lizbeth says:


Hi Ana justo arrived in New York, i arrived at 5:30 al. I going to unpack my suitcase and ofter going for a walk through the streets of the city, it is a sunny day it is ver good to walk and go to some park.
I found a friend and i'm going to have dinner with hin after or to visita mi brother.
I would like you to be here, i will miss you. See you when the holidays are over.

Lizbeth says:


Hi Ana justo arrived in New York, i arrived at 5:30 al. I going forma a walk through TVE streets of TVE city, it is a sunny day it is ver y good to walk an go to some para.
I found a friend and i'm going to hace dinner with hin after por to visita mi brother.
I would like you to be here, i will misa you. Ser you when TVE holidays are over.

Fernanda Leal says:


Hi mom!¿how are you?, I,m fine, in Guanajuato there are many atractions, tomorrow, I am going to visit a new museum, also, I am going to drive to Cerro del Cubilete, it is a mountain with a bigger Cristo is very beautiful, I am not going to sleep tonight because I am going to go a Disco, and I am going to dance all night.
I hope you are having fun time too.
Good bye mom!.

Raziel Esmit says:


hi jhanet

I arrived in Veracruz this holy week I going to the beaches to swim and I goingto also go for a walk around the city and buy souvenirs I hope you are having fun in this vacation too

ATTE: esmit

Rocío meza says:


hello mom.
i write from italia, i going to travel at home the next wekeend. I will carry the memories you asked for.
I am very excited to show you all the places I visit.

I will be home soon.
I love you and miss you.
Rocío.

Karina says:


Hi Alan!
We are arrived in Korea, it´s really beautiful. i´m going to one restaurant whit Fernanda right now we think the food it´s goingo to really diferente to Mexican food. Well after eat we going to sleep in a hotel we are really tired and maybe tomorrow we arew gointo to buy a new closed and walk on the super mall. In the afternoon we going to visited different museums or monuments. This contry is really different! i´m goingo to take a some photograph to send you.
See you soon, I love you
Karina

Alejandra says:


Hi Aarón,how are you?
I hope you are fine.
I'm getting to Guanajuato, it's cloudy so I think it's going to rain and I love it. This night I'm going to go to a bar with my friends and we will listen some music. Tomorrow I'm going to go to some museums with they, it's going to be a beautiful day with the rain and company.

I think Karen is going to having a party because she started to buy food and some drinks, may be is for Daniela's birthday. I'm very happy to be here, I will write to you soon, I love you!

Ale says:


Hi Aarón,hoe are you?
I hope you are fine.
I'm getting to Guanajuato, it's cloudy so I think it's going to rain and I love it. This night I'm going to go to a bar with my friends and we will listen some music. Tomorrow I'm going to go to some museums with they, it's going to be a beautiful day with the rain and company.

I think Karen is going to having a party because she started to buy food and some drinks, may be is for Daniela's birthday. I'm very happy to be here, I will write to you soon, I love you!

Lizeth says:


Hi MOM.
I just arrived in Finland. It's a beautiful place. I'm going to visit the city. I'm going to buy some souvenirs, before I forget it. The weather is too cold. I'm going to put on many clothes. And I think I'm going to take rain boots. At night, I'm going to out to see the northern lights, I'm going to take the camera and I'm going to send you many photos.
See you soon, I love you.
Lizeth

Lizeth says:


Hi MOM.
I just arrived in Finland. It's a beautiful place. I'm going to visit the city. I'm going to buy some souvenirs, before I forget it. The weather is too cold. I'm going to put on many clothes. And I think I'm going to take rain boots. At night, I'm going to out to see the northern lights, I'm going to take the camera and I'm going to send you many photos.
See you soon, I love you.
Lizeth

Jesus Edgardo Martinez Noriega says:


Hi Tadeo
I just got to CD, Mexico. I am going to the hotel Holiday Inn, then I am going go to work at the Agency in Lamborghini, After work I am going go to dinner at restaurant, I am going arrive at the hotel at 11pm.
After arriving I going take a bath, and I going call you when I finish bathing.
In the next day I going not work because is saturday, I going to stay at the hotel all day Saturday and Sunday.On Monday I going start back to work.

Gabriela Figueroa says:


Hi Daniela! How are you?
I just arrived to Puebla , I recently arrived at the hotel and I am writing this to you.
Tomorrow I am going to eat mole poblano after Im goig to walk in the city and finally i will sleep.
On Wednesday I am goig to meet my best friend and he is going to tell me a little about the tourist places and Thursday I will return home.
I will take you a gift!!

Astrid Moreno says: says:


Hi, Angelica, how are you?
I just arrived in Canada and it is beautiful I hope to go in two days to Toronto I will go to all the museums that are possible and I will also eat everything I find and of course I will take you a present, I come with my daughter and she also sends you Greetings.
We hope you are ok.
With love Paula and Astrid

Gabriela says:


Hello iris, I am traveling through the Huasteca potosina and I will tell you what I am going to do. I'm going to swim in the cascade of old mines. My sister and I are going to eat fish. I'm going to dance at the party at night. and I'm going to buy new clothes, I hope to see you soon and I will miss you so much. I will buy you a souvenir necklace. Goodbye and greetings

Diego says:


Hi Gusi,
I am arriving in Italia. In one week, I will go to Japan, and there I am going to eat a lot of makis. In Italia, I have the desire to eat pizza. Athena is going to buy some clothing, while I am to visit some museums. At the night, we are going to snack in the hotel or in somewhere near. Tomorrow I will send you this letter.
See you.

Monica says:


Hi Bertha. I just arrived in España. I'm going to take a taxi to get to my hotel in Madrid and tomorrow i will to walk in the center of madrid and i wiil visit the museum "Soralla"

The next week i will travel to the beach of Malaga.

I am very excited for this trip
I hope to see you soon, I love you

Stephany Vazquez says:


Hi cousin
I´m going to take the bus from 9 am to Valles. When I arrive I´m going to have lunch. Please tell my mom that I´m going to be in the downtown.
After I go to visit you, I´m going to do some things with my brother, I hope we going to dinner at night the whole family.
See you on Saturday.
Bye xx.

Sabdi Rangl says:


Hi Cris
My colleagues and I have just arrived at the Huasteca Potosina. I'm going to take a bath after finishing this postcard because the heat is very hot. Let's go to the hotel pool to freshen up. I'm going to use the bathing suit you gave me and a sunscreen. We are going to eat fritters and drink some beer. Some colleagues will take advantage of the occasion to have fun in the pool, I'm sure it will get a little crazy.
I hope one day we could come together.
  I'll see you on thursday.

PS: I will buy you many gifts.

William Edgardo Rojas Hernandez says:


Hi, good morning, Jessica, I just got to CD, Mexico. I am going to the hotel Holiday Inn, then I am going go to work at the plant in Nissin,After work I am going go to dinner at restaurant, I am going arrive at the hotel at 8pm.
I am going arrive at the hotel at 8pm, after arriving I going take a bath, and I going call you when I finish bathing.
In the next day I going not work because is saturday, I going to stay at the hotel all day Saturday and Sunday.On Monday I going start back to work.

Israel Martinez Hernandez says:


Hello gilberto how are you
I hope you do very well. I'm getting to Cd. Valles the weather, it's very hot. Today I will go straight to the grandmother's house to eat a rich barbecue with the whole family later we will go to the river to swim. Tomorrow I will go with my friends to the bridge of God which is a very beautiful river an hour from the city where I can enjoy a boat ride along the river to reach the rock that is known as the bridge of God then we will return to the city to go to eat the richest pizza of the place in Bella Vittoria and walk for a while on the boulevard. I hope you also spend an incredible vacation friend.
Take care we'll see you in two weeks.

Flor says:


Hello Omar.
I just arrived at my house for another long weekend.
I have a lot of things to do, I still do not start them and I'm tired.
First I have to wash all my clothes, and I also brought my blanket and sheets, I think I'll wash them in the night, they'll be dry by tomorrow. my brothers are going to rent movies to see later, my mom is going to make popcorn and snacks. My dad is going to make a lot of noise during the movie, so we'll get a speaker to connect to the TV.
tomorrow I must make the whole week's meal, I will also go shopping. I'm going to make spaghetti and maybe potatoes with cheese. I'm also going to do my homework, you know I always leave it all for Sunday night, but I think I exaggerated this time. I'm going to do too much homework. but hey, wish me luck
bye Bye

Abril says:


Hi Tita!
I just got to Mexico City. The climate here is a bit strange, since it is a place where it is hot but it is humid at the same time, then it rains, and then the sun comes out, then it is rare. But cais is always cloudy. Today I arrive at 10 a.m. and I settled in the hotel, it is a very nice hotel. Anyway, right now I'm about to go to eat, then it's time to leave. Hopefully one day we can travel together here.
I love you, Tita, see you later.
PS: I see you next Saturday.

Roberto says:


Hi Anahi. How are you?
I just arrive to Huasteca Potosina and we going to visit any places like Edward´s Castle, well this the first day. Next day we goint to Tamul waterfall and we gonna swim in the river. After that we going to visit "Puente de Dios". The last day we gonna to visit "Sotano de las golondrinas" in Aquismon. I hope to see you soon.

Love, Roberto

rodrigo says:


Hello Daniel
I just got to San Luis Potosi. I'm going to the gym later, I'm going to eat at my house
Tomorrow I go to the center of the city, then I will visit my family,

I'll go play with my cousins ​​and then we'll go to the park
My mom is going to cook lasagna and meat we will be in contact
I love you see you

Ángel says:


Hi Katy, how are you? I hope that very good.
We just got my girlfriend and I to the beach. We are going to unpack our troubles when I finish writing this letter to you. the sun is very strong, but I think it's going to come down soon. we are going to the beach later, first going to eat something. we are going to buy swimwear and sunscreen. We're going to order shrimp tonight for dinner. I'm going to extract you a much better friend, but see you next month.

With Love, your best friend

Silvana says:


Hi, Iván!
I just arrived in Japan with my mom. We are going to unpack our bags in the airport, it was a long trip. Here in Japan is sunny and We are going to go to the Osaka Castle. I'm very excited to go there because is like a dream come true. At night We will stay in a hotel near Osaka and the next day We will get on the shinkansen bullet train to go to the Kyushu main islands. I promise that I will send you some of photos and I will try to buy a souvenir to you. Even though, I will see you here in 3 days.
Love, your girlfriend.
Ps. I already want to see you here.

Cinthia says:


Hi Anna,

I just arrived in Guadalajara. I am going to unpack my bags after I write this postcard.
I'm going to go to Puerto Vallarta beach,I'm going to bring a hat, my swimsuit,and some sunscreen. My boyfriend and I going to play football in the beach, after that we going to order a pizza in the hotel.
I'm going to miss you! See you next week.

Love Cinthia.

PS: When are you going to go this holidays?

Felix says:


Hi jesus!
I just arrive in cancun. I am going to unpack my bags after, i write this card.
I am going to swim an the beach and i am going to party at night.
Cancun in beautiful, I really like to beach, I am going to enjoy my vacation, my brothers could not come with me to Cancun, it,s a shame that they could not come.

P.S.: I hope you are well and greetings from the beach

magui says:


Hi Gladis!
We just arrive in Mazatlan. I am going to know the hotel. It s a sunny day, tomorrow going to the visit the beach.
Later we goig to out to dinner to a typical food restaurant, my sister is a bit tired, so she will sleep a Little.
On Sunday we have a water activity I am going to take many photos to show you.
see you soon, kisses.

Diana Edith Juárez Enrpiquez says:


Hi mommy!
I'm arriving in San Luis Potosí, the trip was somewhat tired, a lady was coming talking to my side but I fell asleep. I will go to school tomorrow morning, I have a full day, first I go to the school at 7pm and I end up with electricity at 7, but the week is going fast and I will soon see you again on Friday.
I love you and I send you kisses.

rosalinda almendarez says:


Hello dad:
i just arrived in tokio japan,the city is beautiful,i am going to unpack the suitcase after i am going to eat noodles and sushi. i am going to travel to the city of akihabara because i like te technology,i am going to travel in subway because in tokio is very fast.i am going to miss you
i love you
see you next month

Silvia Maria Lopez Vazquez says:


Hi brother
I am traveling course at
Columbia with my friend, the
plane was very comfortable,
when arrive at the airport i am
going to ask eat, after i am going
to buy a shopping and help my
friend a look a department i am
going to have dinner with my
best friend i am visiting a
museum in the night at the next
day for the morning the theater i
am going to watch to the movies
his name angry birds, I am going
to buy food for the weekend, but
fixing the car also give a wash, i
am going to visit the grandfather
the next Saturday and study for
the meeting
Love Silvia

Esmeralda says:


Hi carmen

We just arrived in Cancun and it is more beautiful than in photos, in a few minutes we are going to arrive at the hotel that we booked, we are so excited for this trip that we were expecting, I tell you that we have many plans to make this week, in an hour we are going to eat to a restaurant that has a beautiful view of the sea and in the evening we are going to dancing with some friends to a club that is in the center of the city, very early tomorrow we are going to a park called Xcaret which is the most beautiful in Cancun , we are going to take many photos to send you, we are going to also go swimming and going to the zoo and in the last days we are going to the city center to buy clothes and souvenirs that we are going to take to you and the others.

Greetings to all, see you soon.

We love you very much: Crystal and Esmeralda.

EKATHERINE vERA says:


hi cintya
i just arrived in united states. i am going to buy clothes for my family and me. i am going to visit the museums and popular places. i am going to eat in diferrents restaurants because i love the exotic foof.
i will buy tennis for my dad becuase he like the tennis. i will call you in this days okey?
i am going to miss you. see you on vacations it is over.

eka.

Gabriel says:


Hi Vanesa
I just arrived in San Luis Potosi. I am going to sleep after I am write this postcard. Then, I am going to eat a hamburguer whit my cousin Lupita. In the afternoon I and my cousin are going to go to San Luis Potosi center and we are going to buy clothes, then we are going to eat mexican food. At nigth I am going to go to dance and I am going to dance whit my friend because she loves dance. I am going to miss you! See you next weekend.
Love my friend.
Pd. Do exrcises.

Gabriel says:


Hi Vanesa.
I just arrived in San Luis. I am going to sleep after. I write this postcard. Then, I am going to eat a hamburguer whit my cousin lupita. In the afternoon I an my cousin are going to go San Luis Potosi center and we are going to buy clothes, then we are going to eat mexican food. At nigth I am going to go to dance and I am going to dance whit my friend because she loves dance. I am going to miss you! See you to next weekend.

Adrian Misael Torres says:


Hi Fanny! I just arrived in Guadalajara. I´m going to unpack my clothes and after that i´m going to walk around the city.
I´m going to go to the stadium of chivas because the chivas play in this day.
I´m going to eat the local food i have heard that is very delicious.
I´m going to miss you! See you when the vacations it's over.

Love Misa <3

Jorge Medina says:


Hi Lizeth
I just arrived in monterrey. I am going to go the house after, I am going to eat chicken and patotes.
tomorrow I am going to go the cerro de la silla, I am going to visit my family after, we are going to dance.
I am going to play videogames with my brother and cousing it is very funny.
My grandmother is going to cook gorditas and tamales it is very delicious, well I leave you.
I love you.
Pd. Eat friuts and vegetables

Cynthia says:


Hi brother! I'm arrive to airport of Cancun. I'm think going to search a hotel near the beach, but I do not think find, because there are a lot of reservations in high season. First i going to take a bus to get to Playa del Carmen, later i going to swim in the sea and i going to dine at a luxury hotel . Here i going to stay for 3 days and later going to take a ferry to go to Cozumel and i stay for two nigths. To finish I'm going to Xcaret for three more days. Here i going to go archaeological zones whit a friend. And we walk into caves. I need you Bro! I hope you accompany me next travel. See you next monday.

PS. I wait you in the airport. Love you

Abigail Mendoza Rocha says:


Dear Evan Hansen
We've been way too out of touch.Things have been crazy, and it sucks that we don't talk that much…
My family an me arrived in Ireland.I'm going to unpack my camera after I write this postcard, i'm going to promise send you a photograph if I can climb the mountains.
In Ireland always it's raining but I think it's wonderful. My mom and me are going to go to National Museum tomorrow. It's going to be very cold that's why I'm going to use the scarf that you give me. My father doesn't feel like going out for dinner and my sister probably are going to order a pizza.
There is nothing relevant to say.
Wait for the picture.
See you in another letter.
Sincerely AM.

Mariana Díaz says:


Hi Yesenia,

We just arrived in Queretaro. I'm going to get into the pool after writing this postcard. It's going to be very hot so I'm going to put on my green hat and a sunscreen. My parents are unpacking and when they finish they will also go swimming. After swimming we will eat at the cross market, I hope they sell pozole. My father does not feel like going out to dinner tonight because we are going to eat a lot this afternoon. I'm going to miss you! See you next week.

I love you friend!

Misael says:


Hi Luis
How are you?, I hope it´s ok. I just arrived in Zacatecas. Im going to hotel to leave my bags, later Im going to look for something to eat, Im here to visit many tourist places.
Im going ti visit: Mina del Eden, later im going to vistit the Basilica, i want to see the works of art
Im going to take many pictures of historic places.
Im going to buy souvenirs for the family and one for you.
See you on one week in S.L.P
Good bye

Hector says:


Hello consuelo! How are you?
I just arrived in Vallarta. It is very hot, I am going to go to eat seafood tomorrow, I have been told that they are delicious in this area, then I am going to walk on the beach and take some sun. At night I am going to go to a bar with my friend Arizahi. On Friday we are going to go shopping, I would like to buy some clothes. Anyway, I want to do many things.
Pd. I am going to bring you a souvenir.

Omar Josue Arriaga Lopez says:


Hi bro how are you??
I just arrived in Cancun. I am going to my hotel,the name of my hotel is Paradisus and is very big and beautiful, tomorrow i am going to go to Xcaret with my friends Jesus and Michel, i am very very excited because xcaret is the most popular park in the world and is very big and beautiful but is very expensive and after xcaret i am going to go to the most popular club in cancun cocobongo and in this place i am going drink alcohol and dancing with a beautiful and internacional girls,and next i am going to go to visit my best friend Brian.

SEE YOU BRO I LOVE
ATTE: OMAR

Oscar Badillo says:


Dear sister.
I was very pleased to receive your letter. I'm glad you're okay. I'm on vacation right now.I have many plans!

First, next week I'm going to travel to the Canary Islands.Everybody say that the weather there is wonderful! I' m going to there one week. When I returned, I'm going to the pool with "Lucia" Do you remember her? She always thinks of you. I wish you could come with us next summer.

For the rest of the month we have many plans. We're going to the cinema. Also we're going to eat ice cream every evening this year will test all flavors of ice cream! Also, we're going to the amusement park that opened in the city center.

In late August some friends and I are going to a party at a friends house.The house has a huge pool! So say goodbye to the holidays.

I would love you to be this summer with me. I miss you.

With love Oscar

Mary Flores says:


Hi Liz!
i Just Arrive in Japan. i'm going to eat some delicious japanese food, after i going to visit interesting place, i hope learn many thing of here.
i'm going to go shopping, i will go to many clothes shop.
i'm going to take many pictures of all tha things, i going to walk for the city and i'm going to meet friends in this country.
i'm going to come back in one week.
See you leter!! Bye.

Norma says:


Hello karla,
I just traveled to Los Cabos, I'm going to arrive in Los Cabos at 7:00 am
the city is very beautiful, I go to my apartment to sleep and I meet some celebrities because the building is exclusive, tomorrow I go to the beach to swim with white sharks and meet the whales, I go to the disco, I'm going to meet with foreign boys.
See you in 1 week.

Carol says:


Hi Daniel! How are you?, i'm fine. I just arrived from Mexico D.F, I visited my sister that lives there. It was fun, we are visited Frida Kahlo's house and eating in a viggan restaurant. The next week happened very fast and I had to go back.
Well, I have plans for this weekend, I going to visit to my cousin to her house, the next saturday, I going to go eat chenese food to the "Barrio Chino" at 5:00 pm whit my friends and the sunday I going to the park whith my family at 12:00 pm.
And you, what are you going to do the next weekend?
See you later!
I love you, bye.

Laura says:


Hi Mimi,
I just got to San Luis. I'm going to unpack suitcases after writing this postcard. It's raining now, but I think it's going to clear up soon, I'm going to go home as soon as I get to the terminal.
We're going to the museums,shopping mall and center of the city.

See you on Friday, I love you.

Mariana says:


Hello Juan jose :
I am going to visit San Luis potosi on Friday, I would like us to know the city together. We're going to the famous Restaurant Cielo tinto. I'm going to go his house this friday at 8:00am. We're going to the museums,shopping mall,famous street. At night we're going to see a movie in the Cinepolis.
I'm happy!!
See you soon

with love Mariana <3

Erika Ruíz says:


Hi Mom!
I just arrived in Guanajuato. I'm going to go look for food. It is very sunny now, but soon the sun will come down and I am going to go for a walk and get to know the historic center a bit.
Next week I am going to go a museum that is near the hotel where I am staying and then I am going to go lunch with my friend Karen to a new Italian restaurant.
I'm going to miss you! See you in a month.

Mayte says:


Hi Cinthya

I arrived to Guanajuato. I love this city.
I'm going to go go the hotel to leave my bags. The weather is good, it Is a sunny day.
I'm going to visit the mummy museum in the afternoon and then I'm going to go to eat at restaurant.
Tomorrow I'm going to buy a map of the city to go to the all mines for know the minerals and before I'm going to walk for the city and take photos.
Finally I'm going to buy souvenirs and typical candies.

I miss you so much best friend. See you next friday.
Love, Mayte.

PS. What are you going to do the next weekend?

jamie says:


From : Jamie Tovar
Hi, mom. How are you? I arrived to San Miguel de Allende , I like so mucho this place , my friend and me have an itinerary, first we going to climb the mountain of peñasco I need to wear a comfortable clouts !!! after we going to eat ice cream of mole or tacos , I know is so rarely but in this place you can buy a rarely things , my friend tell me that we going to a famous restaurant and we will eat a lot food  I will be so fat !!! I don't worry when I will stay on home I will go to the gym  I'm tired for the school . thank you for let me come with my friend, I feel so good!

sara says:


Hi Dad,
I arrived in Brazil 15 minutes ago. I am with my best friends and we are going to stay here a week for our vacations. The weather is sunny now, and i think it is going to be hot all the week. I am going to go to the pool party later, after it me and my friends are going to order a hamburger in the hotel. I dont know what we are doing tomorrow, but i am going to call you and i going to tell you. See you next week dad.

Damián López De Lara says:


How are you brother? I just want to tell you that I'm going to go to Italy in 6 hours and airport in 1 hour, so I'm going to wait outside for you to give me a ride, I'm impatient to see the vencia channels, the first thing I'm going to do is go up a gondola and I'm going to eat a pizza next to the leaning tower of pisa.
So call me as soon as you can.
see you soon

Daniela M López V. says:


Hi Michel:
I just arrived in San Luis Potosí. I`m going to unpack my bags after I write this letter. It is cloudy I think that it is going to rain, but I`m going to clean my room and take a shower. Tomorrow I`m going to go to the center if the sun comes and I`m going to buy food and other neccesary things and This Friday I`m going to eat with my family and We going to go to Cinema for my birthday.
I`m going to miss you! See you next month.
PS: What are you going to do this vacations?
With Care Daniela

Naye Sant says:


Hi mom, i just arrived in Jalisco, is a beatiful place.I am very excited to know this place.
I´m going to take a taxi and then I´m going stay at the Hotel, i hope it´s cozy. I´m going to change my clothes because it is very hot here.
i´m going to have lunch in the hotel restaurant and i´m going to go the "Plaza el Mariachi" and i´m going to buy memories por you.
bye. I miss you

Manuel says:


Hi Josue, I just arrive in San Antonio. i am going to arrive in the hous of my friend at 10:30 am. It is a day cold but is perfect to drink.
i am going to go the basketball, i like to watch the Spurs vs Golden State.
i am going to take the dinner after the match. I will buy a pizza and some beer..
see you in new year

Erika R says:


Hi Amanda,
I am very excited because the holiday's are coming, my family and I will take go to the Huasteca. I will pack a lot of summer clothes, I will wear bathing suits, I will wear aún glasses, I will wear su Block for my sin since it will be very sunny, I will wear a hat or a cap. The first thing that my family and I will do is visit Xilitla all Day, then we will stay at hotel and after that we will go to dinner somenthing. The next Day we will go to visit the sótano de las golondrinas and after that we will visit the waterfalls. We will spend the rest of the days in the waterfalls.
I will to miss you.
Bye Amanda.

jessica says:


Hi Nayeli!
I just arrive to Boom, Belgium .I´m going to go to the hotel, after that I´m going to take a shower and I´m goin to search for a restaurant,then I´m going to return to the hotel and I´m goint to sleep.
the next day I´m going to go to the tomorrowland…I´m going to dance a lot…I´m going to have a lot of fun.

with love…jessi

andrea says:


Hi Paola,
We just arrived in mexico. I am going to unpack our bags.
It is raining now, but i think it´s going to the park when the sun comes out.
We are going to eat a tacos. My friend doesn´t feel like going to be eating out a lot this week.
I am going to miss you! See you next week

Jacqui says:


Hi Ary! I just arrived in London. I'm going sleep after i'm going to unpack the suitcase after.
Tomorrow afternoon I'm going to go on a city tour and i'm going to drink a delicious coffee. It's a beautiful place and the weather is very good.Tonight, I'm going to visit a friend later we are going to some restaurant to have dinner. I'm going to be here for a couple of weeks, maybe five and i'm going to take lot of pictures at downtown.
See you soon,ily.

Maripaz says:


Hi Gaby
I'm good, jus arrived in L.A.
I'm going to go to house of my aunt Mario.
Tomorrow I'm going to visit the center of city and eat something, then my mom is going out with my aunt so I'm going to watch some movie with mu cousin.
see you as soon Iget back.

Mariana says:


Hello Elsa
I just got to Orlando, Florida this place is amazing.
I'm going to settle in at the hotel and then I'll go for food.
I'm a little scared, my English is not so good yet, I hope that's not a problem. I'm also going to buy the park tickets it will be fun. How sad you could not come, but I'm going to take many pictures to be able to send them. Everyone here we miss you so much we hope you get better soon. I will keep telling you everything we do. I send you a kiss.

Mariana 🙂

Hannia Guzmán says:


Hi Mom!
We just arrived to Real de 14. I am going to camping a week so I´m going to arm the tent with my friends. After I´m going to write a this postcard while I listen music. The weather are so hot today so I think that I´m going to buy a frappé in Real Bucks. My plans for this week are that my friends and me going to turistic places of Real de 14. Today we are going to go to the Mines, tomorrow we are going to the climb hills and rides horses. The next day we are going to visit the museaum. And we are going to eat at the local restaurants too. I´m so excited!. I have to go right now because my firends wants to go to the kiosko so.. See you next week!. I love you!
Bye
PS. Tell me what you will do in your week.
Hannia

Adalíz Zurita says:


Hi mom!
I'am going to swimming after the class. The weather is nice to do it.
I'm going to do homework with my friend Ezequiel in the library. The task is about archeology
I'm going to I'm going to walk my dog ​​"brownie" to the park on Thursday.
See you later mom.

jose cruz says:


hello Adrián as you just arrived at my house I going to for tacos and later I'll go to sleep tomorrow morning I going to the university from 8 to 2 in the afternoon I'm going to visit the museum I have to do a homework I did not remember tomorrow I'll go to work in the night with my brother in law I think I'm going to have a very heavy day

Alexa Sánchez Hernández says:


Hi Carlos!
How are you? I hope you're fine!
I Just arrived in Monterrey.
I came to Monterrey because my sister lives here.
I'm not sure but I guess she said that we're going to go to the Santa Lucía Riverwalk and after that we're going to eat something like pizza or makis because it's my favorite food. We're also going to visit the fundidora Park because we're going to go to Sesame Street and of course we're going to meet my hole Family there.
I think the trip is going to be awesome.
See you next weekend,take care
Byeee!

Jhairo Martinez says:


Hi mom, I just arrived in charcas. My grandmother went to the bus station for me.
The day is cloudy and cold. I think I'm going to go stadium the next day, hoping the weather improves.

i am going to take the dinner after the match. I will buy a pizza and some beer ,you recommend some restaurant.

i am going to stay in house of my grandmother tonight and for the morning i will help my grandmother in the activities in the house.
see you in this week mom, i love.
bye

Marisol says:


Hi,Ximena!
How are you? we are fine. My sister and I just arrived in Real de Catorce, the magical town is very beautiful.
We are going to visit San Francisco de Asis in the church, I´m going to pray a few minites for my family and friends. the next thing we are going to do is going to go at the best restaurant. Iam going to ride a horse and then we are going to sightseeing for the town. In the afternoon we are going to return at home and we are going to bring many gifts and sweets typical for all.
See you tomorrow.

Jesus says:


Hello Sebastian! I just arrived at the Huasteca Potosina, I am very tired were 7 hours on the way from the city of San Luis. Tomorrow I will visit our family and we will go horseback riding to the ranch. We will also go to the Tamul waterfall. we will swim and dive in the tampaon river. later we will go by bicycle to the mountain to know the beautiful nature of the Huasteca potosina.

I would have liked you to come with me!
Until the next week cousin!

Guillermo says:


I just arrived in Guanajuato, the city is beautiful, I'm going to unpack this week and I'm going to accommodate all the things in the department. The first I goint to at the best restaurant the city and then I goint to sightseeing for the city.
In the night I goint to cinema with my Friends
I´m goint to miss you! See you next week

Julieta Cervantes says:


Hi Wendy,
I just wanted to let you know that I arrived in Tampico, the trip was a bit slow, but everything was fine. I just arrived, so I'm going to eat at a nearby restaurant, then I'm going to buy some books and at night I'm going to visit my uncles.
I'm going to stay here for three days, the weather is perfect, so tomorrow I'm going to go swimming with my friends to the beach, I'm going to take sunscreen because I have no doubt that the sun is going to be very hot. and the next day I'm going to go shopping in the mall, I would like to buy clothes and a toy for my dog. That's all I've planned to do here.
I hope to get home, I'm going to take you a gift for Christmas and to your cat.

I hope to see you soon, take care of yourself.
July love
PS: we should travel together one day.

Fany :v says:


Hi, Angie.
how are you? I feel very well. tomorrow I will arrive in Guanajuato to celebrate Noche Buena with my uncles. We will visit some churches and then we will ask for an inn in the neighboring houses. in the night we will light fires and candles to wait for the arrival of the gifts.
I hope you spend a happy Christmas and give me something :v

Frida Camacho says:


Hi Isabela, how are you? I am fine. I arrived in Korea , Seoul. I am excited because it is my frist time in Korea. I am going to vistit hot springs. After sofia and I going to try busan. I am going to see the stars in to night. Mario , Carlos , Katia and Clara are going to know a Namsan tower. I don't go see it , I love a tokyo tower. i'm going to travel a Kyoto next week because I need buy memories for the family. See you netx month.
Bye brother

Aldo CPZ. says:


Hi, Mom!
Just an hour ago to the city of Monterrey. It was a long trip. Right now I'm going to look for the extended Suites Hotel, I'm recommended by a friend. Tomorrow I go to visit the Paseo Santa Lucia and also the Plaza Paseo La Fe. I'm going to visit my aunt and uncles on Tuesday. Maybe I'll go with my cousins to see a game of the Monterrey team even though my favorite team is America. For Tuesday buy a ticket to a play called "Night of the Devil " will be near the hotel I'll stay and go alone. On Thursday I go back to Plaza founders but now I will rent a bike and roll all afternoon. Friday I return to Matehuala, to celebrate your birthday mom.

See you, Aldo.

PD: Wait for your gift.

PD 2: I Love you mom!

Anfoso Badillo says:


Hi sean, I´m going to visit Denver on chrismas vacation, I will arrive on december 12th, my friends and I are pretending to make a reservation in two diferents hotel the first three night are arriving to Hotel Denver, Glenwood Springs and the next three night we will be staying at THE CRAWFORD HOTEL.

It's a trip of friends from the university, really the intention of the trips is to go ice skating and skiing

And the following days, I will celebrate Christmas Day with my family that will meet me at my uncles' house in Colorado Springs and my friends will celebrate Christmas with us.

see you later,sister :v

Irving says:


Hi Mom,
I arrived in Paris 1 hour ago. I am with my friends and we are going to stay here a month for our vacations. The weather is cloudy now, and i think it is going to rain all the week. I am going to go to the beach later, after it me and my friends are going to order a pizza in the hotel. I dont know what we are doing tomorrow, but i am going to call you and i going to tell you. See you next month mom.Love you.

Diana Torres says:


Hi!Laura I just arrived in Toluca. I´m going to buy cheese, Its rarely but i was told was delicious, after i´m going to walk around the city, I´m going to go the book fair, that is coming soon.
And the afternoon i´m going to go have dinner some typical food.
Well see you soon, take care!

Your friend Diana 🙂

Betty says:


Hi mom
I'm arrive to Zacatecas City. My partners and I are going to go hotel to rest a little.
Tomorrow we are going to wake up very early, because we are going to visit the mine.
In the afternoon we are going to return to hotel, because it is going to rain.
Some days we are going to visit diferent museums and the buffa hill.
I think it will be a good week.

PS: Do you want a souvenir?
I Love Mom

Diego Puente Aranda says:


Hi Mom,
I arrived in Ibiza 30 minutes ago. I am with my friends and we are going to stay here a week for our vacations. The weather is sunny now, and i think it is going to be hot all the week. I am going to go to the beach later, after it me and my friends are going to order a pizza in the hotel. I dont know what we are doing tomorrow, but i am going to call you and i going to tell you. See you next week mom.

Alexis Sanchez says:


Hi Mom,
I arrived in Cancun 30 minutes ago. I am with my friends and we are going to stay here a week for our vacations. The weather is sunny now, and i think it is going to be hot all the week. I am going to go to the beach later, after it me and my friends are going to order a pizza in the hotel. I dont know what we are doing tomorrow, but i am going to call you and i going to tell you. See you next week mom.

Citlali Castillo says:


Hi Gaby how are you? Im so tired I'm in Monterrey' airport, I'm going to arrived to Chicago at 8:00 am. First, after of send you a meessage I'm going to unpack my bag and eat something because i'm so ungry, then my mom is going out with my aunt so I'm goint to watch some movie with my cousins. There's so beautiful but is so cold too. When I finish my dinner I promise I will call you. See u.

Alex Flores says:


Hi Daniel.
How are you?

I´m Alex your friend remember me?

I´m going to travel with my girlfriend. We going to go Mexico city are very excited.

The monday we are going to go the Chapultepec park and We will visiting the "Angél de la Independencia".

The tuesday we are going to visit the musuem in center town and we will going to the party

The wendsday we are going to visit girlfriend family and we will going to Six Flags.

The thursday We are going to back home.

Greetings and take care brother!!!

gisel says:


Hello lucero! I hope you are well. I just arrived in Zacatecas, tomorrow morning, I'm going to have coffee with a friend, later we'll go to a plaza, the next day we'll go shopping, I hope to find nice clothes, in the afternoon i´m going to a luxurious restaurant , I´m going to know several parts of the city that I find interesting. I will take you a memory of my trip

Andrea says:


Hello Sister
We just got here from Matamoros. I'm going to get our dogs out after writing this letter. It's getting cold now, but I think it's going to be removed soon. Let's go to the square when the sun comes up. It's going to be a lot " hot " I'm going to bring lemon snow. We're going to order a pizza this afternoon but do not tell our father please. See you at night

bye haha

Erick says:


Dear Danny.
I love you and I'm going to tell you about the place I visited. I went to a museum, I was going to take a picture, but they didn't let me do it.
I think we can go there someday and we are going to a cada after that, and we are going to the movies on the next day.
Yours,
Erick.

Erick says:


Dear Danny.
I love you and I'm going to tell you about the place I visited. I went to a museum, I was going to take a picture, but they didn't let me do it.
I think we can go there someday and we are going to a cada after that, and we are going to the movies on the next day.
Yours,
Erick.

estefania tovar says:


Hello Soni how are you doing?

I am writing to tell you that at this moment I am in 5th semester of nursing school, I am close to finishing college.
I'm going to wait for this December vacation to meet and talk and I miss you.

and you will see that I am going to collect money to be able to go shopping and enjoy those holidays.

It starts to get cold in San Luis but soon it will go lower the temperature as the winter progresses.

I am going to have fun during my stay in your state of residence and it will be fun.

P.S. take care of yourself and soon we will see each other.

Atte: Estefania Tovar

Daniela Alejandra Zapata Gomez says:


Hello Andrea
I just arrived in Cancun. I'm at the hotel and I have a beautiful view of the sea, I love it! In 1 hour we going to go to eat some delicious shrimp. At night we going to go to a club to dance with my friends.
Tomorrow morning we going to visit "Chichen-Itza" everyone says that this is the best! So I'm very excited.
The next morning we going to visit "Isla Mujeres", they say that the sand is white and I going to take opportunity to take pictures.
I am very excited and I want to see you to tell you personally. See you soon friend! Kisses

Rosy says:


Mi plans are…. I am going to unpack our bags after I write this postcard.Iam going to play the guitar the next weekend, I am going to watch movie the next month, I am going to buy two dress for my birthday because I want see me beautiful in this day. Iam going to visit my cousin in Monterrey, i am going to visit the park "Fundidora" with they.

PS: When are you going to go on holiday?

Esme says:


Hi Angel!How are you? I arrived in Venice 5 minutes ago. I´m going to tell you what am I going to do this week, I have a lot of plans.
First i am going to go sightseeing with my friends, to meet all we can about the city. After that we are going to St. Mark's Square that is the most famous from Venice. Then we are going to have dinner i am going to order Pasta e fagioli. Tomorrow we are going to go to Burano, it´s an islan where every house is colorful, you have to see them.
Next day we are going to go to the Correr museum what is the most important museum in the city, there are all about the city´s history.
And the other days we don´t know what more to do yet, but i am going to tell you next postcard.
love, Esme 🙂
Wish you were here!

Jesús! says:


Hi Jesus!
I just arrived at puerto vallarta! It is really beautiful to go swimming in the hotel pool and then I will walk to the beach, in the night I going to to a dance clubwith my friends! Take care see you soon.
Love you!

hector says:


Hi mother! I am talking to you from Monterrey, i am so excited to see you again.
I am going to cook a bolognese spaghetti when you get home and i am going to prepare your favorite dessert.
My mother is going to take the car to repair it because it doesn't work and she wants to pick up you.

There is going to be a concert tomorrow, my siblings and i want to go but i have an exam, and they have a lot homework.
However, we are going to stay home daylong.
I am going to take care my nephews on weekend and my mother is going to go to church.
Well, i am going to write you later, i have to study for my exam.
See you mom!

raul gonzalez says:


hi mama I'm arriving at navasota tx, my dad still does not come for me to the central but I come very tired, the first thing I will come to the house is to eat and sleep for a while to go tomorrow to buy everything necessary, the fastest possible.
tomorrow I'm going to mark you at 10:00 a.m. so you can tell me everything you need to buy, we'll talk later, I love you a lot, my father is marking me

jessica says:


Hi Daisy
i just arrived in Pris, Francia, it was a long trip.
this week i am going to walk through the streets and learn more about this place. for the afternoon i am going to go on a date with some friends, also we are going to go to the eiffel tower. then i am going to do some outdoor activities and finally i am going to buy some gifts and memories for you.
i miss you
with love jessica

Mary says:


Hi Nelson

I'm coming to Monterrey. I am very excited, tomorrow I´m going to visit the Fundidora park, I´m going to take many pictures, and I´m going to get on the zip line. Then I´m going to walk along the Santa Lucia promenade, I think it will be amazing. I'm going to visit my friends, and then we are going to eat hamburgers at Muncher House, they're delicious.
At night we are going to dance and sing at The City Club, we will have an amazing time. Next Friday I´m going to travel to Santiago, where I can visit the "Cola de Caballo" waterfall. I'm going to swim for a long time, I'm going to relax and enjoy this experience. On Friday I´m travel back to San Luis, and on Monday I´m going go to the university.

I send you regards.

Mary

Isaí says:


Hi Mom!
I just arrived in Dallas, my dad was already waiting for me at the bus station, he told me that we will go to dinner at the Golden Corral restaurant after leaving my bags in the apartment. I'll send you a picture of our meals!
Tomorrow I plan to go jogging in the morning in the nearby park and have breakfast. I'll wait for my dad to arrive and then I'll tell him to come with me to the mall to buy me some clothes and some tennis. On Sunday we will visit the Cathedral of the Virgin of Guadalupe in the center of the city, and my father told me that during the week he expects to arrive early from his work to visit my uncle in Garland.
On Sunday I will also go with my dad to buy food for the whole week to the super.
As we go around doing more things, I'll tell you how it goes! I love you mom!

Pablo says:


Hello Angie
I am going to play foot-ball on sataurday if you want to come, we are going to travell to Mexico if we win, so you are invited too. I think I am going to pass all of my exams with a 10. Mi friends and I are going to go to eat wings.
See you.
Pablo

Vanessa López says:


Hi Héctor.

I just arrived in Paris, France. It's beautiful here! I'm going to get to my hotel while I write this.
Tomorrow, first I´m going to visit the Eiffel Tower, then I'm going to visit the Notre Dame Cathedral.
The next day, I´m going to visit the bridge of padlocks and then I´m going to the Louvre Museum.
This week will be fantastic!
I promise to write you soon.
I miss you.

Love, Nessa.

Montse González says:


Hi Arturo
I just arrived in Guanajuato, it's beautiful here, I'm going to get to my hotel while I write this. It is cold, but I think it´s going to be warmer tomorrow, remember everything you recommended me so this week I´m going to do many things while I am here, first I´m going to visit your university, then I´m going to eat at the market near the university, and I'm going to visit some museums. the next day I´m going to visit the alley of the kiss, although I'm going to go alone hahaha. I'm going to see the mummies too and i´m going to walk the streets and take some pictures.
I hope to see you soon

Love, Montse

Erick Zavala says:


Hi mom and dad!
We just arrived to Madrid, Spain. We are going to unpack the suitcase and probably we are going to sleep because here it´s night. Tomorrow we are going to take a walk around the city my friends Jonah and Corbyn want going to visit some art museums. I bought a camera so I´m going to take lots of pictures. After that we are going to buy clothes and going to return to the hotel. I´m going to take a shower and finally we have tickets for a festival and we are going to see our favorite band sing.
I'm going to miss you! See you next weekend.
Love,Erick.

sarah says:


Hi cousin
In the valleys it's raining very hard, I'm writing to tell you that I miss you so much, I have many things to do this week, I have practices when I leave university.
tell me ami that I miss her so much and I'll be visiting soon

Erika says:


Hi Isela! I just arrived arrived in Oaxaca. I'm going to rest in the hotel for a few hours and after tha I'm going to wlak around the village.
I'm goint to know The Catedral of Oaxaca and I'm going to have breakfast at some trdicional restaurant.
More later I'm going to visit my friend, she live here.
I'm going to miss you. I love you. See you when the vacaction it's over .

Love Erika

Oscar López says:


¡Hello Mom!
In this week I will be of visit in Monterrey, to seeing a game of my favorite team "Tigres", maybe i'm going to visit my cousins. Also I will go to raise myself to the mechanical games in "Bosque Mágico", I see you next week when already return to the house.

Ale says:


Hi Mom!
I just got to vallarta a few minutes ago. I feel very tired but I'm on my way to the hotel. After that I'm going to the spa, you know something about life in life. Hopefully we are in "el malecom", I take many photos.
I go to plaza galleries and buy some things. And, maybe I'll take some photos to urge and I'll be with my friends here, I'll send you all my photos. You're the best.
XOXO, Bye

Rocío Alejandra Meza Garcia says:


¡Hello Maricruz!
This week I am visiting your city; I was going to visit the pyramids on Tuesday at 5:00 AM. I bought the tickets yesterday.
I am very excited to know where you were born.
I am going to eat at the restaurant "la posada".
I am going to buy those beautiful bracelets that you like so much, I would like you to be here.
I am going to take my flight in the afternoon; But first I'll go see your mother.

I miss you so much.
with love ROCIO

Daniela Michelle García Rodríguez says:


Hi mom.
I hope you are very well. Krissia and I have just arrived at our new house. It was hard to get here, but we did it. I'm going to eat pasta with meat today, and at night I'm going to bake pancakes.
Tomorrow early I will go to run and when I arrive I will take a shower. Krissia will go to school and later I will pick her up; After that, I'm going home. I hope to find you there.

I love you.

Attentively; Daniela

vcitoria del campo says:


Hi, Dad
I just got to Acapulco with the guys. I'm going to say hello to my cousins after unpacking. It's going to be a nice day to wear a new dress. Later I'll go to the beach with all the cousins but before I go shopping with my cousin Valeria to buy a bathing suit as we forget.
In the evening I'll go to dinner with the family. I would like to talk to my guys about your plans to visit but let it be surprise
I'm going to miss you, I'll take good care of you I promise, see you next month.

victoria del campo says:


Hi, Dad
I just got to Acapulco with the guys. I'm going to say hello to my cousins after unpacking. It's going to be a nice day to wear a new dress. Later I'll go to the beach with all the cousins but before I go shopping with my cousin Valeria to buy a bathing suit as we forget.
In the evening I'll go to dinner with the family. I would like to talk to my guys about your plans to visit but let it be surprise
I'm going to miss you, I'll take good care of you I promise, see you next month.

Leonardo says:


Hi Alondra!
I just arrived to the new city. Im going to take a shower because the airport is far from the hotel and i walk from there. However,after unpacking im going to buy a new clothes because is going to be cold here. Tomorrow I'm going to have dinner with my cousins and the next I'm going to visit the museum with them,i think is gonna be full because the new exhibition of Tim Burton.
Im going to tell you everything that happens to me in this trip, see you soon.

Love Leonardo

Daniel Mar says:


Hi bro!
I just arrived in the new city. Im going to take a shower because the airport is far from the hotel and i walk from there. However,after unpacking im going to buy a mew clothes because is to cold here.
Im going to tell you everything that happens to me in this trip, see you soon.

At. Daniel

Alexis Lara says:


Hi Mary!
I arrived to Zacatecas; the people here are amazing, very friendly. I'm going to visit the cathedral and will take some photos. Maybe I will buy souvenirs for you and your family; I saw some necklaces of your favorites. After I'm going to Cerro de la Bufa, some friends say me about this place is beautiful. At night I'm going to Mina El Eden, I will drink some beers to have a good time.
I want see you, I promise to visit you after this adventure.
With love, Alexis.

Eric says:


Hi mother! I am talking from San Luis Potosí, i am so excited to see you again.
I am going to cook a cake when you get home and i am going to prepare your favorite soup.
My mother is going to take the car to repair it because it doesn´t work and she wants to pick up you.

There is going to be a concert tomorrow, my siblings and i want to go but i have an exam, and they have a lot homework.
However, we are going to stay home daylong.
I am going to take care my nephews on weekend and my mother is going to go to church.
Well, i am going to write you later, i have to study for my exam.
See you mom!

David Gallegos says:


Hi Maggie!
I arrived to Canada last week and I had a new apartament, now Im going to unpacket my clothes and my objets haha. Next monday, I'm going to visit the cinema of the city for the first time, then, I'm going to eat a delicious salad, after that i'm going to walk around the city.
I'm going to miss you!

Love u, David Gallegos!

Enrique says:


Hi mom! We just arrived to Berlín, Germany. We are going to unpack the suitcase and probably we are going to sleep because here it's night. Tomorrow we are going to walk around the city and We would like to visit the Berlin Wall. After that, we are going to eat out, we want some "Mett and Bratkartoffeln" and, obviously, drink beer.
Finally, in our last day, we are going to visit the olympic stadium, in there was the olympic games and a world cup of soccer.

There are our plans, mom.
Eduardo and I, send you a big hug and a lot of kisses. We miss you!

Paola says:


Hi mom!
I just arrive in NY a few minutes ago. I feel so tired but I`m on my way to the hotel. After that I`m going to the spa you know some massanges legthen life. I wish we can meet in "Blue Hill" and will go to the stadium and watch the game.
I`m going to the 5th Avenue and buy some things. And, maybe i`ll take some pictures for insta hahaha.
XOXO, Bye

Karen B. says:


Hi Ricardo
I just arrived in Guanajuato, the city is beautiful, I'm going to unpack this week and I'm going to accommodate all the things in the department. The first thing I plan to visit is the university and underground tunnels
I will visit them in two weeks when I manage to fix everything here

with love Karen

Marisol Quintero says:


Hi mom! I just arrived in San Luis Potosí. I'm going to the Registro Agrario for your documents.
I'm going to eat something after having your documents.
After that I'm going to my departament and do homework.
I'm going to miss you. See you in a month.

All the love, Marisol

Jaz says:


Hello Dad:

I just want you to know that I just arrived in Guadalajara. I'm going to unpack my suitcase after writing. Today the day is very beautiful, it is a bit hot.
I will go to the center for a while, to know a little more, apparently later it will be hotter the day, so I'm going to put on a hat and a lot of sunscreen.
I would like to visit many places and discover more here, and capture beautiful places in my mind. In the night I'll go dancing, maybe I'll find someone I like.
I will miss you! See you next week.
I love you!

blanca says:


Hi Mom.
I just got to the house of the valleys. After writing this postcard, I'm going to unpack my suitcase. My uncles are not there, so I'll prepare something to eat and watch TV a little. I will take the dog for a walk with my cousin when he arrives from school, we will spend some time in the park so that the dog plays well, while we talk about our weekend.
I love you so much mom I'll miss you

Clarissa Monserrath Garcia says:


Hola Papa

Acabo de llegar a México. Voy a ver a Melissa después de escribir este mensaje. El dia esta hermoso. Esta soleado ahora, por eso iremos a un lago a un rato. Va a hacer mucho calor por eso, por una pizza y unas aguas heladas. Vamos al teatro con mis primas. Melissa no quiere ir a la fiesta en Puebla por que iremos a el cine. ¡Te quiero papi!

PD: ¡Ojalá estuvieras aquí!

ramiro says:


good day billy
i came to the university's library right now. I am going to study all afternoon. I am going to borrow a book about history and i'm going to read it tonight. In some hours i'm going to take a break for lunch, and i like to chat with you about "that". my history teacher is going to help me to find a good bibliography, but before i'm going to finish my online activity for my english homework, bye.

miro

Monica Kristina Puente Puente says:


Dear Italia:
Hi my friend! how are you? I arrived to Mazatlan, I am very excited for this travel I planed activities for a week for example I am going to walk in a "pulmonia", I am going dance whith the band because the band is the music more popular in the Mazatlan and I really like it, and other activity planned I am going meet new persons, because the people in Mazatlan are really friendly and fun, on the other hand I am going swim all day in the sea, the sea is really beautiful, and I am going walk to the seashore, well is all, I hope you are well and I send you a hug, see you soon.

Monserrath Lárraga says:


Hi mom:
I just got to Mazatlan. I'm going to unpack my suitcase after writing this postcard. It is very sunny and hot the day. I'll go to the beach for a while. It's going to be very hot. I'm going to a hat and a sunscreen, I really do not want to burn because I'm in a bathing suit. I would like to see the atarceder and capture in my mind such a beautiful moment. In the night I'll go out to dance, maybe I'll find someone I like.
I will miss you! See you next week.
I love you!

Karla Figueroa says:


Hi Juan!
I just arrived in Guanajuato. I am going to unpack my bags after I write this card.
The weather is cold now, but I think it's going to clear up soon. I going to the "Callejon del beso" when the sun comes out. I'm going to bring a hat and sunglasses.
I going to order boneless tonight. My brother doesn't feel like going out for dinner tonight because we're going to be out a lot this week.
I'm going to miss you! See you next weekend.
Love, Karla.

GABRIEL RANGEL says:


Hello Julián!

I've just arrived to Tampico, i came with paty and her dad. We going to be here this weekend. We´re going to visit playa miramar and the malecon. On sunday we're going to laguna del carpintero but they says that place doesn't have nothing interesting, just a lot of crocodiles and delinquents.
At night we're goint to have dinner, we don't know where yet, but it going to be some fast because we are tired, we traveled about 5 hours

Karla says:


Hello Jessica! how are you?
I have arrived to Guadalajara. Is a beautiful city.
Tomorrow I'm going to the cinema with Karen. On saturday I'm going to visit my cousin Andres, we are going to restaurant.
Now it's rainy and I'm going to prepare a tea. I'm very happy!
I'am going to miss you. See you with the vacation it's over.

Fernanda Robles. says:


Hello Daniel.
I just got to Vallarta. I'm going to unpack my bag after writing this postcard. It's raining now, but I think it's going to clear up soon. I'll go to the beach when the sun comes up. It's going to be very hot. I'm going to bring an umbrella, a hat and a sunscreen. I'm going to order a pizza tonight. My son does not feel like going out to dinner tonight because we are going to eat a lot this week. I will miss you! See you next week.
Love your princess
PS: I miss you.

Esmeralda torres says:


Hi Mom
I just arrived with a standard to Dallas. I'm going to put our things in the room and then I'm going to eat with my cousins. It's very sunny. I'll put on sunscreen and I'll carry an umbrella so I do not get burned.
with norm we are going to visit some friends at night and maybe we are going to dance but only for a while because I am tired and I already want to sleep.
tomorrow from very early I will do different activities and I want to have energy.
I'll write you soon ok
Take care of yourself and say hello to my dad
PS: I'm going to buy a souvenir from here

Ruben Colorado. says:


Dear sister:

I have arrived to Munich, it's a beautiful city according all the places I've seen from the car.
Tomorrow I am going to take a breakfast with the girl I'm in love, I hope to take her Marienplatz at the night.
The day after tomorrow I'm gonna go out with all my friends to the bar, we are goning to celebrate my birthday.
On wednesday I'm going to go to a job interview, I really want to stay in this city at least for one year. I miss you and I miss my mom too, give her all my love.
I promisse I'll call you later.

A big hug, Rubén.

EMILY M. says:


Hi Mom:
Today I am coming to Venice, this week I hope to go for a walk in the streets, my friends say it is a romantic city and I will love it. On Wednesday of this week I will go to the best restaurant in the city, I will send you photos and I hope to find some nice memories to take it.

I love you and I miss everyone, greetings.
Emily.

José Eduardo Espinoza Figueroa says:


Hi Erika, how are you; I pray you stay ok. I still staying in Italy, It´s a wonderfull country. I only want to tell you i´m going to the Pisa tower tomorrow and after that i will go to the colisium.

I´m going to miss you a lot of! I will be waiting to see you soon.

Love you:
Lalo

Ariana Aridahi Olguin says:


Hi mom

I have just arrived in Valles, I feel very well, I will have pizza and milk and then I will sleep because the trip was tired.
Tomorrow I will go to practice I hope it goes very well it will be my first day and I am nervous but I will save energies to give the best of me.

Soon we will see you mommy

I love your daughter Ariana

Martha says:


Hi mom!
We just arrived in Querétaro. I am going to have breakfast after i write this postcard. It's very hot in here. In a while we´re going to go to a vineyard, after we´re going to go to a Peña de Bernal.
I'm going to take lots of potos and buy some things for you.
See you in December!

I miss you!

angel martinez says:


Hello Claudia, I just arrived in Argentina. I will arrive at the airport at 7:30 a.m. It's a cloudy day but it's perfect for walking.
I'm going to soccer, I like to see Boca Juniors.
I'm going to have dinner after the game. I'll buy a pizza and a little beer, they recommended a restaurant.

PS: I'm going to stay in a hotel in the center.
see you.

Mariela Hervert says:


Hi, sister
We just arrived in Durango. I'm going to unpack our bags after taking a bath. The sky is cloudy, but I think it will clear up soon. Let's go for a walk when the sun comes up. It looks like it's going to make it a lot hot I'm going to buy a sunscreen. I'll miss you, I'll see you next month

Mariela Hervert says:


Hi son, I hope you find yourself well.

I'm coming to Mexico City, the weather is very nice. in the afternoon I will go out with my colleagues from the university to visit some very important companies, then we will go for a while to a very nice part that is close to the hotel.
Then we will return to the hotel to rest and thus have a lot of energy to go shopping tomorrow. Your mother loves you very much.

Cristian Huerta says:


Hi Mom.
We have just come to San Luis Potosi. I'm going to unpack the suitcase and the food that you gave me. It is cool now, but it is not seen that go to rain (I hope). I'm going to start to begin to do my homework at once, it's going to be a long night and prepare a little coffee to endure. The boys and I are going to order a pizza because we arrived with very hungry. This week is going to be very heavy, I'm going to have tests on monday and wednesday and Tuesday and Thursday I'm going to have to go to the laboratory and deliver tasks.
I'm gonna miss you! I see you on Friday without fail.
Loves your son Cristian.

Montserrat Esquivel says:


Hi Dany i,m in Roma.
Today im going to travel around the country, firstable i want to meet the Trevi´s fountain im going to take some snaps for send you after i´ll eat some pizza in a good restaurant and drink a wine cupe, only one because i don´t wanna get drunk, ok maybe two.
I miss you
with love Montse.

Angeles Rivera says:


Dany, hello, how are you?
I just got to Spain, I thought I should send you a picture of where I am.
Tomorrow I going to visit Malaga, and I hope to bring you a memory, in two days I going to Barcelona, where I will be for three days. then I going to dinner at some typical restaurants.
When I'm going to Paris, I'll send other postcards.
that are well
I love you cousin.

Francisco says:


Hi Oscar, how are you? I just arrived to Mexico City, i´m going to buy a ticket for the hell and heaven metal fest and i´m going to eat a big torta at the Salon Corona, but first i´m going to take a shower at the hotel that you recommended me. Tomorrow i´m going to go early at the supermarket for a new camera for record everything of the show, i wish you could be here for enjoy the concert we need plan the trip for the next year, you can not lose this, i´m going to buy the tshirt you asked me.
See you the next week

Patricia Tristán says:


Hello Nallely
I just arrive to Arizona. I+m going to check in to the hotel and rest from the journey later. I love here. it´s very sunny and wrm. i write this e-mail to check on you, because I want to see you, while i´m here in tpwn. i´m goingo to wear the dress you bought me last chritsmas and hope we´re going to have a good time when we meet.
Please text me so we can meet and going to have some fun.
Creetings Paty
P.S. You´re going to love m new look.

Vanesa Mtz says:


Hello Andy

I have just arrived in Mexico with the whole family, we are going to spend the first night in Mexico City, they say that this place is very beautiful, that there are many taco stands, and find some mariachi; tomorrow we are going to go to chapultepec, I am very excited about this trip !!
I'm going to miss you a lot, take care of yourself, see you, have a nice vacations!!

VINICIO says:


H Karina, I just arrived in Alameda, California, the travel was very tired but tomorrow we will travel to Las Vegas, we are going to stay at the Great Cesar's Palace, we are going to go to see the shows in the city center, then we will eat a big buffet around the city, as we are older than age both, we are going to go to a casino to bet a little, my uncle is known by a great local singer and we are going to meet other celebrities like Maroon 5, I come back in two weeks, I will miss them.
Love you!
PS: I hope they are well and I promise to bring back memories

Josué Abraham Salas Serna says:


Hello Oscar

We just got a hot eye and I'm going to take a bath after writing this postcard. Now it's very cold and I'm going to prepare coffee for all of us.
My family and I are going to go to the pool of this beautiful farm when it is sunny and we are also going to order a pizza. Tonight we are going to dinner to a retaurant the other families are not going to go with us.Tomorrow I'm going to go buy souvenirs. See you next week. I'm going to miss you.

PD: Thanks for your friendship.

Alejandro Briones Arellano says:


Hi karina, I just arrived in Toluca, the travel was very tired, but I am going to unpacks my bags and relax a moment in the hotel after I wrrite this postcard. The hotel is very nice, it has acconditionated air, very good because the people say that it will be too hot these days. I´m going to eat something light and so I am going to return to the hotel and I am goint to go to bed early because tomorrow I am going to compete very early. The race will be too difficult because the other runners are very fast. After to the race I will be too tired, so I am not going to go to hang out all the day, but maybe the next day I am going to go to the downtown for meet the city. It´s will be funny.

I miss you, I would wish you are here.

Se you soon.

Omar Martinez says:


Hello uriel , I just arrive in Madrid. i am going to arrive in the airport at 5:00 am. It is a day sunny is perfect to walk and take photos.
i am going to go the soccer, i like to watch the soccer club Real Madrid.
i am going to take the dinner after the match. I will buy a paella and some beer, you me recommend some restaurant? .

i am going to stay in a hotel in the center.
see you in this week,
bye beware

Andrea says:


Hi Mom
I just arrived in Canada, the first thing I going to do is unpack my suitcase, decorate my room, and then I going to go for a walk to get to know the neighborhood, tomorrow morning I going to the university to register, in the afternoon I going to meet the city and visit my friends and at night I hope to party

I love you mom, I'll call you soon

Andrea

Daniela says:


Hi Erika I´m going to go Florida. I will arrive to airport at 8 a.m. the day is sunny perfect to go to the park and go to swim. Also, we can go to the mall and go shopping and chat a little bit about our lives.My family and I are going to the zoo but I would like you to come over with us.
I would like to see you soon.
kisses and hugs.
Daniela

Adriana Omedo says:


Hi Aunt
My family and I just arrived at the beach and we are on our way to the hotel, this will be a great week, today we will just have dinner and sleep, the other days we will go to the beach to swim, the hotel at night has shows and for the day activities at sea, we will take photos with family for the memories before retirning home
I love very much aunt
Kisses and hugs, see you in a week
Sincerely, Adriana

Anadela Ramos Martínez says:


Hello Nivardo,
We just arrived at Queretaro. I'm going to go see my sister-in-law after unpacking. It is with very good weather, but I think it's going to rain soon. We will go to the center when the sun comes out of the university. It will be very fun. I'll buy you a hat and clothes for summer. We're going to order a pizza for dinner. Your mom and I are going to be anxious all week until you arrive. I will miss you! See you next week.

Ana loves you

Karla Rodríguez says:


Hello Carina, I just arrived in France. I will arrive at the airport at 9:40 a.m. It's a sunny day and it's perfect to visit the Eifell tower
I'm going to a fine restaurant that's out there if you want to join me in the afternoon.
I'm going to visit the galleries afterwards and I'll be walking at night to the center to see all the lights that are in Paris.

I'm staying at the hotel Le Regent Montmatre.
see you in this week I love you friend.

Mariana Campos says:


Darling Licy

Hi, Yesterday I saw a very interesting film and it has continuation, so today I'll see the second part, after I do my laboratory practice. tomorrow I'll go buy a gift to thank a friend for her time. and then I'll go visit a friend. At night they invited me to dinner, so I'll go out to dinner with some friends to a restaurant that I love.
Well, goodbye.
I hope you find yourself fantastic.
With love
Mariana C.J.

Gonzalo says:


Hi Irlanda, I just arrived in Toluca, the travel was very tired, but I am going to unpacks my bags and relax a moment in the hotel after I wrrite this postcard. The hotel is very nice, it has acconditionated air, very good because the people say that it will be too hot these days. I´m going to eat something light and so I am going to return to the hotel and I am goint to go to bed early because tomorrow I am going to compete very early. The race will be too difficult because the other runners are very fast. After to the race I will be too tired, so I am not going to go to hang out all the day, but maybe the next day I am going to go to the downtown for meet the city. It´s will be funny.

I miss you, I would wish you are here.

Se you soon.

Marco Duarte says:


Hi parents

we just arrived in Quintana Roo, we are going to go hotel after had ate, it is cold for luck, i have chaqueta, we are going to visit the city, i am going yo buy much souvenirs for theirs, we going to go beach and after to the hotel, for bathe and we going to go the dance a disco, we love them and soon we will return home, while they enjoy the days that we are not and do interesting things, while here we will get bored, we will miss them !!! See you next week

love parents

Sagrario Gámez Peñuelas says:


Hello monse, how are you? I hope you are well. I just arrived in Tamasopo. This place is amazing, here are many tourist attractions. Today I'm going to go with a cousin to have breakfast and then we go to swim to the waterfalls. I miss you so much, when I get back, we're going to eat okay? Anyway, I'm going to unpack. Take care!

Crsitopher Zadquiel. says:


Hello friend, how have you been ?, I really want to go to the first film of the Avengers in 4Dx, the next week, I am angry that we will go together, with our respective girlfriends, thanks for the idea of ​​attending together, It will have to be interesting.
I hope the day arrives.

See you.
Israel Pantoja.

Crsitopher Zadquiel. says:


Hello friend, how have you been ?, I really want to go to the first film of the Avengers in 4Dx, the next week, I am angry that we will go together, with our respective girlfriends, thanks for the idea of ​​attending together, It will have to be interesting.
I hope the day arrives.

See you.
Israel Pantoja.

Montse says:


Hi Montse
We just arrived in Altamira. I'm going to go to the beach Miramar after let's go have dinner with my mom and my aunt to the tacos. I'm going to do the homework to have the whole week free and be able to go downtown. good at what you will come I going to walk all the, I hope to find a nice park. I'm going to unpack our bags after writing this postcard. I hope they let you come here

Your cousin wants you

Andrea Torres Hernández says:


Hi Dani, I just arrived in Cancún.I´m going to beach with my boyfriend and my mom after I write this postcard.At the night we´re going to a restaurant for dinner and then we´re going to "Coco Bongo" to dance
Tomorrow, We´re going to "Isla Mujeres". And i love Cancun it´s amazing.
I´m going to miss you! See you when the vacation it´s over.

Love Andrea

Fer says:


Hi Abi!
I just arrived in Los Angeles California. I´m going to take a taxi to go to my aunt´s house. After send you this message i´mgoing to unpack my bag and eat something good here. Los Angeles so beautiful but is so hot too. When i finish my dinner, promise i will call you. See you , my tiny sister.

Love, Fernando.

christian andres enriquez gonzalez says:


Hello mom, how are you?i just arrive in canada, its very cold. I am going to go New denver. I am very happy, its snowy. Tomorrow i am going to go skiing, at night i am going to camping in some cabins and the next day i am going to go hunting bears.
see you later.
bye

Esmeralda Silva says:


We arrived in Cancun 2 hours ago, and they just delivered the keys to our rooms, now I write you and after finishing the text, unpacking my bags to change and go to eat since everything is included and the banquets then I think we are going to eat very good, and then to the beach, the safest thing is that in the night I go out with my friends to a bar to meet and have a good time.
I think it's going to rain later
and tomorrow we will go to the malecom I think the weather will be hotter tomorrow
My parents are so happy they say that in the night We go to diner fish in a elegant restaurant.
I'm fine mom and I behave well.

When are you going to go on holiday?

See you next week

Love Esme.

PD: Take care and we are in contact

Hazel says:


Hello mom
I`m arriving to Mty and im going to stay with my aunt during three days and then I'm going to visit my grandfather.
We have plans for today, we are going to the cinema and then we are eating tacos.
I really miss you.

With love , Hazel.

Esmeralda Silva says:


Hi Mom

We arrived in Cancun 2 hours ago, and they just delivered the keys to our rooms, now I write you and after finishing the text, unpack my bags to change and go to eat since everything is included and banquets then I think we will eat very well, and then to the beach, the safest thing is that in the night I go out with my friends to a bar to meet and have some fun.
I'm fine mom and I behave well.

See you next week

Love Esme.

PD: Care a lot and we are in contact

Abril W says:


Hi Mike!

I just arrived to Puerto Vallarta. It is so hot and sunny, I'm in a beautiful hotel, it have a big swimming pool, later I'm going to swim. My parents are so happy they say that in the night We going to diner fish in a elegant restaurant. Tomorrow We going take a tour in the cea and I'm going swim with dolphins.we going to back at home on friday night and I hope see you on saturday!

Kiss and love Abril 🙂

ariadna says:


oiii

ariadna says:


Dear :Angelica.

We are arrived in Cancun. I am going to stay one week here so i know absolutely all. I am going to walk in the beach. Maybe tomorrow going to visit xcaret because i saw some picture and i think is very very beautiful. i hope can visit this place because all week i like be in the beach because you know i love the beach.
So i hope see soon.
best wishes.Ary

Aylín Trejo says:


Hi Otto!

I just arrived in Barcelona. It's 4 a.m. in Mexico and 11 a.m. here! It's crazy! It's a sunny and beautiful day. Now I'm going to the hotel to take a bath and then walk around the city. First, I'm going to visit Temple of Sagrada Familia, Temple of Sagrado Corazón and Arch of Triumph. After that I'm going to eat some for dinner and then I'm going to sleep. Tomorrow I'm going to go to the Camp Nou Stadium to watch the soccer game of Barcelona because I'm really fan and you know that.

I wish you were here with me because I really miss you but,I promise to send you many pictures! See you next month.

Love, your favorite sister.

PS: Don't forget me.

Maximiliano diaz says:


Hi Pablo!
How are you? I'm very good.
We just arrived in Miami beach. I am going to buy some things to go to the beach in these days. It is cold now, but we think it going to be hot . We're going to go to the supermarket when we need some things to the foods. It's going to be very hot. I'm going to buy clothes to fresh me.
We're going to order burgers this afternoon. Tomorrow we going to swim at the pool because we like swim very much.

I'm going to miss you! See you next week. Bye Pablo.

YESENIA says:


DEAR YESENIA.
Hello sister , i send you this letter waiting a asnwer about "how are you", but i want tell you other things too!! In the last letter, i wrote something about a possible trip, well i did and it was amazing, i traveled to colombia because of carnival in Cartagena de Indias of this city, you know that i have a friend in Colombia so i visit him and stay at his home.

im going to other places in this country and I fell in love with the beaches, Colombia is a paradise, no matter the problems of the country, the people are very friendly. the best food of this place is the Paisa tray that has a mixture of flavors with ground meat, pork rinds, avocado, sauce, egg, beans, rice, a small arepa, and frequently, 2 or 3 types of sausages.
Today I'm going to the Archipelago of San Andrés to know the landscapes that captivate between mangrove forests, palm trees, coral reefs and sea grasslands that surround white sand beaches, considered among the most beautiful in America.

I am destitute of you and take care of the family until soon.

love, yesenia

karla monserrath says:


Hello monsse,
I just arrived in London. I will come to know the city after writing you this letter. the weather is very sunny and so I look out the window probably rain in the night. I will go out to a bar and have dinner with some friends and maybe we will have a party tomorrow, I also want to visit the tower of London that says it looks beautiful at night, maybe visit some of its most beautiful views. I'll miss you all week, I wish you were here.

with love, anahi. i miss you.

Sofi Hernández says:


Hi Gerardo , I just arrive in Canada. I am going to arrive in the airport at 7:30 am. It is a cloduy day but is perfect to walk.

I am going to visit the mall, i would like to buy some clothes for the week.

I am going to take the dinner after visiting the mall. I will buy a salad and some juice ,you recommend some restaurant.

I am going to stay in a hotel in the center.
see you in this week.

Goodbye¡.

Melisa says:


Hi Mauricio, I just arrive in Mexico, the travel was very long, I'm tired, right now I'm Going to take a bath, I'm Just wanted to tell you about how beautiful Mexico is before, i'm very exciting for tomorrow, I will going to Coldplay Concert at Foro Sol, anyway, I'll going to buy you something , like a souvenir , I hope you like it, I really miss you right now! See you in one week. Bye.

Rene Gonzalez says:


Hey David:

Hi David how are you ?, I hope that well, friend an apology for not being able to go to see these days, I was not around the city, and at this moment I'm coming to the city, it seems if I happen to see you on saturday In the morning, we can go to breakfast, since at this moment I am going to see my parents.
Today I go to see my family, we will go to eat and then watch soccer, that's why I have a busy day, I hope and it does not bother you.

Also, this week I will have a lot of work, and that is why the only day I have free is Saturday.

So, on Saturday we see each other, I say goodbye, since I'm going to have a coffee and then take a bath.

Samantha Nava says:


Hello my dear friend, I am glad you are traveling to here, I look forward to your arrival, we can go for a walk, I will look for the best restaurants and interesting places.
p.d call when you arrive, good trip!

diana says:


Hello Sister
We are coming to Acapulco. We are going to unpack and then we are going to eat.
My dad wants us to visit the creek tomorrow.
It is very hot here on the beach.
Today in the afternoon we will go to the beach. I will not swim, but I will go with my brothers to take care of their things.
I'll miss you a lot.
I hope you come back soon from Merida.
love you sister

Karla Segura says:


Hi Heidi!

How are you? yesterday I arrived in Guadalajara. Today I'm going to unpack my suitcases after I breakfast. It is a very sunny day so I'm going to wear comfortable clothes and sunscreen. Tomorrow I'm going to visit The wax museum, I'm happy because it seems that it is not going to rain.

I lost my cell phone so I'm going to ask for a phone loaned to the hotel to call you, I'm going to miss you!

See you soon sister, I love you.

Karla Segura says:


Hi Heidi!

How are you? yesterday I arrived in Guadalajara. Today I'm going to unpack my suitcases after I breakfast. It is a very sunny day so I'm going to wear comfortable clothes and sunscreen. Tomorrow I'm going to visit The wax museum, I'm happy because it seems that it is not going to rain.

I lost my cell phone so I promise that as soon as I can I will call you. You will arrive by me to the bus terminal on Friday at 8:00 p.m.

I know that someday we will meet together this beautiful place.

Bye sister, I love you…

Lisset says:


Hi Mom
We arrived in Monterrey. The city is beautiful but it's very hot now. I going to unpack my bags afther I going to know the city.
We are going to eat cabrito at a the restaurant, after we are going to buy food foll all week.When I finish I promise I will call you.
I'm going to miss you!

With love Lisset <3

Jaquelin says:


Hello Pau,
i just arrived in Canada. I am I´m going to take a taxi to go to my aunt´s house after I write this postcard. It is sunday, and I think i'm going to walk in the dowton. After maybe i'm going to go to the zoo. Tomorrow at 6:00am i'm goingo to hospital to visit my cousin. Rigth now i'm going to buy something for her. On Thursday i'm going to airport for come back with you.
I miss you so much.

Anel Llamas says:


Hi Mom! I hope you are fine. I just arrive in New York. IT'S AMAZING! We are going to dinner in the restaurant hotel. This hotel is so big and the personal is so friendly. Tomorrow morning we are going to attend the Bronx to a softball team exhibition game of that place. Then, we are going to play versus St. Louis Cardinals and versus Tampa Bay Rays. If we win, we are going to go Washington the next week. Wish us good luck!
After dinner, the team and i are going to shop at the mall and sleep early.
I miss you so much! Love you.

Anel.

Guillermo says:


Hi Ana!
i just arrived to Barcelona. I'm going to unpack in the room and after that i'm going to walk arround the city.
I'm going to go to Barcelona football stadium, after that I'm going to the Barceloneta area, is one of the most popular districts of Barcelona with a great charisma in the streets.
I hope to know good places to eat and walk all the streets that can from Barcelona. I'm going to tell continue about the places that i'm visiting.

Bye

Elsa Guel says:


Dear Mum and Dad. Paty and I are having a great time here, in Hidalgo. My sister and I are aenjoying a lot the travel. Here is cold and cloudy, so today we just going to stay at the hotel.
We going to go to the museum tomorrow and then we going to eat something near of there.
Als, the saturday we going to visit a place named Tecozautla, I´m sure that it will very funny.
All this week we going to eat tipical dishes, so we are so exited.
We going to miss you. See you later.
I love you.

Carlos Rivera says:


Hello, Professor Aurelio.

I wanted to tell you that I'm going to Queretaro. I'll arrive on Thursday afternoon, I'm going to buy tickets for the JAVIER SOLIS concert, which will be presented at the ARENA QUERETARO.
After the concert, I will take a train to the LA ROUNDADA vineyards, and when I return to San Luis I will bring a bottle of wine that I bought.
see you later, I hope to see you soon.

With affection Carlos Rivera.

cesar camacho perez says:


hi ivone
we just arrived in acapulco. I am going to unpack dur bags after I write the postal.
This weather is very good, it is very hot but in the afternoon we will go to the beach. We will buy some cervesas and some pizzas in the afternoon and we will go swimming or fishing on the beach in the afternoon.
At night we will go to a bar and you will go to drink all night.
Early tomorrow we will go to buy souvenirs and some clothes to the malecon.
I love you friend.
Pd: come and have fun

Alejandra Lopez says:


Hello Jocelyn

I am writing from Peru, I have just arrived and I am very well, going to visit several places in this country, I going to the mountains of famous colors here in Peru, I going to Machu Picchu tomorrow, I have everything ready and I am very excited, I will take many pictures and I will take you a present gift.

I love you friend.
See you <3

Daniela Tristan Alfaro says:


Hi Nataly!
My family and me recently arrived to the beach this afternoon going to the seashore to enjoy this beautiful landscape,tomorrow going to take a breakfast in the restartaurante of the hotel and goingt to explorer the beauty of cancun, next day going to retorn for san luis potosi and take a taxi to the airport to return to san luis potosi our nice home
with love Daniela!

Abby says:


Hi Hedwin!

I just go to Monterrey. I'm going to unpack when i finish writing. Outside it's sunny maybe go out see the mall orr the museum. I'm also going to buy some food for dinner.
Later I will go to a club with my friends, before The course starts.

Love you brother!

pd. Can you buy me some books that you occupied PLEASE!?

Michel Gómez says:


Hi mom, my brothers and I have arrived with the grandparents. I'm going to help you unpack your bags as soon as we have dinner.
tomorrow we going to go very early to the beach to take a walk in the sand and to help the grandfather in his restaurant. We are going to the beach to daily fishing
my brothers know that we are going to eat a lot this holiday so they do not want to stop going to the gym. We are going to miss you a lot
I love you mom

Irma Martinez Martinez says:


hi joce,i just arrived in Dallas. I am going to eat after I write this postcard. It is raining now, but I think it's going to clear up soon. We're going to go to the mall but the wather is really bad. I'm going to bring an umbrella, and hat, . We're going to walk in the downtown . tomorrow i will go to the cowboys's stadium to see a play. I'm going to miss you! See you next week.

love your sister

Haydee Alonso says:


Hi mom!
We are coming to Guanajuato, we will go to dinner at a restaurant in the city.
tomorrow we will go to breakfast at the buffet and we will go to visit the museums, the weather forecast says it will be sunny in the morning and in the afternoon and evening it will be cloudy, we will be wearing a sweater and umbrella.
the day after tomorrow we will go to the alley of the kiss and to the center to buy.

I promise to take you something. 🙂
Kisses!

Haydee Alonso says:


Hi mom!
We are coming to Guanajuato, we will go to dinner at a restaurant in the city.
tomorrow we will go to breakfast at the buffet and we will go to visit the museums, the weather forecast says it will be sunny in the morning and in the afternoon and evening it will be cloudy, we will be wearing a sweater and umbrella.
the day after tomorrow we will go to the alley of the kiss and to the center to buy.

I promise to take you something. 🙂
Kisses!

Haydee Alonso says:


Hello Mom!
we are going to Guanajuato, we will go to dinner at a restaurant in the city and tomorrow we will go to breakfast at the buffet and then we will go to the museum, the weather forecast says it will be sunny in the morning and cloudy in the afternoon and evening, so we will wear a sweater and umbrella.
The next morning we will go to the alley of the kiss and go shopping.

I promise to buy you something ..!
Kisses 🙂

Fernando Granja Fernández says:


Hi Fernanda!
I just arrived in Kansas. I´m going to take a taxi to go to my aunt´s house. After send you this message i´mgoing to unpack my bag and eat something good here. Kansas so beautiful but is so hot too. When i finish my dinner, promise i will call you. See you , my tiny sister.

Love, Daniela.

Karla Hernandez says:


Dear friend Ana
how are you? I just arrived at San Luis Potosi, I go to the historic center and know its museums, I also go to eat with my family to the restaurants that are located there. Tomorrow I will go for a walk to the park by bicycle. see you soon

Dorian says:


Hi paty, how are you?
I just arrived in Cancun. I am going to breakfast at a restaurant that is here at the hotel, then I will go to rest a bit because the trip was a bit heavy. After that I will go to the pool and later to a walk on the beach.
See you in a week, wish me luck. Bye.

Alondra says: says:


Hello! Mom, how are you? I just arrived at Mazatlan, it's very hot, I'm really melting, I'm in this moment in the hotel unpack to go to the beach with my friends, after that we'll go to dinner at the restaurant they did not recommend it much, this day We plan to rest but the following days we will be partying and enjoying the vacations. I miss them so much I wish they had accompanied me. I promise that the next vacasiones we will come.
I love you, mom, give Shelby a kiss

Yeimi Maryli says:


Hi Aldo!
I just come back to San Luis Potosi. I'm goingo to visit you tomorrow because I think it is going to rain this afternoon. I am going to clean my closet and save other thinks.
Almost the vacations ends so I am going to do my homework but dont worry we are going to go at the mall this weekend.
I can't wait to see you, I miss you so much!

Yeimi

Vale says:


HELLO Said, I just arrived from Monterrey, I'm going to unpack my things and then I'm going to walk through the foundry park and see what's around the city.

I will miss you!

See you soon when the holidays end

I LOVE YOU ..

Carmen Estrada says:


Hi, Bety!

I just arrived at Mazatlan, I'm going to unpack our bags after writing this postcard. It's very sunny the day. Go to the beach when the sun goes down a bit. It will be very decadent. I will bring an umbrella, a hat and sunscreen. I will eat delicious seafood, and at night I will enjoy a show on the beach.
I hope you someday come.
See you as soon as I get back.

I'm going to miss you so much!

Mariel Salazar says:


Hi Jeniffer,

my friends and me just arrived in Puerto Vallarta, and I am so excited because we're going to the beach and we're going to take a ride on a parachute pulled by a boat, later we´re going to eat to the Pipinos's restaurant, the Marisol's mom says it is a great place to eat seafood, that the food is very delicious. And the weather is very nice, it's really hot now, therefore I going to wait at sunset to walk on the sand and enjoy the seaview.
The girls and me staying in the beautiful Sandra's house, I think we're going to have a pijamada tonight.

Love U, and I can't wait to send you photos.

Bruno says:


Hello berenice
My family and I have just arrived in Mazatlan, I'm going to unpack our bags after taking a shower. Mazatlan at this time is very sunny, but I think it will soon rain because it is predicted in the news.
tomorrow we will go to the beach when the day is sunny.
My family and I are going to dine out tonight. I hope you are very well see you in 15 days, take care.

karen tovar says:


hi araceli
I just arrived in Ixtapa, I hope to unpack my things quickly so I can visit you. and to be able to go out for a walk, I hope you are in good health since we have not seen each other for a long time .. I hope to go to the beach for a while … to be able to enjoy the sun

well I say goodbye araceli
have an excellent day
bye

Dayana López says:


Hi Carlos!!!
I have arrived in New York, the flight was a torture! I'm going to eat with my cousin. I just wanted to write to you before. I heard they have some delicious desserts at Magnolia Bakery, near Penn Station, it's cold now, so I'll go buy a nice coat, and then I'll go skating in Central Park, but it's very cold, the good thing I like, When we get home i going order Italian food and sleep early, because tomorrow will be a long day.
I miss you! I hope to see you next month.

Your best friend Day
PS You already know what to do!

Samantha Ponce says:


Hi Sister!
After the long trip, I arrived to Mazatlan. They say that there are hardly any bad climates here, but today especially it is a little cloudy but according to the forecast it going to disappear soon. I'll going to the beach as soon as the sun comes up. It's going to be very hot, so they recommend that you wear a blocker so you do not get burned. Later I going to walking on the beach, since I love exploring new places.
At night I going to with some friends to dinner and from there I going to a party.
I plan to stay a few days here and know many places.
I am very happy, when I see you I plan to show you all the photos of the trip.
I love you

Paola Ramírez says:


Hi Elena.
I´m very happy, I´m in Mazatlan.
I´m going to buy a bikini and a umbrella, here is very hot.
In the night going to dance the nigth club with my sister and her boyfriend.
My brother in law tomorrow going to ask for hand the my sister. I´m so excited.
The day after tomorrow, we´re going to travel in a cruise, but before we´re going to buy a camera, we´re want going to so take pictures.
I´m going to miss you. See you next week.

Karen says:


Hi Karen, on Saturday I go on a trip to U.S. to vicitar to my family. I will take my children with me. we are going to go to with my cousins and friends. As soon as I arrive, I send you a message, you im going to miss, that you is very well.
see you next Monday.

bye!!

Iván Hdz. says:


Hi Brother, how are you?
I hope you are doing very well. I'm getting to cd. medero the weather, it's very good. today at noon I will be going to the beach sayulita in case you dare to leave the university. tomorrow I will be going with my friends to the lagoon of the carpenter to enjoy a pass in boat and we will pass to see the animals that are there at last we will take a walk in the center in the tourist trolebus,
then we will go to the hotel to rest and return the following day to valleys, that you are well take care we see you soon.

Reyna says:


Hi, Sandra!

Vania and I arrived in Korea with safety. The travel was tired and so boring but we could rest in the hotel. Now we are ready to enjoy this adventure! First, we are going to get subway cards because this way we are going to can move by the city. Then we are going to visit the Han River, the SM Enterteiment building (to stalking our favourites idols) and we going to visit all posible restaurants.
Of course, the most important thing is that we are going to meet with Lee and Nam; Do you remember them? The lovely girls that were exchange students last year.

Basically those are our plans to the week that we are going to spend in Korea. Few things to do but enough to us.

I am going to miss you so much! And I know that Vania is going to miss you, too (really, girls, you two must stop with your fight).

Sarangheyo! (Korean Word basic, ha.)

Ildefonso says:


Hi Ildefonso, how are you?
Today in the morning I arrive in Spain, in Madrid, and after unpacking my bags I sent you this postcard. I will visit several tourist places in the city and some museums, such as the "Museo del Prado", and enjoy Spanish cuisine.

¡See you later Ildefonso! See you next week when I return to tell you about my trip.
Derian Quiroz

Moreno Salazar J. Román says:


Hi Luis:
I just arrived in Russia. I'm going to go with my friends to the stadium at opening of the world cup. We´re going to buy tickets, your cousin forgot to buy them. I'm going to buy another jacket, it´s very cold.
I wish you were here, we are going to lead a T-shirt, we miss you. See you in a month.
PD: Maybe we´ll meet sooner, depends on the Mexican national team jaja.

Jose Francisco Perez Salas says:


Hello Aaron

We just got a hot eye and I'm going to take a bath after writing this postcard. Now it's very cold and I'm going to prepare coffee for all of us.
My family and I are going to go to the pool of this beautiful farm when it is sunny and we are also going to order a pizza. Tonight we are going to dinner to a retaurant the other families are not going to go with us.Tomorrow I'm going to go buy souvenirs. See you next week. I'm going to miss you.

PD: Thanks for your friendship.

Sofia Andrea Gonzalez D. says:


Hi Gustavo! I just arrived in Cartagena! The fly was good, but it was little long. Now I´m going to go to the hotel to sleep, I'm so tired. The wheater is great here! It is very sunny and little hot.
Tomorrow I´m going to the beach and in the night I´m going to have dinner toa restaurant in the "Plaza de Santo Domingo" people say that is very delicious and is a beutiful place

I´m going to buy a lot of souvenirs for you, and I´m going to take pictures of every place that im visit

I miss you, I hope see you later

Love Sofi

Sofia Andrea Gonzalez D. says:


Hi Gustavo! I just arrived in Cartagena! he fly was good, but it was little long. Now im going to go to the hotel to sleep, i'm so tired.
T Tomorrow I´m going to the beach, the wheater is great here! It is very sunny and little hot.
In the night I´m going to have dinner in a restaurant in the "Plaza de Santo Domingo" people say that is very delicious and is a beutiful place

I´m going to buy a lot of souvenirs for you, and I´m going to take pictures of every place that im visit

I muss you, i hope see you later

Love Sofi

Valeria Almendarez says:


Hi Xavier!
I just got to Houston. I'm going to eat after writing this message. It's snowing now. I'll go shopping. I'll bring you a coat. I'm going to order japonsea food now, my boyfriend does not feel like going out tonight. I'll miss you a lot, I'll see you next month.

I love you best friend

PS: When are you going on vacation?

Omaar Saldaña says:


Hello Jesus, how are you? I'm fine. I arrived in Tokyo, Japan. I'm excited because it's my first time in Tokyo. I'm going to visit the hot springs. After sofia and I will try tokoyaki. I'm going to see Fireworks in Shibuya at night. I need to look at a beautiful yukata. Mario, Carlos, Katia and Clara are going to see a Tokyo tower. I'm not going to see it, I do not like a Tokyo tower. I'm going to travel to Kyoto next week because I need to buy souvenirs for the family. See you netx month.
Bye brother

Daniela Vargas says:


Hi Fernanda!
I just arrived in Los Angeles California. I´m going to take a taxi to go to my aunt´s house. After send you this message i´mgoing to unpack my bag and eat something good here. Los Angeles so beautiful but is so hot too. When i finish my dinner, promise i will call you. See you , my tiny sister.

Love, Daniela.

Viridiana Salazar says:


Hi Karla, I just arrived in Brazil. I'm going to unpack the suitcase and after that i'm going to walk arround the city.
I'm going to go to the rio when the sun goes down. I'm going to have dinner at some restaurant.
I'm going to miss you! See you when the vacations it's over.

Love Viri.

francisco cortes jasso says:


Hi brother
I just arrived in Monterrey. I'm going to take a taxi to go to my aunt's house. When I arrive I will unpack my suitcase, then tell my cousin Cinthya that we go downtown to buy some food.
I'm going to stay the weekend, to watch the game of monterrey vs america.
I'm going to take the bus back Monday morning.
bye.

J Alberto Mendoza says:


Hi sister, how are you? I'm so tired I'm in Paris' airport right now, I'm going to arrive to Germany at 8:00 am. After send you this meessage I'm going to unpack my bag and eat something good here, then mom is going out with the dad of Pierre so I'm goint to watch a French movie. There's so beautiful but is so cold too. When I finish my dinner I promise I will call you. See u soon.
Ly.
Alberto Mendoza Carballo.

Raul Noe Chavez Gonzalez says:


hi mom
I currently live in San Luis Potosi. I'm going to wait for December vacations and I'll visit you to Mexico City along with my brother.
Here the climate is calm although a little cold, soon it will arrive and I will go to the downtown trade to buy fruit to make me a rich punch.
At school I'm not doing very well, but I'm going to go to the library to study a lot to improve my groin and that the teacher does not disappoint me.
see you soon

jorge coronado says:


Hi Mom, I just got to Guadalajara, Jalisco. I'm going to the hotel, but there's a lot of rain here. I'm tired so I better sleep and tomorrow I will eat tacos and take bus in the center with my friends and cousins. Next Saturday I'm going to go to Tequila, Jalisco to visit my friend karla, I'm very happy. would you like me to buy you something

I love you mom.

Juan Manuel Gómez Lara says:


Hi angie

i just arrive in Los Angeles.i´m going to unpack my bags after write this postcard. Today is a wonderful day, i´m going to visit at my uncles, after that i´m going to eat in a chinesse restaurant with my cousins.it´s going to be very hot. we are goint to long beach and eat a ice cream.i´m goint to the universal studios with my aunt and going to enjoy all the atracctions.i´m goint to miss you! see you next week.

Love Juan

Meraly says:


Hi Mom, I just got to Guadalajara, Jalisco. I'm going to the hotel, but there's a lot of rain here. I'm tired so I better sleep and tomorrow I will eat and take many photos in the center with my boyfriend and friends. Next Saturday I'm going to go to Tequila, Jalisco to visit my friend Daniela, I'm very excited. would you like me to buy you something

I love you mama.
With love Mery

JORGE FELIPE GONZALEZ MARTINEZ says:


HI MY DEAR FRIEND EDWARD!!

I AM CURRENTLY IN QUERETARO
I´M GOING TO WAIT FOR THE NOVEMBER
I´M GOING TO VISIT TO CIUDAD VALLES.
I´M GOING TO GO THE SUPERMARKET AND STARBUCKS
TO HAVE A COFFE.

SEE YOU , I LOVE YOU EDWARD. 🙂

Ignacio Hernandez Gomez says:


Hi Juan I just arrived in Queretaro this morning. I'm going to take a walk around the city, then in the night I'm going to the park. Tomorrow I'm going to visit some friends I'm so excited, the city is so beatiful and the people are very friendly.
I promise to send you some photos and a souvenir.

quetzal delgado says:


hi, Mom how are you?I hope you are well.
I just arrived chiapas. I am going to arrived in the airport at 6:30 am. I am going to visit my friends. we are going to cascadas agua azul.
I love you

Jesús Robles says:


Hi Stephany!
I am currently living in San Luis Potosí. I'm going to wait for the November holiday and I'm going to visit you up to Ciudad Valles.

The weather is calm here, soon the winter will come and I'm going to go to the supermarket to buy clothes for the cold.

At school I'm not doing very well but I'm going to go to the library to study a lot to improve.

I hope to see you soon Stephany, see you later!

Fernanda says:


Darling:

Hi, I just finished unpacking and get installed in my new bedroom. Bogotá is beautiful and warm, all the colors here looks brighter, someway; The city is so beauty that I forgot my sadness to leave you…
Well, I stopped a minute to write you, but in a hour or so I´m going to meet my new roommate: her name is Ana. We are going to walk around the city, and she´ss gonna show me my new university. I´m so excited!
Now I have to take a shower, to get dressed… and stop missing you in this horrible way.
When I see you again, I will hug you like never before.
Until then, with love,

F.

Paloma A Chacon says:


Hi Kassadra,
I just arrived in Houston, my mom is going to pick me up at the airport after i call her. it is very hot right now so we are going to buy some summer clothes and also i am going to bring a sunscreen. We are going to go out for dinner tomorrow because it´s my father´s birthday after the dinner we are going to go to the movies. I´m going to give him a watch for his birthday, i hope he likes it.

See you soon Kassandra¡ I´m going to miss you.

Lizbeth Yuritza Serna Cisneros says:


Hi Maria,
I just arrived in Canada. I am going to unpack my bags after I write this postcard. It is snowing now and I think it's going to last all day. I'm going to ski tomorrow with some friends. I am going to order a hamburger tonight. I'm going to watch a horror movie at the hotel. I'm going to miss you! See you next month.

PS: When are you going to go on holiday?

Valeria Reyes Reyes says:


Hi Mom,
We just got to Dubai. we stayed at the Burj Al Arab, it is very nice but very expensive, we will go for caviar dinner and shopping tomorrow, greetings to all. I will miss you! See you next week.

PS: I will take many memories

xoxo. valeria

Elena Resendiz says:


August 18, 2017

Hello Mom, I just arrived at the airport of Venice, now I'm going to address the Hotel Cavanis, it's very spacious and with good service. The weather is a bit cold but it's great to drink some typical beers from here. I will go to the cathedral of San Marcos and then I will go to the Bridge of Sighs. I'll be back in a few days.

pd: I will take many photos. I love you mom
you Elena

Elena Guadalupe Resendiz Roriguez says:


Hi Mom, I Arrived in alemania in the monday, Im goin to the job in te BMW, my job its very intersting I going Have a new Car in my bussines, and im going to practic the fuutball in te park nacional, im goingo to visit the Aanas Frank House, and im Going eat new food,
i'm Going to miss you very much but ill be back in december

Love Alexis

Sam says:


Hi Reyna! How are you?
I just arrived in Vallarta. It is very hot, I am going to go to eat seafood tomorrow with my friends, then I am going to walk on the beach and take some sun with my pet. At night I am going to go to a discoteque with my friend Johna. On Friday we are going to go shopping, I would like to buy some clothes and shoes.
Love, Sam.
Pd. Miss u best.

Alexis says:


Hi Mom, I Arrived in alemania in the monday, Im goin to the job in te BMW, my job its very intersting I going Have a new Car in my bussines, and im going to practic the fuutball in te park nacional, im goingo to visit the Aanas Frank House, and im Going eat new food,
i'm Going to miss you very much but ill be back in december

Love Alexis

Lizbeth Piña says says:


Hi Mom, i justs arrives in Cancun. I am going to unpack our bags after a trip around the city.
When I returned to the hotel, we are going to go to the beach because it is very hot.
We are going to eat at a very popular restaurant in the city.

I'm going to miss you! see you when the vacations it's over.

Love mom.

maria jose mtz. says:


Hi Adrian!
i just arrive to Puebla. i am going to take a shower because in the travel was so hot, after I am go out some restaurant to have dinner, here very cold but I think tomorrow it going to more sunny.

I hope see you soon

IRIS RAMIREZ says:


Hi mom, i just arrived in San Antonio. I am going to the hotel but, there is a lot of traffic here. I am tired so, Tomorrow i am going to eat and take a lot of pictures at downtown. The next saturday i am going to go San Marcos to go shooping with my boyfriend, i am very excited. would you like me to buy you something?

see you later, i love you mom.

with love Iris

rodrigo says:


Hi Mom
I just arrived in London England along with my brother, we arrived very tired, tomorrow we are going to go to see the tourist centers is cidudad, later that same day we are goint to eat at a restaurant where they say they make a very good pizza you are going have venosir one day, we will spend a few days here and then we will go to other touristic cities and tonight we are going to rest all night

we love you

natalia de jesus mendoza hernandez says:


Hello consuelo! How are you?
I just arrived in Vallarta. It is very hot, I am going to go to eat seafood tomorrow, I have been told that they are delicious in this area, then I am going to walk on the beach and take some sun. At night I am going to go to a bar with my friend Arizahi. On Friday we are going to go shopping, I would like to buy some clothes. Anyway, I want to do many things.
Pd. I am going to bring you a souvenir.

perez zuñia adrian says:


Hi!! natalia. How are you? I hope you are fine. Well I just arrive in Dubai, the city is beautiful. I'm tire for the trip. I'm going to stay in the most luxury hotel in Dubai i don´t remember their name. Tomorrow I'm going to visit diferents places for exaple the Mezquita and maybe I´m going to take my lunch.
Afternoon I¿m going to jump from te parachute on the palm, I'm going to try take many photos for you. Anf finaly I´m going to take a dinner nex to the fountain and see the ligth show.
I love you and miss you 🙁

israel alejandro says:


Hi jocelyn
We just got to Tokyo. I will unpack our bags after writing this postcard. It's raining now, but I think it's going to go away in a few hours. We'll go to the shops when the sun comes up. It will be very cool the day. I'll bring an umbrella, a hat, in case it rains. Let's get a pizza tonight. My girlfriend does not feel like going out to dinner tonight because we're going to eat a lot this week. I will miss you! See you next week.

Hector Vazquez says:


Hi mom

I finally arrived to Montreal. im going to unpack my bags at night. its cold now, but they say at night its worse. im going to buy food after i finish writing this letter to you. im going to use my boots, two coats, and the scarf and cap you gave me. tonight im going to go to Notre-Dame chapel and tomorrow im going to go to the old port of the city.
i need to decide where i will go the rest of the week.
im going to miss you a lot! see you next week.
i love you
PD: dont forget to watch the phone, im going to call you every night.

Adriana Huerta says:


HI MY DEAR FRIEND:

I just arrived in Florence. I am going to stay in a beautiful hotel. In the week i going to eat a restaurant that has delicious meal. They recommended it to me. Also i go to go the museum of Dante Alligheri. I want to meet him.
And everyday at the night i go to see the stars to remember you.

Ps: I miss you. I wish you would have come with me.

See you soon :3

Citlalit Martínez says:


Hello David! How are you?
I just arrived in Vallarta. It is very hot, I am going to go to eat seafood tomorrow, I have been told that they are delicious in this area, then I am going to walk on the beach and take some sun. At night I am going to go to a bar with my friend Arlene. On Friday we are going to go shopping, I would like to buy some clothes. Anyway, I want to do many things.
Love, Citlalit.
Pd. I am going to bring you a souvenir.

Antonio says:


Hi baby!
I just arrived in Spain, i´m goingo to unpack the suitcase and after that i´m going to walk around bar jose alfredo.
I´m going to go to the muralla de ávila when, the sun goes down.
I´m going to the have dinner at some spain restaurant.
I´m going to the hotel!
i miss you! see you the next week!

love your boyfriend.

jorge says:


hi arturo, I just arrive in guadalajara. I am goingo to arrive in airport at 8 pm. Today is a good night!
I am going to eat for the center park in the night. I am going to walk in the city .
I am going to miss you! see you later!

Love Jorge.

Angel Vera says:


Hi Mayra
I have just arrived in Guadalajara, after writing, my sisters will take me to breakfast in the center, and in the afternoon we will tour the city. It seems like a very sunny day. We're going to go to the stadium in the evening.Leaving the stadium going to go to dinner tacos. To go to sleep later.
On the day of tomorrow we going to spend all day in Tlaquepaque.
But I'll tell you day by day what we are doing in this week that will be very long and a lot of walking.

Love Angel
I going to miss you! See you next week.

Ramon says:


Hi Arturo, I just arrived in yucatan. I am going to take a rest, the travel was tired after I am going to go out a some restaurant to have dinner, the next day I am going to visit the pyramids, here it is cold I think tomorrow it going to more sunny.

I am going to see you the next week

Roberto says:


Hi David!
I just arrive to Guanajuato, I'm going to take a shower because in the travel was so hot.
After me and my family going to see to the mommies.
We going to take a delicious lunch how tortas or fast food we don't know
We are really excited because we going to stay all the week
I hope see you soon

Ramon says:


Hi arturo, I just arrived in yucatan, I am going to rest a little bit, the travel was tired after, I am going to go out some restaurant to have dinner, here is very cold but I think tomorrow it going to more sunny,

I see you the next week

Diana Moreno says:


Hi Mimi! how are you? i hope you are fine. i just arrived in Mazatlan, it's beautiful!!
i'm going to go to the beach after i write this cart.
it's very sunny now, its going to very hot.
tomorrow i'm going to visit diferents places for example the faro, and i'm going to have a dinner at some seafood restaurant.
i'm going to miss you!!
love Diana

Estefany Rosales Dominguez says:


Hi yessi, how are you?
We just arrived in guadalajara. I am going to have breakfast after I write this postcard. It is cold now, but I think it's going to warm soon. We're going to go to the wax museum, tomorrow going to go hospicio cabañas, it's very nice. It's going to be very cold, I'm going to bring a coat, a scarf, and hat. We're going to dinner in restaurant tonight. I'm going to miss you! See you next week.

My mother and father send you greetings

PS: Love you sister

Mateo Robledo Padron says:


Hello Isaac,
We just got to Rioverde. I'm going to buy some beers after writing this postcard. It's sunny now and you crave more beers. Let's go to the crescent later. It's going to be very hot. I'm going to bring meat to roast and more beer. Let's get a bottle of whiskey tonight.
See you next week.

RUBI CHAVEZ ARELLANO says:


HI KARINA,

I JUST GOT TO GUADALAJARA. I WILL REST AFTER WRITING THIS POSTCARD. SATISFIED IT'S MAKING IT VERY COLD AS IT IS 6 AM, BUT I BELIEVE THAT LATER THE SUN IS BURNING AND WILL MAKE HEAT. I'M GOING TO GO TO THE MUSEUMS. I WILL VISIT ZAPOPAN. AT THE TIME YOU WAKE BREAKFAST IN THE BUFFET OF THE HOTEL. I WILL STRANGE YOU, I WANT YOU TO STAY WITH ME. SEE YOU NEXT MONTH.

PS. TAKE CARE OF YOURSELF A LOT, KISSES.

sarah says:


Hi sean, I´m going to visit New York on chrismas vacation, I will arrive on december 18th, my friends and I are pretending to make a reservation in two diferents hotel the first three night are arriving to Ritz-Carlton Central Park and the next three night we will be staying at Mandarin Oriental.
Surely when you read this you ask yourself, why are you staying at these hotels? the answer is that we won a prize because our final project was a success.
I have read about these hotels and they are extremely luxurious, I think there will be many relaxation activities in these places.
And the following days, I will celebrate Christmas Day with my family that will meet me at my uncles' house in mineapolis.
I hope we can see and show me a little about your city.

Bye

Sara says:


Hi sean, I´m goint tom visit New York on chrismas vacation, I will arrive on december 18th, my friends and I are pretending to make a reservation in two diferents hotel the first three night are arriving to Ritz-Carlton Central Park and the next three night we will be staying at Mandarin Oriental.
Surely when you read this you ask yourself, why are you staying at these hotels? the answer is that we won a prize because our final project was a success.
I have read about these hotels and they are extremely luxurious, I think there will be many relaxation activities in these places.
And the following days, I will celebrate Christmas Day with my family that will meet me at my uncles' house in mineapolis.
I hope we can see and show me a little about your city.

Bye

jose agustin says:


hi vicente, i just arrived in shangai, i'm going to arrive at 5:00 am, i'm very very boring for the travel but tomorrow i'm going to know the city after i going to shooping and walk arround the city.
but first we will go take a shower and going to restaurant because we aren't eat.
so see you i going to write next saturday because the internet is very bad
bye.

Karina says:


I just got to Mexico City. I'm going to unpack after writing this postcard. It's raining now, I hope it stops raining soon. Tomorrow we will go to the volcano Nevado de Toluca. It's going to be very cold so I'm going to put on a jacket, a hat and a scarf. Finishing unpacking I'm going to go down to the hotel restaurant for dinner, I'm very excited about this new adventure. I'll send you many photos tomorrow. I miss you!

Victor Saldaña says:


Hi Victor, I juts arrived to Mexico, I´m going to my hotel later I think I´m going to have luch with my friends at Mexican Restaurant
Talk later, see you next week

Love you.

Martha Paola Garcia says:


Hello Omar
I just arrived in Mexico. It's sunny now but I think it's going to rain. Let's going to go to the mall with the cousins. I am going to buy shirts, taxes and keyrings for the family, then we will go to have Mexican food and finally I will go for medicines.
I'm going to miss you!
Love Paola

Martha Paola Garcia says:


Hello
I just arrived in Mexico. It's sunny now but I think it's going to rain. Let's going to go to the mall with the cousins. I am going to buy shirts, taxes and keyrings for the family, then we will go to have Mexican food and finally I will go for medicines.
I'm going to miss you!
Love Paola

Ximena Rodriguez Nieto says:


Hi Mom! I just arrived to Mexico. Tomorrow I will go to Inbursa Aquarium,
I heard really good comments about that place. On Friday I will visit "Frida's Kaloh house" and then on Saturday I will go to Six Flags to spend and have fun all the day there….I will miss you! See you soon 😘

Love Xime.

Ximena Rodriguez Nieto says:


Hi Mom! I just arrived in Mexico. Tomorrow I will go to the Inbursa Aquarium,
I have heard good comments from that place. On Friday I will visit the "Frida Khalo's house" and the Satuday I will go to Six Flags. I'm going to miss you! See you when the vacations it's over.

Love Xime.

cristian uriel santiago hernanez says:


Hi Daniel, how are you?
Today i have arrived to the Monterrey city, it´s an amazing city, where there are a lot of architecture. Also it´s a very quiet city, whatever, I have plans for this week but tonight I'm going to go to fundidora park, I hope and you will take a time for go with us.
Tomorrow we are going to go to apodaca´s comercial center, after that we are going to go to drink some beers and the Friday morning I'm going to go to the estadio universitario to see play my favorite squad. So this are my plans for these week, I hope and you could go.

Take care bro, see you.

Abraham Isaias Galaviz Hernandez says:


Hi sergio, I am a little tired, I just arrived in Baja California, it is a fantastic place,there are beautiful beaches and many shops, the weather is also nice but I think it rains all week, because it is very cloudy. I'm going to settle in a hotel temporarily and I'm going to look for an apartment, I'll be back soon, now I'm going to unpack my things, blessings, see you soon.

Melissa says:


Hi Ceci, I just arrived in Korea. I´m going to unpack the suitcase and after that i´m going to walk around the city.
I´m going to go to Han´s river when the sun goes down. I´m going to have a dinner at some korean restaurant, i wanna eat rammyun and drink some soju.
I´m going to miss you! I hope that you can come soon.

Love Melissa ♥

Abner Martinez says:


Hello mom!, how are you? I hope you are well. I just arrived in huasteca. This place is amazing, here are many tourist attractions and many places for swim! but the hotel it's very expensive but i have money for the month. Today I'm going to go with a cousin to have breakfast and then we go to swim to the waterfalls. I miss you so much, when I get back, we're going to eat okay? Anyway, I'm going to unpack.

Good Bye!

Daniela Zarazúa says:


Hi mom we're having a fantastic time here in Colombia
The weather is sunny and we're spending our days on the exploring the local area.The food is so delicious and the people there are very friendly.I promise I'm going to call you this night.

I´m miss you,Wish you were here, love you!

Angelica Velarde ortiz says:


Hi Miley! I just arrived in Corea. It's warm. I'm going to eat fresly made kimchi and sleep, in the morning I'm going to go to hangang park to see nice gyus and the afternoon I'm going to the palace Gyeonbokgung, I'm going to shopping to Myeong-Dong. I'm going dinner manduguk, tomorrow I'm going take a picture myself in hanbok and the rest of the week I'm going to go museums.

take care see you!!!

Ángel Eduardo Rodríguez Cervantes says:


Hi dad, we came to Hawaii. We're going to eat, finishing packing our bags. This is very nice today, but I think it will rain later. We will go later to walk, by the mountains. We are also going to rent a Jeep to walk, I promised Pedro that I will buy a camera. Let's have some rich tacos for dinner.
We will bring you next year, so that you may know,
After this, nox we go to Cancun to know more the beach,

I love you dad

Denisse Cadena says:


Hi sharla!
I've just arrived to Berlin and I'm very excited
I'm going to visit the Musumsinsel and going to the berliner dom.
In My first weekend here in Berlin I'm going to eat a lot of German chocolate cake and candys.
I'm going to take poctures and try to know new people also I'm going to buy a lot of souvenirs for everyone
I Hope you doing well in México, see you soon."
Love Denisse

Karen says:


Hi Father! I am talking from San Luis Potosí, i am so excited to see you again.
I am going to cook a cake when you get home and i am going to prepare your favorite soup.
My mother is going to take the car to repair it because it doesn´t work and she wants to pick up you.

There is going to be a concert tomorrow, my siblings and i want to go but i have an exam, and they have a lot homework.
However, we are going to stay home daylong.
I am going to take care my nephews on weekend and my mother is going to go to church.
Well, i am going to write you later, i have to study for my exam.
See you Dad!

Mariana Arguello says:


Hi Angel, I´m going to travel Cancun, i´m arrived to Cancun at 10:00am , I´m going to the beach, I´m going to swim ,I´m going to the malencon, I´m going to see boys handsome.
I´m going to visit my bestfriend, i miss you

XOXO. BYE

David Antonio Maldonado Rios says:


Hi Hector,I just traveled for CANCUN,I'm going to arrived to CANCUN at 9:00 pm
the city is very beautiful, i'm going to the hotel for sleeping,tomorrow i'm going to the beach to swim whit dolphins ,i'm going to the disco, i'm going to the watch girls in the beach . see you when the vacation it's over

Hector Reyes Perez says:


Hi Mariana,I just traveled Miami, I´m going arrived to Miami at 10:00 pm ,
the city is beautiful,I´m going to hotel for sleeping,tomorrow i´m going to the beach to swim with dolphins,I´m going to the disco ,I´m going to watch the movie in the beach,I´m going i miss you bestfriend! See you when the vacations it´s over.

XOXO, bye

Hector Angel Reyes Perez says:


Hi Mariana,I just traveled Miami, I´m going arrived to Miami at 10:00 pm ,
the city is beautiful,I´m going to hotel for sleeping,tomorrow i´m going to the beach to swim with dolphins,I´m going to the disco ,I´m going to watch the movie in the beach,I´m going i miss you bestfriend! See you when the vacations it´s over.

XOXO, bye

Daniel says:


Hi Mario!

I just arrive in Houston. i am going to arrive in the airport at 8:00 am. It is a day cloudy but is perfect to walk.

I am going to go the football soccer, i like to watch the Dynamo FC.

I am going to take the dinner after the match. I will buy a pizza and some beer ,you recommend some restaurant.

I am going to stay in a hotel in the center.
see you in this week,

Nice to meet you!
bye.

Annel Galvan says:


Hi Itzel I just arrived in Amsterdam this morning. I´m going to take a walk around the city, then in the night I´m going to the theater. Tomorrow I´m going to visit some museums I´m so excited, the city is so beatiful and the people is very friendly.
I promise send you some photos and a souvenir.
love, Annel

Carolina Rodríguez says:


Hi Mario, I just arrived in Tepito. I am going to unpack and after that I am going to take a shower. Tomorrow is my work's presentation and I am very nervious, but I know everithing it's ok.
I am going to check my presentation and I am going to practice a lot, because is very important to me.
Whish me luck.
I'm going to miss you this weekend.
Love Caro.

Fernando Rodriguez says:


Hi everyone, family! The trip was a little long, but I finally arrived in London. It's a beautiful place and the weather is very good. The first thing I will do is take a bath and then I will find a good place to eat. Tonight, I'm going to visit a friend at his house to talk about our experiences at the university.
Tomorrow afternoon I'm going to go on a city tour and I'm going to drink a delicious coffe. I'm going to be here for a couple of weeks, maybe three.

Laura Gamez says:


Hi roy, how are you?, I`m very tired I'm in sidney's Airport , but I finally arrived . It's a beautiful place and the people are friendly and very smiling . I'm going to walk in the Street and I think go to the swim in the beach.

tomorrow I have others plans , I'm going meet culture of the city because is very exciting. It's very sunny right now and hot , I'm going to ice cream in the center maybe two really is very hot. I think Later I going to the buy a gift for you.
I love my friend, see you in two weeks.

Ximena Azuara says:


Hi Marijo, I arrived this night to Mexico, I´m going to travel thid city, and i´m going to meet new people.
I,m going to many theaters and i,m going to taste new food.
I,m going to writing you everyday.
Love, Ximena

Oziel Narvaez says:


Hello miguel, how are you? I hope you are well. I just arrived in soledad for the situation. This place is very ugly but it,s big. Today I'm going to go with a friend and play xbox. I miss you so much my friend. I hope I can see you soon and we can go out for a drink, see you later.

Patricia Diaz says:


Hi momy I just arrived in Brazil at 8:00 am. Its a sun day, its perfect for shopping. I'm a going to the beach and the mall. I'm going to the visite yunuel. I'm going to have dinner with him, at the fabulous restautant in front of the christo redentor.

I will send you a message soon, love you mom!

Myriam says:


Hi mom, we just arrived from puerto vallarta. I'm going to unpack. It's a very hot day but it's going to rain later I'll buy an umbrella so I will not get wet. Later we will eat good fried chicken. I hope to see you soon. We have to go on vacation The whole family together. Good bye.
P.D oh what to save for the trip!!!

Cesar says:


Hi Carlos, I just arrived in germany.
I am going to arrive in the airport at 2:00 p.m.
It is a sunny day perfect to walk.
i am going to watch the soccer game at 5:00 p.m and after
I am going to take a dinner in the most popular restaurant.
See you when the vacations it is over bro.

Bye Carlos.

Guadalupe says:


Hi mom!, We just arrived in Querétaro. I am going to have breakfast after i write this postcard. It's very hot in here. In a while we´re going to go to a vineyard, after we´re going to go to a Peña de Bernal.
I'm going to take lots of potos and buy some things for you.
See you in December!
I love you!

Jimena Avalos says:


Hi Elizabeth! How are you? I hope you are fine.
I just arrive in Medellin, the city is beautiful. I'm tire for the trip.
Tomorrow I'm going to visit the Botanical Garden and I´m going to go shopping.
Day after tomorrow I'm going to visit the Museum of Modern Art, I'm going to try take many photos for you. And finaly I´m going to have dinner and try typical dishes of the region.
I love you

Zita Guadalupe says:


Hi Jesus, how are you? I am fine. I arrived in Tokyo , Japan. I am excited because it is my frist time in tokyo. I am going to vistit hot springs. After sofia and I going to try tokoyaki. I am going to see Fireworks in Shibuya to night . I need look a beautiful yukata. Mario , Carlos , Katia and Clara are going to know a tokyo tower. I don't go see it , Idon't like a tokyo tower.i going to travel a Kyoto next week because I need buy memories for the family. See you netx month.
Bye brother

oscar says:


hello daisy I'm oscar I just arrived from europe after visiting the cradle of the iberian peninsula Spain, tomorrow I'm going to go to school to take class like every day, then I'm going to go out with my partner and invite him something to ask him let's get married, I'm anxious for that day to come

I'll see you tomorrow, friend

ps: you're my best friend and I'm going to frequent you, I promise

Michelle Tobias says:


Hi Stefany! How are you? I hope you are well. I just arrived in Russia.
I am going to eat after writing this letter. It is very cold now, but i can handle it to go eat. I am going to go Kazán when it stops cold. I am going to have to buy a scarf in case it snows. I am going to dinner with some friends tonight.
Well, I'll keep seding you letters, see you next year when I get back.

With Love Mitch <3

Marcelo W says:


Hi Marcelo W!, I just arrived in Madrid. I'm going to shopping and after tahat i'm going to walk arround the city.
I'm going to go to the Santiago Bernabeu stadium when i finish my dinner. I'm going to meet a futball players of Madrid!.
See you in 3 months.

Marco says:


Hi Marco!I, I just arrived in Madrid. I'm going to shopping and after tahat i'm going to walk arround the city.
I'm going to go to the Santiago Bernabeu stadium when i finish my dinner. I'm going to meet a futball players of Madrid!.
See you in 3 months.

JESUS says:


Hi Ulises, how are you?
I hope you are doing very well. I'm getting to cd. medero the weather, it's very good. today at noon I will be going to the beach miramar in case you dare to leave the university. tomorrow I will be going with my friends to the lagoon of the carpenter to enjoy a pass in boat and we will pass to see the animals that are there at last we will take a walk in the center in the tourist trolebus,
then we will go to the hotel to rest and return the following day to valleys, that you are well take care we see you son.

América Yazmin Hernández Padilla says:


Hello Jacqueline, how are you? I hope you are well. I just arrived in Tamasopo. This place is amazing, here are many tourist attractions. Today I'm going to go with a cousin to have breakfast and then we go to swim to the waterfalls. I miss you so much, when I get back, we're going to eat okay? Anyway, I'm going to unpack. Take care!

Hilda Niño Álvarez says:


Hi montse i went to amsterdam, the place is just amazing, it has a beautiful weather, the view it's just increible, i am going to go to visit where they film the fault in our stars, and then i'm going to visit some other places, and at the end of the day i'm going to eat dinner at the hotel whith myself and my soul . I miss you, i'll see you next month take care and get me a boyfriend as soon as you can, because i got my heart broken that's why i went to travel

María Fernanda González Méndez says:


Hi ale! I just arrived in yucatán. I´m going to take a shower and after that I´m going to look some place to have a traditional lunch.
I´m going to go to the chichén-itzá phyramids and maybe I´m goingo to have dinner with my family.
I´m going to miss you, see you the next week, love you!

jose antonio vazquez hernandez says:


Hello mom,I just arrived in Spain. I am going to go to house my friend Roberto and after I am going to go to the stadium Santiago Bernabeu, I am going to watch the soccer game for the Real Madrid. Tomorrow Roberto and me are going to walk for the city and in the afternoon we are going to eat the famous saucer. I'm going to miss you! See you monday.

Love Mom

Oscar says:


Hi Omar,I just arrived in Paris. I am going to unpack my bags after I write this postcard. It is cloudy now, but I think it's going to clear up soon. I going to go to the eiffel tower. Tomorrow I'm going to visit the Notre Dame Cathedral and after maybe go to the lexembourg gardens.Before returning to home I'm going to visit to view the picasso museum and i will go to eat the famous onions soup or as they say here Soupe a L'Oignon.

See you yhe next week bye.

PS:I hope don't forget buy a memory for you.

JOSE GAMEZ says:


Hi Jose just arrived in Mexico Tomorrow I will go to the National Auditorium to the metal concert, on Wednesday I will visit the Basilica of Guadalupe and the other days I will go shopping. That you want me to take you?.
regards

Jonathan Eduardo Quistiano Hernandez says:


Hi mom, I just arrived in Paris, i arrived at 7:30 am. I'm going to unpack the suitcase and after tahat i'm going to walk arround the city it is a day cloudy is very good for walk.
i am going to take the dinner after the match. I will buy a pizza and some beer ,you recommend some restaurant.
Know that I am going to miss them. See you when the vacations it's over.

good bey

Daniel says:


Hi Diana, how are you? Im so tired I'm in Dallas' airport, I'm going to arrived to Miami at 8:00 am. First, after of send you a meessage I'm going to unpack my bag and eat something, then my mom is going out with my aunt so I'm goint to watch some movie with my cousind. There's so beautiful but is so hot too. When I finish my dinner I promise I will call you. See u soon.
Ly.
Daniel Rivera

Oscar alejandro says:


Hello friend I'm going to travel to Colombia to visit it, visit its wonders, I'll eat typical food, I'll swim in its beautiful lakes and rivers, but I'll also live the night life of this beautiful place.
I hope you someday come.
See you as soon as I get back.

Gg says:


Hi Paula. I just arrived in Zacatecas. I'm going to take my backpack and I'm going to go out of the airport. I'm going to take a taxi to the house of my parents. I'm going to take a bath and I'm going to eat a snack. So I'm going to call Tereaa and we are going to go to Galerias in Zacatecas. I'm going to miss you so much! 🙁

Love Gerardo

Paulina Alejandra Blanco Santana says:


Hi!! Oscar. How are you? I hope you are fine. Well I just arrive in Dubai, the city is beautiful. I'm tire for the trip. I'm going to stay in the most luxury hotel in Dubai i don´t remember their name. Tomorrow I'm going to visit diferents places for exaple the Mezquita and maybe I´m going to take my lunch.
Afternoon I¿m going to jump from te parachute on the palm, I'm going to try take many photos for you. Anf finaly I´m going to take a dinner nex to the fountain and see the ligth show.
I love you and miss you 🙁
See you later. :v

Jhoana says:


Hi Karla what about everything? I just arrived in London, I'm very taired,I'm going to arrive in the airport at 11:30 am. It is a day cloudy but is perfect to walk.
Tomorrow afternoon I'm going to go on a city tour and I'm going to drink a delicious tea (a typical drink of london). I'm going to be here for a couple of weeks, maybe three.

i am going to stay in a hotel in the center.
see you in this month,
bye

Mayra Portugal says:


Hi Diana, how are you? Im so tired I'm in Dallas' airport, I'm going to arrived to Miami at 8:00 am. First, after of send you a meessage I'm going to unpack my bag and eat something, then my mom is going out with my aunt so I'm goint to watch some movie with my cousind. There's so beautiful but is so hot too. When I finish my dinner I promise I will call you. See u soon.
Ly.
Mayra Portugal

Paula Sánchez says:


Hi everyone, family! The trip was a little long, but I finally arrived in Buenos Aires. It's a beautiful place and the weather is very good. The first thing I will do is take a bath and then I will find a good place to eat. Tonight, I'm going to visit a friend at his house to talk about our experiences at the university.
Tomorrow afternoon I'm going to go on a city tour and I'm going to drink a delicious "mate" (a typical drink of Argentina). I'm going to be here for a couple of weeks, maybe three.
Know that I am going to miss them.

With love, Paula! <3

Juan Daniel Rodriguez says:


Hi chuy. We just arrived in chicago.
Im going to go to the beach after i write this postcard.
it is very sunny now, its going to very hot
we are going to go to the beach with my cousins and friends
im going to miss you
see you next monday

Juan Andres Torres Niño says:


Hi Carlos , I just arrive in Houston. i am going to arrive in the airport at 7:30 am. It is a day cloudy but is perfect to walk.
i am going to go the football americano, i like to watch the Texans.
i am going to take the dinner after the match. I will buy a pizza and some beer ,you recommend some restaurant.

i am going to stay in a hotel in the center.
see you in this week,
bye

Lulu says:


Hi Martha! I just arrived in Paris. I'm going to unpack the suitcase and after that i'm going to walk around the city.
I'm going to go to the Eiffel Tower in the afternoon and I'm going to have dinner at some french restaurant.
I'm going to miss you! See you when the vacations it's over.

Love Lulu:)