At Mexico we havea very important vestivity, wich come from ancient cultures. Is the Spring Equinox at Chichén-Itzá, Yucatán, in the shouth of the country.
Thousands of people from around the world gather at this Mayan ruin on the Yucatán peninsula to witness the afternoon shadow of the snake-god Kukulcán slowly "crawl down" the country's largest Mayan pyramid, Kulkulcan (aka El Castillo).
You can belive it, but when the sun go down, the light and the shadow of the piramid form the image of a snake go down to the piramid in a zig zag movement.
This is the snake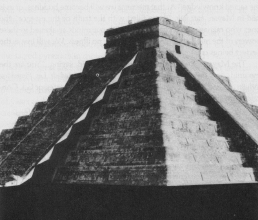 Kukulcan, (or Quetzalcoatl God, the plumed serpent), was the symbol of a sun-Pleiades-zenith conjunction. Exactly 60 days after the Spring Equinox, on May 20, the zenith passage of the sun takes place over Chichen Itza. The Crotalus rattlesnake, whose pattern is constantly used in Mesoamerican art, has a marking on it which is identical to the Solar 'Ahau' glyph of the Maya, and its rattle was called 'tzab', which is the same word used for the Pleiades star cluster.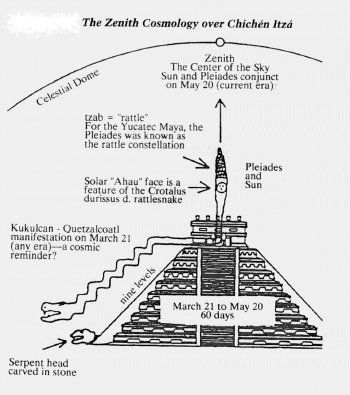 The moving snake on the Pyramid is an annual reminder of a conjunction of the zenith sun with the Pleiades over Chichen Itza, but this is an event which will only occur during a 72-year time window, from 1976 to 2048. Right at the centre of this time window is the year 2012, when the Great Cycle ends. On May 20 2012, the zenith passage combines with a solar eclipse, on the Tzolkin day 10 Chichan, which means serpent. The winter solstice end-point will be 4 Ahau in the Tzolkin calendar, meaning Lord/Sun, and 3 Kankin in the Haab calendar, which means 'snake-day'.
Well friends this only one of the misteries of ancient cultures of my country, and I must to tell you something.
I´m proud of that.