This is a non-obligatory assignment that I'm completely stuck at. Here's a screenshot of my failed attempt: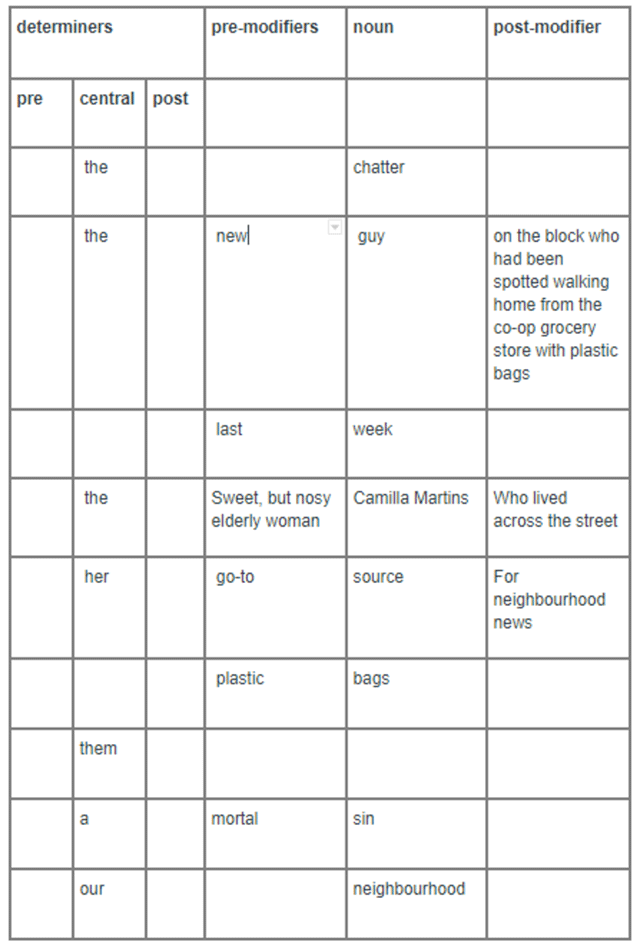 This week, in my studies, I'm completely lost. Our task is to "Represent the structure of the underlined (***bold***) noun phrases schematically, using the schema below (note that if a noun phrase contains a phrase that contains noun phrase, the structure of that noun phrase should be represented too):"
I've made failed attempt (or so I assume) at the task. I understand the general idea of determiners, modifiers, etc. in noun phrases, but these are far too difficult for me, and I've been unable to find any information through textbooks or otherwise that just made it "click" for me.
The
bold
phrases below are the ones we're supposed to look at:
I had a feeling that I knew what
the chatter
was about. The neighborhood had been fuming about
the new guy on the block who had been spotted walking home from the co-op grocery store with plastic bags
! Talk about a controversy.
Last week
,
the sweet but nosy elderly woman, Camilla Martins, who lived across the street
, had stopped me before I left. She waved a pair of gardening sheers. "Come over here. I have a story for you." Mrs. Martins seemed to think that I was
her go-to source for neighborhood news
. "You know that young man who moved in two doors down?" She snipped an opaque pink rose. I nodded. She narrowed her eyes. "He's using
plastic bags
. Plastic. How did he even get
them
?" "Good question, Mrs. Martins." I tried to match her grave expression. Portland banned the use of plastic bags in grocery stores a couple of years ago. The possession of plastic bags was
a mortal sin
in
our neighborhood
.
[adapted from Kate Dyer-Seeley Silenced in the surf (2016: 10f.)]