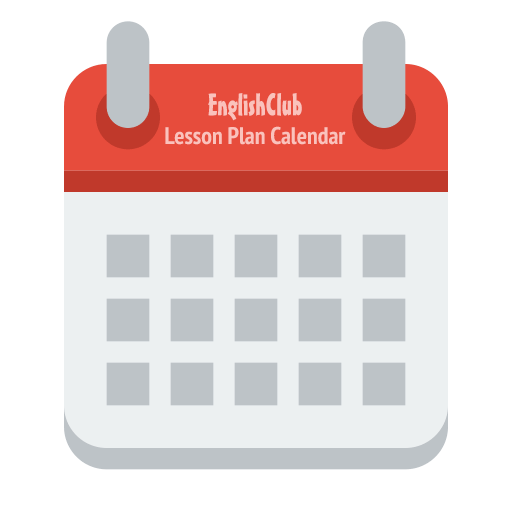 ESL Lesson Plan Calendar
Plan your lessons around the year with the help of EnglishClub's handy lesson plan calendar. Find upcoming festivals and events with free resources to keep your lessons topical and your students interested!
Moveable Dates
The following events do not fall on the same day every year according to the Western/Gregorian calendar.
January/February
Chinese/Lunar New Year
late January or early February
February
Winter Olympics
(more about Olympics in general under Summer Olympics)
Carnival
March
Winter Paralympic Games
March/April
Easter
late March or early April
June/July
Summer Olympics
The following Olympic resources relate to the Olympics in general (Summer and Winter):
FIFA World Cup football tournament
July/August
Summer Paralympic Games
Ninth month of Islamic lunar year
Ramadan
Twelfth month of Islamic lunar year
Hajj
Birthdays
Fixed Dates
January
1
New Year's Day
Overthrow of Khmer Rouge in Cambodia
8
President Bush Vomits on Japanese Leader
16
Shah of Iran Flees Uprising
27
International Holocaust Memorial Day
Liberation of Nazi Death Camp at Auschwitz
30
Assassination of Mahatma Gandhi
February
11
Nelson Mandela is Freed from Jail
13
Allies Bomb Dresden, Killing Thousands
14
Valentine's Day
19
First Space Station Launched
March
10
Invention of the Telephone
11
First Basketball Game played (1892)
16
U.S. Massacre of Vietnamese Villagers
17
St. Patrick's Day
The Rune of St Patrick with vocab and audio

19
First Space Walk
19
U.S.-led Invasion of Iraq
April
1
April Fools 1
12
First Man into Space
28
Prisoners abused by U.S. Forces in Iraq
22
Earth Day
June
29
First Ascent of Mount Everest
4
Aesop's Birthday
July
4
Declaration of Independence (USA)
30
First FIFA World Cup
August
8
U.S.A Drops Nuclear Bombs on Japan (1945)
31
Princess Diana Car Crash and Death
September
3
Allied Declaration of War on Nazi Germany
9
Teddy Bear Day
11
911 - World Trade Center Attacks in New York City
October
4
First Satellite Launched in Space
World Animal Day
12
Columbus Reaches the New World
17
Slaughter of Protesting Algerians in Paris (1961)
Communists Depose Russian Rulers
31
Halloween
November
3
The First Bra is Patented
5
Guy Fawkes Night
9
Fall of Berlin Wall
26
Opening of Tutankhamen's Tomb
December
December month
3
Gas Leak Kills Thousands in India
21
US Forces Occupy the Philippines
24
Christmas Eve
25
Christmas
31
New Year's Eve