ESL Videos
Welcome to EnglishClub ESL Videos, where you'll find a growing collection of short films and video clips, some with subtitles, quizzes and classroom materials.
---
Learning English Video Project
With subtitles and classroom materials.
A unique 7-part series of documentary films about people learning English in different countries around the world. Made by independent UK filmmaker Daniel Emmerson, the series features students from across the world who have different methods and reasons for learning English.
---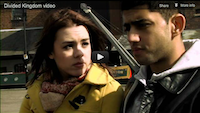 Divided Kingdom (13 minutes) - Comments
With subtitles and classroom materials.
From Marcus Essberger and Samuel Calverley. Welcome to a kingdom divided. In modern day Britain, prejudice and discrimination affect the lives of two individuals. Michael struggles to live amongst a multicultural society, whilst Aryan suffers from racism. This leads to a shocking confrontation with a dangerous and uncertain ending...
Also see: Divided Kingdom Trailer
---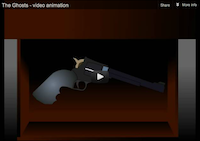 The Ghosts (5 minutes) - Comments
With subtitles and classroom materials.
An animation by Anthony Essberger based on Lord Dunsany's short story "The Ghosts".
---
Swiss Spaghetti Harvest (2 minutes 24 seconds) - Comments
With transcript.
This BBC documentary film, made in 1957, is an absolute classic of its kind. It is available here with the words in a pop-up box so that you can listen and read at the same time.
The Gambler (3 minutes 30 seconds) - Comments
With subtitles and lyrics.
Sung by Kenny Rogers.
The Truth About Pisa (15 seconds) - Comments
Learn the extraordinary yet real reason why the Leaning Tower of Pisa leans! As they say, "fact is sometimes stranger than fiction." This animated cartoon (by Anthony Essberger at age 12) reveals for the first time the traumatic event that years ago caused the Tower of Pisa to nearly collapse.