Preposition List
There are about 150 prepositions in English. Yet this is a very small number when you think of the thousands of other words (nouns, verbs etc). Prepositions are important words. We use individual prepositions more frequently than other individual words. In fact, the prepositions of, to and in are among the ten most frequent words in English. Here is a short list of 70 of the more common one-word prepositions. Many of these prepositions have more than one meaning. Please refer to a dictionary for precise meaning and usage. You can also see the long preposition list (with examples) in our vocabulary section.
aboard
about
above
across
after
against
along
amid
among
anti
around
as
at
before
behind
below
beneath
beside
besides
between
beyond
but
by
except
excepting
excluding
of
off
on
onto
opposite
outside
over
than
through
to
toward
towards
under
underneath
unlike
until
up
upon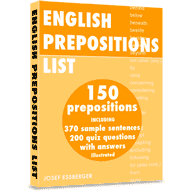 For a full list of 150 prepositions, try this ebook,
English Prepositions List
by EnglishClub founder Josef Essberger.
includes one-word and complex prepositions
370 example sentences
200 quiz questions with answers
immediate download to your computer
read on your computer or print out on paper
works on Windows or Mac