English Prepositions
A preposition is a word governing, and usually coming in front of, a noun or pronoun and expressing a relation to another word or element, as in:
She left before breakfast.
What did you come for?
(For

what

did you come?)
on the table, above the house, over the body, at the airport, in the box
at Christmas, in May, on Friday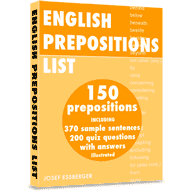 For a full list of 150 prepositions, try this ebook,
English Prepositions List
by EnglishClub founder Josef Essberger.
includes one-word and complex prepositions
370 example sentences
200 quiz questions with answers
immediate download to your computer
read on your computer or print out on paper
works on Windows or Mac