Cambridge Overview and Photos
So the Cambridge section of our Learning English Documentary adventure is over…and what an adventure it was! Not only did we manage to meet some fantastic English language enthusiasts from all over the world, but we captured some thoroughly interesting footage and made a lot of new friends on the way.
Daniel and Joel – The men behind the camera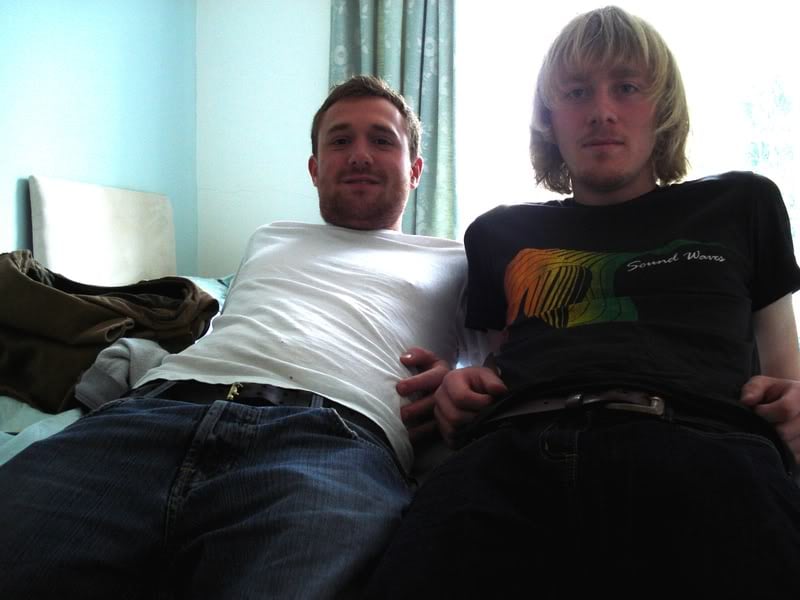 This was our first trip to Cambridge and we are both extremely pleased with how this section of the project developed. With the help of our trusty assistants Marcus and Anthony, we were able to navigate the city without any major problems and meet all of our guests on time and on location.
Anthony and Marcus – Our trusty Cambridge assistants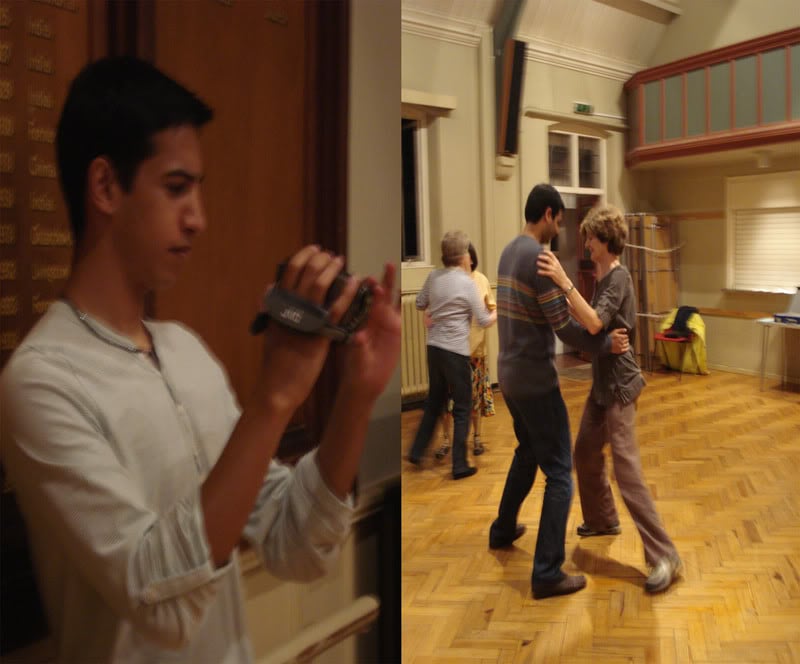 Marcus and Anthony were only able to assist us on the Cambridge leg of our trip; this is rather unfortunate as their help in England's college capital proved essential! They will be missed.
Filming in Cambridge – Shooting on the Street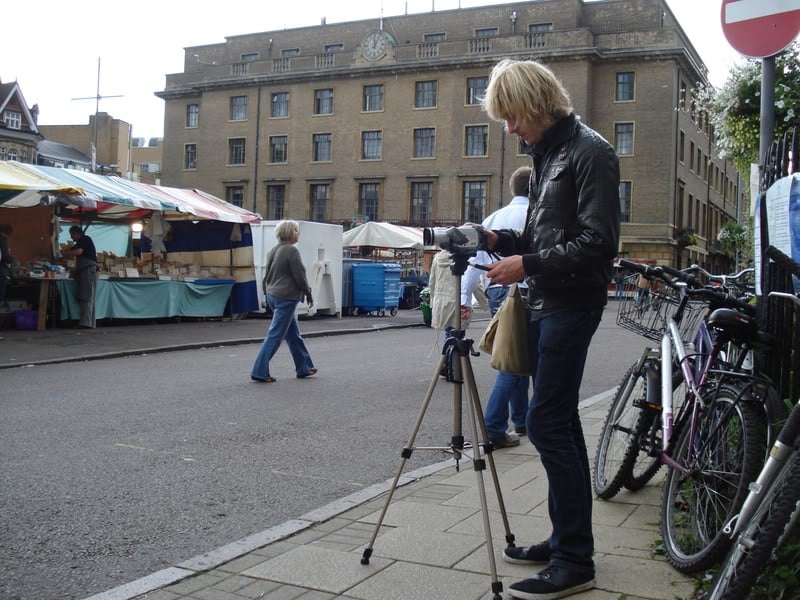 Cambridge city centre is alive and bustling with individuals from all over the world. Being able to film on location meant we could capture a real essence of street life in order to establish an accurate portrayal of life in my new favourite English town.
Michaelhouse – Church and Cafe!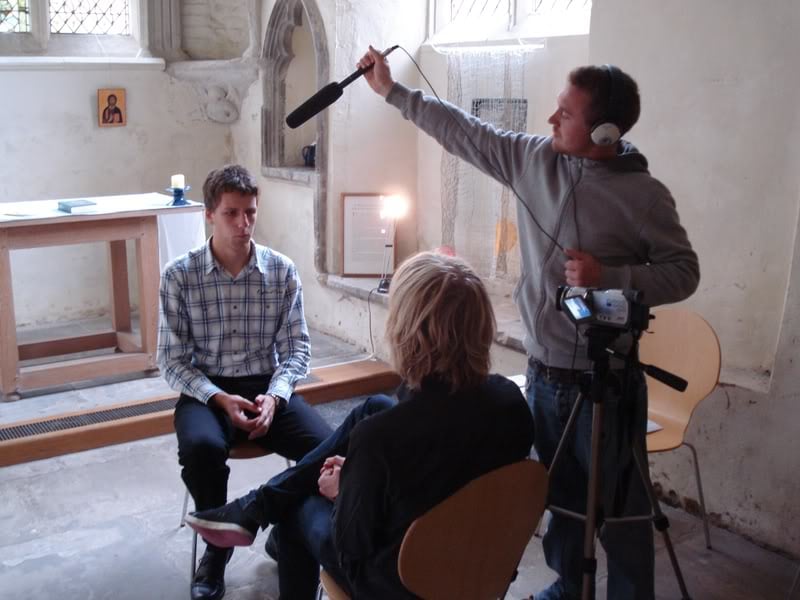 Our first port of call was Michaelhouse, a historic church converted into a busy cafe. Though the place of worship and the cafeteria are separated by large class doors, the job descriptions of the staff are very mixed. Clemens, pictured above, is a keen German fellow who has come to Cambridge to develop his English language skills, work with the church clergymen and serve coffee to the customers in the cafe!
Silas and the Cambridge University Grad Pad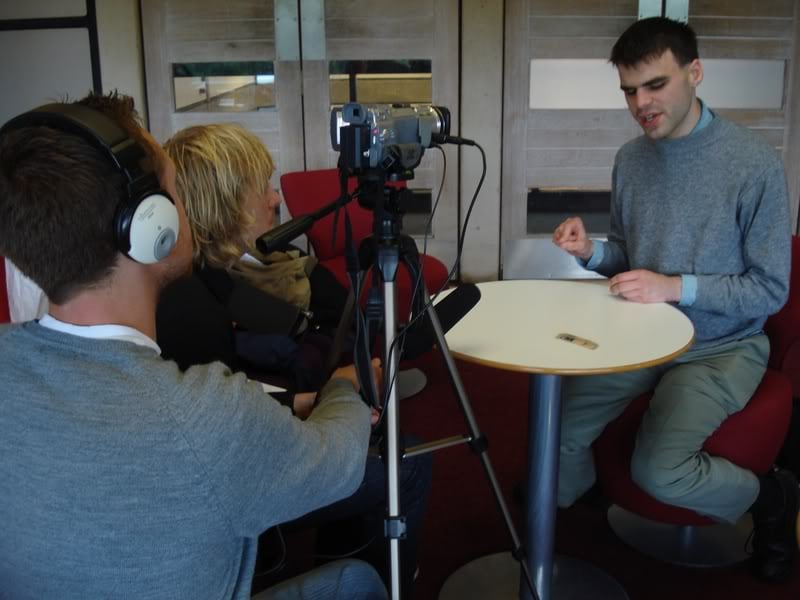 We were lucky enough to be able to film for one day at the Cambridge University Grad Pad. We met with an enthusiastic English gentlemen named Silas, who is currently learning Mandarin and writing a software programme for English learners. He also introduced us to members of the Malaysian community in Cambridge who also took part in the documentary.
House Work – Hosting foreign students on exchange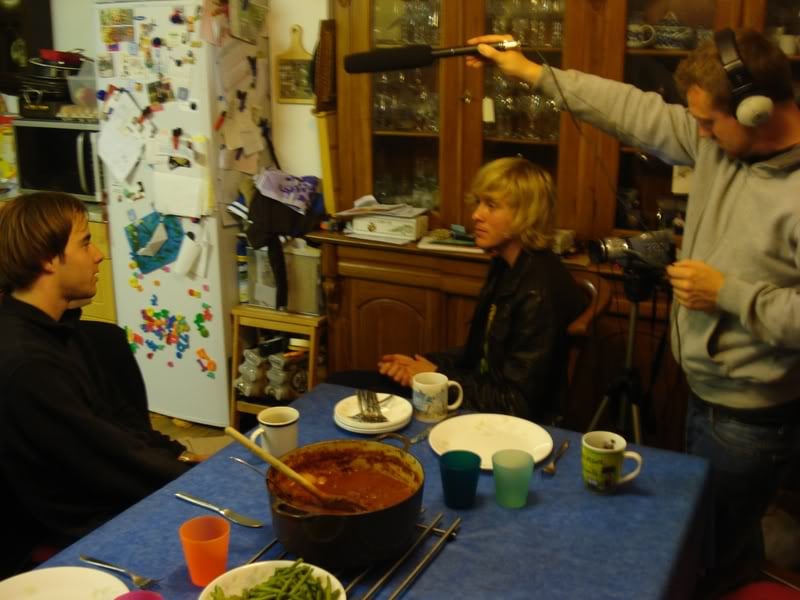 It is very common in the UK for foreign exchange students to live with host families. On the evening of Sunday 7th, we visited Luke from Japan and Simon from Switzerland at their host family's house in the city centre. They even had a curry on the go!
605 Responses to "Cambridge Overview and Photos"
Donna says:


I would like to know how learning English has changed their lives and what were the characteristics of their best teachers.

gordana says:


1. I HAVE NEVER BEEN IN ANY OF THESE CITIES
2. DOES ANYBODY LEARN SERBIAN LANGUAGE AND IS IT HARDER TO LEARN THAN ENGLISH
3. I AM NOT SURE IF I UNDERSTAND QUESTION. MAYBE A LANGUAGE INFLUENCE ON CULTURE TODAY

salmi says:


i have never been to any of the locations you have asked me about.As for the films and documentaries, i hope they are authentic and within reach of people learning english,i also wish you ask the intertviewee about the main themes of the films displayed as well as their impressions and comments of the films and documentaries.Thank you

Jan Visscher says:


1. I have been to Cambridge, New York and Madrid.

2. I would be especially interested in knowing how important English is for these learners and why they think so.

3. As for actual footage, would it be possible to show the learners trying to use the English they have learned in genuine, or realistically simulated, communicative situations?

Hai Tran says:


Well,I have never been to any locations which were mentioned.
I hope that someday,you will visit my country Vietnam.Most of people here are not really good at speaking,but they have the will to learn.
I would like to know why the interviewers choose to learn English as their second language and which skill of English they have most difficulties?
I think you can let the interviewer sing a song to make the film more interesting.

Sunho says:


I want to know what kind of difficulties they face learning English and how they manage the situations.

Menchie Castro says:


1. I never been to any place mentioned above.
2.I would like to know their reactions and inner feeling towards their English teacher, likewise i would like to know if it is much easy for them to learn English through on line or through actual or face to face teaching.
3. Their actual English classes through on line.

Dise says:


I have never been to any of these locations (Cambridge, New York, Casablanca, Madrid, Minsk)
I want to learn if it is difficult for them to understand different type of English dialects which is spoken at different parts.
And I think two ours of footage is enough for the film

Maria says:


I have not been in these cities. I am living in Toronto for 2 years. My mother tongue is the Spanish and it was so hard to trying to understand around me what happened. But by the time, and step by step the English I am better. Many things happen to the newcomer in a new country, sometimes funny, sometimes awfull and streefulless.
I would like to watch this film.

pankaj says:


1)- no, i have nt been through any locations.
2)- about their expeience of learning english and what they have learnt in a quick time, their methods of learning quickly and strategies they made to learn english.
3)- interview of a person who follow a brand new idea of learning english and made an effective way of learning english. i think it would be very much exciting for me.
thank you.
plz send me the film or the link of the film for download.
i m very much ewxcited about that.

Laurel Fleger says:


I would like to see how someone learning English conquers pronunciation of certain words, eg. "walk" instead of saying work, a Russian speaking person being able to say "Earth." Thank you.

ghazaleh says:


I realy like to see your sucsecc in this project!

Kathryn says:


Very good, but no women on your crew? I live in the US and teach ESL here, where there is a huge demand. Regarding NYC, I am interested if you will find what I have found (not NYC but another big US East Coast city) that my students are looking for the American accent. I am also notiicing a lot of ESL books in the US are UK books and usually do not have US usage, only UK usage. I have to advise my students on the differences, of which there are many. The differences, though they may seem subtle, usually evoke laughter from US residents when ESL students use them, not realizing that "Have you got a child" or "trousers" are not US usage.

djalal says:


i would like to know what is the important of English in their lives and in their works,moreover how can English help them to develope their countries

najla says:


id like to have more and more ideas to use it in teaching englsh language for forieners

Ahmad Zia Ahmadi says:


I would like to say that English is the only language which helped me find a job. and It really helped me in my studies where I have finished my college and University. And I thank all my teachers tought me English at any levels.

Saviour Kwofie says:


I have not been to any of the places before. I would like to know the reason why they are learning english and how fast they are in learning it.

sudhakar says:


i want to visit like gao, newyork, mumbai like these metro cities,because hers it is very nice places and nice locations.and second point.

i would like to interviewing persons like professionalisam

Saeid says:


It's very good.

Ruth Davila says:


1. I have visited New York, the best is that most of the rotulations are in Spanish and English and in case of concerns youcan check out.

2. I would like to know how people in Madrid, for example, do to practice speaking english when your family doesn't want to practice with you.

3. I'd like to see how Spanish speaking kids are learning how to speak English and what methodologies are using.

Regards

Marie Agnes TINE says:


Have you been to any of the locations we are visiting?
No I've never traveled out of my country (Senegal). I know none of the country you're visiting .

What kind of information would you like to know from the people we are interviewing?
I want the people you're interviewing tell me what they really do to master the language.

Phoebe Chanda says:


English slang
Executive letter writing
Courtesy at the office

lolwa says:


i have not been at these areas
i wanna to know the could improve their English thats fun i thing with their best teachers

Syone Simon says:


first of all I would like to know how learning English has changed their lives and what were the characteristics of their best teachers.

And also I would like to know whether it is easier to lean the language, if the answer is yes then what is the mechnisim that made them understand the language easly.

Last but not least I would also like to lean English but I dont have enough income for fees etc but I real need to lean this language

thanks, Syone from Tanzania

david says:


good idea

vivi wu says:


1. I have never been other countries, only knowing other people and sth from web.
2. I would like to know other people'e opoinion about friendship,believing,and style of life.
3.I think the stories of firendship of different countries would be most exciting for the film.

yehia says:


I want to learn also some customs and traditions of different peoples
India
China
Various European countries and
I want to learn the language expressions on special occasions Alnkhtfah joy
The grief
Marriage
And travel

John Bolt says:


1. No I have not been there
2. The film should provide students who relate anecdotes about the improvement in their English following a course and examples of how they used their newly gained knowledge
3. Film a teacher on his back waving legs and arms shouting : "Brilliant!" in response to a sketch written, produced and directed by a 13 -year- old Austrian girl
Show children taking part in a "crazy sock" day as my colleague Jonny West organises. Show a teacher jumping on a desk and shouting don't speak that horrible language here :"Speak English!" Show a "Sentence Auction" in full flow with a teacher auctioneer and two clerks recording successful bids.
Show a show by 8-year old Italian children demonstrating to their parents the English they have learned. Show pupils saying good bye with presents and kisses to their teacher so grateful were they for interesting, fun and informative lessons.
In short show interesting characters not educationally correct 'ding dongs'. Make it fun , fund, fun, fun, fun to learn English . Yours Mr Tumble

Antonia says:


Learning English gave to me the opportunity to speak with a range of people and broadened my horizonts in the meaning to be able meet and keep conversation with people from other countries, to read a books and to get a lot of information.
In my case the best teacher was first that I put all my effort for that.
Nevertheless the best was to meet Simon- teacher from UK , who is teaching here in Bratislava. We became a friends and it is very nice to have a coffe with someone, who understand me.
I m encouraging everyone to teach English- it s great experience.

Antonia

Antonia says:


Sorry,
it should be
I am encouraging everyone to learn English….

Maureen McInroy says:


I would be very interested in know how people in non-English speaking countries manage the listening and speaking aspects of language learning. I am teaching English, mostly speaking skills, in Viet Nam and find that most of the materials produced for English language students in England, Australia, Canada, USA is suited to people learning English in those countries. Finding suitable materials for those learning English in other countries (EFL), especially those where the dominant language is a tone language as Vietnamese and Chinese are, is really difficult. I would be pleased to hear what strategies and materials were helpful to success for EFL learners.

Jennifer says:


I'd like to see people making mistakes, people who cannot write in their own language, and low-level learners.

Lan Anh says:


1. I have never been to the mentioned places but I've always wanted to be there.
2. I would like to get information on the ways different people from different places learn English in order to find out the best way to learn English for myself
3. The footage for the film could be the summary of the interviews in English

Sadeq A. Al-Saar says:


I HOPE THIS EXPECTED FILM WILL BE USEFUL FOR ALL STUDENTS AND INTERESTED PEOPLE IN LEARNING ENGLISH.

I WOULD LIKE THIS FILM TO DISCUSS WITH PEOPLE HOW ENGLISH LANGUAGE CAN BE USEFUL FOR THIER JOB FUTURE AND ALSO HOW IT ASSIST THEM TO TAVEL EASLIY BY USING THIS GLOBAL LANGUAGE.
REGARDS,
SADEQ

Quang says:


I'm glad to get email from you. Here are some answer from me.

1.I've never been in anywhere of them.

2. I like to know their hobbies and how they do with them.

3. I think 10 – 15′ is enough.

Best wishes for your scheme

Graziela says:


1. Have you been to any of the locations we are visiting? (Cambridge, New York, Casablanca, Madrid, Minsk)
I have never been to those places. I've only been to the US.

2. What kind of information would you like to know from the people we are interviewing?
I think it would be interesting to know why they are learning English, the difficulties they encounter and if they like their school and teacher and methodology. I would also be great to hear their opinions on how they could learn better and faster, what their expectations are and if they have fullfilled them.

A good idea would be film different classroom environments in those cities.

3. What sort of footage do YOU think would be most exciting for the film?

Well, that's a hard question to answer.
It could be divided into parts….
and these parts would contain the different cities you go to….

Or you could contrast the students from different places and show the different classrooms.

Well, hope I could be of some help….
My best wishes with your project,
Graziela Peleteiro

sumasathish says:


i have visited newyork,i would like to interview people of diff field in diff countries,whether they are comfortable wd english or they can cope wdout english

Kanaiyalal says:


I would like to know importance of english learning & good method of english speaking.

moniem says:


I need go to new yourk to study more english when I stay in it I like meet some people are defrence feild .I like visit enjoy place means torism in sea or gardens els,i like meet people are working in the marine skills like diving and navigation systems
I like all people work in the sea . i love it too much .
this my messege to my friends
monem
sudan – Email : monem8m@hotmail.com

FOSTIN CHRISTIAN SAMBOU says:


I think this documentary is a good idea. keep it up. have a nice trip to New york.
New york… i would like to know how do foreign students and workers begin learning English in the USA ? Do the great part of them take an English teacher, or are there other ways to learn English quickly ? What are the difficults the're faced when they come first in an English speaking country such as the USA, and others. Does it take a long time for someone who does speak English to learn English when he gets in an English country for the first time ? What do English learner's think about the importancy of speaking English in today's world ?

sunny says:


I want to know what are basic ideas to learn english and how to do practice to improve communication skills.

Sudy says:


I would like to have more information about history and other country's custom. thank you

Mina says:


hey, in fact, i havnt got the chance to go to any of he places you presented, but i really am dreaming of that.

well about what to be on the film, i actually do have thousands of questions waiting to be solved, though i know some, superficial to me. so i believe not just myself, lots of people would have curiosities about the way westerners are living and more details would be appreciated.

for one piece, 1 hour and half will be enough, let it go just like a movie but more life.

ALPESH says:


Answer No. 1

I don't stay anysuch places you mentioned.

Answer No. 2

Being resident of EFL country, I am not able to get the exposure that I feel that I should have to speak and follow the english as the Native speaker do.

Having tremendous hunger in this language, I do what I can, But finally I feel that it is required to get in the culture of english family, to stay with them and by doing that those gaps i can feel in. I mean to say that gaps like some time I can understand very well but some time in CNN news i can not follow as fastly as others. Same thing happen in movies. While obama speaking out It was difficult for me to get but while his wife spoke out that each and every word i could follow easily. It means that I understand only and up to certain level.

I surf lot to know. But there is no such site who can do this. On the other hand we can not go and stay in english speaking country so how to over come this is really interesting for me to know. If you can show this in your movie then i think it will be really helpful to all.

Answer No. 3

You can show right from struggle to success in above english learning journey.

Thank you verymuch for asking my opinion/views.

Elena says:


1.Yes, I've been to Madrid, Spain. Being Russian I feel great regret for not visiting Minsk yet.
2. what is the easiest way for eldery people to study English
3. practical lessons

shams says:


hey daniel,
i m from france , i never been at any places that you ask for. I think u should ask question about the english literature, the great personalites like willam Shakespeare, Sir wlton scot etc, Grammatical question will make it weird.Short footage may be exciting but keep it up the main theme

Güzin Deniz says:


In the first place, thank you for giving us such chance. When it comes to my question, in the past, articulation of final "r" was thought to be very significant.Only upper class was producing them in their daily speech but today generally, we are supposed not to produce the final "r" in our speech in order to sound natural. Do we seem natural when we don't pronounce "r" or do we seem like a member of lower class? In short,according to them, should we pronounce it(final "r") or not ?

Tulip Magic says:


Have you been to any of the locations we are visiting?
(Cambridge, New York, Casablanca, Madrid, Minsk)

-No, I haven't.

What kind of information would you like to know from the people we are interviewing?

-I want to know how they can learn vocabulary and speaking skill.

What sort of footage do YOU think would be most exciting for the film?

-I think English learner usually get trouble with spoken English language, so it would be great if you show them all how to understand and use it right.

khalid says:


Hi,
Concerning the first question and since iam from Morocco,yes ive been to Casablanca.As for the second question,I would like to know from the people you are going to interview in that city-big one- things related to students' motivation,misbehaviour, and the way they view their teachers especially those teaching them english.
thanks for this initiative…it is worth-praising.
bye!

heba says:


i would like to know how many time they are taking to learn english and ask does they forget the language when they not use it?

daddyjohn says:


1.never been anywhere outside the philippines

2. how they live…questions that they know something about so they can express themselves…i think that's the heart of the matter if i'm not mistaken

3. terribly sorry i don't know the meaning of 'footage'

thank you

Irwan says:


Thanks a lot
I haven't been ever at the locations
I just want to know the development of English in each locations
thanks

Carmen Elisa Cabal says:


Hello, I am a lady 54 years all wich arrive here with my son 18 y(now 28 years old) wich meants 10 years in this country,because my age, isn't easy to talk correctly by I tryed hard, I have many enjoyable histories about my unknowles in ,wherever you need, let me know,
sincerely,
Carmene

EDMUND KIWANGO says:


I WON,T BE IN THE CITIES MENTIONED,FROM THE PEOPLE TO BE INTERVIEWED THEY HAVE TO EXPLAIN THE TECHNIQUES ARE USING TO LEARN ENGLISH.FOOTAGE SHOULD BE TO ONE WHICH ENRICH LANGUAGE LEARNING

nimr ramsis maximose says:


it will be very nice idea

Liliana says:


I am an English teacher and I think that the language has not changed my life in an obvious way. Since I was a child, I have a close contact with the language and I consider it is a huge part of my life like it is my culture and my mother tongue Spanish. To teach English is my passion and for me is to discover new worlds.

Dale Battson says:


1. No
2. How long they have been studying English
How they study (class, computer, books, etc.)
3. Show practice sessions
show learners sharing with family
emphasis on English not replacing native language ever
pride in national language AND in learning English

hanane says:


Hello Daniel,
How is your trip to New York? As I can notice, you just provided us with a documentation on the pictures the fact which can help us outline an idea about your visit to Cambridge University. And you didn't mention the result you came out with from your meetings and discussions with the students:learners of English as a foreign language.Besides, I want to know why do people are eager to learn English. is it for business purposes or just out of a love of the language itself? i.e. what is their aim behind learning English or a language in general?
Your next destination is gonna be CASABLANCA. so, welcome to Morocco, and I wish you enjoy your days here. Would you like please tell me wich university you are planning to visit in Casablanca?
Have a nice trip
As far as the footage is concerned, I have no idea.

Liliana says:


New York is obviously a multicultural city. You can find people speaking many different languages and something that is great are the restaurants. It is to have little parts of the world in one space that is the big apple. I love it and I have relatives living there. I spent the New Year's eve in Time square and it was a great experience being surrounded with so many tourists coming from different parts of the world. I think you never get tired of going to the same places because you always find something new.

herve foissang says:


1-i never been.

2-all information about english courses quick learning.

3- i think 2 hours will be good

Alireza says:


I would like to visit Cambrodge-City of Language and learn English beter than now with skillfull teachers and friends.

Lee Handley says:


During the last ten years, I have tutored Asiatics living in our small midwest community. With the downsizing of Delphi, all but very few of the Koreans have left the area. Those that were tutored were mostly women. We spent a great deal of time in drill pronunciation of phonograms and reading from Pearl Buck's book, "The Living Reed." I am currently struggling with an ICAL program to be certified as an ESOL instructor in the event that I am able to go to Korea. I would like some visual detail on preparing lesson plans

Micheline says:


I have already been to Cambridge . I would like to know how old the students are , how long they have been learning English , how many English lessons a week they have , what equipment the teacher uses in class , if the students have any homework to do . What type ?
I would like to see some footage of live lessons , examples of tests given to these students .

Dedi Irawan says:


1. no
2. Information about working at the oil & gas industry or Mechanical equipment
3. yes, I think that film very interest

nora gonzalez says:


I haven´t been to those places where you are goint to shoot he film. I want to know about the lifestyle of the people learning English and I would like to see the tourists attractions of those places.

Grape says:


1. I haven't never been to these places, but I know that these are very interesting cities to live and learning English,and of course I really want to be there one day
2. I expect that the interviewees will share their experience on mastering English, or if they are English native speakers, how much invalueable if they can give us some hints or advice to learn English best
3. I am waiting for watching your video,and I hope that the most interesting part will offer some effective activities that people apply to teach and learn English

Anna says:


1) I have been to States 5 years ago for visiting my friends.

2) I would have interested in learning English for socialize and express myself.
-I want to know how they can learn vocabulary and speaking skill.
– I hope myself can talk English very native
– I wish i can practise English every day ( 10-15 mins ) , coz im am worry that i will forget the language when i m not usually using it?

3) I m not sure the meaning of 'footage '

Sadasivan N.(Prof.Dr.) says:


First ofall thank you a million times for your decency to yours truly.My responses are:
1.No, I have not stayed at Cambridge but I have passed thru that place.I have not visited the other places.
2.Meet ordinary middle class people,not aristocrats or products of public schools.What's their feedback?
3.Highlight the satisfaction our learners feel thru its association with EnglishClub.com.Kindly compile their suggestions ,especially the innovative trailblazing ones.

julia says:


I´ve been to Casablanca and to Madrid. Casablanca is awesome. My first impression was an even dirtier Paris, but with an even more beautiful and rich muslim culture. The medina is not to be missed. Madrid is the city that dosnt sleep, I know that it is said about NY but its got to be truer for the Spaniards. 12 midnight is considered too early a time to be going out..things get going at 3, which is when Im well and truly ready for bed. I didnt teach English there but in Granada and if Granada is anything to go on, the demand would be high. Teaching techniques are changing..for the better, less focus on grammar and more on just getting the words out any way they can…conversation, conversation, conversaton..my advice to those learning, is put the grammar books away a while and step outside (for example if you are living in an english speaking country) or take up conversation classes.

chairil Anwar says:


Those who has learned English patiently and successfully, in some company, the officials will get higher position. e.g in Indonesian big own state company, for some position, the official must have at least 500 scores in TOEFL. But for me, if we have learned English, we can communicate with people all over the world and we can read any useful articles in newspaper, magazines, internet etc that could change our quality of life.
That's why is very important to have best English that could motivate the student eagerly, could create fun and joyful environmental study, attract the student to speak/communicate each other, doesn't shy to ask question and tell the problem in studying English.

chairil Anwar says:


1. I Never been there.

2. All information that could study English more fun, joyful and easier.

3. one and half hour will be appropriate.

Joy says:


I've never been to the mentioned five places, yet dream of visiting there. So I am expecting to see some introduction to the scenes there and people's experiences of studying abroad, especially people at their 30s. For five different places, I guess it may require at least 100 minutes all together or longer.

carlos zheng says:


none of these place.
but if it is possible ,I will go to all of them.
I hope make friends by learn english.
and a whole day is better.

Yuliya says:


I am glad to get email from you.I have never been to these cities,but I would like What sort of footage do YOU think would be most exciting for the film?

yasamin minsk says:


1- i have been to minsk . am libyan , i born in minsk & i lived in minsk for 3 years .
2-I want to know how they can learn vocabulary , i cant save all the english dictionary !!
3- how to understand each other by the right way . specially when the people speak english fast .

Lia says:


Regarding your first question, I have not been to those places. I am from Mumbai, India. I would like to know how long did the person take to learn English and whether he was serious or just for the fun of it and whether he/she was patient and mastered it with ease. What efforts were made to learn English. Did they have fair idea about English while they took up learning? What was their mind set when they learnt English and why was the need to learn English.

VanTiep says:


1- I've never been there
2-I want know about the diffirent between learning English.
3- It's about 1h will be good and the watcher is not tired.

Lan Anh Le says:


1. No i haven't
2. I want to know that How long will you being fluently in English at English club.
3. I think The sort of footage near the end of the film. It will be most exciting for the film.

Kasher says:


hello club!

this is Kasher, i want to tell you that i have never been to all those towns, and the information tha i'd like to know about the people that you're interviewing is to know, how can someone who which thoughts are about living abroad but they aren't living there?

i think that is all for me.

Thuy says:


1. I have not been to any of 5 locations you mentioned.
2. In the documentary film you are making, I hope that the interviewees will share us some of their experience in learning English especially remembering new words and using them. It will be very useful if you can interview some excellent students who got high mark in TOEFL or IELTS or something like that.
3. The footage of the film should be a comedy or a funny clip.
Good luck to all of you!
Thuy

Irmgard says:


Hello Daniel!
Lucky you being in N.Y. at the moment! I was there in 2002, but just for some days. We stayed at the YMCA opposite Central Park which was a very interesting experience because I had known this kind of accomondation only from the song.
I have never been to Casablanca though. Having some impressions of that place and its people in your film could be interesting.
Who are the people that are eager to learn English? Are they young or are there some middle-aged or even older ones among them? I could imagine having some of them in your film giving their opinions on reasons for learning this language.
All the best!

Thuy says:


Sorry I have misunderstood the word "footage"! I think that 20 minutes is enough for the film to gain the attention of the audience.

Kathy Nguyen says:


Hi Enlishclub.com
I have never been in those locations before.
I would like to know more about culture, sight seeings and life styles of citizens there.
According to me, half an hour for each subject. If the size of the video is too big I maybe get difficulty in loading it.
Thanks so much! And look forward to watching your video now matter how my ideas are used.

Chiaki says:


Hello Daniel,

I am very interested in English. In the future, I hope to have a chance to come to native English speaking places as you mentioned. I would like to hear friends in all over the world talk about their dreams and how to make them come trues. The footage should be 15 min for each is quite OK.

Best regards to you and all friends
Chiaki ^_^

Aicha says:


1-No.
2-How I can speak English language fluently and without difficulties because I am not native speaker;my home is Algeria.
3-Sorry,I did not understand this question " footage".

aly says:


1- i have never been to any of this places

2- i wanna know about thier culture,thinking and traditions

3- 2 hours

Joseph Naveen says:


Dear Sir / Madam,

First if all my sincere apologize for my lare reply, well I have my own opinion / view, towards ENGLISH CLUB.

English Club is very informative and helpful, people who have lack of knowledge about EGLISH. I beleive that each and every day your site ENGLISHCLUB.COM getting very renowned among who doesn't have basic idea about English Grammer and Vocabularies. Yes I agree GRAMMER'S are very important that VOCABULARIES. Just by hearing that what others speak we could able to learn new words in each and every day life, but while considering with Grammer it is really tough. To be frank for the past 1 year I am reading the contents what you send me, but still I am not very sure about Grammer what all I learned is only NEW VOCABULARIES. So I feel it would be helpful for students and employers if you put in easy way of lear lerning Grammers very fast. I truely believe in this rapid growing booming sector only ENGLISH could assit people to lead their life very conviniently.

Even though I am working with Education Overseas, which means we people promoting foreign Universities to Indian students who would like to pursue their Higher Education in Abrod like UK, USA, Australia and so on, still I am on my track I mean still I am in the progress of learning. Completely I havn't learned ENGLISH, so I would be grateful to you if you make your news letters about learning english in a simple and short way that would really help others.

Anywise this day is not enough for me to say that what all the benefites I have received reading your regualr tips and ideas of learning english from your very site. In a simple word ll I can tell you is, ENGLISH CLUB plays very prestigious role among students, employers, professionals etc.

Please note: I have a complete set of print-out with me about grammer only from your best site ENGLISH CLUB.

Looking forward to hear from you.

Yours Sincerely

Naveen Kumar

Hong Hoa says:


1. I have never been to those places mentioned above. I really hope someday i can able to be there.

2. I am an tutor of English in Vietnam and going to be a teacher soon when i going to graduate my studying in University. I would like to know how they learn English effectively as second language learners, what is the best way not to forget English vocabularies and how to improve listening skill.

3. I am sorry, i have no ideas about this question.

michelle davis says:


I went to NYC as a nanny when I was younger. Recently, I attended TESOL Conference in NYC.
As far as questions ask, " What do you think is the easiest way to communicate before learning English and communicating with Americans who only speak English?"

Eric Roth says:


First, congratulations on an exciting project that will find a large, niche audience among English teachers and students.

Here are three questions that I would ask:
1. What are some memorable "good mistakes" that you made while learning English? A good mistake is a logical mistake – like thinking 2+2 = 22 or confusing he/she – that you learned from? Some students tell funny stories; others talk about wasting time with some ineffective method somebody recommended.

2. Do you dream in English yet? Do you want to? Why or why not? This question allows them to provide both personal and cultural responses. Student responses often surprise – and it underlines the connection between speaking English and being a global citizen in the 21st century.

3. How would your life be different if you never studied English? Why? This question allows the students to reflect on their educational choices and experiences – and celebrates learning English as a voyage of self-discovery.

Good luck. I look forward to watching and using your documentary in my classes.

gandharva says:


1.no
2.Information relating to better way of learning english for day
to day conversation.
3. which is of great interest to the people

ymberzal says:


No. I haven't been to any of these places.
I would like to know what kind of difficulties people face with subject-verb aggreement and how are taught to avoid such mistakes as here in Punjab, people make subject-verb agreement mistakes and lose marks in class-tests.
All the best to Daniel Emmerson.
Thanking you,
Ymberzal Koul

Siriachara says:


Dear sir,
1. No. Never.
2. I would like to know about the different cultures of different country. or shock culture..

3. I don't know how to reply, sorry,sir.I 'll try the next day

Take care

David A. Bailey, Jr says:


1. Yes…NY
2. How they learn English…study activities that helped? i.e. listen to music…watch movies…study grammar…chat online…etc.
3. Inteviews on their best teachers…and why they liked that teacher.

Marek Tarko says:


It's a pity but I haven'been to any of mentioned locations – so, I am interested in all possible information .

Regards
Marek Tarko

harish watts says:


hello Daniel,
I am a teacher of english & I find your site very helpful in the teaching of the language. I have never been to these places. I want to know from the learners how they learn the language and how they undergo practice of the language. As for the footage of the film is concerned, I want to see the methods used by the teachers there to teach and what are the problems they have to face while teaching.

Enas says:


1- I have never been there.
2- the most difficulties they faced in learning english, and how much time they spent in learning to reach an advance level in english.
3-practical lessons.
I wish one time to travel and meet people speaking english, I think it's the best way to develop my level in comunication in english:-)
Enas

Luis Olivera says:


Ok I'm Luis from Cuba; now I'm living in Canada Mississauga Toronto. I have been in Madrid, around a year ago it's a wonderfull city. Very confortable to me by the Language but now I'm study english here with the canadians people that are very nice people.

Very luck with the film and enjoyed every city that you'll visit.
Bye

Ingrid says:


I would like to know about culture, local places to visit and cheapest hotels to booking.

Marlene Da silva Müller says:


Hello, I´m happy to read your E-mail, and I wanna say that is interesting people can see that documentary film.
I´ve been to Minsk, I like this place, lived in Minsk for two years and I hope to visit other places.
I hope you wil succesfull with your documentary film.

Ingrid says:


oh, I have never been in any of those places.

Mulyono Bano says:


1. I have never been to any of the locations.

2. I am sure that the Englishclub.com community vary, especially in the English proficiency, from the lowest to the highest skills. So, the information that you are going to give us should be understood by most of the community.

3. It should start from the most frequent ones, e.g. the situation at home, at school, at work, at the stores, etc and the vocabularies are the most commonly used. And then, later on, you can show the less frequent situation with the less common vocabularies, e.g. at the meeting, at the doctor's, a job interview, at the tourism spot, etc. And finally, you can show the least frequent situation with the least common vocabularies for the community with the highest English proficiency.

The archive of the films should be kept available with clear labels whether intended for the elementary, the intermediate or the advanced level. So everyone can choose which films they should start to watch according to the level of their English proficiency.

Nuran says:


1. not yet
2. Are they accustomed to use the new technology in their class? What kind of books should we use?
2.at least 2 hours

harvey says:


1:what a pity, all of them are fantastic place. i often went to there in my dream.lol. so you know what i mean about these place if i ever have been to there.
2:i am sorry, i dont really know the people who you are interviewing. then i dont know how to evaluate it.
and now maybe i m not good at do some imagination stuff. so to me that is hard to figure out what i can say at this point you want
3:i m not very sure about this. and i didnt watch it you offered. anyway, i like to watch prison break ,lost ,the o.c and including many american series.
thank you very much for great help

emine says:


how people practise their english?you can ask this question.I need to practise my english and it is very big problem for me.

thank you

Thabit Mwamwendesi says:


I actually didn't see the footage, but I will love to. Tel me how can I be accessed

Joao Ghizoni says:


I'd like to know whether or not the people learning English (Or their teachers) in those places use the mother tongue at early levels of the learning process. Thanks for the opportunity.

Karen Morrissey says:


I am an ESL tutor in the ST. Paul/ Minnepolis ans suburban areas. Currently I am tutoring a woman from Brazil at 4 hours a week split, and a Mother and her 2 daughters from Germany at an hour each twice a week. In both cases I tutor in their homes. I tutor them individually. I have not been to any of the cities listed.
What I would like to know from ESL students is in what circumstances do they feel that they learn more and quicker: In a class or individual tutoring? English Clug offers a great many materials and resources for both teachers and and students. In the USA, both Borders and Barnes and Noble have supplied many materials for many languages. Have the students been able to take advantage of available materials to work on their own. If so, has self-study been helpful or frustrating? As a tutor, I believe that individual tutoring produces the quickest results. My students avidly seek to study/ learn on their own.
For film, I think it would be interesting to do progressive filming with students from the get-go to the point where they feel they are succesfully expressing themselves in English. I think you shoul seek to have wide broadcast of the film so that people struggling to learn English will have hope.
Good luck on this project!

Karen Morrissey says:


Karen apologizes for the typos!

Wendy Reyes says:


1. I never been as welll to those countries mentioned but planning to go there soon If there's a possible chance
2. I would like to know from them how helpful the english language was, do they gain careers or been transfered to a new career.
3. filming while at work like report presentations, research ,etc., in a party how they socializing with other people & other culture,
tnx

Ganzert says:


I would like to see interviews, points of view from IT people

Thanks

maria says:


I've been to Madrid but not to the other places.
I'd like to know how long took these people to learn English and how deep.I mean how long are they taken lo lose it again?
Language is some thing that you forget easily if you don't practice. I also like to know why they think it's important to know English and if they use it in their lives when they go back home. You may lose some foreing friends after a long time without practicing English because you not longer know how to talk, specially on the phone.
I think that phonetics are very important and special emphasis should be made on the vowels lengh. talking slowly and making emphasis in every silable should be very helpful when it comes to understanding
Kids and their simple language, their ways of learning at school could be a very interesting subject for foreing people. It could be fun too to peep over a group of children and listen to them

Medalit says:


I have never been in the places you are visiting.
I would like to have more information about CALL in language learning.
I guess that 1.30 is enough

duaa says:


hey you all.first of all i hav never visited any of the sites you went to, and also im interested in knowing the kinds of problems people facing in learning english and espically accent. for me, i would like the fotage to be like a gotage that is considered as a multiple interaction between different countries and what about showing the countrys concerned.
thanks alot and sorry for bothering.

Kristine Thorson says:


How about collecting stories of language and/or cultural misunderstandings?

Show what has been helpful and not helpful in improving language proficiency.

Brosnan Lockesley says:


Hello to one and all.

I teach English in Bratislava, Slovakia, and I'm amazed that in school and University they are taught to speak English Grammatically. I tell people that this is wrong 'cos we do not speak like this. Yes we need grammar for the structure of the language, but please don't concentrate just on the grammar. I teach my students to speak naturally so when they finally go to England or another English speaking country, they will feel comfortable with the language and have more fun with it.

Vanessa says:


I have been to Madrid.

The film depends on what level you are aiming at – basic obviously questions about where you live, job, family etc.
Role plays between students would be interesting.
A situation in the UK would be realistic.

Stanislava says:


1) I've never been there but I'd like to visit them sometimes.
2) How are they learning English?
Do they like learning it?
Is English important to know in the modern world?
Is learning of the language difficult or easy for them?
3) In my opinion, 1.5 – 2 hours

joel alvarado says:


well i would like to know information about what the people usually do in those cities and also see some pictures of the people that are learning english could be nice

Orlando Carranza says:


I visited New York last April, and I was really impresed with the number of people that I saw on these famous avenues, the 5th , the 6th, the 7th, etc. The kind of information that you need really depends on the purpose of your visit; that is , if you are on vacation what you need is tourist information, if you are going to study, you need information about schools, schedules, etc and so on. I think it would be difficult to try to please everybody. One idea would be to talk about a student who goes to study something in New York, but he/she arrives two or three weeks in advance, so he/she can do some sightseeing in the city before starting classes officially. this way, you could focus on tourist information at first, and later on schools or university systems.

Mahadevan says:


1.I have not been to the places mentioned in ur mail.

2.Iwould like to know how the people U R interviewing pick up the accent , stress and correct pronunciation of English

Ari says:


1 Never been any of them
2 How is the weather in casablanca and what is the most of popular place at there?
3

Linardi, Jorge says:


l. I´ve been in many countries around the world. Australia, Italy, England, France, Austria, Chile, and many more. Brazil is my first country.

2. I have been teaching English for many years, since than, I really think of loving the language more than I expected to learn.
English as my second language is an Epic Romance.

3. I believe that your idea is excellent opportunity to improve and to know people from many parts of the world.

4. English culture has changed my life dramatically, in a positive way, of course!

Linardi, Jorge says:


Thanks a lot of this moment!

Mary says:


I've been to Casa and NYC. I'd like to see the experiences of studying English in the U.S. and outside the U.S. compared. I'd like to see footage of classes so I can observe teachers.

Can I get a copy of the video?

Thanks.

Virginia Mattos says:


I´ve been to Cambridge, where you can find all the different kinds of students, accents, cultures.A wonderful city!
So, I´d like to watch a film about these people, their different approaches to learn an teach English. It would be a great idea if we could see these people talking about their experiences with English, how has English contributed for their professional success and the importance of English in the job market.
I think that the interviewees have to be second language speakers so that we can the importance of learning English closer to us.
I love teaching English and I wish my students had the same passion as I have.And this fim would be a good way to motivate them.

Jordi says:


1. Have you been to any of the locations we are visiting?
(Cambridge, New York, Casablanca, Madrid, Minsk)

I have been to all of these interesting cities; in fact I'm living in one of them. I've been to New York recently –July 2008; Cambridge one year ago; Casablanca, about three years ago and Minsk more than three or four years.

2. What kind of information would you like to know from the people we are interviewing?

I would like to know how they practice speaking English and what they do to improve their general English.

3. What sort of footage do YOU think would be most exciting for the film?

I think that about two hours could be suitable.

Have a good and interesting trip!

Parastoo says:


Hello
how r u? good very nice of u but i have never been in such countries u mentioned but i have very nice experience of learning English although i have the bachelor in English language but im not too fluent in speaking English and just some theories studies in university just for progressing my English Language i started to chat and now thanks Allah it seems it is prepared for me to go such locations just one of them, UK.
But i need to know alot about this country although i know a bit but need to know more
thanks too much

Finz says:


1. I've been to N.Y
2. I'd be happy if they can tell me how to learn english faster, especially listening/speaking, because when we learn a language, the most important is listening/speaking. No body knows if we can't write,right? Aside from my mother tongue, I speak Chinese too. But..people has no idea if I can't write/read chinese :)
3. I really have no idea.

KHALID says:


I'm studying in portsmouth in UK
it would be greet to answers any qusetion

hardlearner says:


I visited Madrid and New York.
I would like to know the interviewed's backgrounds, experiences and methods used in learning the new language.
Footage??????? well I do not know much about that….but I will take advantages of these beautiful places…

sheila nilsson says:


1. I have been to New York
2. I think it would be interesting to hear what tips the interviewees have learned when they were learning English.
3. I think it would be most exciting to interview English-speaking people around the world and get an insight into their lives. Also letting children talk about what's important to them….it's easy to understand and usually very amusing!

Irina says:


I haven't been to any of the locations you are visiting.
As for the information from the people you are interviewing, I would like to know people's attitude to life, role of family and job in their life.
It would be exciting to find things that join the people of all locations.

GYANENDRA KUMAR says:


Hi
You have not included the people from indian subcontinent. Now a days Indian is teeming up with multinational company, and the people of our country is feeling the need to learn spoken english.

If you include the problem of our people, they would identify themself more to your film. Main point of concern is the accent of our country, now the need is US accent. We have learn uk accent from our forefather with indian touch in that. How these problem can be reduced, because we have learnt that since our childhood.

e2e4 says:


..never travelled not only to the cities but the related states too.

Would be interesting to know have the learners been able getting the proper books which were written in GB and which the learners need for advancing the language but in the cities of the non native countries.

From the film, I would also like to get the people's accents in the streets of the cities which are on the route and I'm hoping you are about to increase the number of the places you'll visit later on.

Burcu says:


1-I have never been in any of these cities you have asked.
2-I would like to know about how their lives are going around their cities, and about their learning English.
3-How do they use English in learning situations and in the real communicative situations?

abedri says:


1. I have visited Madrid.
2. I would like to know how can social participations in English langauge through the net encourage and strengthen the spirit of brotherhood among the peoples all over the world, which was severely cracked after September 11.
3.I suppose 75 minutes.

J J says:


Hi: I visited N.Y. 19 years ago. Like it very much! Hope you too. Tell us about it when your back.
Thanks for all your hard working. I am in Californiia now. I've been with you over a year and getting a lots of stady done by reading your lessons.
Thank you very much! I love this Club!
Enjoy your trip!

nisan says:


I would like to learn how people feel comfort who learn english. I mean which sitations these people experience. And than they have come to this phase.

Ameur says:


1/I hear these cities and see some of the television. But I have not visited in my life.
2/Information that I want to know. With people who talk with them is. I want to know their views on peace in the world. How can the peoples of the world to live with each other. How to love one another. How are helping each other in spite of all religious and cultural differences and customs and traditions … In short, I want to know the humanitarian side with people who are interviewing him …
3/I'm sorry I did not understand the question. .. What do you mean by the word(footage) because I do not know English well. Can you explain to me the question?.Please
thankyou very much.

Camelia Santa says:


1. I haven't been to any of these cities
2. I think it would be interesting to know more about their lifestyles, about the cities they live or study in, about their needs in what English is concerned and many other interesting things
3. I think it shouldn't be very long so that it doesn't become boring; but 10 to 15 minutes about each location I thinks that's reasonable
Good luck with your production and congratulations for the idea

Martha says:


1.Well I've been to Madrid which is a very interesting city.
2.I think is going to be very nice to see how they can practice English, also how they can interact with others.
And the classes how motivating they are.
3. One hour is OK.

Good Luck with everything, have a good trip and if you can send a copy please….

AMAL says:


Dears
I have been in Madrid,i traveled to many different countries.
I notice that every language (tongue) represents a Man (person).So i prefer you to show your film as a story of different friends belong to different cultures,nationalities, or languages. in one party .
As you know , the variousness is kind of the beauty of our life or our globe.
Wherever i go i get few words or idioms of their language.
Best regards
Amal

Ehsan Rapaya says:


1- I have never been in one of these places ,but I wish I could!

2- You know?the problem is not how to learn this language but how to use it .We can't seperate any language from its culture or it will become defective.In fact,what I want to hear from the film is how learners could keep up with the new in the language whether in vocabulary or in usage ,as a learner of this language I face difficulty in keeping up with the English Langauge as the sources are mean and so expensive ,also to get the accent is too hard I want to know how could I get the true accent .

nziha says:


Hello, here are my answers:
1-I've been in Casablanca.
2-I'd like to know the benefit of learning English( from the learners' point of view) and the obstacles they face while learning it.
3-I think the part which reflects on peoples' ways of life and their cultures would be the most exciting part of the film.

blgeis abdulla says:


I have not been in the location you limited . I hope to visit these places in the future. I participate at British educational institute in our city in mukalla in yemen . I am so happy because i learned English from english people .I hope from your to help me & other people who like to learn English and tell us how can we speak english language well I think the most exciting footage is the footage which teach & help us to learn english . I want to know how they learned english & how can i make community that help me to learn english if i live in a place no one speak english .
thanks for you to give us chance to tell you about our opinions
bye

Mohammad says:


1) I've never been there but I'd like to visit them sometimes.
2) How are they learning English?
Do they like learning it?
Is English important to know in the modern world?
Is learning of the language difficult or easy for them?
3) In my opinion, 1.5 – 2 hours

Omar Araya says:


it looks really nice. I ve never been in those places but I d love to.
Congratulation to everybody

chi says:


1. I had been in New York for long time.
2. I think it would be interesting to hear their idea about the technique to learn the foreign language.
3. I think it would be interesting to interview English speaking and non English speaking people around the world about their lives and the place where they live. Also let they express their opinion about political, religious and cultures.

nesly says:


hi,
i want speak english like my language,i want find some friend who have a good understanding able understand when i am talking about .And i want to know more about learning english .

Sukhonthip says:


1.I have been to New York twice.
2. I would like to know how the people practice their English.
3. I think it would be excited English from everywhere in the world so we can see what is different English and we will get insight too.

hanane says:


ok, I left a comment before receiving your inviting é mail. I'm really interested in learning English and I dislike the idea of forgetting it since I am no a native speaker of it and I do not use it in my daily life. As far as your questions are concerned:1st,3rd I am Moroccan and of course have been in Casablanca, but never been in one of the other cities and i wish you visit Tangier city when you are in Morocco.2nd, I would be so grateful if you provide me with a strategy not to forget English, the language I spent eight years to learn.3rd, footage. can you please explain what does it mean in the jargon of film making.
The Best Of LUCK

Farahnaz says:


Hi,
Just I would like to thank you for helping people to learn English.
I think your web site is wonderful. Always I use the web site and recommended to my friends.
Regards,
Farahnaz

kiwy says:


1 i 've been to casablanca.
2- i'd like the film may include information about people's cultures( languages, ways of living, custones, opinions about different issues that help people to know each other to become world citizens, because nowdays the whole world has become just a small town due to the new technology inventions, top of them is INTERNET as the best means of effecient and effective world widecommunication ..
3- between 45 and 60 mns

Yan Han says:


1. No, I have not been to any of those locations.
2. I think it would be interesting to know why they study English and how they did learn it and there suggestions about learning English.
3. Seeing different people learning English in different ways, and the mistakes they've made, and the lessons they've learnt about learning a new language is very exciting for me.
Good luck!

Roxana says:


I have never been to any of the mentioned places. I like to understand English like my language, I'm interested to know how other people around the world learn English.

May King says:


1) No, I have not been in those places physically.
2) It would be nice and informative that we can pay attention to English learners re: their difficulty in the critical skills – pronunciation, stress, reading, writing, and speaking.
3) It would be very interesting to learn how to pronounce their alphabetics, vowels, consonants as compared to English sounds. Especially, there is any word in their language that can mean really bad if we mispronounce it, for instance, in English, the word – Hit and Heat, or Sheet and Sh–, or folk, fact, f-ck…

Thank you for asking my input. Also, thank you very much for many free lessons in the past, today and tomorrow.

Yours truly,

May King

JO 753 says:


You should include something about how much difficulty is created by the disorganized spelling, and maybe even a little about my project to fix the problem.

rana says:


Iwill interest with your film ,and i think that all kind of informations will be benefit

Ivy says:


I've never been to those cities, but I always desire to. I'd like to know how people live. I mean what kind of life they are pursuing most. I shall say natural beauty is going to be the most exciting and perfect point for the film. Looking for it~!

yasmine says:


1-I've never been there but i hope to visit them some day
2-I 'd like to know how people learn and speak english and listening to there accent
3-I think 90 minute would be suitable

adari srinivas says:


hai,
its an excellent idea to make a film. The following are my requests:
1. How is English being taught in different places with different mother-tongues? Is there bilingual appraoch in some places like Morocco?
2. What are the latest teaching modules sto teach tenses effectively?
3.I'd like to know how Prepositioins are taught so that students dont forget their proper usage?
thank you

vindy says:


1.No.
2.Culture.
3.Easy to understanding

Lucy Luo says:


Thanks for your e-mail.
My answer is as following:
1. Sorry, I have never been to any of those locations.
2. I want to know the lifestyle of the people interviewed and some custom in these cities. At the same time, I think the story of their English-learning experience will be popular.
3. I think some interesting story with humor will be most exciting.

Lucy Luo says:


Sorry, I want to alter my answer for the third question, since I didn't understand the meaning of "footage", I think the footage for an exciting film is 1-2 hours.
Dear Hanane, I'd like to explain " footage" to you, it refers to An amount or length of film or videotape.

amarni says:


Q. 1. Actually I am from Morocco,so I Have visited Casablanca many times, Of course.And I also have been to Madrid for a short visit.
Q. 2. I would like to know how these people feel when they are learning English, and if they enjoy it,or not.
Q. 3. Well, I guess filming people while they are learning English can be fun.

Andri Susanto says:


I've never been too…
I like if somebody never stop learninh english
i think one hour

niniek says:


1) I've never been there but I'd like to visit them sometimes.
2) How are they learning English?
how are they can survive in this life?
how their cukture?
Is English important to know in the modern world?
Is learning of the language difficult or easy for them?
3) In my opinion, 1 hour-1,5 hours

good job and succes. God bless you all

Stone says:


I like the films that funny and educational. Or some supernatural.

monang says:


1.no, I haven't been to Madrid, Spain and Russian
2. what is the easiest way to learn English and about the technique to learn the foreign language.
3. I Think 1.5 – 2 hours

Abul-Qasim says:


It's of great importance to share teaching and learning experiences . In response to the questions raised :
1st : No, I ,m not living in those 5 countries .
2nd: I'd like to recieve a copy of the film.
3rd : I think it can be invaluable if the film centers around the tangible issues or the problems prevailing learning and teaching Eng.

Andri Kusuma Budi P says:


1.Ok , First thankyou for informations about this. I never been any locations but i some day i wont to go there if i got many money to go there.
2. I would like to know how the people tradisional language, culture and so about tradisional music.
3. I think pass from tradisional music , culture can give some positive improvement to lecture language english in differen country

Jery says:


Good jobs,thank you so much for your all efforts.I have not any chance to go outside China until now, your film and documentary will give me a great help to know those places you visit.I have been learning English over ten years.As never setting a step on to those English speaking countries,I would like to know those people there how to learn their language and how non-English speakers learn it. I think we have different ways to learn Enlish due to different background.
I think communication is very important for English learners,why not set a place on the net where all learners can meet with new friends who are learning the same language and talk to each other?

chayapathy s says:


Sir/Madam
For some reason or the other English has become international language through which people living differents parts of the world can communicate with each other easily. That is why Advanced countries in east like Japan Korea and China and even in India are evincing interest in propagating and encouraging learning of English language.
The renowned philosopher Late Dr Sarvepalli Radhakrishnan ( Ex President of India) once said that English should be Indianised so that the natives may feel at home to learn that language wihout any prejudice.
I therefore feel that English should be regionalised so that more and more local language words can be incorporated in communications and we should not insist on gramatically correct and old fashioned conventional English.

Neeranat says:


I've never been there.I interesting to know more about their lifestyles, the cities , other interesting things

Echi says:


I have never ever been to those locations, hope someday i'll be there. i am willing to know how to translate our mother tongue language into english as the second language. My first language is Indonesia and i am working in an International Non Goverment Organization where some program managers are native english speaker. When the managers have meeting with communities that do no speak english, my task is translating the communities' speaking into english in order to make my managers understand what the communities are talking about. Therefore, i want to know some tricks and tips in translating our first language into english as the second language, what have to be considered in doing english translation?, i will be very happy if you are interested in asking these questions to the people you are interviewed.

Regard,
Echi

Husiana Ngabut says:


1. I have never visited those cities.
2. I would like to know how people in those cities learn English and
how people interact with others.
3. I'm not sure whether my answer is right or wrong but I expect it
is not more than half an hour.

Thank you

meena says:


hi,
i want speak english like my language,i want find some friend who have a good understanding able understand when i am talking about .And i want to know more about learning english .

khoired says:


1. I have never been in any of these cities.
2. I would like to know how the people practice their English if they don't have chance to contact with English speaker.
3. I think it would be excited English from everywhere in the world.

stella says:


I have not been in the location you list, but i'd like to viste those cities someday.

I am not a native English speaker. I would like to know how to make progress both in writting and spoken as i don't need use English at all.

Surya says:


I never been there, but I support it.

Lino says:


1. inever have been in those place
2. i would like to konw how i can laern fast english
3. i think shud'nt be long, is bether if dosen't get to long

happyanglei says:


I'm glade to receive your inviting e-mail .
In fact i have never been to the cities your gave out and may don't know some of them ,and i'm very interesting to know more form you.As you say the film includes interviews with people learning English around the world, i'm focus about the way they plactise they oral english and how can they use english as an english local people.And about footage ,i'm sorry that i can't understanding this word .

Rama says:


1) I din't go any of those places.
2) Something like their success stories on english learning.

Yonghe says:


I have never gone to the locations you mentioned. I think it must be very interesting. Good luck!

Jonniel Caadan says:


Have you been to any of the locations we are visiting?
(Cambridge, New York, Casablanca, Madrid, Minsk)

No, I haven't been there. But I'm well acquainted with those places through reading, films, etc.

What kind of information would you like to know from the people we are interviewing?

I think you can also ask for their opinions about non- native English speakers like Asian (but grammatically proficient and fluent enough and English is the main language in their nation) who are teaching ESL to foreigners. Do they think these people have a place in the global market?

What sort of footage do YOU think would be most exciting for the film?

I think it could be a documentary type of film by which people of different levels can really appreciate it. It must be simple yet authentic, interesting, and enjoyable to watch.

bingzhong says:


1. i haven't been to anywhere
2. i want to know the living experience about other people.and the culture and languages.
3. maybe the details of the using language are prefered

Dedah S. says:


1. I have never been in those places
2. I would like to know more about learning english and I want to find some friend to be able understand when I am talking about
3. I think its about one hours could be enough
good luck!

thuy duong says:


hello everybody!
It's pity because i have not been in the location which you mention.i hope i will come there in future.i'm come from Vietnam,i'm a student.i want to know how to improve English skills for non_native english speakers like me,especially listening and speaking.i realize that non _native english speakers feel very scare and lack confidence when they speak english.which English skill is the most important factor for our job?by this program i want to make friend with anybody who like english and want share our experiences in studying E all over the world. i think this film should last 1-2 hours and have a small playgame to make it lively.wish this film will be sucessful.good bye.

Thip says:


1.I have never been any countries.
2.I would love to know about the people's life experience,and, education.
3. I have no comment about footage.

rod nadela says:


I would like to know how are most people, whose native tongue is not English, are learning the correct grammar and how are they learning the kind of English as spoken by Americans born and brought up in America and the kind of English as spoken by Englishmen who were born and brought up in England.

As for me, I watch American TV shows and listen to VOA broadcasts over shortwave radio. I do not get to speak to any American or Englishmen so that the way I pronounce English words does not sound the same as that of Americans or Englishmen.

Anne Morris says:


Only place I have been to is Cambridge and one of these days hope to go to others on the list. I would like to know about what the speakers think of the places in which they find themselves; some of the good things and some of the bad; how they find the local people … are they welcoming and helpful; why did they choose this particular place; what methods have been used to learn English and have they been successful …why?
In terms of footage, it would be very valuable to have some background info re the cities; a bit of history … just overall context(don't forget a map!) Then of course we need to know a lot about the environment that the students encounter … particularly the favourite haunts. Good luck.

Hector Coria says:


Yes, I have. I was living in Madrid and Alcala de Henares for 4 years. I was there since november 1998.

Information about Method for learn English Languaje in that Country.

How speak English Languaje in the diferents situations of our life.

Ana says:


I have been in Madrid years ago. I visited many places in this city and around Spain.
I wonder why in any places there are something that talk about Francis Pizarro. He was part of the crew that explored part of America.

winsome says:


Although i had never been forigen,it is a way to learn english in other country.When we met people , i want to know their basic information ,also their interests which make us commnicate better.About the film shortage, i think the sound effect and arcobat are very important.

naser says:


1. I have never been in those places
2. I would like to know more about learning english and I want to find some friend to be able understand when I am talking about
3. I think its about one hours couldnt be enough
good luck!

naser says:


1. I have never been in those places
2. I would like to know more about learning english and I want to find some friend to be able understand when I am talking about
3. I think its about one hours could be enough
good luck!

Marissa says:


I went to Madrid last summer – I enjoyed all the museums, the Parque del Buen Retiro, etc.. FYI – try out those tourist buses (I know they look cheesy, but it's a great way to relax and see what's available in the city so you can decide what's worth seeing).

Questions I'd want to hear in the documentary:
What are the best and worst experiences you've had in learning English? If you could tell an English teacher what NOT to do, what would you say? What's the best advice you can give to an ESL learner?

Thanks!

Rattana says:


I have not been in the location you list, but i'd like to viste those cities too if i'm rich.

I am not a native English speaker. I would like to know how to make progress both in writting and spoken as i need to try to
use English at all.
thank you very much for your kindly.

mohamed says:


i want asking about learning in this towns AND WHAT is life look like

pooja sadanand says:


Unfortunatly I haven't been to anyone of the places you mentioned, but i would still like to give you a few suggestions.
Try getting interviews of people who have landed good jobs for themselves after learning the language.
Why aren't you visiting India…i think we are an excellent example of how a country can do well thanks to being fluent in a foreign language.
Today we are running schools teaching English to foreigners and there are many articles written about Indians speaking better English than the native speakers.
Maybe you can pick one characters journey from the start(beginning of the course to the fluently speaking stage) to the end as your back drop.
I know you are planning to make a documentary.. but your subject allows you to put humur…try doing that..drab movies aren't fun to watch and often don't get viewed by many, loosing the purpose of making a film with an intention of parting information for masses.
Best of luck.

ramesh says:


I have never gone to the location which you have mentioned.but I ready to support you.I would like to know how peoples are practice in english speeking and writing.
thanks

Sherry Wan says:


I like English very much.But I want to improve it.

Francisco says:


I´d like to know from spanish people how to ready the delicious dish "paella", shown step by step in a movie.
Best regards
Francisco

Baktash Hassanzai says:


I really love this Website this give me lots of important thing about English Language.

Indika says:


I haven't visited those cities.

2. I would like to know how can I fluent with English and
and can you tel me what is the easy way. On the other hand I want to communicate with other people from various countries who are interesting in English.

3. * Documentary fillm should be biging with simple vocabulary so that every body can be undestant.

*I think the fillm will be more popular if you can explain the story with picture, cartoons like that

*Name of the fillm should be more attractive with the subject you have alredy selected for the fillm.

I'm Indika V.G.
Sri Lanka

neon glow says:


i have not been to anyplaces above
i wanna know something how to improve the pronouncation
the interesting thing i think is the culture shock in different places

Moeen says:


I have been to Cambridge. It was in 1995 ,for a summer school in Fitzwilliam College . In 2005 , I travelled to America for a course in sustaining innovation .That was in Boston College,Massatchussetts.
I would like to see photos of Fitzwilliam College and the people who offered us their services. I wonder if you could interview:
Keith Morrow, Peter Maingay ,Felicity Hinderson , Luke Port..
Jermy Harmer . Do they remember us??
The footage of the film could be 20″ but not more than 40″
Thank you and God bless your efforts

nuerli says:


I live in Indonesia and never go to those country. Yet, I know that English is very important for the whole world. Then I want to know how English can influnt poeple's culture and their daily life.

Pradeep Rawal says:


1. yes once i had visited NY in 2001 in connection of business.
2.I would like to know from the learners what was their level of english before & after attending above english learning courses.How are they feeling now? Whether they are able to speak like a native english speakers?
3.Your team is the expert of your field ,therefore,you are the best judge to decide about the footage.

Lalith Weerathunga says:


I have never been in those places

I am not a native English speaker. I would like to know how to make progress both in writting and spoken. I would like to know how the people practice their English if they don't have chance to contact with English speaker.

I think it could be a documentary type of film by which people of different levels can really appreciate it. It must be simple yet authentic, interesting, and enjoyable to watch.

leila says:


hi,this is very important.
you are best.

Kim Anh says:


hi, everybody.
Iam very happy to join English club. and I hope I will meet everybody in Vietnam.
I was born in Vietnam, in Southeast Asia.
Iam 25 years old, Iam girl. Iam married, haven't children.
I worked from 2007.
I want to meet you and say with you.
I make the acquaintance of everybody
The film is very meaningful, because I known, exchange and to learn by experience with everybody in the word
Try to reply as soon as possible
thanks, and good bye, see again

aruljesudoss says:


this gives me a great pleasure to have your helping to learn. for that i would like to know about the skill which is populary known as a communication. please help me to agement the communication skills inorder to develop my excellaincy in enghlish. i hope, that you will sent me the medirial

Miriam says:


I have never been to any of these places.
I would like to get information about them, thigs they do, free time activities. The ways they learn English.
I think that presenting short conversations about different situation where we could see how the language is used in different aspects of real life.

heidi says:


i have never been there!
i wanna find a friend.
may be 1-2hour is enough!

plamenazankova says:


It would be wonderful to make people listen easily to native speakers of English. Films are a great idea.

MADHVIRAJ says:


1.No i haven`t been to any of those places.

2.How English Language is being helpful for their growth.

3.How English is helpful to everyone.

Ertan says:


hi,
I have been to Cambridge for 3 months. I studied English in Cambridge in 1999.

I would like to learn from people;
– how to learn English or other language effectively?

mekala palanisamy says:


hello sir!
The documentary is valuable!!!The site is good source to enrich my vocabulary, roots of certain words and lots of english stuffs that are difficult to get..

1) I never been to any of those places..

2) I would like to know their accent and whether i am able to converse with out any communication barrier..
To speak english without the mother tongue influence..

3)The flim can focus on their culture and the way they speak english, the accent.. wish the flim will be succesful and entertaining….

Shaker says:


1- No I am not>
2- I would like to know the methods of thier learning english.
3- I hope that I will share in this kind of films in future>

Jensen Chao says:


3. What sort of footage do YOU think would be most exciting for the film?
The beautiful sight,amazing great construction,euphonious song

Dashnyam says:


Hi
How are you?
I have been studying an english for three years so
i can't speak well
What should i do?
Please give me an advice
Best regards
Dashnyam

Nadja says:


Hello!
1. Unfortunately, I haven't been in Cambridge, NewYork, Casablanca, Madrid, but I live in Minsk and I'm very happy about it. Probably, I'll go to some of this places in the future. Who knows…
2. I would like to know why people learn English. I'm sure some of them have their own special methods or techinques to keep in mind new words, to improve the pronunciation and etc.
3. The material about culture features and significance of English not only for business sphere, but for ordinary people too.

YUYUKHAING says:


I would like to know more about learning english and I want to find some friend to be able understand when I am talking about

Neal says:


1. I really wish to visit those famous cities.
2. I'd like to know their story which coule inspire us.
3. As for me, 2 hours would be enough.
Thanks very much

Best regards

Neal

Sep 11st, 2008

Angela Malisa says:


1. Have you been to any of the locations we are visiting?
(Cambridge, New York, Casablanca, Madrid, Minsk)?

No, I have never been there. But one day I might visit those places.

2. What kind of information would you like to know from the people we are interviewing?

Ask one of them to mention all parts of human body and let us know them clearly. For instance, the part of a human body which allows food in the stomach etc.

3. What sort of footage do YOU think would be most exciting for the film?

I would prefer a film that will also mention ways of utilizing our natural resources in a sustainable manner in order to develop.

Kind regards,

A. Malisa

Raj Kumar says:


1. I have not been to anywhere
2. I would like to learn english & I want to make friends who help me about learning the english.
3. I think it could be useful for english learner

Faris H. Amana says:


1. I never been in any place, but i've been in some other European and Asian places.
2. It would be very good if the film focus on the internal life and activities.
3. It woul be good if the film be with more people.

Rini says:


Hi,
Thank you for sharing this information. Actually, I'm so excited about real education film. Why don't you visit Indonesia or any other country in Asia? I think, it will be more interesting to make a documentary film in non-english speaking country. The obstacles of learning or teaching english is more complex here.

I often read a book or hear about somebody's learning/ teaching english experience that motivated other. I like story about 'HOW ENGLISH CAN GIVE A GREAT INFLUENCE IN ONE's LIFE' or 'THE SECRET OF ONE's SUCCESSFULL IN LEARNING OR TEACHING ENGLISH' or 'HOW ENGLISH CAN BE EASY AND FUN TO LEARN; Based on one's true learning/ teaching experience' in every country.

GOOD LUCK!!!

Aboubaker says:


hello everybody!
It's a great idea and i have been in casablanca before many years now but i loved casablanca with all it's atmosphere, people and everything…
I would like to share with people their expiriences in learning English as a second language.
The most difficult part in learning English is Listening to the native speakers,to me it's hard and i embarress myself and others as well,but i will not give up so by this kind of work you are helping us very much.one hour it's quite enough.Good luck!

Aboubaker says:


experiences

Alaaayman says:


Hi everybody,
Thanks for inviting me to answer these questions.
I have never gone to these places but I'd love to.
I'd like all languages all over the world to achieve success as the English Language.
I suggest the following questions:
1. What are the characteristics of the best teacher,especially the ESL teacher?
2. What is the best method of teaching English as a second language?
3. What is the best way to overcome the laguage interference?
4. Does the method of teaching English differ from country to another? Why?
5. Does the different cultures of the teachers affect the English Language teaching? For example,If the learner lives in New york
and two teachers teach him/her : one is Spanish and the other is French :Is the way of teaching the same, similar or different?
What way do they prefer? Why?
6.What is the best prize, as they see, the teachers have to be rewarded?
For the footage of the film,I suggest the following:
!. Show us Learners who interview their good teachers stressing how the learner appreciate the good teacher.
2. Show us learners who draw their good teachers.
3.Show us teachers who interview their brilliant learners stressing how much happiness the teacher has at this moment.
4. It may be one hour.
Finally,don't forget that learners are the best persons who give you real information about teachers.

Wesam says:


For the first question,
I am in Cambridge now but unforuntly I haven't joined the English learning becuase I didn't hear about it. I will still be in Cambridge untill April 2009 if you have any learning English programs, I would like to join them and if somebody needs help in Cambridge as well, I will be happy to help as much as I can.

Nita Mukherjee says:


Hello,
1. I have not visited the locations mentioned.
2.It would be interesting to know what methods are followed for ESL learners, specially the way grammar is taught [formal or just instructional]. Is the teaching mainly oral in nature? what is the percentage of writing done by the students?
3. A footage of how children interact in class, and with their peers, would give an insight. For example, do they speak English even outside the classroom?
Thanks,
Nita.

Namatullah Elahi says:


thanks for help and services.
i need information about the most important way to be able to lear english, the affective way for learning and like social and political informaiton as well as.

i am not in the mentioned location.

the footage of film in my view should be one hour at least.

Hojat says:


1.Yes I have been to two of them, New York and Casablanca.
2.The specific aspects of their lifestyle and culture.
3.It can be mixture of interviews and other sorts of documentaries to increase its value.
Good luck

hugo salinas says:


1. I has been in New York, it was really good.
2. information about the hobbies and activities that they do in the free time.
3.film people speaking about their lives and dreams.

mai anh says:


I've never been to there, but I always thinking about visiting it someday.
I think u should interview them about their current living and there ability to use english, their method of studying english…etc, and the footage about 1hour is the most suitable ^^
Love

Elena M. says:


1. Actually, I live in Minsk. It's a pity many people don't know where it is. So- it's in Belarus, a capital city. Very nice, there's a lot of greenery and it's very clean. Though you wouldn't see a lot of monuments there (the city was absolutely destroyed during WW2 and then rebuilt), but it's a comfy place to live and pleasant to visit. Though in november it may be cold and rainy:)
2. The first experience in language learning, how the learners practice the language if they have no chance to visit the country, some funny situations connected with the use of the language. I wonder if the learners are interested in the culture of the country the language of which they learn. Then – the most exciting, boring and memorable thing of the language learning.
3. The one ,which can give a chance to enjoy the film and use it both at home (for pleasure) and in the classroom (for the educational/teaching purposes)

ajaz says:


AoA,I m fine here.send me english grammer books.thanks

Gopal says:


Hello ESL Team,

I have never gone to those location. I am Indian & i want to know how to improve my english skills.please tell me I want to make friend which are learing english & his experience want share to me. i wish this film will be sucessful.

Gopal

Not Je Thoyyib says:


I would like to express my true answer that I have never been to those places so far but I hope I will be there some time. What I need to know from the local people is how they communicate their mind instead of expressing them in spoken language. I am not much different from the other that this club is appropriate boat for us to share English.

alamsyah says:


1. I haven't been visiting to there..but i hope i can in next time for continue my study. I think it must be very interesting.

2. i want to know about culture, language, life style, education or university in Cambridge, New York, Casablanca, Madrid and Minsk. May be, i can study in there…it's my dream..

3. it can growing up friendship between people in the other countries and must be full of human value…

Pankaj Bhatt says:


I have never been out of India but would definitely like to visit these places, especiall Cambrige. Please ask the people you interview as to how do they cope up with different accents/pronunciations. If you could include footage on how to learn to build up spellings and never to have to cram them, I peronally believe should be a great help to the vaste student community in India. Thanks.

Aijaz says:


Hi,
I never been to locations you are visiting. I think people should be demonstrated and treated with not more than 5 people group. A group discussion on any specific topic could be picturized.

Feona A says:


I have never been to any of the cities that you mentioned.
This is an excellent way for me to understand how people around the world study the target language. As an ESL learner I want to know how I can improve my language proficiency, seeing their success at their second languague acquisition will definetely help to motivate me in my quest to learn English.

Ahmad Al-Tubaji says:


Hellow
1- I have been to Casablanca for one year.
2- I want to know how to improve English listning
3- one hour is enough.

thanks.

kookai says:


i have never go to anywhere ,still my country, but i want to go if possible.

sorayya says:


hi
Well,I have never been to any locations which were mentioned.
about second questation ,i want know about their language ,cualture ,way of living,relagion, tradition.
I think it would be excited English from everywhere in the world.

KZ- javad says:


hello everybody

1-I'm sorry I have never been in any of the mentioned places.I hope to visit these places in future.

2-I'd be happy if you tell me how to learn english faster especially listening/speaking.I'm intersted in business conversation and to know how can I learn and improve my business conversation and writing business letter.

3- It depend on subject so I think that 30 or 45 minutes is enough for the film to gain the attention of the audience

good luck

voxuan says:


I have never been there. But I would like to go to there.
I'd like to know infomation about the ways of learning English effectively, e.g watch TV, film, chat, … in English.
I think 10-20 minutes is ok.

Lidia Meriaty says:


Hi guys….

Thank you very much for this English programme.
– I have never been to those cities
– Learning english is very important for their job and for secound language and easy to get friend from many countries.
– The most exciting is go to abroad and learning like a baby every day

Ashok says:


I am Indian and working with Goethe Institute.I am not a native English speaker. I would like to know how to make progress both in writting and spoken.I always hanging with English club and trying to get something to progress english.I request your help to speak flunt english.Thank you.

Zillur Rahman says:


1. I HAVE NEVER BEEN IN ANY OF THESE CITIES
2. DOES ANYBODY LEARN BANGALI LANGUAGE AND IS IT HARDER TO LEARN THAN ENGLISH
3. I AM NOT SURE IF I UNDERSTAND QUESTION. MAYBE A LANGUAGE INFLUENCE ON CULTURE TODAY

Vaclav Perich says:


1. When I wisited Madrid in 2002, it was very nice experience to use English in communication with people of more other nationalities. I bought an one day trip (to Segovia and Avila) and during journey, I spoke with people from very different corners of the world. I was fascinating.
2. How they experienced their first "sharp" using of foreign language without assistance of colleague or interpreter. Such moments might be very funny. At least!
3. There are several model situation, in which using of English is absolutely essential – rescue services, air transport, science conferences and so on. It would be interesting to introduce a typical example. In a Czech movie "Darkblue World" played an important role communication between foreign soldiers during the "Battle of England".

baiyun says:


Hello,everybody
I've never been to those places before.But if it is possible,I want to visit an English-spoken country.
For the second question,I want to know the language and the traditional culture about the locations which are mentioned.
Finally,I suppose the mosst exciting footage of the film is the Cambriage University international dancing club.
Thanks for giving the film to us.

ourania stavrakaki says:


i havent been to these places but I would like to.Meeting new people andvisiting places is really important to me.
i would like to know their job and interests and about the problems they face in everyday life.I know how difficult is to get by these days…
everyday problems,that is the most important for me

mahdi says:


intersting for me, reason of lerning english for them?
their schedule daily,weekly,monthly,yearly
about their family economy city and country economy
their openion and mind about "how can progress lerning english"
what they think about globalization?

biang says:


dear,
1. I'm sorry. None of the place I've ever been to
2. I'd like to know their biodata(don't have to be completed), what they did study it, what they or their teachers/instructors do to make them like learning English, what makes them like and study English
3. I think 30 up to 60 minutes is enough
peace,

Diana says:


To tell the truth I have never been in the mentioned places.English learning is an open world for me to change whatever I want and Also to learn something really different.
I'd like to know what motivates people there to continue their living and also I'd really like to hear some of theii brand new experiences.
what they advice ones who are not there to learn better can make me mopre excited .
with the best regard

LM Cholid says:


Hi, I'm from Indonesia, below is my answer:
1. I have not gone to the mentioned place yet. It seems 5 different places with different culture. It is very interesting.
2. I want to learn the communication in it
3. It would be interested listening the conversation to improve my English

Ludmila says:


1.Yes I have visited Cambridge and though it was one day trip it had a great impression on me and I'd like to stroll along its picturesque streets once more.
2. As I am the teacher of English I am always interested in the ways of teaching English, how to improve the process of memorising.

Gokhan says:


I'm sorry. None of the place I've ever been to I'd like to know their biodata(don't have to be completed), what they did study it, what they or their teachers/instructors do to make them like learning English, what makes them like and study English
3. I think 30 up to 60 minutes is enough
peace,

Rao Ghulam Murtaza says:


I am very pleased to read yours queries,all are very attractive as well as demanding.If you succeeded to cope with modern techniques then you will be poineer.If you want to do so you have to require deep studies and knowledge.

May help you in every sphere,

Rao Ghulam Murtaza
English Teacher

Alesia says:


Hi there
1. Yes, I was some times in Minsk. Nice and big city. There are living my aunt, uncle and two brothers. And would like to visit and New York, and Casablanca, and Cambridge too..Hope in a future
2. Would like to know about dreams people around or about wishes for their future.
3. Its depend on what kind of audience will look, my mind it must be about hour.
Thanks.

Duc Thuan, Nguen says:


Dear,
I haven't been to these places yet, I'd like to know how to learn English quick, and looking for the new way to improve my english, i very please to receive any document or information about learing english
Regards,

amean says:


I would like to know more about learning english and I want to find some friend to be able understand when I am talking about

shaheer says:


i've never benn anywhrer , but i hope to do
anyway its a good idea

thanks
ASK

sümeyra says:


1 I haven't been to any of these places

2 I would like to know what they felt at first time and listen to their experiences, especially the interesting ones during the learning process.

3 ın my opinion half an hour will be enough. And it will be good to see series of this film

learnmore says:


My answers :
1. No, I've never been to those cities

2.- Why do people living in some english-speaking countries,
still want to learn English ?
– Differences of problems/drawbacks that people in those
different countries/cities encounter in their learning english.

3.The footage, that I think may become the most exciting one for the film: How you could depict people who are saved by their ability in using/speaking English in their critical/very important moment.

Thak you,

Best regards,

Learnmore.

ishapandey says:


Yes
yes
yes

NguyenTanCuong says:


1/ I have never been to any of the places you mentioned, travelling to those places is only my dream and I think someday I reach my wish.
In my opinion, The footage of a film is about 90 mins. Besauce a short footage film will not show its interestings, but so long it is easy to make audiences tired.

Mitrnaz says:


Hello Mr Daniel Emmerson!
I've never been abroad yet!
As the most poeple above,I want to know how do they improve their influency? How do they make their accent close to the natives?
I suppose the more we know about everything is better. But you can make several episods with different especial subjects
Thank you.

Mary Matlaa says:


Hi,to all who are visiting this web
I have never been in the mentioned countries above and have never gone out of my county (TanzaniA).The information i would like to know from the people who are interviwed is that how are they enjoyingi English language? and also the ways to study English in the English clulub.com,how English language is helping them in their life?
Think i didn't understand the topicin in question three,cause i almost not interested to the movie but i started this year with ma friend waching movies.If possible ,i would like some one to explain what does the question means exactly.
Thanks to My Englishclub.com teacher.

Ahmad says:


This is Ahmad a member of English club, I am very glad to be a member of
English club , the best English learning site .
About the new coming film:

1-Yes, I have been to the USA for education but not in New york
2- The information I would like to know from the people are as follow:
( a )- The importance of international language for every body in all over
the world ? ( of course English language )
(b ) If you don't know English, is it enjoyable for you to travel , have a good
Business , visit different countries , and so on ?
( c ) If you know English language , is it so convenient for every body to meet
different people in different countries with different cultures ?
(d ) If you can speak English fluently, could you spend less money and have the
better shopping , hotel ,business ,enjoy your self , study and more convenient?.
(e ) If you speak English pretty well ,can you pass the IELTS , TEOFL and other
Tests that are required to migrate, study in a university or college or work,
stay in other country ?
3 – The family conversation, beautiful sightseeing , excellent British accent but not too fast and can understandable for non-speaking English people , nice dressing ,
a little funny, not too hard to understand , easy comprehension , interesting and attractive for children and adults.
I believe speaking English is necessary for every body at this time. I hope it is acceptable. Best regards.

laura says:


Hi Daniel,

Your project seems to be very interesting. I'm looking forward to watching English documentary film.

1. Unfortunately, I've never been to neither of those locations.

2. I think any information about his life will be interesting. For example, why are they learning English, how do they find life in English speakig city, what are the main difficulties of talking and comprehension of native speakers. It's interesting to know about traditions and national food/drink of the country you visit.

3. I think daily 10-15 minute film will be ok.

I recommend you visit Ukraine. I do want to meet with you. I'm sure it will be fun.

Good luck!

Adeeb Alsalihi says:


1- I have never been to any of mention places.
2-I'd like to know more ways to learn english skills as a second language .
3-I have no comment about footage.

Jiji says:


Hi,

1 – I have never been to any of the locations that you mentioned, but I hope to visit them soon.
2 – I'd like to know the effective way to improve both writting and speaking skills…
3-Valuable information in short time .

Lien Hoang says:


Hi there,

1. Really sorry, I have never been there.

2. I would like to know the steps how they learn English e.g. listen first then repeat, more practices are prefered.

3. I expect not so long, around 45 minutes is enough; but more lively & interesting is better.

Ishan Buhar says:


1, none of the places is visited.
2,
I. .The opportunities – how they can learn
II Are they interest to learn
III Infrastructure – the basic needs and wants to study the Language.i.e study materials, support and services by the governing body, etc.,

3. Less than one hour is better.

Jo says:


1. No
2.I'd like to know the students' opinions about ther lessons, teaching methods, and the teachers. What they liked and disliked about them. What they found useful and what irritated them in class
3.I'd like to hear the people speaking the English they have learned so far in natural, everyday situations.

Nuy says:


1. Have you been to any of the locations we are visiting? (Cambridge, New York, Casablanca, Madrid, Minsk)
~ No, I have not..
2. What kind of information would you like to know from the people we are interviewing?

~ I like to know ,,how they can improve to public with good english, talking more, if they are not an english people.

3. What sort of footage do YOU think would be most exciting for the film?

~ I think about one hour's.it's enough..

Bassam Saideen says:


Dear Sirs,
1- None
2- When did they start learning English?
3- Major sites of these cities

Jose says:


In my opinion is a fantastic idea.. but how I can see this movie.
Regards, Jose from Brazil.

Rajeswari says:


1. I have not been to any of the places you mentioned.

2. I would like to know whether they are comfortable studying foreign language in a foreign country. What kind of hardships do they face when they try getting adjusted to the place with different culture, language and people. What methods of teaching English do they find more helpful, what is it that makes them confident that they can learn English.

3. I think it doesnt matter how long the footage lasts but the message it conveys should be clear and should be helpful for many of the learners. Not everyone has the chance to get to the University's like Cambridge. It would have been more helpful if you had tried to visit any other non English speaking country (asia), where the learners face lots of problems as they have neither proper sources nor the faculty who could guide them to the proper English Language.

Tojiddin says:


Hi. I have been only in New York but only for 3 hours… So I didn't get a real picture of a true NY citizen. I am an ESL teacher so I'd like to know how do the teachers in NY work with the students of different countries to make them learn English fast.

Thanks a lot for your job. It's wondrful.

Natalia says:


Dear Daniel,

Thanks a lot for your work. Hope you 'll have much success in your work, and now my answers to your questions:

1) I'm from Ukraine, and I was to Minsk many years ago when it was still a Soviet Republic. I liked the country very much. I'm sure it's changed a lot up to now and I'm sure it's even better now.

2) Please ask them what techniques they use while learning/teaching English, what courses they attend and why them, what books they started to learn English with, and the main question is 'Has the knowledge of English changed something in your life? '

3) It's difficult for me to answer your third question as I don't understand what you mean – the length of the film or the events of it. If it's the length , the more the better (a great opportunity for listening comprehension).

Nilesh Suryavanshi, Jalgaon says:


HI ! Everybody.
I am not from the places given. However, it is very interesting to study English of the World. How many words will be collected from different countries. It is however, difficult to tie in one language.
English is the International Language, so everyone should know it, the ways and the method. It should be found out how to speak English by very easy method/technology.
The Idioms and Proverbs of various countries should be considered.

olga says:


Hi everybody,

As for me I visited Minsk many years ago.
Sorry to say but I have a little opportunity to go abroad, so it will be interesting to know about other people lives, their experience in teaching and learning English.

zafar says:


i would like to know that how people learnt english.what effort did they make to learn and how they have good command over this language.

de_holmes says:


1. Sorry, i never been to that place..
2. I want to know, how the people in that place learning English!
it will help me to studying English.
And would to know their religion and cultures..
3. I think 45 up to 90 minutes is enough..
Good Luck!!

Thanks..

sudarshan says:


respected persons in-charge,

I belive speaking english is very usefull through out the world and very stylish language too; but still i am very intrested to know what you all are trying to do in those citys with english.

thanh nga says:


1. I have never visited these place but I very like.
2. I want to know everything from people, the liking, the routine, the job…
3. I think the most exciting for the fiml is the climax. I like watching television

hi, I am Nga, I want to learn E well, my E is very bad. I hope everybody will help me
Thanks so much
See you again

Summer says:


sorry ,I haven't been any of those places,but I 'd like to if I have got a chance.
I want to know about their characters,their shortcomings and how did they overcome those .also their interests ,hobbies and education.
90 minutes is ok.

Noelene Goonan says:


Unfortunately, I have not been to those places.

As an English only speaking person I am interested in the following perspectives from adults learning English as a second language 1) Why is English such a difficult language to learn both in oral, reading and written forms and
2) What is the best way to learn correct English. i.e. what methods make it easiest and are the most productive for the English language learner?

ghada says:


hi there,
actually i've never been to any of these countries.
i really wanna know more about their cultures,teir goals and plans for the future and how they work on them.And also their experiencie in english. what is english for them?is it just a language?is it a must?or they can do without it?
that was my ideas.ihope you like them.
thank you

Jessica says:


i'v not been any of those locations you are visiting, it is so pity!
i would like to know about their jobs and what kinds of story books do they like to read and how we can make friend with each other. 1 hour is most enough.

Britta says:


1) I've been to Cambridge and New York. And I loved both …
2) Topics of interest:
How best to lean business English; cross-cultural language experiences; tipps and tricks when learning English; internet resources
3) 30-45 mins should suffice

Abdalla says:


I neaver been in any of this ceties i wont know how they learne Englih which way they use to be them profational in english .
I from Sudan I hope to be parte of Combridge family

gabriela says:


Hi,
I´ve never been to any these cities,but I would like to.
I´d like to know why New York people always say "forget it" all the time, and other places in US make fun of this.
And a friend of mine told me that New York is the worst place to learn English ever because there are many people speaking spanish all the time.Is it true?So, what is the best place to learn English in US?

Vladimir says:


Hi,
1. No, I am from Saint-Petersburg, Russia.
2. How long do they take before they beginning to feel theirself comfortable with their English?
3. There are exsamples of classes around the world.

regards,
Vladimir

tom du says:


1. I'm sorry. None of the place I've ever been to
2. I'd like to know their biodata(don't have to be completed), what they did study it, what they or their teachers/instructors do to make them like learning English, what makes them like and study English
3. I think 30 up to 60 minutes is enough
peace,

Florenice says:


1. Have you been to any of the locations we are visiting? (Cambridge, New York, Casablanca, Madrid, Minsk)

Yes, I've been to Cambridge and Madrid.

2. What kind of information would you like to know from the people we are interviewing?

I`d like to know about their difficulties in learning a foreign language and what they do to manage such difficulties.

3. What sort of footage do YOU think would be most exciting for the film?

Showing the result or rather the applicability of their learning in their everyday life.

Hamdi says:


tHANKING YOU FOR YOUR E-MAIL i do remain.
i need activities for taeching english in a club in an animated way.

Bùi Minh Nhứt says:


A1: not yet.

A2: I would like to know how do they live, their point of view, lifestyle… What do they think about my country, Viet Nam?

A3: a crowd with big smile to celebrate the international friendship.

SHERRY says:


Great!It is so very interesting to know a lot of stories about life and soul.I wanna join you

Anamika jain says:


1.No, I have not been any of these countries.
2 I want to know that how they uses grammer , word phrases and models.
3 Funny words used in the english.

Mouna says:


1-No,I have never been in these countries.
2-How can we think and write in English at same time for the people whose not English language is mother tongue.In other word, not thinking in Arabic or French and writing in English.
3- 2 hours would be enough.

Edward says:


1. I'm sorry. I've never been to any of those

2. I'd Probably be interested to know how they have become
successful in their careers
3. A footage of films covering the various things in the context of
teaching of moral values in the positive ways.

Abdullah Rajab says:


hi everybody,
i have not ever been to the places that the film were held in ,but i think i'll be there one day in the near futue.
i think t film wil be the first of its kind in th field of ducation .it will help esl spekers to study the language in real situation.i'm sure te film will be sucessful as wellas enjoyable .plz send me a free lnk to download theflm for my students.

Abdullah Rajab says:


i'm from yemen _hadhramout_Tarim
abdullah Rajab SeedAL-falagg

leenasaed says:


In fact,I havent gone to any of these beautiful locations.mm I wish Iask those people :how do you evaluate your progress in english language in the native environment of english?

fahad says:


hi danil

hwo are you

upul nishantha says:


I'm upul nishantha who work and help for poor students of sri lanka. i help to learn english language for poor students. so i like to improve lot an english..plese help me.

im very poor .

upul nishantha
no-857,stage 2
anuradhapura
sri lanak

Orwa ALsadig Ismail says:


Thank's very much.

p.sripad says:


Hello
1. I have never been to those places but I would love to visit Cambridge at least once in my life.
2.I would like to know their methods of teaching & how do they make their wards study & speak good English.
3.I think the footage showing best ways of imparting language to my students in India would be very helpful.

ABDULL says:


Hi
This is ABOD
I would like learn English more, I need improve my language and I want know about Tofl and Acadmic Writting and more things.
Thanksss.

Youssef says:


I am an English teacher near Casablanca.I haven't been to the other citites you mentioned.It's a genius idea to ask people to suggest what they like to see on your film.
I would like to know whether your political convictions about a country affects your ability and readiness to learn its language.
good luck.

Matt says:


Sorry, I've never been to those places before.

Great idea, perhaps next time you can travel to Asia, as learning English there is constantly assuming a greater importance.

Can you ask people what their favourite teaching method is, and give an example?

Mandeep says:


In my view if you are interviewing people who do not use much English(ESL/EFL), try to find out from them what things are to be done so that they should start using English as much as possible whenever and wherever it is required. I want to emphasis that what measures we as English teachers should take to make them feel at home in English language so that such people shun their hesitation.

Mandeep says:


2. I have never been to the stated places. But given the chance, I would definitely love to be their.

maia says:


1) I haven't been to any of these places yet;

2) I'd like to know what method of learning English people preffer .

3) I think the most exciting footing for the film will be to
put together people with different level of knowelge of English
and make them discuss various topics

Fidencio says:


I am Mexican citizen.
I I never have visited those cities, but I woul like to know what about is hapening with their economy, technoloy and folklor of each city
On the other hand, I would like learn tips of grammar
Now about the filw I consider is very important lear
Holidays
Customs
Religion
Typical food
History
Jobs
Tourist places

Rajae says:


hi, thank you for distributing a copy of the documentary; i'm really looking forward to having it for two reasons: firstly, i animate a movie club once a week and i'm looking for material suitable for teenagers. the second reason is that i love teaching english with songs and films.
1. i'm from Morocco! so i know casablanca. i have also visited New York, but that's it.

2. as long as the interviewees speak english, that's ok with me. but if i have to give my opinion, i'd say that my students would be interested in seeing authentic places, real students' experiences and school activities.

3. the use i'm personally going to make of the documentary is devoting 30 minutes for watching and 30 other minutes for learning and discussing. we have students for 55 minutes but we cannot keep them on a task for more than 20 or 25 minutes. so i think presenting the documentary in 2 independent parts would be ideal for me.
thanks.

Rajae says:


i'm bringing more suggestions for question 2.
the themes dealt with in our textbooks are education, celebrations, health, women, humour, citizenship, youth, brain drain, cultural heritage, leisure and entertainment, travel…. so any question is welcome as it can inform on other people's views and also serve as follow up to my lessons….

serpil says:


I'm an English teacher in Turkey.I need documentaries for my students.Flash cards, CD's, books ,etc.Thank you for your interest.

TUYERAS says:


What a good idea ! I've already been to New York and to Madrid, as well. Well, actually, I'd like to know why people feel they need to learn English, nowadays and if it was a hard task for them to learn it !
I'd also like to know their opinions about English as a global language.
Regards, Fred

maria hinostroza says:


I guess I good idea is learn about another cultures around the world. I like movies they teach you a lot in an informaql way.

Antonio Del giudice says:


I'd like to know a lot of things about people living in the school. I'd like news footages because it is interesting to know life from people all over the world.

Huri Cinar says:


Hello from Turkey,
1-Unfortunately I have never been to any of those places.I would like to visit Cambridge and New York.
2-I would like to know how and why they are learning English,what is the most difficult to learn and how they overcome this problem.I also want to learn how they make use of technology in learning English.
3-I think the footage should be about an hour.
Hope this helps.
Kind regards

Martin George Aquino says:


I would like to receive a free copy for my ESL class in New York City.
Thanks for the info and keep up the good work!
–Marty

Lindsay says:


I am currently teaching EFL at a language school in Brighton, England.

I have visited Madrid a few years ago and Casablanca earlier this year.

Madrid, a lively town, capital of Spain, it would be good to look at the cultural side and the markets. Food of course and drinks.

Casablanca, I was bowled over by the new mosque, absolutely amazing. Rick's Cafe as well-link to the Humphrey Bogart fim-Casablanca.

Saad says:


Hi every body
1. I haven't been in any locations mentioned yet.
2.exchanging veiw with pepole whom ESL.
3.The question is not very clear to me.
Regards

mahdi.s says:


dear,
1.unfortunetly no, I have never gone these places.
2.I would like to know their hobbies,I mean intheir free time what they do the most.
3.I think the quality is more important than quantity,

you truly…

vũ Đình Núi says:


I haver never been to the places. I hope, I will come there one day. I want to improve my English, because It is very useful for my work. Besides, I will learn many good things from them and their culture.
Thank you so much !

Sopagna says:


Hello Everyone,
I'm happy to leave my comment here.
1. I've naver been to any county.
2. I prefer to know their experience in effective learning second language, living experiece and culture.
3. I think the most interesting footage is from 15 to 30.

Cheers

banay says:


Dear Daniel,

I'm sorry to tell you that I've never been such places you mention about.

I've no idea about your second question.It's ok,if there's anything interesting you might think.

I think cheerful movie will be ok for the footage.

Have a good day.

banay.

Dona says:


I had visited to china about two weeks in past year. But i founded constraint about language. Because china people couldn't speak english very well like as me. So … i want to grow up my english quickly in this comunitee. And i open my heart and my mind to your stricture and suggestion to increasing my english. However i have dream to visit those places, and i hope my dreaming is coming true.

Mmm … maybe i want to know about study, scholarship, traditional culture and everything that include life's problems.

I thing 15-30 minutes is enough to be most exciting for the film.

leakhena says:


Hello,everybody
I've never been to those places before.But if it is possible,I want to visit an English-spoken country and want to find friend there too,because i can speak English more and more as i can.
For the second question,I want to know the language and the traditional culture about the locations which are mentioned.
Finally,I suppose the mosst exciting footage of the film is the Cambriage University international dancing club.
Thanks for giving the film to us.

Ana says:


What I'd like to get is information about culture.

Peny says:


1. I have never been there before but i wish i could be one day
2. Biodata, their reasons of learning english, how they practice english to improve their skills and how the progress is, and what they want to be by learning english
3. Im not sure what the question meant but i will still answer it. I think film about differences of culture in the world is the most interesting in this life.

Thank you ^_^

Su Su says:


dear,

Thanks a lot . I have never been any of these countries.I wan to know what are basic ideas to learn englishand how to do practice to imporve communication skills.

Thanks

Nirmalie says:


I haven't been visited any of the countries mentioned.

Characteristics of various people around the world could be indluded.

Jiang Wei says:


1. I haven't been there before. But I'm preparing to go to USA for my degree courses.

2. I wanna ask those friends who come form New York that what do you think about your city?

3. It's better to express more video about universities

p.sripad says:


At the out set I would like to thank you for this opportunity to express ourselves.
1.I have never been to those places.
2.I would like you to meet schoolteachers &other common people to share their real problems in teaching the language.
3I think if the film shows some useful &practical ways of teaching language
Thank you

Ni Made Sasanti says:


1. I'm sorry than I haven't been at any of the location you are visiting.
2. I would like to know about the difficulties in learning english for them.
3. I think an hour for the film is enough.
Good luck

kim says:


– No,I haven't.I haven't been to any of these locations.

Ammar Al Hassany says:


1-I've never been to those places before.
2-. I want to know about culture, language, life style, education or university in Cambridge, New York, Casablanca, Madrid and Minsk. May be, I can study in there…But How can I go there so I live In Iraq .

Piseth says:


Dear Friend
1- I have never been to visit there
2- I would like to know all of programs about English that you have. You know, I toke this website to present in my class and many student interested in this website so much because they are all foreigner and they always thanks you to me for this. I think your website is so good becasue can help many people to know about English and wish you to have successful in this. (Especially, I want to know about economic, business).
3- I am sorry because I don't understand the question. So sorry

Ammar Al Hassany says:


1- I have never been in any of these cities .
2- . I want to know about culture, language, life style, education or university in Cambridge, New York, Casablanca, Madrid and Minsk. May be, i can study in there…it's my dream..
so how can I go there and I live in Iraq?!!!
3- one our will be good with this photo"I love English Language"

Tara says:


First of all I hope ypur film se the light as soon as possible, and I am sure it will be a good one.

Concerning your quesions, 1- No, I never been there. 2- In my opinion the kind of information is depend on age and gender that you are making the interview with them. But in general it could be are they capable to pass TOEFL test from the first time or even second time depending on English center available their ? 3- When the carecters kiping trying and trying in order to rech their goal.

Best greating,
Tara

mohamed says:


i have agood plaece in EGYPT in cairo
and i want to know evry thing about this peapol

omer faruk oktar says:


1-ı have never been to those places before.But l saw nearest city Madrid in Spain.For example Cadiz and Cartegena
2-l'd like to know traditional cultre and school programme .Especially school age and kind of lessons.
3-In my opinion approximately 60 minutes is enough

Early Dhinie says:


1.sorry, i've never been there
2.I'd like to know about their custom, and the way they learn English as ESL.
3. what is their effort to learn another language. thank u

Kramoko Mamadou says:


about the first question I have never been in these locations. but I would like to know many thing about their culture, religion…
thank

TOURQUI says:


Hi everybody,
I'm terribly sorry not to be able to make any comments 'cause i've never been in those countries.
In fact,it 's very important for me to visit one day aan English speaking country.
I do appreciate your messages.
With kind regards!

khalsa says:


thank you for e-mailing me, i haven't visited any of these loacations but i would like to in the future. i'am very excited for your documetary film. i wish you all the best.

Sanda Phyu Phyu says:


Hello,
I have never been to those places at all. Regarding the information wanted, I would like to know how the foreigners try to master their English through their daily life especially in listening of the native speakers. Thank you.

Phalla says:


1. No, I haven't been to the places.

2. I'd like to know how their lives are such as love, job and family and how they settle all the problems and get successful.

3. I think it should be 60 up to 90 minutes.

Polly says:


Hi, there.

1. I have been to New York. It's a very exciting place where you feel no strangers there.
2. What are the barriers for them to learn English and how do they get rid of the barriers?
3. 30 minutes will be fine.

Best of luck!

Zewditu says:


Dear Madame/Sir,

I have been in New York tow years before for short time. Oh my God, it is amazing city and I like it.

I want to know their background history and future vision.

Actually it depend on the film, but one and one and half hour film is enough.

Good Luck!

Fred Yau says:


Dear Daniel,
I hope everything is going smoothly with you at the moment. This is Fred Yau sending email to you from Guangdong, China.
1. I've never been abroad.
2. I'm interested in how they learn or teach English. It's really difficult for a non-native speaker to make the English lessons interesting and easy-to-learn. I really want to know how they improve their teaching while making their students enjoy the English lessons.
3. I think it depends on what and how much you want to express in your film. It can be made into series if need be. But if possible, try to make it a documentary film. And it will be better between 2 hours and 3 hours.

The above is just my opinions. Hopefully it will be helpful!

Have a nice day!

zakirahmad sayyed says:


Res.sir,
i don't know the mentioned contry. when some suggestion will came from other you select them suited suggestion and go that suggestion. in visit, peaple interew, meeting extra.
thanks you,
zs

zakirahmad sayyed says:


Res.sir,
i don't know the mentioned contry. when some suggestion will came from other you select them suited suggestion and go that suggestion. in visit, peaple interew, meeting extra.
thanks you,

Truc Nhien Nguyen says:


1) I haven't been to any location where you are visiting, because I can't afford and I have no chance to get there. But I'd love to visit those places oneday.
2) I want to know about their feelings when they first avrrived to that place to study English, how they get on with new life, what they do to improve their skills and what they think about English.
3) I think first of all you should introduce sth about the history of England,how English becomes an international language and its important role in communication around the world. Then, make a story.

bedilu says:


this is the answer which you send a question to me
1.no I havenot been any of these cities befor.
2.I like very much if i got the iformation on computer prograns software tecnology.how the can be manupulated egxample how I can work wit autocad, GIS,PHOto shops,vieao editing and the likes.
3.any type of footage may be good depend up on the way and the interest people use it. to me video is ok.

laasya says:


Interesting!

Well I hvan't been to any of the places you mentioned physically. I'am familiar with them through my reading habbit.

They are indead fascinating places.

About the questions. I say English is no more the property of the native speaker, so come east visit India hte hub of all activity, or China the current world shopping mall.

Check how people have /have not picked the English language and still manage their relation with the world.Both the nations have given a run for the money of the native speakers.

Apart from this it would be interesting to know how a foreign language is picked by these people, especially people from Madrid& Mexico.

Being a languge teacher it would be interesting to watch the documentary.

learner says:


its helpful way to learn an english language, so keep doing well like this kind of club also its helpful for teaching way

adama yameogo says:


i have never been to any of the places you have visited. i find the movie interesting and would like you to visit more african countries.
i think what is important for us to know is why people interviewed are learning english? what difficulties do they face? and how they manage?

lisa says:


Hello,everybody
I've never been to those places before but if I have opportunity, I wiil go to New York because it is a place in my dream.
I want to learn about language and culture in those place.
I think is a good idea.

haisam says:


1-Unfortunatlly, I do not belong to any one of the countries that you have mentioned, I am Egyptain.
2- It depends on the aimes, for instance, if i am intervieing a famous actor, player, musican, it will contadict with an inter -view for work or ather on for joining a club or something like that.
I will ask you a qustion if I am a reporter who is interviewing a politican man, my questions will be the same if I am interviewing clothes designer?
So it depends on …………………..
3-It depends on the topic, people likes tales, music, legend and so on

Muhammad Said Jan says:


I have not been to anywhere
I would like to learn english & I want to make friends who help me about learning the english.
I think it could be useful for english learner
good luck

Yadira says:


I'm a Panamanian teacher. I haven't visited any of those cities but I'd like to know what things have been easier to learn for the interviewed people and their most difficult moments when learning English.

Sam says:


1. I haven't been to any of these places. But I do hope I could.
2. I'd like to know how they learn English, how their culture affects the way they learn and use English, and how English could help them.
3. English in their daily life.

Praveen Raj says:


Hi,
Looks to be a good idea.
No, I have never been to any one of those places.
What do they think of non-native speakers specially about Indians – what do they think of the accent. Is it funny?anything in particular. In the movies, we see the Britishers speak in an ordinary manner but when we meet them its difficult to understand them, especially the manner they stress the words,articulation.
What the native speakers especially expect from another non- native speaker.
Thanks
Praveen Raj

Noelia says:


1. I've been to Madrid for a couple of times.
2. Their nationalities.
Their reasons to learn English.
How old they were when they started to learn it.
The most difficult & the easiest parts of learning the language.
Their tricks to learn/ improve/ remember new words…
3. Performances of difficult or comical situations (real anecdotes) that all of us have experienced when living/ travelling abroad. Difficult situations caused by misunderstandings with the language, of course. I'm sure there are millions!!

Noelia says:


Your watch doesn't work properly ;D
It's 2:26 pm in England, (and 3:26 pm in Spain, where I live)
Regards!

Bunthoeurn says:


1. I never visit the five cities selected for your interviewing, but I would prefer for New Yor when I have a chance.

2. Well, they would be the most intelligent people or quite smart that can be the chosen candidate for interviewing by EnglishClub. I just would like to have some sharing experiences of life style in their country such as working, studying and how to manage their time for study and working.

3. For the most exciting Footage for the film, I think it would be included the activity of studying by using some very modern technology devices.

Regards,

Jean Bernard Rameau says:


Hi all,
1) Unfortunately, I haven't be to those places yet.

2) What's their biodata, reason for learning English? Their advice about references and best techniques?

3) As the length's already been set to 1hr, let me add this: newsreel footage would be great.

Thanks up front for the film.

Thomas Mulcahy says:


I want you to come to Cork City and see the volunteers at work. I start a begineers class on tuesday with 4 refugees that have never spoken or written English.

I would love to know "Why English" and why not French /German, Spanish or Italian? What attracts people to English? Is there a common factor amongst all those who want to learn English.

To show the delight on the faces of those that have just passed their first English Exam and what they now experience in ther lives?

Serge says:


Themes about everyday life whether in the UK or any other English speaking location would be most welcome – basic communication skills here could be of great use to students who need to see what it means to have a conversation in English. i.e. how to get to some location, visit a museum, theater, or the movies.

Best regards

sam says:


no i haven't been to any of these locations.
i would like to know how they feel after learning english(an international language) and are they enjoying talking in english?
i think their teachers should tell us how they teach them ?

Roslan Sulieman says:


I've never been to these places but would like to go if I have the opportunity.

More information about their country and also how English is spoken there.

Footage on how same words are pronounced differently around the world and their meanings. Also how different words that carry the same meanings are pronounced around the world. It could be shown as jingles.

Sanae Jomori Morisawa says:


Hello,
1. Well, unfortunately I've never been to ny of the places mentioned.
2. I think what would interest most of the people are mainly cultural issues, maybe something related to folklore, food, festivals, and tourist spots as well. As the interviewees are language learners, I think it would be nice to know what sounds are more difficult for them to pronounce and which of the four skills seem to be harder to perform.
3. Concerning the footage, I'm afraid I have no innovative ideas, but I think it has to seem as natural as possible, as much as close to real life.
Thanks for the opportunity to participate. I hope it will help somehow.
Sanae

harris says:


I have been to cambridge
To know their difficulties about learning and teaching english
It should be practical english that has lots of demos enabling viewers to develop a habit that will let them practice in tend!

mohamd hefnawi says:


dea rfriend;
1-I havenot been to any of the mentioned places

2-I have no idea about thje second question

3-I think 20 minute is good

amjad says:


hello
firstly, i have not been at any of these places ,but the idea seems interesting and i like it and i wish it success , my idea is if we can ask the people about how they learn english and what are the difficulities that face them and some advices to the newly learn english maybe useful
i want to thank all here for their interest and good luck

kaoutar says:


hi i 'm from morocco so i visit casablanca every year.and concerning the second question i want to know from those people if any new languge could have good or bad influence in a culture & question three i hope that this film could give a simple way to get a language and make people more intrest to learn more than a languge .thnak you for your web site
my regards

Gunar says:


1. Not yet
2. I want to know about the specific ( e.g.manner, style;characteristic ) ;anecdote and any other funny's news at every location that you are visited
3. 1-2 hours , but dividing in several partial moment or episode of 10-15 minute each

Chaouki says:


Well, I have been to Casablanca many times but never to other locations you mentioned. As far as the second question is concerned, I want to know whether the people you interviewed live in cambridge permanently or they are there just to learn the language. It's important to mention that they learn English in a native context. If the interviewees live in cambridge, they find themselves obliged to learn the language and their purposes and motivations must be more or less the same. However, if they are there to learn it, they certainly have different purposes and motivations. So the question we should ask is: Which group will achieve affective learning?
To conclude, this documentary film should cover different locations where English is learnt in different contexts: native language context, second language context and foreign language context.
I hope my contribution will be of great help.
My best regards.

li says:


__1. I have never been those place. ___2. I would like to know how they learn english . __3. I think it's pleasure to give more information about the culture of different countris. ^_^Good Luik!

Lanh Ngo says:


1. I have never been in the locations before.
2. I would like the people to show me how they can go these places to study and how to learn English well; about the culture, the difficulties when they study there. My dream is to go one of these places to study.
3. I think the film should be 01 hour.
Many thanks to you.

hakime says:


hello
I am from Iran.I really like to know about people around the world.
thanks

Melda veranda says:


1. not yet
2. about tourism, daily activity and goverment
3. ending

shohreh says:


Hi dear,

Ilike to see about nature .

thank you

Ibu says:


Hai

Its really exciting and much curious to watch the move for an hour. I haven't been to any of these countries and would welcome a chance to be in any of English speaking countries. I would suggest to give more tips to learn Englisgh ,grammar,sounds,and to give more tips to follow the easiest methodology to teach English.

Thank you

With regrads
Syed Ibrahim

wafa says:


1- I have never been visit any of these countries. 2- I want to Know about there life stayle , and every thing about there life. 3- I think one hour for film will be good

zabihullah ziaey says:


thanx fro sneding email i have only one request to aske from people how we can develop our country and socity?

hasan says:


hi for evereyone…
itis so so idea..maybe ..

Ute says:


1. I haven't been to any of these cities.
2. I would like to know about people who have gone to live there, whether temporarily or permananetly, after having learnt and passed the immigration rules of the particular country. Any difficulties they've come across during their application.
3. Different experiences of people coping with everyday situations who've gone to live there e.g. working, studying, traditions, language (how imortant is grammar ie. spelling) etc.

Abdul Rahim Onath says:


1.No
2.How do peaople spend a day? (from all walks of life) not their work place but their personal business activities and hobbies
3.the footage can include, from a zoo, farm house, factories, schools and market place

desy says:


No. I never been there. I'm very interested an information about culture and language

vin says:


1. No, I've never been to any of those countries you mentioned.
2. I'd like to know, how can you be sure, whether you're talking right or not?
3. Try to expose the difficulties they met in in learning English, and how they solved them one by one. Also try to expose the step by step how they learning English from the beginning to being expert

Yusen Hu says:


1. Have you been to any of the locations we are visiting?
An:Never.I am a Chinese senior school student and we have 8 subjects to learn now so I have no time to visit. And I don't have ample money to be adequate for it.

2. What kind of information would you like to know from the people we are interviewing?
An:How people learn English.I know maybe you can only interview the people in Europe.I think it would be easier for them to learn because most languages of European were from Latins.I really want to have a wide look.

3. What sort of footage do YOU think would be most exciting for the film?
An:A film should be 90min to 120min as usual.

If you accomplished successfully please be sure to invite me to have a watch.

Cynthia Ribera says:


I have been to New York.
footage: speak English & you can speak to most of the world"

Monireh says:


Sorry , I have never been to any of the locations you have asked me about them.As for the films and documentaries, i hope they are authentic and within reach of people learning english,i also wish you ask the intertviewee about the main themes of the films displayed as well as their impressions and comments of the films and documentaries. I would like to watch these films.and I realy like to see your success in this project!
Thank you

Monireh says:


Sorry , I have never been to any of the locations you have asked me about.As for the films and documentaries, i hope they are authentic and within reach of people learning english,i also wish you ask the intertviewee about the main themes of the films displayed as well as their impressions and comments of the films and documentaries. I would like to watch these films.and I realy like to see your success in this project!
Thank you

Mahsa says:


Hi!
sorry I haven't been to any of these places, but I invite you to my beautiful country IRAN,It has many spectacular places.

In my case I want to know about their culrure,their methods of learning english,and if they made an overnight success I want to know how,I think if they explain about their local foods,cremonies,songs,and their city it would be a good film

I wish you a safe and happy trip.

vikram(Indian) says:


Thanks to English Club.

My reply is different.

I would like to tell you that whatever you are doing is a great task. you are not only helping those who are interested in English but also linking the people of the world by the medium of English language which is very useful for the universal harmony and unity.

kalvin says:


Ask, Which accent do you like English or American, why? in interview?

Baby says:


HI!First of all I congratulate you for this film.And I wish you success.I havent been in these countries.And it is very interesting for me to see these countries.To study in Cambridge is my dream.I would like to learn new methods of teaching english in these countries.About students' life.their daily life,their university life.About these countries culture,customs etc.
GOOD LUCK BYEEEE

haniff says:


1) yes, new york
2) how they learned english

Ian says:


Noelia: I think the EnglishClub.com clock is set correctly at GMT (Greenwich Meantime), which is the real time – without adjustment for Summertime etc: http://wwp.greenwichmeantime.com/

abdelhadi says:


thank very much for helping us improvig our english language

Robin Drummond says:


I would really like to know how English is changing lives.
I teach English and I reward students who work hard by teaching them to drive – which really changes everything.

My students would really like to know the reasons why other people CONTINUE to study English.

Thanks!

Khanh Nguyen says:


1. I've not been in any mentioned places.
2. I would like to know what they are most afraid while studying English, and how they overcome these difficulties
3. No idea.

Beatriz says:


1.-I've never been in those Places.
2.-You can interview about hobbies, life-style of people, likes and dislikes( music, sports,readings,etc.) If they are students :strategies they 've used to learn a new language. opinions about other cultures, food habits.
3.- I'd like to see the most important places of each country,people in different moments of their lifes( job, schools, clubs, festivities,) traditions, typical dishes… presented in fun interviews. these would be important tools to be used in the english class.

Lam says:


1. I never been to any of the locations you listed
2. I'd like to hear they introduce their countries, their life,etc.
3. Romantic

Olga says:


1. NO

2. I have two questions:
a. How often people learning English learn it by thyself (without special course, without private teacher). What are methods, tips?
b. How often people learning English and living in the un-English environment ( in countries no speaking English: France, East Europe and more more other) overpower of this situation and begin to speak (meaning: open they mouths and take out sentences: easy and quickly) What are methods, tips?

3 This enough
But you can make: "be continuous"

GOOD LUCK

Gustut Dwea says:


1. I've never been in those places.
2. I would like to know their problem and difilculties while studying english, and how they solve it.
3. I'd like to see their daily activities and hobbies.

amir says:


it give me a pleasure to thank you for the endless support and effort
i am intrested in interview of many and different kinds of people and culture
urgently we need a source of arabic/english dictionary with sound availability
again my deep thanks

Nurana says:


1.I have never been to these locations that you mention.

2.What advantages has speaking English given them?
How long did to learn speaking English fluently take them among the native speakers.
Is it difficult or easy to live with a host family?
Why did they choose just England to learn English but not other English speaking countries?
Which country would they like to visit and why?

3.To gather students in the cities you are, and camp in an interesting place and try to hold lesson and discussions by the students on a camp day.
To visit the most unusual places and give short information about them.

esam says:


For a non-native speaker, how to develop and improve conversation?

Fahad says:


1-I've never visited them so far.
2-More anglo-accents.
3-To use slang language.

esam says:


I hope the interviews will deal with the interviewees' interests, occupations, hobbies, life styles, habits and traditions.

yusuf says:


I only need to know how they learn English.

zayyarlin says:


1.I never been this place.
2.sport,music,culture and there life styles
3.nothing that

Canary Nguyen says:


1. I havent been in these countries
2. I would like to know about custom, routines, natural, famous places… and how they can speak English fluently?
3. No idea.

Roy says:


hello
wish you a good luck for the success of the documentary. I have not been to any of the places you have mentioned. As a teacher of English I would love to visit Cambrige and perhaps do a course in teaching and do an accent training.

hnin phyu says:


1 I have never been the cities mentioned.

2 I wanna know about how they practiced for pronounciation and how they encourage themselves coo learning english takes a long time.

3 for third questions i haven't got any idea.

Thank you very much.Hope your film will be a masterpiece and helpful for the learners.

Putrike Pouvreau says:


1) I've never been in such places.

2) I would like to know the style of their life. The cultural life is something quite interesting.

3) To listen to what people think about everything is fantastic.

Putrike Pouvreau says:


History merely repeats itself. No matter how much we see, we are never satisfied. No matter how much we hear, we are not content.

kikam says:


i think the idea is great. this will help us know more about the english culture and the ESL students in the world..
unfortunately Algeria is not among the places you're going to visit..

i hope you a good luck in this project..

JOSE says:


1: I've never been in those Places.
2:I´d like to knowabout hobbies, life-style of people, likes and dislikes( music, sports,readings,etc.) and opinions about other cultures, food habits.
3: Everything you can do it

Bojana says:


1. Yes, I went to study visit to Madrid in June.
2. I would like to know the reason why they're learning English. How often do they speak English and what are their methods for improvements of language skills.
3. I would like to see the most important sights and features of places to be visited.

sweet heart says:


1- I 've never been in this places but I hope to be there; but I born in morocco / Mknas
2- I,d like to know about the name of food and their habits
3-everything

Florita says:


I would be delighted to learn English perfectly well. Unhappily I have no possibility to visit any of these locations dealing with the Englis language and people.
A film can help us and our pupils in a very pleasant way!
Best regards!
Flory.

mayokun temitayo says:


1 none
2 want to av a copy
3 love to learn more abount it.

hlh says:


i have never been to any place you mentioned above,and i hope to get a deep insight into its history and current lifestyle of its people from the film

Alves says:


I have never been in such places you're asking about, but I do expect to acquire the information concerning the online English course and how do this course has changed theirlives, the people's characters, habbits. famous people and places.

I would love to know more about their historical places.

Regards
Alves
Timor Leste

Nuntida(Gift) says:


1.-I 've never been in this places.-
2.-I would like to know their methods for improvements of language skills.-
3.-everything.-

bajaree says:


1. Nope.
2. Artists' activity
3. 1.5 hrs

Ganeshan Ramachandran says:


I have not been to any of the places that you have mentioned.

I have been focussing more on the problems of learning Enlgish faced by Asian students whose mother tongue is different.

I would also appreciate if you could focus on how the mother tongue can be made to help learners of English.

The non-English speaking European may be able to learn English easily but no so the Asians whose mind-set is different. By 'mind-set' I mean their approach to life.

You know well that unless English is experienced and internalized, no amount of grammar or vocabulary will help.

What are the best ways of making the learners experience English without hurting or offending their cultural pschye.

And what are the best ways of gaining an entry into the cultral psyche of the learners .

priatna says:


1: I've never been in those Places.But I wish I could
2:I´d like to know about hobbies, life-style of people, likes and dislikes( music, sports,readings,etc.) and opinions about other cultures, food habits.
3: Maybe you can mix with animation, so it's more attractive

Mustafa Ibrahim says:


1- I have never been in there , I saw them in TV only , Iam still in Darfur , Sudan
2- I woukld like to know more about their culure
3- every thing

ramy says:


what is difficult in englisih is it prononciation, grammar or vocabulairy?

ishag says:


Dear Daniel
hopefully you will success in the great proect
1-Ihave never been there in 5contries
2-Ilike to know about petroleum
3-My aim is to learn english well(writing/speaking)

salam says:


I 'd like to thank you for the idea and the effort done to make the documentery. I 've never been in the mentionned places before. I'd like to know about the life style, the live night in the street , the official hollydays and the famous places that worth to be visited, the habit and the customs of the citizens.

Clark Stoppia says:


Question 2. Interested in age, educational background, cultural background and what other languages spoken

panny88 says:


1- I have never been to these locations,because i am a Cambodian and born in Cambodian.i want to go there but i can not I hope that i will go there a any times.

2- yes I really want to know some things from the people that you interviewed: who are they? what are they hobist? what kind of food they like and evry things related to education, economic….
3- I am no sure

Chintu M Raju says:


Dear Sir,

Thank you very much for your contributions to the English lovers!

I would like to comment on the second question.

1) Why do they believe that English is the global language and do they believe that English will continue its dominance after 20 years also?

2) If computers had some other language as the programming language, would English hold the status that it enjoys now?

Thank you very much!

Avi says:


1. I have never been to the places you have asked for.
2. I just want to know that is it really necessary for a nonnative speaker of English to learn translation first (mother tongue into English) or one can learn English without taking help of one's mother tongue?
3. I am glad to know about your movie. I am very exited too.
I am from India, where English is the most popular language, so I request you to take some photographs and views of Indian People also if possible.

kikam says:


unfortunately, i've never been in the places you mentioned above.
i want to know from the ESL learners what is the monthly percentage of their english emprovement, how are they dealing with it and what are the best methods they use to emprove their english, especially oral english..

thanks again for youe efforts

elise says:


oops………………!!!!!!!!!!!!!!!!!!!!! unfortunately, i've never been in the places mentioned above, and i hope you'll visit my country Namibia,one day.
what i would like to know from the ESL learners is that;what should i take in to consideration when i am ready for a presentation,what are the best methods they use to improve their english,especially vocaburaries and how they speak english fluently?

wish you the best in your project!

alvi says:


Hmm… i've never been to any places you questioned yet; i wish i could someday. im from Indonesia. i indeed would like to know many things they have been doing in mastering english: their activities, experience, challenge, difficulty, and so on. in my opinion the film should be talkaltive, interesting, and encouraging. thanks

alvi says:


Bytheway anybody who is learning english. I hope you dont mind being my friends in learning english.

Julio Pinto says:


Have fun in your interesting project. GOOD LUCK!! Thank you all people for your support in the language we all love ENGLISH!!!!!

fatemeh says:


hi i have never been in such places but i eagerely like to know about their cultures

luet says:


I was in Madrid twenty years ago. Unforgettable.
How deeply English influences and influenced their lives especially related to computers and the internet.
The one which is best supported on the net

mohamed says:


I live in casa . I ve visited madrid twice in my life .I wonder if it s possible to teach english there though i m not a native speaker . I m a Moroccan english teacher . I teach ESP English for tourism and business trainers
I d like to known whether your teachers have used some drama techniques in the leaning process
I d like to see the film please

CHristopher SAntos says:


I have never been to those places. I live in the Philippines and the only country I have been to is Sinagapore.

I think it is interesting to find out how adults learn English over time. I mean… has their learning startegies changed as time went by? Did they find repetition drills helpful? Did knwing the rules help them more than drills did or is it the other way around?

I think footages of real life experiences or reenactments of their errors may help make the film more exciting, but for a sense redemption, the film should also show some sort of defining moments that can show how mush they have improved compared to an earlier learning stage.

Jose Rodriguez says:


I have read a lot about different places including those you said. But I should like to know about their positions of drug traffic, how normal is sex in those places, the way people think about family problems, polutions, and problems that are commons in everywhere. I will appreciate it if you take it in acount. Thanks

Halina says:


1. I was in New York.
2.I like to know why are they like to learn English?What are they doing? For what are they interesting?
3.The people which like to share their experience of life.

Michael Falco says:


You say you are filming in New York???
Would you like to visit my ESL classroom?
I teach five mornings per week from 8:30 a.m. to 12:30 p.m.
Also teaching ESL four nights per week from 6:30 p.m. to 9:30 p.m.
My classroom is located in Nyack, NY and is 40 minutes North of Manhattan.
Sincerely,
Michael falco
Instructor

shahab says:


hi,
i've never been in any location that you mention.
and i like to know about their culture and how they behave, becouse i want to imigrate as a student.
and i dont have ay idea about footage.

Luiz Alexandre says:


I've never been in the cities where the film will be made.
I'd like to know why people are interested in learning English.
I'd like to see the more pictoresque and historical places of the cities.

alaa says:


Hi,
I'm very happy to join u in Englishtown.
Acutely, I have one question. I would like to know from your experiences the appropriate way to practice English, especially in non- English speaker country.

erison taylor says:


Hello, Daniel and Crew,
I am thrilled to see that someone is making a film like this – it should be very interesting!

I know you are already in NYC, but I would like to plug Broadway plays as a English learning opportunity. Not only is that one of the things NYC is famous for, its very existence has shaped generations of Americans.
In theatre there are many ways you can get verbal information in the visual form: humor, atmosphere, relationships, and so on. A Broadway play, especially a musical, can add the "special effects" that broaden our understanding of a subject. (I am thinking, for example, the type of music in a particular scene aiding the listener in identifying the emotional timbre of a scene, the era it takes place in, or even to whom in the play it is associated with.) Live theatre stimulates the heart and mind like no other entertainment vehicle: it has a pulse of its own.

I am going to be in NYC, from the 20th – 22nd, visiting my son who lives there. We are going to take in Mary Poppins if possible.
Is there any chance to watch you film in person? I would be thankful for a reply.

Reza says:


hi dear.
ok.very good.

Hamdy Bakory says:


Dear Daniel,
It gives me much pleasure to write to you. I hope you are ok. I read all about your project. It's a great idea. Because Iam interested in learning English I would like to take part in such a great work like this. I have never been to anyone of these places. My suggestion is that your project spread into many countries in the Arab world because I live in Kuwait and I hope all people learm the most important language all over the world. I think your work would be very interesting.How I could help you to spread the idea in my country and in the Arab world.
Thank you for your interest.
Hamdy Bakory

Mehdi Khani says:


Dear Sir,

Thank you for your favours.

1-I have never been in these places.
2-I would like to know about their cultures such as wedding party, etc.
3-I do not understand your question?

With kindest regards from Iran
Mehdi Khani

naeem says:


its good to practice us the english grammer and how the the people are using English in those places and its also a fun in there and nowadays english is a part of education not just a language and i hope that one thing i want u will not dissaponted me the thing is that i want to get near u so will u help me

mainguyenthi says:


I am gong to take the IELTs exam at the end of this year beause i want to study In England after graduating from unversity.I hope i have chance to visit some places when i come there.is there any information about younger lives and their popular food in UK? I woulk like if you et me know some information about it.

TARIQ says:


I have never been to any of these places however wish to have world tour. How is it possible?
In interviews we may ask people the importance of acent they experience, need of English in their day to day life, main difficulties they face and how the language cources could be made easy for them?
Caption of the movie could be: –
– drama of Nations
– Blend of Feelings
– Voice of Ideas

vichet sen says:


Dear Daniel and tearms,

1- I have never been to the country which you mentions,
2- I would like to know more a bout cultures,
3- My goal is to learn english ( how to write,listenning,speaking fluently), I strongly hope that you and your tearms will success with film making a head,

andy says:


i live VietNam and i've never gone to others country.
i hope know a lot of information of countries

dineshharaveer says:


1.no i haven't any one of them.
2.in my opion information like is english language is naceesary
3.english communication between people

Jamal says:


Dear Daniel

No,I have not been in those cities,but i am dreaming of them.
One thing that i want the most, is learning everything about English languge.Secondly i will be glad to know about Drug trafficking and how normal sex is there.The film of course will be exciting and educational.thank you

Selver says:


I'v never been in these location that you will make the film
but , I'm trying to practise my english
however I'd like to ask you
how to understand english people
when I watch at TV , films or news they speak so fast
I know that my english is poor , but it is going to be better
however , I can talk to people by internet english coz it's so easy
they just write what they have to say
but when I try to understand people on TV when they are speaking i have difficult to understand them i'dlike to know how to learn to understand them , what I have to do ?
Thankyou very much

Selver Krasniqi
Kosovo

kamal says:


Hi
I
dot understand which kind of infermation you want from me can you
explain me.

kamran says:


i'm from Iran,
i'm an English teacher.

i've never been in these plcaes but i know a lot about them.
it's for sure a cute idea to be so caring of you to produce such film. i personally appreciate such attempts done by anyone.

back to the point, about the second question, i would like to know how do native people feel about learning a second language while their language is universal and wide-spread?

to answer the third question, i really have no novel idea, i wish i could help.

May God be with you all.

phu says:


1. Have you been to any of the locations we are visiting? Another
2. What kind of information would you like to know from the people we are interviewing?
name, job, interest

3. What sort of footage do YOU think would be most exciting for the film?

Supriyanto says:


1. No, I have never been abroad
2. Do they all know about my country 'Indonesia'
3. Friendship Through English
………Thank you.

xuanngoan says:


1/ – I have never been to the country which you mentions .
2/ -I like to know the information about the people are BillGates , Bush , Obama , Mc.Cain
3/ -I like the most exciting the film Gone with the wind

Fairusti says:


Dear Daniel,
It's great. I really like your project.Unfortunately I've never been to
those cities. I want to have friends who can help me to practice and improve my English. I really want some native speaker for helping me and share ideas about everything.By the way, would you be one?

Thanks

Fairusti

STELLA says:


I have been to USA before, I find that there is a big difference speaking style between USA and Britain.
My son is a Form 2 student , he had a little chance to speak English, I want the Englishclub will set up some website for member to practise in speaking English

Speaking and writing English is a big problem to HK student

How to improve?????????????

Thank you

Stella from HK

Clover says:


Dear Daniel,

I've never been to these places, i hope one day I'll go to one of these countries to study the academic course,but my English is very terrible,so I'd like to know the way how to improve in quickly way. And your English film, I think it's very good, it's a necessary information for someone who want to study at abroad.

Clover.

aziz says:


1- no
2- people habit in the diffrent contury
3- 24 foot

aziz says:


1-no
2-people habit
3- 24

Rajvir says:


2.(second qustionresponse only)
I would like to see explanations regarding pronounciation problems and their solutions especially in reference to tiny tots learning english as a second language.

adi says:


unfortunately i've never been visit this location
i interest how to make daily conversation, from our meeting
and i try to learn from another film in tv
thank you very much
adi
makassar, indonesia

A.haleem says:


Dear Daniel,
I've never been in the cities where the film will be made. but iam interesting to hear or watch this film in order to learn about the pronunciation and phantics, and how the American pronunciations also to share with other tong in one language.
i would like to learn how they talk. i wish to send a copy of the film if it is possible. thank you very much

venus says:


1-I,ve never been in these countries.
2-I,d like to know a bout their traditions.
3-depend on attractions.

jureerat says:


I really thank you your web to help me to know how to use an English.
Now I live in Japan, I really happy to live here because there are foiegners stay here, I glad to see your web, to help me improve my English. And important to make me enjoy my life here.

bashir says:


That is one good step forward! i wish you could come ohio columbus! where iam very sure you will be warmly wel-comed!
and get great ideas from great people! let us know if that is possible! best wishes for your research!

alice says:


I've never been to these countries, I wanna know how they improve thier english, I'd like to communicate with them take more and more practise.

isack says:


Dear Daniel,
Unfortunately i've never been visit this location
I interest how to make daily conversation, from our meeting
and i try to learn from another film in TV.
I really appreciate to hear the way that they talk and their behaves
thank you very much
Isack
From Yemen ' Sana'a

Bereket says:


thank you for the message you sent me. i wish I had been living in USA so as to visit the places you mentioned, unfortunately I am living in Africa- Eritrea. concerning to the film I like commedy more than anything else. I am gland to share ideas with you.

KHALED says:


Salam

i'm from algeria (were franch is the secand langage us after arabic ), so i think that your idea can give our pepole another
opinone about the most populor international languge (english)

thanks and good luck

deepak says:


i would like to say that it it is a very good step.i just want to konw that how did those people manage to learn this language because it is a great challenge i.e. what difficulties did they face in the beginning.

joseliz alves says:


Sorry, i have not been in such places before, otherwise I would like to tell that a filmo which overspread the moral values of
human beings, such as a show up of the two lives one here and the other in the beyond might overstep our souls and minds to rela worlds wherever the rights and duties are equal to all.

ANTONIO PEREZ says:


I would like to know, what is the best way to understand english language. I am able to read, to speak ( with my own words) but I have a great difficult to understand it. I watch TV in english ( CNN ) but I understand only a few words but no the sense of the conversation or the information. Regards AP

Sanon, Michel says:


My reply targets question #2.

I'd like to know how valuable the knowledge of the English language is in professional and social lives of people living in those cities.
How easy or hard is it to find ESL schools with qualified instructors there?

Michel Sanon (from Montreal, Canada)

Irene Fallavier says:


I have never been in those places you mentioned.

Rebecca says:


I am from the Philippines. I have visited Madrid long time ago. The place that can be considered a landmark there is the Palacio Real. Tha can be a good backdrop for some scenes.

Tong says:


I've never been to these locations. I hope I'll go there in the future. I study English very hard, but my English is not very good yet. I would like to know the tips of learning English.
I think it's about 20 minutes.

Alex says:


1. I have never been to this places and It will be so interesting to see them in your movie
2. the way they use English languaje, how they pronounce some words, things like that.
3. the footage you´re using i think will be the best so i thank you for your work I know this will be very useful for me and for everybody
God bless

Novi Kusumayanti says:


1. Have you been to any of the locations we are visiting? (Cambridge, New York, Casablanca, Madrid, Minsk)
I have not been travelling to those locations. I wish someday…

2. What kind of information would you like to know from the people we are interviewing?
I am interested to know how they learn English and tell us their culture. Also how learning English could us have a lot friends

3. What sort of footage do YOU think would be most exciting for the film?
Learning English is Fun-Tastic!

cicik tri utari says:


thank you very much for your mail.i have never been to the place that you mention.but i think those place are interesting.
i think we can discuss about anything, so we learn about many thing.but i prefer the enviroment as the topic. because its give huge efect to our world.i am sorry that my english very bad.i am still need a lot of learning. thank you.

cicik tri utari says:


thank you for email.I have never been to those place. I wish I could.
the topic is about tradition in other countries.
i am sorry I do not have the answer for the third question.

Rogena says:


nice film. I like it
about the three questions, the first one is no. I am from Saudi Arabia
The second question is that I like to learn idioms, verbal phrase and also I hope to speak like british people and speak fluently
Thank you for your support

Seo Seunghee says:


I want to enhance my speaking
English. So I want to know the method of speaking English

Seo Seunghee says:


1. I have never been to the countries.
I want to enhance my speaking English.
And I want to know the method of speaking English quickly.

Lucy says:


1. Have you been to any of the locations we are visiting?
No, i haven't.
2. What kind of information would you like to know from the people we are interviewing?
name, job, interest

3. What sort of footage do YOU think would be most exciting for the film?

yitinghua says:


I have never been to those places , and I will not miss them if any chance is given. I would like to know something about their cultures and their opinions about the diversity of cultures . It is much better if they can give some performances with the characteristics of their own culture.

emad alsarmi says:


I have never been to the countries.
I want to enhance my speaking English.
And I want to know the method of speaking English quickly.

Hong Dang Viet says:


1. I have never been any above places.
2. Which are their weak points in English? and what are they doing to improve them?
3. How they apply what they learn in their life, some fun circumstances…maybe ^_^

Jenny Castro says:


Thanks for send me Emial, I like to Know of culture of that places.

Hugo says:


I think that in the club may be a place where we can to know people for cultural interchange, like facebook or hi5 or something there

ola adel says:


1. no, i have never been to these locations
2. I'd like to know the main aims of their studying English and also the difficulies that they face. I think it would be exciting if the interview included songs, dance or any thing makes it funny. pls send me the film
thanks alot

AMIT SHARMA says:


can we get the copppies of this mv ..in india

Dading Kalbareta says:


i have never been to the countries. However, I really want to go there, and meet a lot of kinds of people. I really want to know what sort of culture they have; and how they talk to each other. Sometime, if I have a chance–If I get a scholarship, for example–I want to go to the countries, or other European countries which English used widely. Knowing or learning a culture of a country is really interesting! The countries, Here I am coming soon………

rukhania says:


1.No,I haven't
2.Experiences in learning english
3.Moral education

amit vashist says:


Dear Sir,
Please include intervies of those who were very feared initialy but later won the war against barrier

gunawan says:


Dear all…..,,,,
I haven't visited the famous city mentioned above before yet, but i'v known a little about them. But those are the beatiful city i'v known and each one has the uniquely thing.

Learning english, speaking/talking about something, because it can make enrich our insight in practicing english around.

About social, culture, and the flash back of the first comunity born.

mounir says:


I have been to casablanca but i have never been to such cities.In fact,I would like from these poeple to tell us about the cultures of these cities.Also, we need methods of how to improve our english.

ezra says:


I would like to know when you visit diffrent place are you going to teach English there or what?

Mohammad Sadizadeh says:


1. i've not been in any of that places
2.real life of people always excite me
3.5 minute partitions may be easy to reviwe and learn

amymeichan says:


thanks give that message!

scearu says:


1.No,I haven't.
2.How to talk to someone in English?
3.I don't know.

ranjithkumar says:


1. I never been to any place mentioned above.
2.I would like to know their reactions and inner feeling towards their English teacher, likewise i would like to know if it is much easy for them to learn English through on line or through actual or face to face teaching.
3. Their actual English classes through on line.

Anil Rajbhandari says:


No, I have not been to any of the locations mentioned.
Things i want to know like how much importance does good command over english language play in their lives ? What sort diffculties did they face while learning ? Have they developed their own way of learning after getting instructions ? And Footage their experinces , locations where language centres are sitatuated and the methods of teaching they where guided with will be the most convenient to conveys your effort .Good Luck .

bulent says:


1. I havent been to the countries.
2. I want to improve my English
3. I have no certain idea.

Payam says:


Actually I've never been in those countries.I'd like to know how peaple reached to the point that they could speak in english fluently.

Muthiah Kathirkamu says:


Never been to the places
want to improve English of my students sincerely

Muthiah Kathirkamu says:


I have never been to the countries mentioned and I expect the help with which I can help my students to acquire language skills in English

Wendy Jackson says:


I have not been to any of the cities you mentioned. I would like to know if students know that there is a difference between British English and American English, and which they would prefer to learn. I would like to see some unique techniques that teachers employed or developed to make learning English fun and less frustrating.

lxwei says:


I have never been to any place mentioned here. but i wish i could some day. I am an english teacher, teaching British and American cultures in the last semester. I am really interested in the educational systen in these countries and the school lives there and how teachers teach there.
Thank you!

santi says:


1.)I've not any country that you mention,
2.) American English and British what 's different
3.)

roya says:


tanks for you.i would like learning english or american very good.help me…

Emmanuel s.Mtani says:


I have never been in those countries you listed! I am so interested to know how the language has been used in non-English countries like mine, Tanzania particularly in Education industry. you could aslo correct views from English speakers of different cultures around the world.
thanks.

Chrisostome EPONGO says:


1. No, I have not been to the locations quoted.

2. I would like to know more about what they do to improve their English.

3. I think the footage that would be exciting for the film is the one which describes some people's experience to achieve something.

Durdona says:


1. Have you been to any of the locations we are visiting? (Cambridge, New York, Casablanca, Madrid, Minsk)

2. What kind of information would you like to know from the people we are interviewing?

3. What sort of footage do YOU think would be most exciting for the film?

1. It's a pity, I've never been to none of them. But I dream about it.
2. I'm going to study abroad, and I think about financial problems. I would want to know this. It's useful for me these times.
3. Problems and difficulties with study would be effective footage for the film.

diop says:


very intersting we need more.

myvensi says:


1. never been there!
2. anything, specially how they learn english daily
3. 2 hours probably, or 1,5 in series… cannot wait for ur film, great…n many thanks

Ana says:


1. no i have not, even i wish that i could visit those countries
2. i want to know about how they could speak English for the non natives and how could they improve it. and my other answer is same like Durdona.
3. i think about the journey and meeting people who are also learning english

Agustinus Rambing says:


1. No.. I have not choose that provide

2. I want to know the improving our skill and the their culture

3. Actually i want to visit the locations (cambridge, New York etc.

ALI ALMISNED says:


1-I have been in MINSK
2-Icares about information wich related with life activities.
3-

alain Nougue says:


I have never been to any of those locations.
I would yo know the difficulties encountered when learning English and how do they finally solve the problems. What can a teacher do when his students are not interested in learning English. Is it a good thing to use the mother tongue to explain a grammar stucture? Will this film really help to learn or ameliorate the teaching of English?

jamal says:


Hello,

my answers:

1)i have never been there before , the only outside country that i've visited are Arab saudi(mecca) and Paris (that was my lucky day because my company send me for installation training at the vendor place)
2)I want to know from zero experience/knowledge of people that couldn't speak english and now they can speak english very well.How do they learned, what methode they use to be successfull in learning english?
3) 15 mins is enough, but with frequent published or posted at blogs, this to prevent user from getting bored.

Giang says:


Thanks!
Very interesting!!!

sepideh says:


1)I have never been to none of them but I like visiting them.
2)I am keen on diffrent culture and I love to know about the
way of living,lifestyle,problems,……
3)If people are thought by films,the footage can be the best.Forexample:my classmate&I were learning some points from a footage.It`s name was SECRET. It was shown in my
English inistitute.

laimon says:


I haven't been to these countries.
How to speak and brush up your English as a native.
I can't understand this question.

DAWOOD DANA JAYA says:


i have never been in those countries which you mentioned, i would like to go there someday, but you know that's so expensive for me, i wish i will get some scholarship from cambridge, now i study in one of university in east java indonesia, i teach in elementary school and junior high school but there some financial problem in this school to get appropriate books for students, ya i wanna know their experience who had interview by cambridge, i think there are some exciting activities from those movie, thank you cambridge,,,,

gabby says:


have never been to none of them but I would like to visit them one day

food, culture, people, English accent taught in the area, teaching methods, the most amazing lesson/exercise – sample

landmarks of the places should be shown

Saudi Student says:


Hi there

Have you been to any of the locations we are visiting?
(Cambridge, New York, Casablanca, Madrid, Minsk)?

answering your questions,I've never been outside of my country (saudi arabia) although I can mimic American accent very well.

What kind of information would you like to know from the people we are interviewing?
I want to know how long it took them to learn English? and How could they overcome the difficulties? what country that they recomend for learning english? Is english really puzzled?

What sort of footage do YOU think would be most exciting for the film?
It will be good and attractive, believe me.

all the best

MABEL SUEIRO says:


1-I HAVEN'T BEEN IN THOSE COUNTRIES BUT I'D LIKE TO BE THERE SOME DAY. I ONLY VISITED SPAIN AND BRASIL
WHEN I WAS YOUNGER.
2- I'D LIKE TO KNOW EVERYTHING ABOUT THEIR CULTURE, CUSTOMS AND HOW THEY LEARN ENGLISH.
3-I THINK THAT DIFFICULTIES WITH THE ENGLISH STUDY
WOULD BE THE MOST EXCITING FOOTAGE FOR THE FILM.

Rey says:


I've never been to those places you mentioned. What I would like to know from people he would be interviewing are their main purpose in learning English. Do they want to learn the language because many jobs nowadays require proficiency in English?, or maybe they have plans of going to an English speaking country?, or perhaps with slim possibly, they want it just for the love of the language. I think it would be interesting to see some Asian people in the film as they learn to perfect their English language skills.

shirisha says:


1.no i haven't any one of them.
2.in my opion information like is english language is naceesary
3.english communication between people

roma says:


i have never been in those countries which you mention i would like to go there someday for further studies may be in 2010 for uk now im working for GI CAREERS(UK) i have some financial problem because i am from mother teresa home i joined in english club to get fluent in english please can you send audio records also to hear thank you somuch
for your help thank you cambridge,,,

R says:


1- I've never been in any of these cities.
2- It is valuable to me to know what was the major difficulty for them to learn english and how they succeeded to overcome it and what place in these cities they like the most.
3-if i understand your question right, it is ok that the scenes be in class or home but it would be great if the scenes can show us the nature and the famous places of these wonderful cities.

Great project

quocdung tran says:


I have never been in these places which you suggestted .I hope that one day I will be there , however , Casablanca is famous place that anyone which had ever watched romantic Casablanca film really want to go there .And Cambridge ,Madrid ,Minsk ,Newyork too .I have watched so many film about Newyork,the modern city with so many building and skyscraper .
Actually I want to be in Cambridge the place has ancient Cambridge University.My job is mechanic in aviation so studying and upgrading there is my dreaming .It will support for my job so much .
About sort of footage I think it should has sublect and introduce about culture or something that audience don't know.
that's my opinion .And i hope we can share our opinion about this suggestion relate to sort of footege .so interesting.

mohammad iqbalkoshan says:


i have never been to any of these places yet , but i hope that in future i could have a special chance to see these places.

i like converciation classes to from the internet online

best regards

mohammad

Genevieve Vicente says:


1. I haven't been to which place you are visiting.
2. I would like to know about their lives.
3. Maybe the most exciting is to have a footage the you are actually having interviewing them..

Phuoc Tu Dang says:


1. I have never been in cities you mentioned. I have alot of business travel. I think that I will have chance to come these.
2. I'd like to know about lifestyle of people who are living there, and culture, too.
3. In a film, should in interaction.

Ellen Zheng says:


I`ve never been to any other countries before!
And I like to know what they eating in their daily life,or if there have any traditional food in their country and what is their entertainment! Last ,is there have any forbidden things which different from other countries!

rajan t.t says:


Dear sir
I NEVER BEEN IN SUCH LOCATN
I WANT TO HOW THE PEOPLE IN THESE PLACES LEARN
LANGUAGE. AS A TEACHER OF I HAVE TO FACE A LOT
OF DIFF IN GIVING THEM LESSONS, SINCE THEY DON'T
KNOW HOW TOWRITE SENTENCES WITH CORRECT FORM
THAKING YOU

Rachel says:


I've never been in such location.
I read the magazine, and that told me,

THE CHILDREN IN FRANCE MUST STUDY TO COOK AT AGE 6 YEARS OLD.

I think this kind of interesting. They can cook since a kid and I want to know what kind of they learning about that also what kind of food do they cook?

THANKYOU

MARINA says:


1. I have been to New York
2. What was the most difficult item of English for them ?
3. if u can show one of their lesson!

Faris H. Amana says:


1. I've never been in all of the mentioned places.
2. Let us know the problems happend to each learner, his special experience in learning and perhaps in teaching if there are any experiments ( this happend to me , i'm learning and teaching at the same time ).
3. Between 20 & 30 minutes.

Jorge says:


1.I have never been i such location.I live fare way-Mozambique.

2.How is possible to ensure the quality of lecture by internet, without an presencial lessons ou teacher consutation, for faraways contries as Mozambique?

3.show suplies for english improvement as dictionaries grammers,books ….

Barbara says:


1. I have been to NY, Madrid and Casablanca
2. What is the most difficult thing to learn re grammar?
and maybe explain why in comparison to Spanish
Other than the classroom and language lessons, how
else do you learn English? What is the most
successful for you?
3. A sample of the lessons
Interview in someone´s home so u can see the
differences to the viewers
Interview in someone's office with maybe some
differences to "typical English/American culture"
Showing when people go out to eat (like tapas in Spain,
teacafes in Casablanca, lunch in Central Park)

nazi says:


Hi
No,I 've never been to any of those places.
I love English,I am an English teacher.Anything about this sweet language interests me.Either language itself(new vocabularies,grammar,idioms&expresions,etc) or about the language.How to learn or/and how to teach it.I always welcom new effective pedogogical ideas&lesson plans,furthur activities &…
Learning sth from a footage is fantastic.
Thanks

yaser makan says:


I have never been i such location.I live fare way in uae and I'd like to know about lifestyle of people who are living there, and culture, too ,Maybe the most exciting is to have a footage the you are actually having interviewing them..

thanks alot
yaser makan

dave says:


I have not been to the mentioned places.

I would to know what assist them best in learning English for e.g: which skills (LSWR) and how well can they relate English with their mothertongue?

In some places, people can sing an English song better than speaking the language, WHY? While singing they never miss on their grammatical structure, pronunciation and vocab, but when they speak. it's all hay wire WHY?

A great way of dealing with the footage is in an explanation form, where theory and practicality cross interferes. More to a problem solving interview..Thank You!

unseenbali says:


I love the idea. I have been to some of the mention places. I like more infos about the city hall/town hall.

Do's and dont's

Thanks

Unky says:


I've never been to all the mentioned places.
What I 'd like to know is that how to speak and write English fluently.

The sort of footage that would be the most exciting for the film is the journey of English learners in different countries.

van says:


I would like to watch this film

Nasralah says:


I have not been to the mentioned places; I am Palestinian living in an unrest political part of the world where traveling is almost a dream!! Anyway, I do like and even fond English language. I do my best to be perfect in English language as it is the formal language at my place of work. I would like to express my experience in teaching kids English language (parents to kids teaching). I found it very practical and useful to talk with my kids the same English material I had taught them for their daily school homeworks. During the day, try to repeat the words and sentences through conversation with your kids, they very much tend to remember and catch the words as well as their practical usage.

best wishes to all,
Nasralah

Mohammed al_sofyani says:


I HAVE NOT BEEN IN THAT MENTIONED PLACES.

I LIKE TO KNOW MORE ABOUT HOW TO SPEEK ENGLISH FLUENTLY.

ABOUT THE FILM IS VERY GOOD BUT THE SORT OF FOOTAGE IS NOT GOOD BCAUSE THE INTERVIEW WAS WITH THE NATIVE SPEEKERS WHILE THE PROGRAMM IS HOW OTHER PEOPLE TO LEARN ENGLISH . IF THE INTERVIEW WAS WITH THE OTHER PEOPLE FROM ANY COUNTRIES OVER THE WORLD WILL BE BETTER.

THANK YOU FOR YOUR EFFORTS GUYS

REGARDS!
MOHAMMED AL_SOFYANI

bob says:


1,I have never been to any of the places .

2, I would like to know about their lives.

3,The sort of footage that would be the most exciting for the film is the journey of English learners in different countries.

thanks a lot

samitha says:


1, I have naver been to any of the places.

abdalla abdall says:


– I have never been in any of these cities .
2- . I want to know about culture, language, life style, education or university in Cambridge, New York, Casablanca, Madrid and Minsk. May be, i can study in there…it's my dream..
so how can I go there and I live in Iraq?!!!
3- one our will be good with this photo"I love English Language"

hafizah says:


1,I have never been to any of the places .

2, I would like to know about their lives.

3,The sort of footage that would be the most exciting for the film is the journey of English learners in different countries.

thanks a lot

junah says:


1. I have never been in those places.

2. i would like to learn how English language changes and why it changes.

Jamiani Mohd Daud says:


1. I've never been to those places and it is one of
my dreams to visit at least one of them.I would l

2. As an english teacher (TESL) and an English
learner as well,I wish to see/hear how those
people learn to be fluent in English and how
they pronounce the words differently, because
we (my collegues and I) sometimes argue on
pronouncing some words correctly. Is it a must
to pronounce like the native speakers?

3. I have no idea. However, good luck in your job!

Masoumeh Mahmoudi says:


hi dear,
I have not been in any o this location.I think a film which teaches us some thing is most useful for us. I prefer those films which is about natural happenings.
Thank your help.

retno says:


1. Have you been to any of the locations we are visiting? (Cambridge, New York, Casablanca, Madrid, Minsk)
I have never been to those places. I live in Indonesia and i have never been to abroad. I really-really want to go to UK, i interested in all about UK and i like everything about UK so i study hard English and i hope someday i can go there. I was so glad when i found this English Letters Web Site,and to be so glad when i knew this site link with people from Cambridge University, my dream university. So im happy could join you.

2. What kind of information would you like to know from the people we are interviewing?
i really want to know about their country,their language,their culture,their international friends. And i want to know how to speak English as good as them.

3. What sort of footage do YOU think would be most exciting for the film?
Good Job!i hope the best for ur Project, thanks for your help. i think may be you can show us all of students from the different countries to tells about their experiences, their education, and their knowledge which are they get in Cambrigde.

Best Wishes to all,
( Retno from Indonesia)

aleem rizvi. says:


it is to inform you that i have never been to any of this place.secondly i need to have that kind of information where any person didn't enjoy his or her job by not knowing the right info of english language.after having excellent command over eng lan he or she is now getting good reward by using his or her english skills.thirdly photo should be mention the previous position of that person and then present position of his business and job.

Chery Hernandez says:


Hi
I have been in New York and Madrid

you should ask them their expresions or modism that they usually use, because sometimes is difficult to understand English because of those phrases.

Elizabeth says:


I had the opportunity to visit New York a few years ago and the experience was incredible I was there at Xmas time and all the decorations, lights were wonderful. I would like that you visit my campus of course it is pretty big it is close to Toluca, Toluca is a city close to Mexico city, almost everybody studies English here because it is a most to graduate, it would be nice experience to be interviewed by you and see pictures of our school all over the world.

echo lillspace says:


i think it is a good chance for me to learn from the different parts of this entire world .yeh, i like making a communication with people ,no matter what they are ,how old she or he is ,i will be always listening to them and sharing one of my own thoughts or feelings ,(maybe something like that) .it is really an exciting and interesting thing i have ever want to try more.
except those ,i also want to improve my English level ,incluing grammar ,spelling,pronouncation etc.
i do hope to make many friends through the net .

Sara says:


first of all I'd like to say it is a nice idea. Answerin the first question I've never been in the places mentioned before.
2. I'd like to know how they improve their English lang. and does learning Engl. make them thinking of learning another language.

amin says:


i just want to join to make a comment for this event, i think it will looks good if we make it for a good reason or before we made it, we should set our mind what for we do that and what is our purpose. in this event i guest we should make them or people which learn English more interested to learn English and also its culture.!!! @mien the best part of this world

Faraj says:


Hi,
I am glad to get email from you and I am so sorry to be late for answer your question.
1- I have never been to any of mention places.
2- I would like to get information on the ways different people from different places learn English in order to find out the best way to learn English for ourself.
3. I think 30 up to 45 minutes is enough for each location.

Tyler says:


Great idea! I'm currently doing my Masters dissertation through the University of Leicester on learning English through film. This gives me a few ideas.

Cheers,

Tyler (Seoul, Korea)

monis from london says:


The information! I think need to Know about there nesseccities behind the english learning mission and help them

monis from london says:


for sort of footage! I think culltural vedio could be impressing.

panny88 says:


Hi all
– I am glad to get e mail from you.but i am so sorry
that i am late in answering your question.
all the locations above i have never been,because i have no capacity to go these places,
– I would like to get information on the ways different people from different places learn English in order to find out the best way to learn English for ourself.
– I think 30 up to 45 is enough for each places and i do hope that i will know a lot friends in the worl

ali says:


1-i never been there.
2-how long they are living there
how is feeling
how they are successful or not
how is their relationship with people
whats their advice to other immigrants
where they are come from.
3-documentary film should be affect full

Zainal Abidin b. Daman says:


1. I never been to that place before. Even to overseas.
2. Such short film, is a good way in promoting the
usage of the language and it can also motivate for the non speakers of English.
3. It should include all people around this world passes all the continents
4. Thank you for the email

mapa makita désiré says:


I'm gad to in contact whith you.I have never been in any places.i want to get infermations and exchange way of life whith every cubmates.thanks for the emails

navid says:


1.No i haven't ever been to these places.
2. mostly about their country and their culture

Mukesh Makadia says:


This is very nice for English learners.

Thanks a lot