Morocco
Dear All,
'Stories From Morocco' – The first documentary to be released from The Learning English Video Project – is now available for FREE!
As you may have seen from the video blogs, I travelled to Casablanca and Rabat in October 2008 in order to film at the American Academy Casablanca. After six months of editing, the film is now available to watch for free on EnglishClub.com as well as Googlevideo, Youtube and danielemmerson.com.
The film comes complete with quizzes, lesson plans for teachers and a comments forum.
I look forward to reading your feedback soon!
Thank you to EVERYBODY at EnglishClub and all the people who took part in the project.
All the best,
Daniel.


More Pictures from Film Location 04 – Casablanca & Rabat
We were in Morocco from October 12th – October 20th and we had a fantastic time there. Here are some more pictures of our journey and a short video blog detailing the events.
Photos
Hands up if you know the answer! – American Academy Casablanca
Tortoise Time with Joel Carr.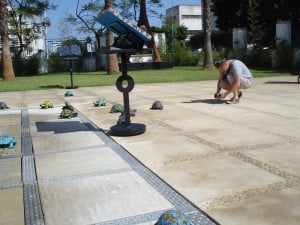 American Academy Casablanca.
I would like to thank the American Academy Casablanca for their incredible assistance with the documentary project. Not only did the school allow us to spend three full days filming on location with them, but they also provided us with a wonderful selection of enthusiastic ESL students with some fascinating ideas about learning English.
Casablanca, Morocco.
Although Morocco is only a short distance away from the southern coast of Spain, the change in culture and climate is truly breathtaking. Upon arriving in the busy city of Casablanca, we were ripped off tremendously by our taxi driver and taken straight to the Medina (a vast labyrinth of market stalls, booths, flats and washing lines). We were  immediately swarmed by reckless hands and fake Rolex watches, beaming faces and bootleg DVDs, a real maze of Moroccan craftsmanship. We started to walk down one of the twirling isles and we were pounced upon by a tall burly fellow with glasses ¨hello my English friends¨ he said with a berserk sense of confidence, ¨let me give you a private tour…¨
This was our introduction to Morocco and the shape of things to come. Desperately friendly people with a lot to share, but at a somewhat questionable price. It was not until we reached the haven of the American Academy that we felt we could let our guard down somewhat and give the project our full attention. (more…)