My name is Daniel and I am going to make a film
IN JANUARY 2009, ENGLISHCLUB.COM WILL HOST A FREE DOCUMENTARY VIDEO AND LEARNING AIDE.
THIS PAGE WILL GROW TO BE A REGULARLY UPDATED FEATURE ON THE PROJECT PROGRESS.
Welcome to my digital diary and pseudo-aesthetic medium for detailing the events leading up to the release of an international collaboration and enormously compelling documentary film project.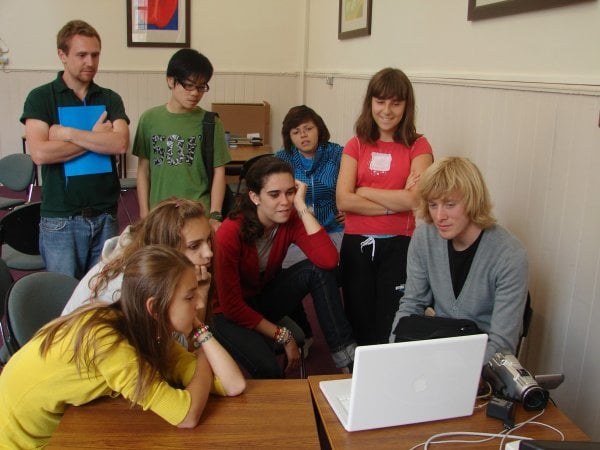 WHO?
I am an independent documentary filmmaker and language enthusiast from the United Kingdom. I also teach a combination of EFL and practical film making (see picture above – taken at Millfield Summer School 2008) and for the last five years, film production has been one of my central passions. I have worked for several production companies throughout Europe and have since been undertaking independent ventures that subjectify another of my prime interests; language.
WHAT?
Organisations, individuals and other collaborators from Africa, America, Western Europe, Great Britain and far Eastern Europe are preparing to take part in a documentary film project examining the various strategies, ideas and inspirations behind learning English as a second language. Why is English so popular, what does it mean to be able to speak it, and above all, what are the best ways of learning? Over the course of the next few weeks, I hope to provide an educational and entertaining insight into the learning habits of ESL students all across the globe. Accompanied by my close associate and dedicated co-producer Joel Carr, I will be living with people from the cities we visit in an attempt to establish a true sense of place and cultural identity.
The documentary starts in Cambridge on September 3rd 2008 when we will be visiting the Cambridge International Club, International Cambridge University Students Union and Michael House.
21 Responses to "My name is Daniel and I am going to make a film"
Le says:


It's a greate blog, I will be waiting for

:)

hanane says:


Hi Daniel,
Today is the 3rd of september, I think you have started your documentary. I wish you the best of luck

Cris says:


Great!

I like reading your blog. Good luck Daniel!

I wish you all the best.

have a nice day to all of you

Yasemin says:


Hi everybody

This page very good and I can your english language because these words very fluent.

Thanks
Good days

Albert KHONDE says:


Hello,
Many thanks to you all who are planning to launch this video.
All I wish you is success and luck for the completion of your masterpiece that has coasted you devotion, courage, etc.
May you all be united so that we students of english find all interesting language devices into your video and the others to come.
Best Regards!!!!

nuerli says:


Hi there!!! Keep the good work! I'm waiting for your best! Good luck!

eslam says:


IAM WAITING

Mitrnaz says:


Wish you the best!

KANNI says:


Hi Daniel,

I have a strong dream to find out this type of move . unfortunately i havent find until now. luckily i came to know this shooting. i am realy great to know about your movie. now i am in melbourne . i am from india . atleast now i have some sort of status due to my heart touching language called ENGLISH. english is like one major part of my body.

I belive you are going to touch all the aspects of humanlife and daily basic speaking english in conversations.

I can say one thing for you DANIEL. You got a great opportunity to do this project which couldnt dun by any one in the world . which going to be the most important tool in my Life to tackle the situations ..

I request you please consider non english country people facing common problems in native english countries.

once again many many tanks and all the best loking forward to see your or my developing english video on behalf of your hardwork.

With Love,
Kanni.

muacuoituan says:


I think you'll be successful.Good luck

M.A. JABBAR says:


HI,

I AM VERY EAGER TO KNOW MORE ABOUT YOUR PROJRCT

suranga perera says:


I wish you all the best to success your achievement. you are going to do a best thing which is important to the person who are enthusiast of learning english good bless!

Douglas Carr says:


Hi Dan and Joel.

Great idea and I wish you much success.

I wanted to make a few points for your site visitors and have set out some below.

For historical reasons English is basically a peasant language so grammatically it is very simple. (I can explain why it is a peasant language in another mail if needed).

But it is also a very mixed language with influences from Latin, Saxon, Old German and many more… therefore we use many words that sound the same but mean different things E.G bi, by, bye, and to, too, two and so on.

It is also a dynamic language that changes almost daily with new words coming in and old words disappearing.

Anyone wishing to learn English shouldn't worry too much about pronunciation or sentence structure (unless in a business or legal environment) as many native English speakers don't know the rules anyway.

Just try to enjoy the learning experience.

Be patient when talking the language (don't talk too fast), and don't worry if English people look as though they don't understand you…. we hardly understand each other most of the time.

Doug

hangmc says:


hello Daniel!
I'm looking forward to watching your film.English is my love but I still can't say it fluently.I hope your film is a chance for me to know more about English.Wish you are successful

xJohann2027 says:


I like this web. Yes,i like it ;) Thanx. Johann2027

Newpoon says:


I think it is one of the best ways to learn Enlish especially for ones who are not native speakers. I am waiting for your films.

chandru says:


hello sir,
good morning, i want know bout how to introduce my name and family names in English can you send please

ESLTime says:


Will be watching this space, good luck.

Lina says:


Hey Daniel, I like your blog, but there's a mistake on it.

WHAT?

Orgaisations —-> Organizations

Have fun during your film!!

Best Wishes from ME, USA

Amir says:


I need to learn English language

shukrallah says:


I like Douglas Carr's blog very much.It is very informative. I wish he could explain why he considers that English is a peasant language.
Thanks.