New York Pictures
Please see below a small selection of pictures from New York.
1. A group of elderly peace protestors outside one of the large plazas in Manhattan. The protestors were from all over the world and were protesting against the USA's military activity abroad.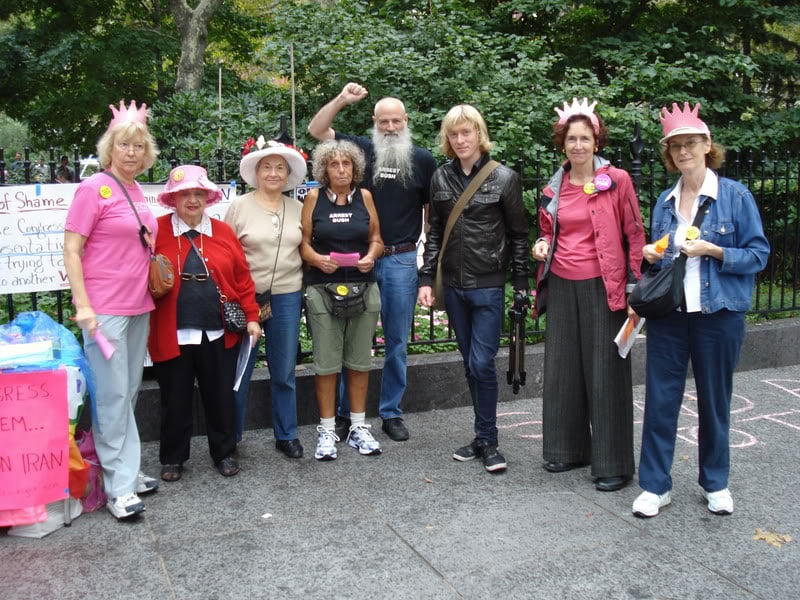 2. Welcome to Harlem. We spent a lot of time here during our stay in the Big Apple.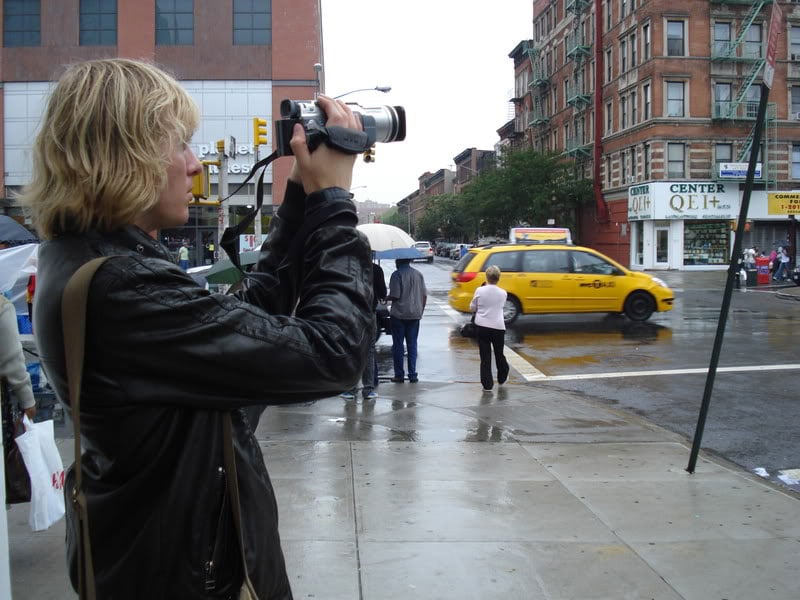 3. Coney Island. We discovered pockets of Eastern European and Russian students living in the south of Brooklyn. Most of them had come to see the fairground before it
is torn down.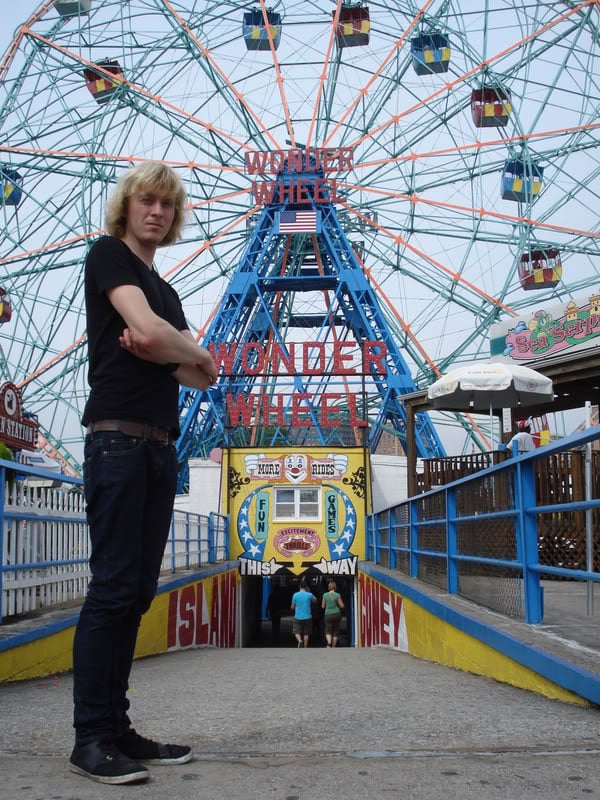 4. Interviewing a young Spanish ESL student at ISL New York.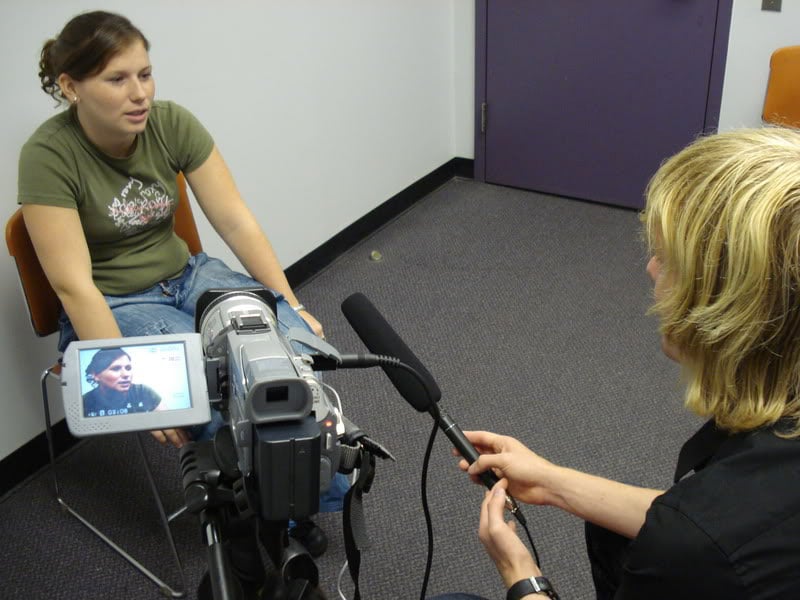 5. Filming in Soho.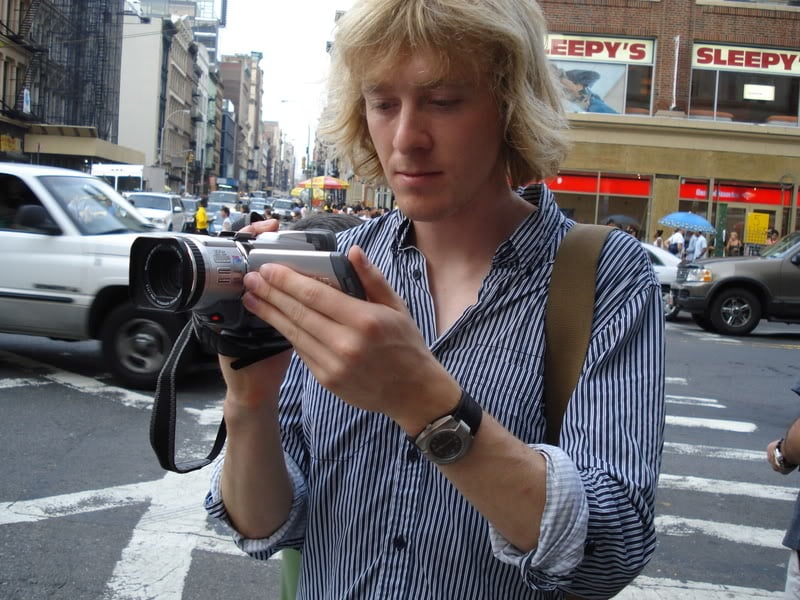 6.More filming at ISL.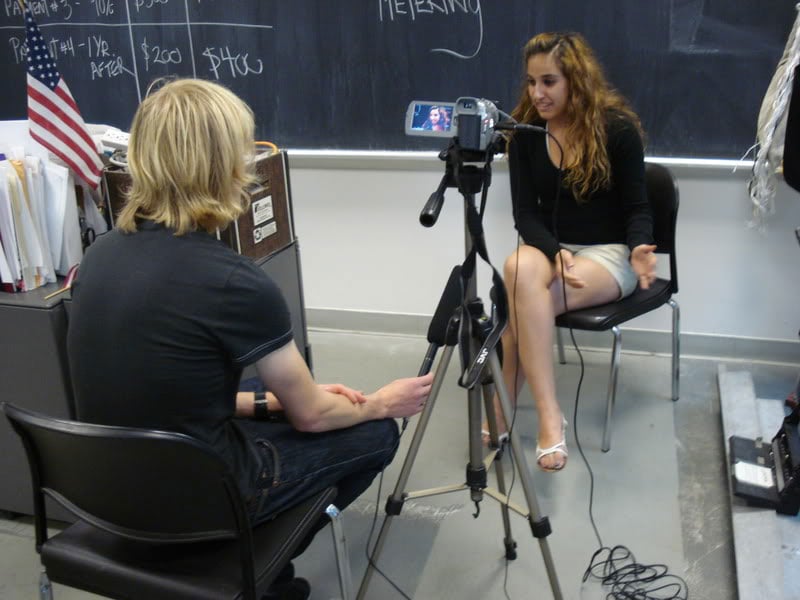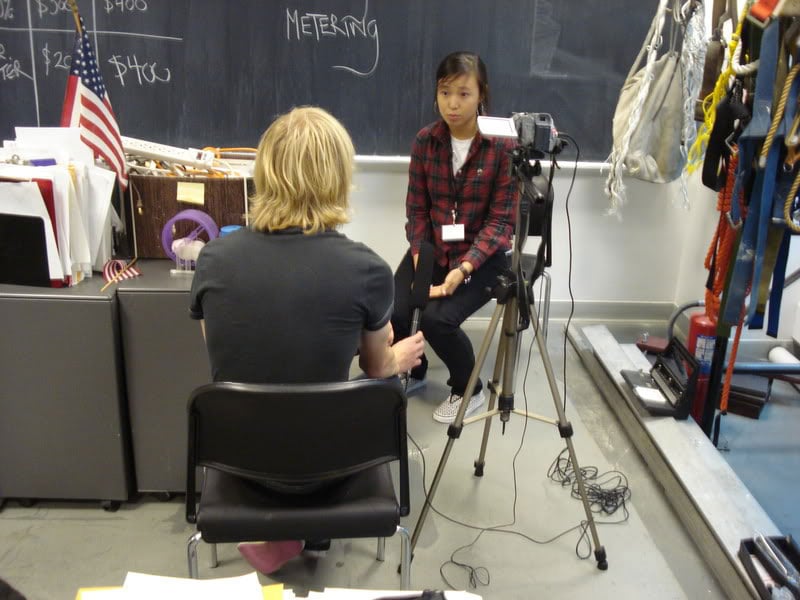 7. Thank you Austria. These two budding ESL students allowed us to film them using their English around the city. – Here we are posing on the top floor of the Empire State Building.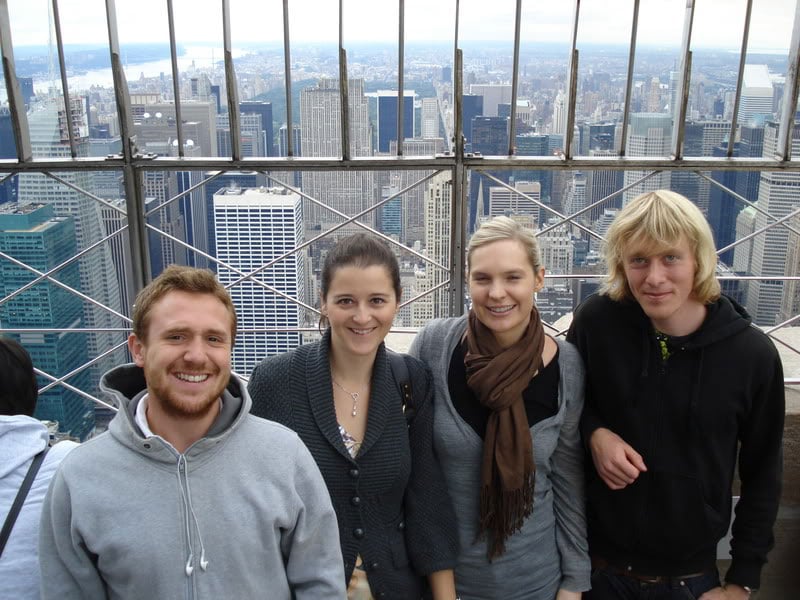 A big thank you to everybody who took part, including all the staff at ISL New York and Teaching English at Saint John's University. I would also like to thank everybody who has been posting comments on our blog over the last couple of weeks! I hope that this fantastic amount of feedback will continue throughout the project.
IF we were to include one more city in our schedule of places to visit for the project, which place do you think would be best and why? We will be flying to Madrid, Spain on Tuesday 23rd September!
Best Wishes,
Daniel.
161 Responses to "New York Pictures"
Mohammed says:


Thank you for this collection of pictures. Is it possible to make a visit to one of Middle East cities like Cairo, Umman, Jerusalem, Damascus or Riyadh in your schedule for places to vist?

Dulip Cooray says:


Sri Lanka

Francisco says:


The city I would like to be included is São Paulo, the most business city of Brazil.

quocdung tran says:


Of course Cambridge is number one place in my choosing

nita derman says:


Israel would be a wonderful choice of a country for you to include. The interest and love of English is very very high in relation to the population and english is taught as a second language at school. Both israeli and Arab kids would benefit tremendously and the response would undoubtedly be great.
thank you
nita derman

Gudrun Korn says:


Beijing since there is no Asian town
Canberrra since there is no Australian town

Mary Millar says:


I think Milan would be a city worth considering. I teach English in Como, Italy and can see that the Italians are behind the rest of Europe. They are now starting to teach better English in their schools and more and more people are taking lessons during their lunch hours and in the evenings.

Eric Finnis says:


I think Beijing would be a good idea – the Chinese youth are gung-ho over English!

Karla says:


Mexico City, it's a great option:

It's a beatuful and coloruful city full of culture and history, our prehispanic root is still shown in our way, which doesn't mean it's not a cosmopolita and very modern city, many visitors from around the world come at any season as most of the year is sunny an lovely, mexicans are very hospitalary and well the time will never be enough to admire the great amount of beauties found here. Very close to the city (1 hr 30 tops) there some of the greatest points of energy where pyramids built by our ancestors are situated in all 4 cardinal points. It's not very expensive for visitors specially those who are open to taste and see new exciting things.

Patricia Wild says:


How about PUNTA DEL ESTE in URUGUAY? It's a top notch summer resort, the most fashionable in South America. Best months to visit are January and February when it becomes absolutely international with tourists from all over the world, although summer months include December, Jan, Feb, and March.

suzan says:


Dubai it is very goog

florencio says:


i think it would benefit you immensely if you could visit mumbai or panjim in India as you would meet people with diverse cultures and secular values. i think there would be a lot to learn and teach in such a city. thanks for letting me air my views.

ahmad haniff says:


i Think kuala lumpur, Malaysia..
Because English is a second language in Malaysia after Malay language.
Moreover, Most malaysian cant speak Eng fluently and still learning it..

Annie Eagleton says:


Nice work so far! I think it'd be great if you came out here to Danang in Vietnam. Here, I think you'll find some of the keenest & friendliest English Language students in the world! Many of them working hard to study in America, Australia or the UK.
Danang is also a prime location, still very Vietnamese, with a river culture, white sand beaches & marble mountains. Come quick before it gets too developed.

Prof. Muhammad A Rao says:


Im interested to work for you in Qatar.

Jacqueline Journeay says:


Toronto, Ontario, CANADA, would be a logical choice to film as the city has had an influx of nationalities, and therefore a large number of languages are being spoken in the city, beside English. Toronto, CANADA, is very well known in foreign countries and viewers of your film would be able to identify with the newcomers living in Toronto and those who are learning English.

Cheers,
Jacqueline

Saviour Kwofie says:


I think Accra, Ghana will be better if you are to include one more city in your schedule of places to visit for the project.
Because a lot of Ghanaian including I myself would like to join you.

ahmad rami ghazal says:


my name is ahmad i live in syria

Antonia Simone says:


Paris, of course – where I taught for 8 years. The French can be quite funny about learning English. There are many students who still resent having to speak English, and the rest are desperate to catch up with the rest of the EU. The government goes to great lengths to try to preserve the French language in all areas and has just recently relented, realizing that the world wide web is a bigger animal. And, obviously, there's the centuries old love/hate relationship with English/the English mixed with a newer love/hate of America. It's all rather complex. Including Paris would infuse some humour into the film as well. Good luck with the project!

Antonia Simone
iEnglish
New York

Irene Fallavier says:


La Reunion is a French Department situated in the Indian Ocean, not far from Madagascar and Mauritius Islands. You may visit and discover how the English Language develops its utility to the rest of the world.

Mahmud says:


I think Tabriz ( capital of east Azerbaijan of Iran) would be interesting too!

Liliana says:


You must choose Bogota, Colombia because at the moment you have mostly european cities and you must have the "latino"part.If you are going to make a movie about English, I think you must add cities where poeple are learning the language.

Ivonne Malcun says:


I think that San Juan, Puerto Rico should be included. Political, Economy, Social, etc. issues are directly impacted by the ongoing relation with the USA. The No Child Left Behind Law is being applied to our public school system. It would be interesting to see the reaction and opinions on TV. Maybe it would help to make some positive changes in attitudes toward learning the language.

galina says:


dear EnglishClub team! you defenetly should visit one more city in belarus –brest. it's a legendary city which is known in europe and where lots of students,learning english, will be happy to join the international "english-fun's" movement.

Medalit Holyoak says:


You should include Pacasmayo, it is a small port in the North of Perú, you will find the best environment to produce in a natural and beautiful place that everybody would enjoy.

Anite says:


I think Florence will be better, because in this town were born a great genius as Leonardo, Michelangelo, Raffaello.. and so on!!
Italy has got 2/3 of artistic/cultural heritage in Europe. I'm sure that's a good reason to choise this important city. I hope you include one more city.. and i'd like it was Florence.. Thank you a lot.

Sheila Craddock says:


I Think you should visit – Florianópolis – Santa Catarina – Brazil where you will visit one of the most beautiful beaches in Brazil.

Hope you like this suggestion!!!!

Karen Morrissey says:


The US has many immigrants. I'm being called left and right for my tutoring time. I'm in the Midwest, so Minneapolis- St. Paul would be a likely place to explore. On the West coast. Consider LA – Los Angeles. Karen

sudha says:


I think it should be Dubai U.A.E. Because multinational people reside here and they want to learn english so that they can converse to each other easily.English is the only language which can b easily understand by every one.If not the full sentence then a few words at least.

sudha says:


yes this is very much true.

yuliet says:


I think you can try in Havana City too,,,specially in the first year college,,it´s very interesting the work they are doing with people who almost never listen to the language…It´s very interesting the way they improve every aspect : listening, reading, grammar ,vocabulary , pronunciation and of course , the communicative problem indeed.

Tracey says:


You might think about Berlin, it is modern, cosmopolitan and seeped in very interesting history. There are a cross section of cultures,languages and there is something there for all ages.

Gabriela Velázquez-Vinay says:


I would choose Acapulco.
Why? Not only because I'm Mexican, or because it is a main international destination, but because it is a place where nationals and foreigners practice english all the time.
Because the place it is worth to be visited.
so if Acapulco might be considered as a destination for the film, you will have the opportunity to learn about Mexico, and how we enjoy learning English.

Emil Waldhauser says:


Prague is a good place. It is the heart of Europe. Loads of Americans and British fell in love with this city and there is a huge number of Americans residing in Prague.

kuta says:


I suggest it should be held in Cameroon.
My reason for this proposal is not because i am
Cameroon,though i am,but because there's a linguistic conflict or sort of confusion leading to french and english
fast giving birth to something that isn't either of the two languages leaving the young or learners with no real language to match-up with the purpose of learning and/or
following the global stream!ha ha fun yeah?But real !
Thanks

Mel says:


I think a great place for you to add would be Ottawa, Canada. We have a very diverse city here, and as a volunteer ESL teacher, I know we have many new-comers to Canada who are very excited to learn English!

Cheerio,
Mel

kuta Harris says:


Ok,still Kuta ,just to chip in one more idea,
If the purpose of your tour is to let english be
spoken and rightly, come-on and listen
'english' here,ha ha it's another kind of the english we're
trying to promote or teach!It sounds like i'm bitting my own
finger yeah!No,i promoting english to the youngsters!
This syndrome will reach America as this kinda english
won't leave the immigrants as there move from here to where-ever!
Have a nice day guys!

Moeen says:


Dear Mr Emmerson,
Words could not express my gratitude to your efforts for helping the world build bridges of mutual understanding to make peace and welfare through English ,and you should be proud of that : your language is the means of international communication!
I would suggest another one or two cities here in the "boiling Middle East " . Gaza is one of these cities and I am ready to protect you and help you to include a good report about "English in Gaza" It would be exciting to visit this part of the world . Do not worry . No violence ,no kiddnapping , for things are moving to a better condition.
Alan Johneston , the BBC correspondent , is a friend of mine and he stayed in Gaza for I a long time ,I think you heard about him . Anyway, he made a report about me , under the title of " A day in the life of a Palestinian Teacher ".
The other city maybe Jerusalem, the Holy City. I have friends in Jerusalem Arabs and Jews. You can take this chance to leiaze between us for the sake of promoting peace.
I hope that this suggestion would find a listening ear.
Thanks again and keep in touch.
Yours sincerely,
Moeen

Barbara Lupton says:


Omaha, Nebraska! Because we have more Latinos than any other city in the U.S…..or something like that were the statistics….perhaps the largest percentage per capita?…..
At any rate, English is offered at Metro Community College without tuition, as do several churches, and classes are full.

Hassan ROKNI ZADEH says:


As I am an Iranian, living in Belgium now and know them well, I recommend these two. You will be surprised how well young generations (especially students) speak good accent of English in Iran. You will enjoy that all Dutch people in Belgium know English in addition to Dutch, a basic French and Germany.

lilly says:


Puerto Rico, it is a beautiful island, with very friendly people. Also you don't need passaport if you're us citizen.

Yvonne Bradford says:


I think you should choose somewhere in Asia probably in China because that country is really booming in the learning English area.
I teach in Australia and 95% of our students come from Asia.
I think the movie sounds great but without an Asian component I probably wouldn't use it.
Good luck
yvonne Bradford

sonny levan says:


Vietnam and especially Hochiminhcity could be a very good area to consider. There is a boom in vietnamese economic, and learning English as second language is lively in demand than ever. There are so many ESL schools in Vietnam, so it's should be a good spot for the film.

Elizabeth Gardiner says:


Braybrook, Melbourne, Australia is home to almost the greatest ethnic mix in Australia. We have migrants who came here 50 years ago – Italians, Greeks British. Many of the women still dont speak much English. Then we have Chinese and Vietnamese refugees who came to Australia, some in tiny boats, 35 years ago. They have worked in factoriees or manufacturing all this time, but haven't learnt English. More recently we have welcomed refugees from the Horn of Africa.

Men from these nations , generally have learned English and of course Children have learned. We have some very isolated older women who came here from other countries and do not speak English. This can leave them quite isolated when they stop working. I run a program for all ethnicities, aimed at teaching women like this, more about Braybrook and Melbourne. So that the women can gain language skills and confidence to join others in meaningful activities.

I teach ESL and have strong networks within the African communities and we face major challenges teaching English because of the varied educational backgrounds of the newcomers. For some nations, women, in particular, are illiterate even in their own language. This makes learning English very difficult.

Australia has one organisation given the official task of teaching ESL. We have evidence that their system has a huge failure rate, proving that "one size" doesn't fit all people.

Personally, I am a community worker. I am also working with two African groups, helping them establish schools for their own languages, so that we educate their illiterate members in the language they speak but cannot read or write. I believe once we accomplish this, we can build English language skills.

For me, Braybrook is a fabulous place to live because despite the challenges, we are home to many different ethnicities, religions and histories. And we all live together in harmony. It's a wonderful place to make a documentary about ESL!

Best wishes,

Liz Gardiner.

Anne Morris says:


Daniel waddabout Oz? Great place … a lot of overseas students studying here. Try Newcastle … just north of Sydney. Great weather, people … a lot of students from everywhere. Wonderful climate … well most of the time anyway … Anne

Rachael Y says:


Los Angeles.

Here you have the largest immigrant population in the US. Lots of English learners, here, from Mexico, Korea, vietnam, South American countries, European Countries, every where. LAX is perhaps the busiest international airports in the world.

Lucy Luo says:


Xiamen, China

Forest says:


Jingdezhen Jiangxi province China,an old city,has a long history,famous fot it's product 'china'

Maria Luisa Hinostroza says:


I would like if you can include cities from South America, like Lima, my city. Because we are interested to learn English, and we have commentaries, experiences to share.

jihan says:


you must think about Egypt , because i think you need to publish this film in the arab world , that erea need to know more and more about this good language , and egypt is considered to be the heart of the arab world and it has all facilities you need , more over the egyptians like english very much , most of people there speak english very well and the rest of them want to learn it ,for instance , iam an egyptian woman i studied in faculty of art department of english ,and now iam teaching english for children , and they like english very mush , finally , all the arabs care about english .

thank you

krishna says:


Daniel glad to hear that your documentary is progressing well. You did the film in developed countries. If you need to add one more said, you should go the the "third wold nations". I recommend you to do this in my country -indonesia. Since i'm an english teacher, i need the world to know that there's a fundamental problem in english teaching here in indonesia generally. Please, come over.

hanhua says:


I think you might want to visit Singapore! It is a wonderful city located between the east and the west. Due to geographical reason, people here have an interesting way of speaking english, come and experience

Wendy Bach says:


I'm an ESL teacher presently teaching in Shanghai, and I recommend two locations in China:

Firstly, Ningbo, Zhejiang Province because it's a busy international trade city that's not overwhelming in size and has great mix of foreigners and Chinese students of all ages eager to learn English. Take a bus trip to from Shanghai across the one of the longest bridges in the world to be greeted by an attractive city that has so much to offer.

Secondly, Yangshuo, Guangxi because the economic situation is much lower but blessed with the most glorious landscape and a traditional Chinese experience can be guaranteed. Many locals learn English by interacting with the foreign visitors who consider this place a 'mecca'.

learnmore says:


Dear mr. Daniel,

I think you should consider Jakarta (the capital city of Indonesia) to be another place to visit in your film making. Why Jakarta ? this city may represent a big, metropolitant city in asia, which is the biggest continent in the world but none of its cities represented in your project. I am sure the film you produce will be much more comprihensive by including Jakarta. Thank you.

Warmest regards from Jakarta.

Learnmore.

pooja sadanand says:


I think i mentioned it before, i really think you should visit India.The national language is Hindi…and it has over 200 hundred regional languages but English is the language that binds it together.

P.Rawal says:


Either Mumbai or Delhi of India can be included since english is the language which is binding our 200 regional languages as Pooja said in her comments.

Betterets says:


If you are adding one more city to your film, I think it should be Toronto, Ontario, Canada. It has been called the most multi-cultural city in the world. There are thousands and thousands of immigrants there from many countries of the world, and there are many places teaching English as a Second Language, including a good number of the churches. To find churches involved, here's a good website to go to (below). Look under Let's Connect, for a directory of some you might visit.

RACHEL says:


I think Qingdao, China would be best, since almost everyone of the Chinese people has been learning English. And what's more, Qingdao is a beautiful place for films and it is well-known for holding the sailing events of the 2008 Olympics.

syed ibrahim says:


I would really suggest to visit India because it is multi culture and custom where people can have a new venture. If people like me would be interested to know about English culture and tradition, lifestyle and much more.

Polomi Siddique says:


Firstly it is a great attempt of making this ducumentery film of learning English because English is an international language and surely many of us try learning it worldwide.
One more city could be Dhaka, Bangladesh. Bangladesh is a developing country and it's young generation is very well aware of it. Hence in many schools and colleges this language is well practiced. Here people of both rural and urban areas communicates with the foreign countries through English which is indeed a good example to reflect in the film.

Alex says:


I think Bangkok, Thailand or anywhere in Thailand would be a good location to shoot a film because Thailand has such a nice culture, great environment with nice lovely people. It'd be a good film to show the world how great Thailand is and to show the people who have never been to Thailand so they could see and it might attract them somehow.

Jennifer Marie Bayer says:


Interesting project with such varied inputs, I think, Bangaluru and even Mysore in the south of India would be ideal to add to the diversity of English – Indian Englishes must be included

prashant1204 says:


Dear mr,daniel ,

i am very glad to hear about documentry movie,,i f you woul d add one more city,i think it must be delhi mumbai,indore,in india,,,because india is big country where english is spoken by india people in large number and they pronounce very well and also they are intrested in english speaking,….

.THANKS.,,,,,,,,,,,,,,

rasha says:


Hi
Ithink it would be great idea if you come to khartoum, you will find great mixture between arab and african culture
come and see

myilsamy anand says:


coimbatore people is interested in speaking english in large numbers

rajkumari says:


Dear Daniel,
All the best in your endeavour. I think any Indian metro (Delhi, Bombay, Chennai,Kolkatta,Bangalore or Hyderabad) will make an interesting study and will set a good example for your documentary.
This is because the impact of the british rule has had a lasting effect with reference to language. Although India is a land of diverse languages and cultures travelling from one end of the country to the other i.e north to south or vice versa will take you to a tatally different linguistic and cultural environ within the country. And One language that keeps the majority connected is ENGLISH which is spoken widely. English is still the official language in written communication in central government and state government is English.Moreover India has emerged as a major destination for the IT sector with its major clients from the US and UK. So command over the language has made it a very sought after language both in the field of teaching and learning.There are a number of other reasons but i hope I have been able to convince you with regard to choice of destination. good luck.

abdulahi says:


I think it will be good if you add the project of one africa's large cities. Specially the city where i live which is Nairobi.

ayşe says:


I think ,Iprefer germany or USA.Because I'm learning chemistry engineer because of this industry is very important for me.

Hiam says:


If I had the chance to give a suggestion I would reccomend the United Arab Emirates because it provides rich cultural background

Ewa says:


I would choose Barcelona. It's one of the most beautiful cities in Europe. With its maginificent architecture and spring-like weather all year round ,it attracts me every time I think of it. The city has many incredible places hidden somewhere in its area. You can experience a little bit of danger if you go to Ramblas and walk amazing paths of the park with its original bench (the longest possible) if you need relaxation. There is also a splendid concert with fountains dancing to modern music in the evening, together with its colourful lights it makes an incredible show.Well Barcelona is defenetely a place to be!;)

giuliana says:


ROME of course…

Tatyana says:


It should be definetly – ASTANA, a capital of Kazakhstan. It's the same melting pot as Canada, even more, but not many people even know where it is, however it's a wonderful place with wonderful people. The ending -stan should not give rise to any associations with Afghanistan. It's a secular country with lots of talented citizens. Almost every person studies English nowadays as it's very important while looking for a job or having a worthy work. I'm from Kazakhstan myself, and thanks to the knowledge of English language, I met future husband and got married. Thank you for the wok you do!
Tatyana Crum

CONSTANTIN WILSON OMGBA SEME says:


YAOUNDE is the political capital of Cameroon. it is a place where most people speak French but we also have English as second official language. most people there are struggling to learn English and i am convinced that with an event like yours, they will come to realise the importance of the language. please come to Yaoundé and you will not ne disappointed. i will be your guide.
WILSON FROM CAMEROON
THANK YOU

Elaine Van says:


Victoria on Vancouver Island, Canada.
It's got a bit of everything.
Shops:Funky shops, tourist trap shops, yuppie supermarkets, the same old same old stores for everyone, ethnic restaurants galore.
Architecture: ultra modern is going up downtown but on the older streets, lots of interesting houses
Nature: Beacon Hill park which is just gorgeous in the summer but all year has a wonderful selection of old trees and some ponds. All along the streets, trees and fabulous small home gardens. And lots more.
Include the ocean and depending on where you are, you can see marine clubs, different kinds of beaches. Rough water, huge rocks and beached logs. Whales and other sealife.
Views: 360 degrees atop Mount Douglas. Mount Tomie has another gorgeous view.
People: from all over the world. Lots of English schools.
For me, it serves to represent a Canada that is diverse and beautiful.

Selamawit Negasi says:


Hi there,

I think it would be a good idea if you go out of Europe and see how learners in a disadvantaged area learn despite limited resources. Asia, Latin America and/or Africa.

Good luck!

desi anggraeni says:


Indonesia.

We need to learn english if we want joint in the global market

Binnu says:


Why not any metropolitan city of India this time?We only are stressing over cities situated in Europe & USA but why not this time any asian city where maximum people are starving for learning english. As far as i know little bit about inhabitants of Europe & united states they are already well conversent about english but in asia most of the population are awaiting for some one who teach them.

Joseph A.Builsah says:


I would choose Ghana. Becouse of it nice people and the environment for actting.

farhafd abedpour says:


iran . i think it's better for iranian's relation to other people

Hector says:


I think you could visit Caribbean Islands 'cause there are many native English speakers who like to visit them.

Roslan Sulieman says:


Penang, Malaysia.

The uniqueness of the people using English language in their daily life. From a trishaw puller to hotel workers to educated people, English could be heard all over the Island

leenasaed says:


i think one of the arab countries would be a good place to visit for this project where you can get an idea about how the process of learning english as a foreign language is done and adding to the process your valuable suggestions.

Trangvu says:


It is my view that Hanoi, the capital of Vietnam, seems to be the best choice of yours because of both its beautiful views, typical food and its civilians. First, it does have a lot of historical plots and ancient buildings, such as The Old Quater, a number of museums which have been built since the French conquered Vietnam. Moreover, visitors usually say that they are greatly satisfied with Hanoi's food. It is possible that people can find almost every kind of traditional food in various regions in Vietnam. The final reason is that the people here are very friendly and helpful, and if you come here, I will show those characteristics to you.
P/S: Most people in Hanoi are able to communicate in English.

gandharva says:


India,no doubt, would be a better place to vist – – Bangalore or Mumbai would be cities that i would suggest

Sofia Cadillo says:


Mèxico, because it's a big country and spanish language is important and spoken to many people in the world.

bourachane says:


So I think if you want to do that film ; you have to make it in some countries they do not speak English for example because in those countries people really want to learn English …

Nellis says:


Dear Daniel,

I am very pleased to be a member of this English Club and have a chance to see your Film documentary, it is a good film for learner to enlarge their English skill, I don't have any idea to suggest you to come to my country Indonesia because every body want you to come to their country with a lot reasonable reason, well I am doing my best to learn here in English Club I will take any chance by doing each English Club programming, Thank you for giving me a chance by join a member of this English Club'

My best Regard,
Nellis

ish ish says:


I will chose London , it is glorious .

ashish says:


i think the capital of India, "New Delhi" will be the most appropriate place for this project as India has its own english in some manner also we are the largest english speaking group in the world…so i think it would be justifiable if New Delhi will be chosen as the city for this project, Daniel.

babak behnam says:


tehran…….. now ,it is thirty years governed by a middle aged ,fanatic goverment which is fondamentally hate west countries and their culture and alwayes proselyte arabic language to be choosen by people as a second language .
and fight with al sorts of western style of life rigidly.

but in spite all mentioned facts learning english is a very blooming disire by youngs. and stablishing an english language institute is a very fruitfull business today in iran.
day by days more and more people try to learn english and also being more familiar with this language. and you can easily distinguish iran, as the first in middle east.in regard to the nombers of engish speaking peoples.

faithfully

b. behnam

Lynn says:


Vancouver – already a huge centre for English language learning with students from all over Asia and Europe so lots of different experiences to learn about and relate from here. Also a very beautiful and exciting cosmopolitan city in a wonderful harbour and mountain setting – truly varied and sensational with lots of communities represented. And Canadians are in general a friendly, open and helpful group. I grew up there, recently returned after a 7 year absence and found Vancouver vibrant, exciting and safe. Well worth a visit!

atam says:


hello ,
l believe in u that your documentry will be so useful for learners and thanks so much l did learned too much by your website but l think u forgot the most important city its so great and multiple city. it was the capital city of the world and now it will be the culture capital city of europ. its İSTANBUL its the city in the dreams.lm sure u will think about that city
wish u lucky during your documentry shooting
bye

Devender Singh says:


Hi! Everyone,
This is Devender Singh and I am a teacher of English Language at a centre of Delhi University in New Delhi, India.I Invite you to shoot a film here in Delhi. I am having a batch of 25 students from Undergraduate Classes. I appreciate your efforts and wish you all the best.
Thanks.

danhua HE says:


Dalian,because it is a very romantic city.

Siddiqullah says:


I would recommend Afghanistan. Its a beautiful mountinious cournty. Its a country of monoments and hospitalities. Afghans like to learn English, and showing this film may help you in making more Language films.

More than 50 countries of the world are visiting Afghanistan currently, this film may be useful for them as well.

Cheers,

mahdi says:


paris,france it is so beatiful

and also

esfahan,iran it has nice places to visit

Abdalla Suleiman says:


Ithink the best place is CAMBRIDGE .England .UK

margareth says:


hi i think Indonesia its good place
Indonesia have Bali Island,lake Toba and Bogor botanical garden,in the Jakarta (capital city of Indonesia there are many museum like museum gajah.museum Bahari(this museum tell about Indonesians ancesstor),museum satria mandala(we can see many kind of weapon)..so what do you wait??
lets come to Indonesia and enjoy it

See you..

margareth says:


hello everybody

let come Indonesia…
i invited you to come to my country..

Okey??? see ya.

Bye-bye

margareth says:


hello everybody..

lets come to Indonesia
lets Enjoy it..

leave a message in my email
at:margaretocta@yahoo.com

see you

Tatyana Popvasileva says:


Sofia, Bulgaria is worth visiting. Almost all people know English and everybody either has learnt or is learning English here!
So, welcome here.

tanja says:


it is very good you are making this film, i am really looking forward to it! i would suggest you to visit france, because i know what are they doing to keep their language…and other suggest would be to visit some low developed country.
Wish you the best :)

Roy says:


I would be pleased to visit dublin because I have got lots of friends out there. When I see a photo send by them I feel like going there. it is a beauty out there

Jayanthi says:


If you were to include another place it would be very nice if you could include Bangalore, in India. Its the IT & BT hub and a lot of English training is going on. It would make an interesting study for your project to find some people who don't know how to read and write but can communicate in intelligible English! Surprising isn't it ?

Jayanthi

Faustino Carpio says:


I think that Sidney will be a very interesting place to know, because of it´s culture.

Marielos says:


I`d love you to visit my country: Costa Rica in Central America. English has become one of the most important languages here to learn. I am part of a group of job interviewers and one of the prospective employee`s qualifications has to be speaking English fluently in order to get better positions. No matter their age, people at different workplaces are making efforts to learn it fast and so, be able to put it into practice in their jobs.
I teach English to a small group of middle aged managers at a Bank who want to be promoted as well as update.
There`s a lack of English teachers in my country due to the demanding need for learning this language and for the increasing job opportunities existing.
It will be great for us to welcome you here at a country with no army, and get the chance to take you to our beautiful beaches, natural reserves, forest, rivers and volcanoes.

Galina Papysheva says:


I think Vladivostok should be added to your list of cities. First, I leave here and think that my city is very beautiful. Second, Russia ends here and many trade routes starts here. Third, there are many people who studies and teaches English. And at last, our city is often mentioned in films as a far away one.

Peny says:


I think Germany or Italy would be nice for me as the cities are unique. Good to see your decomentary. Thank you for sharing with us and I would like to know others journey next time.

Nurana says:


Hi!Congratulations!
I would like you come to our country and make a film in Baki,because there are a lot of historical places in here,especilly "maiden tower".

tony clarey says:


I would suggest that all the countries listed are 'developed' ones.There are many countries in the Far East and South America that do not have the resources or the finances of the West,and whose need for English teachers to give their students a chance of a decent start is so important.
Indian and Nepalese families,for example,are craving for English teachers and welcome them with open arms.I definitely think you should include the Far East.

Rafael García Rivas says:


I think Seville (Spain) would be nice to visist. I Think is one of the most beatifull cities all over the world. It is one of the place where you can find a common history with cristians, judes and musulmans allways in peace.

ishag says:


port in sudan because people here very interest in english

assadek says:


It would be a good idea if you could project the film in Rabat as it is the capital of Morocco and it contains an important part of english learners working in the public administration and the private sector.

madhurima says:


Dear sir,
I would suggest India as ther children in India stil need a strong base in English.People in India speak many vernacular languages as a result the children start thinking in their mother tongues.Therefore they translate whatever they think i their mother tongue to English as a result speak faulty English.If you include this country as well it would be really appreciable.

satish gelli says:


Hi ,
This is satish gelli I would like to inform you that 'Every one should feel English is the blood and oxzien of the body'
and I want to says " Hyderabad is the best place in the world why because most of the youngsters are prefer to learn english.It is not just an idea It's true

Olusegun Eroyemi says:


My recommendation is Lagos. This is the most populated city in Nigeria and a place where the English language is also widely spoken. It is quite a challenge to teach the English language here because it is a multilingual community. Teachers here work hard to reduce the very strong first language interference features. It will be a good experience interracting with a variety of users of the language in Lagos.

Olusegun Eroyemi says:


Perhaps I should also add that there are over twenty radio and television stations in Lagos alone and they all broadcast in Eglish in addition to local languages.

Cheers!
Olusegun.

André Vanasse says:


I think you should come to Seoul, South Korea. South Korea is the country that spends the most money per capita on English classes for their children, to no avail. The South Korean children have no motivation to learn English and therefore the results are very poor.

Ali Kassem says:


I think Egypt is the best places as it has more than 70 million people and over 35 universities in addition to the one third of the world treasures. So you can find many tourists from all over the world.

Murli says:


I am surprised that the Chennai City in India could not find a place in the list. British were once in India. We, from southern India, are proud of speaking and writing in English. In fact, English commands more respect than our mother tongue. Learned men and women from this part of India have added glory to the universal language. Hence the project would be complete if Chennai, India, is included in your list.

Murli

Jennifer Marie Bayer says:


1. I think 'Indian Englishes' will add to the flavour of Englishes of the world. I think, Bangalore, capital city of Karnataka State, in the south of India will be an ideal setting, with migrant population from across India working in Bangalore.
2. India, with its colonial past, has a community known as the 'Anglo-Indians' whose mother tongue is 'English' as defined in the Indian Constitution. You will get to meet them just in case you select Bangalore.
3. I did my Ph.D. on the English spoken by the AngloIndians way back in 1980 on this community being one among them.
4. All the best, and look forward to your film
Greetings from Mysore in Karnataka
Jennifer Bayer

Simachew Demissie says:


I think African English is the flavor for American and Britain English so most conferences and meetings are held in Ethiopia.Therefore the best place to be the fiveth is Addis Ababa

Simachew Demissie says:


Many suggests many cities,but Addis Ababa is suggested based on reasonable arguments.Don't loose time, take the journey to Addis Ababa ,Ethiopia.Finished!!!!By the way I'm proud to be the member of English Club.

But I must say Thank you!!!

mabior mabior says:


I Select Bejing to be one of those cities you're going to visit because what is more interesting is how non-english background people cope with the new langauge.Learning language from the books is waste of time .I spent years follow grammar from book to book but didn't help at all.

thanks.

steven says:


thanks

Noelia says:


I select Barcelona (Spain), because of the bilingual situation in schools. Bilingual children (Spanish-catalan) learn English as a third language. Furthermore with the incoming inmigrants there're situations where children from china, Morocco, Russia…. learn spanish, catalan and english.

Florenice says:


I choose Oxford because it is a centre of learning.

jiri says:


shiraz city in iran is realy fantastic there is tones of ancient heritages (more than rome)and beautiful views that you have never seen.

Srirat P says:


I would recommend Thailand, either Bangkok or any provinces. As English is a foreign in Thailand, there is very rare opportunity for students/employees to practice using the language to be fluent. There are many private and franchised language schools/institutes offering English language courses. English language is one of the measures for students entrance exam and employees career advancement. Thailand is one of the most beautiful countries in Asia, full of old unique tradition and culture. Thai people are friendly, and there are many places worth visiting.

Welcome to Thailand!

amin says:


yemen of course
I think the best city in yemen sanaa which have a great places like bab al yemen,dar al hagar,and wadi thahr

A RAMESHPRATHABAN says:


MY DEAR SIR,
YOU CAN ALSO PREFER CHENNAI IN TAMILNADU INDIA WHERE YOU CAN HAVE AMPLE CHANCES TO DO YOUR STUDY
THANK U
A.RAMESHPRATHABAN

thuy le phuong says:


have you been to Viet Nam?if not yet, i think you should visit there.why?it's very simple: it's a peaceful and beautiful place with traditional cultures.30 years ago, it was in war and Vietnamese lived in poverty and hungry but they were still to stand ,live and enjoy this place.now, Viet nam has many changes that is amazing.there is no war but peace and quite here with many beautiful cities and views.
People are so friendly, opened and smart.Specially,we are always to want to study enthusiaticly.So you always welcome to visit here

nadia says:


any of the city in India preferably Hyderabad coz Indians form the majority of young learners and it should be a must in the film

Lynn says:


I think you should visit Hong Kong. It is a former British territory, so there are a lot of Chinese people here who think they speak English. Some of them really do.

Feza says:


Hello all,
If you want to make a movie about leraning English and you visit cities to talk to english learners i recommend you to visit Istanbul/Turkey because this is an very important necessity to learn English in Turkey nowadays. Lost of people try to leran English. While some of them can do it in school, others who don't have a chance to do it during their school life go to english courses. There are many language schools in Istanbul. Many foreign people work for those schools and teach their own language to the turkish people. We spend huge of money to be taught.
In short if you visit Istanbul you can find more people who are eager to talk about learning English than any other city of the world. And be sure that they will have a lot to tell you.

Have nice days..
Feza

linda says:


I want to visit the Sanya Hainan province,China.Sanya has a clear,sky,azure sky.I nearly believing that did higher than the others.Sanya has no winter,ever when the north snowing After the Nov.And Sanya has kinds of fruit,yangtao,huolongguo,and so on.So,if you want to go tegther,touch me.

Ari says:


Hi all,

i will choose Paris, this city is just great to visit, effiel tower, de louvre musee. and so many places to visit. delicius food, wine and cheess. emmmm

destan says:


I think it will be very interesting to do that in Ashgabat. It's totally unknown for many people
Ashgabat is the capitel of the former soviet republic Turkmenistan. It will be very useful for people learning English.
Thank you very much

hung says:


i thing ha noi is best place,because ha noi is capital of viet nam and it also is the heart of culture vn,lao and cambodia,peoble friendly,formal and verry instested in english

sophan says:


Hi!
I would like to pay respect to all of the Englishclub's member. I'm so thanks that you allow me to be the member of englishclub. I would like to recommend you that the city that you can do that project is in Phnom Penh,Cambodia. Have you ever visited Cambodia? In Cambodia, there are many places that you can visit,especially in Siem Reap:Angkor Wat is the ancient temple and more than that. you can do that project in Cambodia because Cambodians take English as second languges. that's it for me! Bye!

Dickson says:


I really think SuZhou,China is the best. There are many people work in multination company, they need to improve themselves in English urgently! And Suzhou is fantastic city, have over 1500 years histories. It's the best representive of Chinese classic city.

DOHOU Désiré says:


I think you'll have to visit OUIDAH(one of the famous slaves' coast in Africa)in the Republic of Benin.OIUDAH will interest many of your lecturers because of its culture.

Mihaela Stefan says:


Why not Bucharest, Romania? English is taught in each school in Romania and most students are willing to take English examinations such as FCE, CAE, TOEFL etc.

lana says:


Hello ! I think New York is the best city to choose . It is a big , busy and beautiful city . I have never been there but i think almost people over the world know it . According to me , it is more interesting to tell peple about the famous places that they have known but not a lot . All people like a mordern city such as New York. Thank you for your reading !

sucharitha says:


hi,

I would like you to come to India to , especially south India with good culture , tradition, good interest in English Language . We Indian are very Proud to say that We are very Good In Learning English Language. In Most of our School we give preference to English Language but our people being a foreign language too they show lot of interest and learn them perfectly and most of our people are now a days placed in many foreign countries for their jobs and they interact with your people and our grammar, our people concentrate mainly on Grammar too.
Mine is not good , i am learning now a days.

suchi

Ezzatollah says:


I Think kuala lumpur, Malaysia..
Beacause there are a lot of student frome several country

Abror says:


Tashkent, Samarqand and Bukhara. These are historical and amazing cities!

maryam says:


hi dear
nowadays in most countries in the world people are studing english but if this director want to see the developing and new method in teaching i think KOREA & IRAN are good places especially korea.learning and teaching english in korea is growing very fast. i hope success for al of you.

best regard

Tony Hird says:


There is only one possible choice. It should have been in your original list. Of course, Shanghai. Those who have taught English in Chinese Schools to date have a lot to answer for with the introduction of pseudo American accents.
Also worth noting that it can be Ok translating from English into Chinese but the otherway round? One into two really doesn't go. There are an awful lot of Chinese waiting to learn English.
Tony Hird MA Shanghai

Tari says:


Well I think one of cities in Indonesia is a good choise. It's not only because I'm Indonesian, but because I'm an Indonesian I know well about the progress of English learning in my own country. Especially in Yogyakarta one of cities in Indonesia. I've been living here for years and language, especially English, is a the highest demand. People called our city 'City of education' so there are a lot of people and students from all over cities come to the city to study. There are many English courses and learners here.

My best regard for all EnglishClub members

Gerald Jackson says:


I suggest Bejing. Its potentially the biggest mass market for english as a secondary language. English is mandatory in schools, and, heavily supported by the educators.

heloz says:


in opinion the best city you can choose is Bali, Indonesia. Since it has many beautiful places to visit. especially its beach that are well-known as world-paradise by locals and tourists. in addition, Balineese cultures are very interesting to watch. English become second language in here, since Bali become melting pot of local people and western people.

silverstrand says:


next city you've to visit is Dublin, Ireland.
I think it would be a great experience. (:

Isa says:


I think Phnom Penh is able to be included into the schedul. This is because it is now developing gradually. Moreover, I am Cambodian, so I would like to promot my cultures, traditions, civilizations, and every thing we have to the whole world. One more reason is because of many young Cambodian learners are now interested in learning English as not only as a foreign language but also as the seconl language.

Depend on my opinion, I noticed that Cambodians have a very good looking smiles and always shown in a very polite ways.

Finally, I hope what I have written abouve could prove you to include my city as one the places to visit for project.

Sincerely,
Isa, Cambodia.

amean says:


I think Bubi is a beautiful city Please visit to Bubi

I like it very much.

sada says:


I guess the island of madagascar is the right one because not only it's very fameous but it's also a small island but represents one continent.

Magda Elhabbal says:


Good evening all,
I propose a journey through Cairo is virtual time travel: from the Pyramids, the Hanging Church, Saladin's Citadel, the Virgin Mary's Tree, the Sphinx, and Heliopolis, to Al-Azhar, the Mosque of Amr ibn al-A'as, Saqqara, the Cairo Tower, and the Old City. It is nicknamed "The City of A Thousand Minarets". It is near the site of the first capital of unified Egypt, Memphis.
Enjoy

nethy says:


hi Sir,

good afternoon, i think East Timor is also a beautiful place. i would like to give suggestion that if you want to show your new film, please come in my country, in here also has many intererst place.

muku says:


HI Sir
I think all of country are great !!
i would like to offer to come my myanmar >It many beautiful places You can see !!!

Mr. Bhittani says:


I think Pakistan is beautiful country in the world, if you interested in green mountains, lakes, rivers, big cities, universities, green hills and every season fruits and vegetable. The big thing warmly hospitality by the people of beautiful land in the world.
Most of the students speak English and it is also official language of our country. I visited some countries and feel that we are also in progress. Pakistani nation committed to promote culture and adopt innovation technology. Welcome you here in beautiful land.

Mr. Bhittani says:


I think Pakistan also is one of beautiful country, here you can enjoy snowfall areas where can enjoy, Historical places, lakes, rivers, universities, green hills and every season fruits and vegetable specially Mango. If any person coming here the people of our country give love and very warm welcome.
Most of people speak English because official language of our country. Pakistani nation committed to promote culture and adopt innovation technology. Welcome you here in beautiful land.