Sao Paulo day 10
The Butantan Institute is a biomedical research centre in Sao Paulo. It is well known in South America for the development and production of various vaccines against a multitude of infectious diseases. The institute has been around since 1901 and is perhaps most famous for it's collection of 54,000 serpents! Joel and I had discussesd the possibility of filming at the institute with some other guests at our hostel and they decided to come along with us. Anna from Russia and Evelyn from Mexico joined The Learning English Video Project as we made our way across the city in order to try and get some additional footage for the project at the Butantan Institute.
Even though both Joel and myself are at a massive advantage in that English is our first language, we still feel it necessary to try and learn other languages as well. Anna is fluent in Spanish, so we also spent a great deal of time speaking in Evelyn's mother tongue. As an English teacher, I find it helpful to be able to speak foreign languages as it becomes easier to find out how and why students from different countries make different mistakes… I also find that learning foreign languages not only enables you to communicate with more people from around the world, but you begin to think differently about the way people behave and the way they perceive their surroundings. Due to the fact that Joel, Anna, Evelyn and myself were all foreigners to Brazil, this led to an extremely interesting debate about the importance of English as a dominating language in the world, even though it not the widest spoken.
We walked around the Butantan Institute all morning; filming at the microbiology department and serpent compound before retiring from the sun with cans of cold Guaraná Antarctica. We managed to get some excellent footage at one of Brazil's largest biomedical research centres and bonded with our new friends on the way.
After leaving the institute, we took a taxi back to Vila Madalena and headed towards one of the Saturday markets. Amidst an array of designer materials, classic Bossa nova vinyl, cracked antiques and lemon couscous, I shot some footage of tourists and locals haggling over everything from pink latex gloves to cold coconut milk. It was a frantic afternoon in the Brazilian sunshine and an excellent opportunity to continue filming additional footage for the project.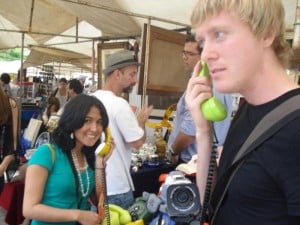 Daniel and Evelyn – Filming at Benedito Calixto Flea Market
3 Responses to "Sao Paulo day 10"
Maria de Lourdes says:


I could feel that English is still universal language. Even though you could use a little Spanish, the principal language was English.
I also like Butantan institute

João B. L. Ghizoni says:


Hi, Daniel!

Congratulations and thanks for the nice words about the places you're visiting in my country. On the other hand, I feel sorry for you in that it's not easy to find a Brazilian person who is able to communicate in good English. Well, maybe this reinforces the thought you had of starting to study another language… It's tough, actually! Again, I must say that it's a pity you probably won't have the chance to visit other parts of Brazil for this very special task you're undertaking. There are lots of interesting places in this very large country you could use to show the world how we Brazilians come into contact with Shakespeare's language. Good luck and keep it up! João

aleskander62 says:


Congratulations !