Sao Paulo day 6
Joel and I returned to Sao Paulo on Monday evening and set about planning the rest of our time in this fascinating city. A lot of time was spent thinking about how we can go about documenting the vastness of Sao Paulo without simply gathering footage of skyscrapers and traffic jams. The central problem with our plan was that 90% of the people we have met here advised us to exercise extreme caution when walking in Sao Paulo. Joel and I have both been told on numerous occasions by local people that filming in the city centre and even on the outskirts is a serious ´no no´, particularly as we are a crew of two and stand out as tourists. I am not sure as to how we are going to go about filming in Sao Paulo but I always value the opinions of the local people…
We were awoken by a blistering thunderstorm on Tuesday morning. The rain was unrelenting and showed no signs of stopping all day. Our filming schedule included shooting in and around Vila Madalena (the local Bohemian district) today, conducting interviews at Juan Uribe school on Wednesday and getting some additional footage at Escola Lourenço Castanho on Thursday. However, the rain continued to pour and showed no signs of stopping. We were able to brave the storm for a short time and got stuck in a particularly torrential downpour…
Daniel and Joel – Sao Paulo Rain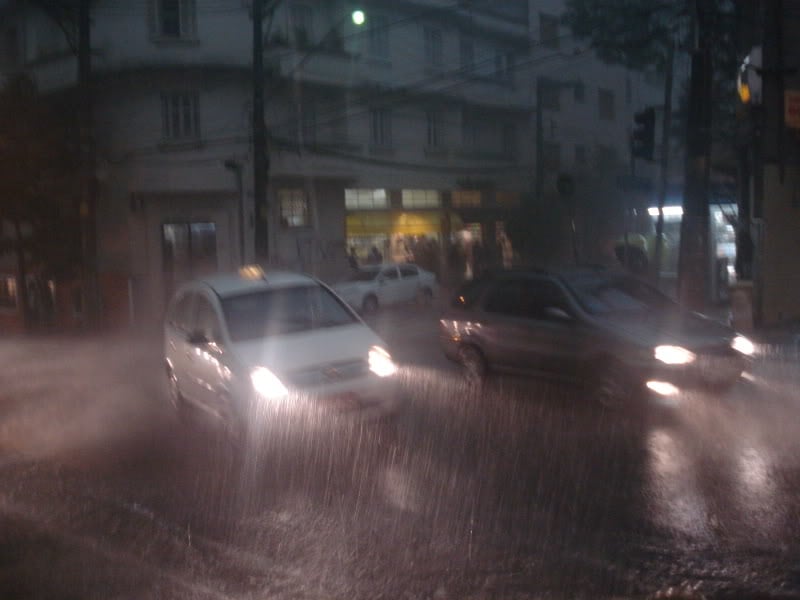 Sao Paulo Rain
We managed to get out of the storm eventually. The Learning English Video Project crew were soaked to the core but determined to make sure that the weather would not dampen our spirits!
Keep checking the blog for more updates on our Sao Paulo adventure!
Daniel.
5 Responses to "Sao Paulo day 6"
Nucha says:


Dear Daniel and Joe..

Thank you so much for your assiduity to make a good project to share English learners.I felt appreciate with it and don't give up. Hope everything what is going to the right situation for your work right now.

All the best ,
Nucha

Baniela says:


Your blog is great! You are doing an excellent job. It is so entertaining. Well done!

victor says:


Very exciting!

李慧慧 Lee Huihui says:


Hi Daniel and Joel,
It is my first to read you. I'm moved by your words. I think that there must be strong spirits in you, so you managed to brave the
thunderstorm and torrential rain. Thanks for sharing your adventure with us. I'm looking forward to more.

CFJ says:


As an english major student, I'd been checked countless website, training centre, books, salons, TV programmes etc when I was in university. None of them could be so well-updated as this one. I really appreciated that Daniel and Joel showed us what were all those people in each corner of the world doing to achieve the same goal of acquiring English. It is a good platform for people to share the experience or methods on English learning. I always believe in team works. With a team, you could learn more than you just study alone. So hope everyone could treasure this good opportunity to learn more English or the world. Be confident on yourself!

To Daniel and Joel,
There must be many many difficulties when you were travelling so much and looking for right people and places to do interview. Thanks so much for all these updated information! And we are all watching you :) and supporting you, so please keep going!

We are looking for more interesting things from you! With all my best wishes!