Shanghai days 9, 10, 11
I am cheating quite considerably in that I am writing this blog from my base in London. The last few days of filming in China were extremely productive; not only did we manage to travel to Xiamen, but we also carried out a number of interviews, shot some scenic footage of the coastline and got some spectacular sequences from Hong Kou Park on Sunday morning. The last few days were a dramatic conclusion to our time in China and I can say with certainty that this was not the last time I will be visiting Shanghai…
Day 09
We got to Spring Airlines in time to get some external shots of the airport before being taken through security and onto the tarmac. This meant passing through a high security area and being given permission to film planes while they landed and took off from the runway. The experience was phenomenal in that we were able to get some wonderful shots for the film and I also got a bit of a suntan! Joel and I were then able to interview two very informative passengers from Indonesia and film the stewards and stewardesses make their customer announcements in English. When our plane touched down in Xiamen, Joel and I were greeted by several more members of the Spring team. We interviewed two Xiamen locals before conducting an intense interview with our pilot, Captain Park, about the importance of English in aviation. I knew very little about Xiamen before travelling there, but in the evening we were given a tour of this magical city.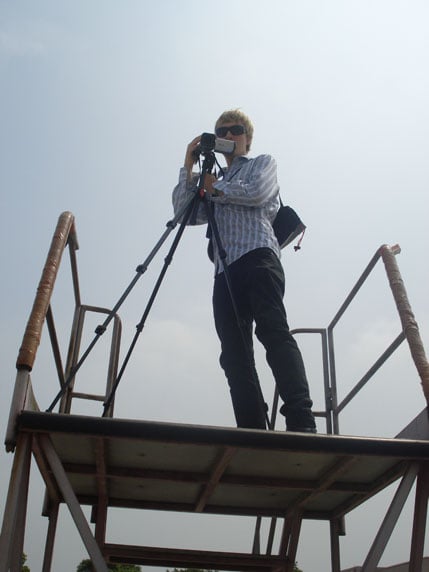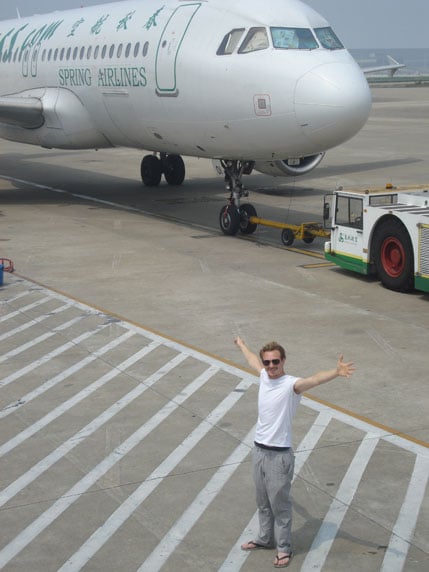 Day 10
A beautiful day for cutaway footage. As you may have seen from the previous films from The Learning English Video Project, it is imperative for us that we can show the audience some footage from the cities that we visit. It had been hard work getting enough footage from Shanghai due to the sheer size of the city, but Xiamen was a lot easier to navigate. Before long, Joel and I found ourselves filming at meat markets, coffee houses, restaurants, piano museums, beaches and cliff tops all over the city. With the help of our guides from Spring, we were able to get some excellent footage of the city and of Chinese people interacting with tourists in all sorts of situations – we also got to film from a speed boat!
Day 11
We got back to Shanghai late on Saturday night, which meant that we had all day to get some extra footage of the city on Sunday. Joel and I took it upon ourselves to visit a local park in the city centre and shot some of the most incredible footage for the project yet! We were instantly welcomed by a group of 200+ singers who invited us to film them as they performed. I interviewed an elderly lady about the Shanghai Expo 2010 and we met an 86 year old Chinese gentleman called George who had learned English as a missionary. We filmed people playing badminton, practicing martial arts and drinking herbal tea on one of the most enjoyable Sundays I have had in a very long time indeed. One might say that this was the icing on the cake for our time in Shanghai. I can not wait to put all this footage together and share the experience with you. Keep checking EnglishClub.com to find out about progress and release dates!
My experience in China was a wonderful one. We found the people to be extremely friendly and we felt really welcome in Shanghai… We only left the city yesterday and we are already missing it. However, tomorrow we travel to Brazil in order to continue the project in Sao Paulo – We are both very excited!
When I get back to Poland later on this month, I shall write detailed reports on both Shanghai and Sao Paulo before cutting video blogs for both locations. In the meantime though, keep checking this site for my Brazilian blog and I look forward to reading more of your comments soon!
Best Regards,
Daniel & Joel
6 Responses to "Shanghai days 9, 10, 11"
Mr.Jungle says:


hello
dear teacher
thank you so much
may you get on all……..

Ahmed says:


Really what a nice experience. I hope see you one day in my country Egypt to type about the most wonderful places in alll over the world here.
Ahmed

Nucha says:


Hi Daniel and others,

First of all thank you so much for sharing your nice experience to us . Yes , it's sure I felt curious to know the project and wait to watch it right here.

What is going on, hope you get all the best experience….

Dieu Trang says:


Dear Daniel,
Thank you very much for sharing, I feel like your trip, I hope I will have ave a trip the same.
Thanks

Claude says:


Hello, Daniel & Joel,
I can sense your feeling, and i am just registered as a new member yesterday. I lived in shanghai now and also visited Xiamen, one beautiful city on last year for team building. Perhaps i can accompany you if join a little bit early~

milka says:


I'm enjoyed so much pictures, waitting for watch videos.
Thank you for sharing this wonderful travel.