Sketches of Spain + Photos
The jet lag hit me like a bag of hammers as soon as I returned to England from New York. Within hours of landing I found myself in the centre of town buying a suit for my sister's wedding. There was a huge party after the ceremony and little time to sift through our footage for the New York blog before flying out to Madrid. It wasn't before long that we were on the move again; the flight from London to Madrid took just under two hours. The belting sunshine and warm reception at the airport was a fine introduction to the Spanish section of our journey, but what were we expecting to find here? Was Spain really going to be that different to New York or Cambridge? There was a noticeable absence of English in the air and my Spanish needs a lot of work… We booked ourselves into a small hostel just outside Sol Plaza and set to work at once. The hostel in which we were staying provided the perfect backdrop for an international introduction. Within an hour and a half of arriving, we met several students from Italy, Belgium, Pakistan and Poland who were keen to help us with our project. Everybody we spoke to had interesting stories to tell about their ESL experiences, they also spilled the beans on some of their lesser preferred English language teachers from back home!
The following day we met with Bea, one of our central focuses for this portion of the project. Bea has been studying English for the last thirteen years and was kind enough to spend the entire day with Joel and I. We interviewed her in Madrid's largest park about her use of English at work and elsewhere in the capital city.
An interview with Bea.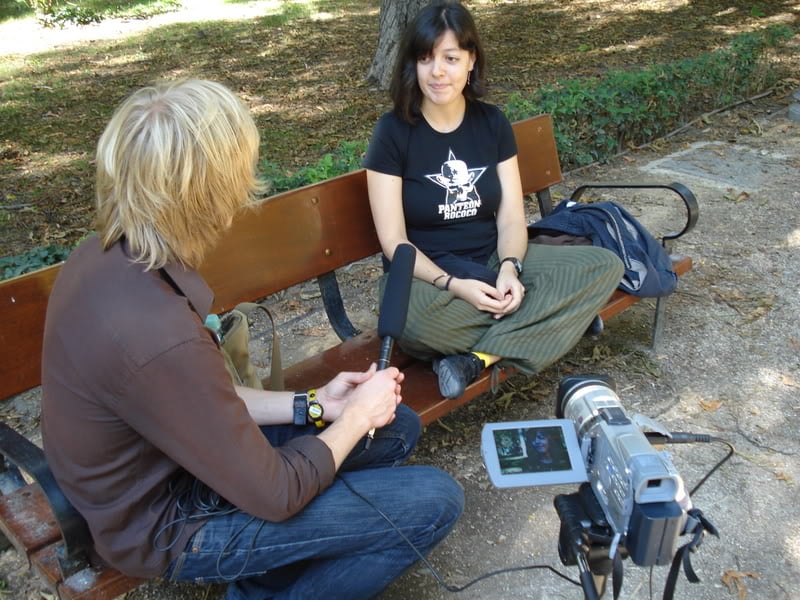 Me, Bea and Joel in Madrid.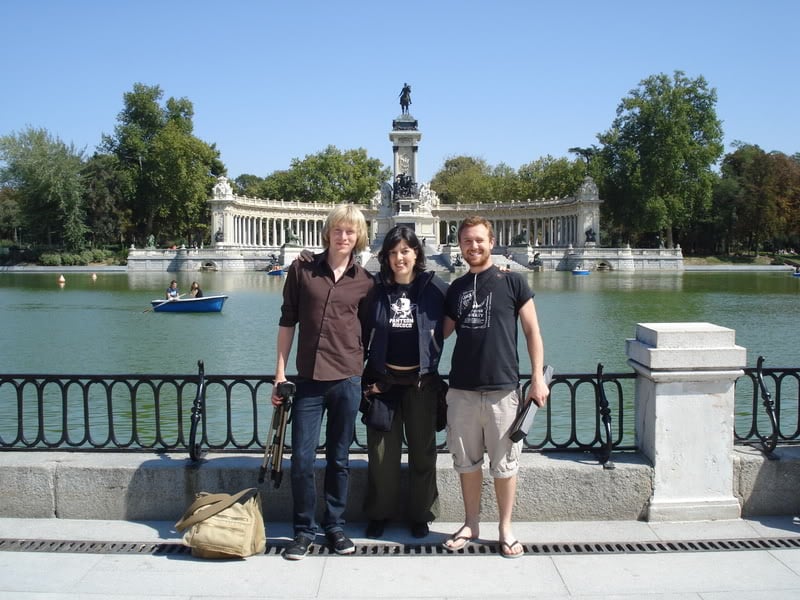 New York, Cambridge and Madrid may be in different parts of the world but they all have something in common; the are all large cities in their respective countries and seemingly obvious choices for this documentary project. For this reason we decided to contact our good friends at IML in Granada, a city in southern Spain a little closer to the coast. While at IML we managed to interview a grand selection of students of all ages and levels about learning English in Spain. My Spanish capabilities were challenged when I had to conduct an interview with two eight-year-old boys in their native language so we may need a translator later on in the project!
Interviews at IML in Granada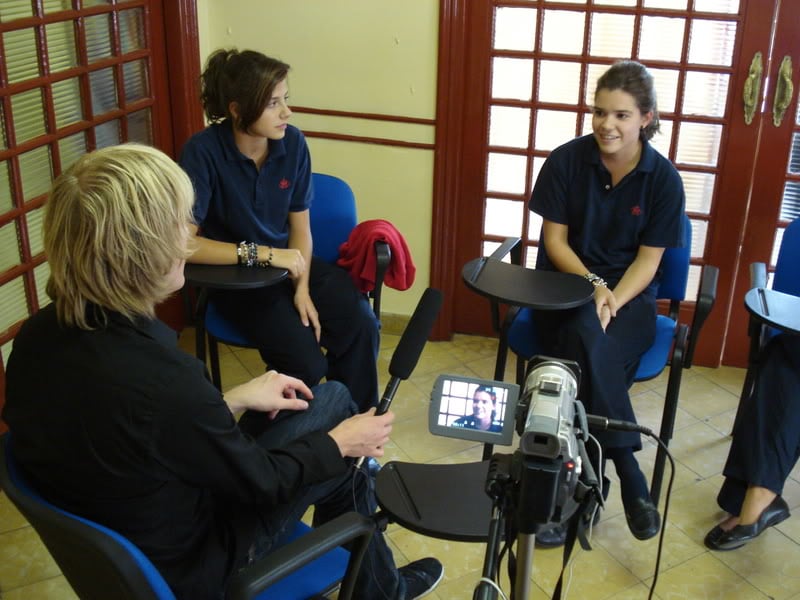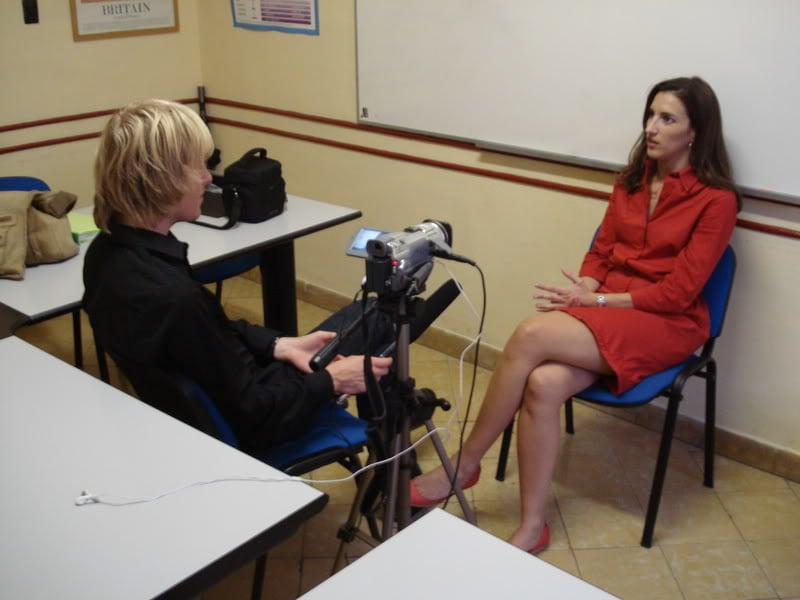 Our four days in Granada provided us with some excellent footage for the project and an entirely fresh perspective on the assumption that learning English in Spain is the same as the rest of the world. We now have plenty of evidence to prove that and I am very excited about the prospect of broadcasting our findings on Englishclub.com when the project is finished. For more information on IML in Granada, please visit: www.imlgranada.com
On top of a series of caves. Granada.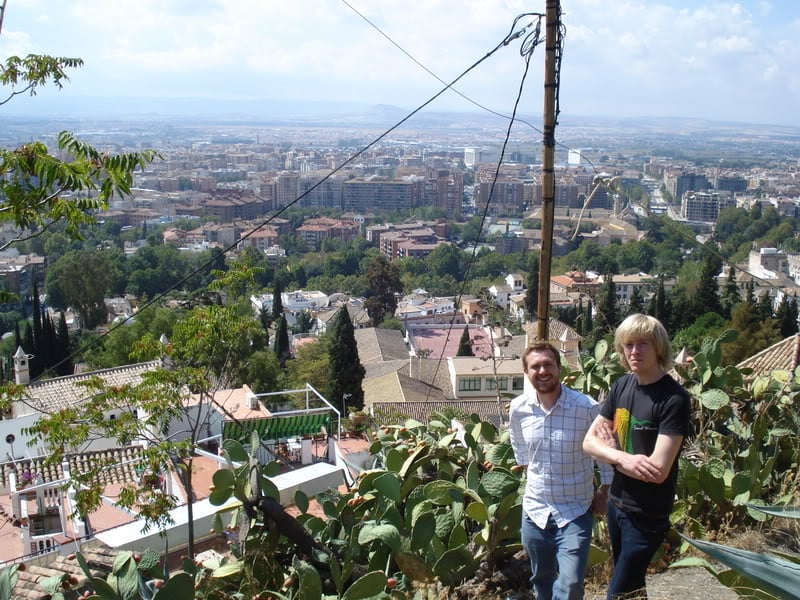 Back in Madrid – the filming continued.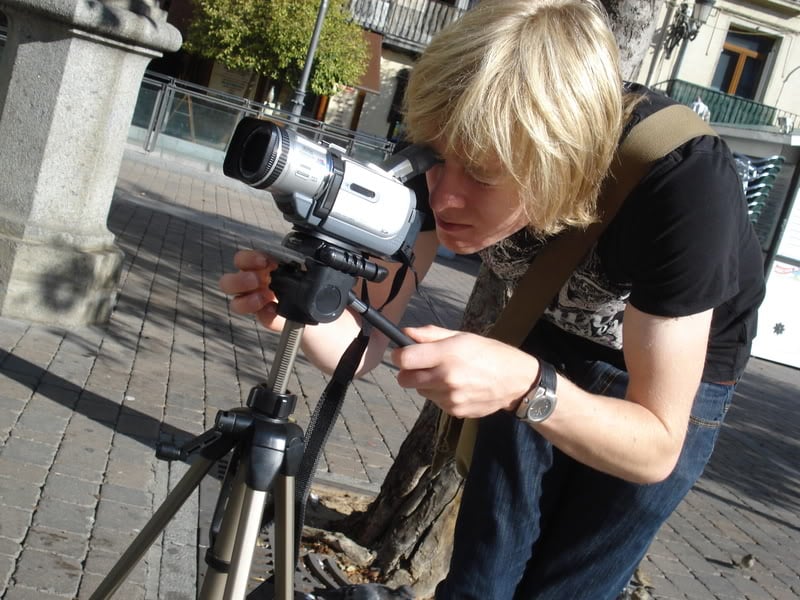 We now have a few days to reflect on our project, upload some more images and compose ourselves once again before flying to Morocco on October 12th. In the meantime, I will be flying out to Poland to complete the formalities surrounding my first novel; a book written in Polish and set for release on October 23rd. The book also has Outloud Productions and www.tefl.net to thank for their patronage.
Thank you once again to EVERYBODY who has contributed to this blog. Reading your comments has been a source of inspiration throughout! I look forward to hearing more!
Best Wishes,
Daniel
6 Responses to "Sketches of Spain + Photos"
Marta Perez Dionisio says:


hi! how are you? we hope than you will be fine! we are Sara, Cristina and Marta, the girls who you interviwed in granada, IML. We guess when you will put the video you made that day. Thank you very much.

monis from london says:


Hi ! First of all I shell thanks to you for this e mail , yes i been madrid and just passed from cambridge, I enjoed very much spenish culture,especially bullfighting,sorry for my english.
I explain you little bit my self. I born in pakistan and i studdy and grow up in italy,having italian nationality I am living and working as a engineer in a locale company in london uk.actually it is my dream to speak english fluently and correctly, but I dont know how much time is required.

santiago says:


Greeting from El Salvador
Go ahead

Dieu Hien says:


this is the first time ,i watch your video . i feeel happy .i hope you would have good trip.thank you so much

Maria says:


When are you starting the SPAIN video? My students are eagerly waiting for it. Or did I miss it? Please respond!

Tara Benwell says:


Maria: I hear the Spain video is coming very soon!