Learning English Video Project Help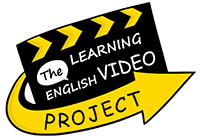 Can I download the films to my computer?
Yes, you can download the videos to your computer in the universal .mov format. This format will open in the free QuickTime player. (If it's not on your computer, you can get QuickTime here for Windows or Mac). Downloading the films to your computer is perfect for teachers. You always have the film available to show to any class, and at a higher display quality.
Can I watch these films on YouTube?
Yes, you can watch the Learning English Video Project on YouTube.
I can't see these films in my country. What can I do?
Some countries may block access to some movies or sites. If you have this problem you could try watching through Tudou.com in China:
EnglishClub films can also be found on: