Wilfred Owen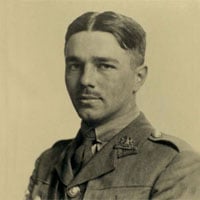 English poet
1893-1918
Wilfred Owen was one of the finest English "war poets". Most of his work was written between the years 1915 and 1918 and recorded his experiences in the trenches during the First World War in France.
Owen was born near Oswestry, Shropshire, the son of a railway worker. He was educated at the Birkenhead Institute, Liverpool and Shrewsbury Technical College. He hoped to study at the University of London, but a shortage of money forced him to take up a teaching post in Bordeaux, France in 1913. He was teaching in France when war was declared and enlisted shortly afterwards.
Owen was killed in action a week before the war ended.
One of his most memorable lines may be found in the Preface to his poems:
My subject is War, and the pity of War. The Poetry is in the pity.Wilfred Owen