Description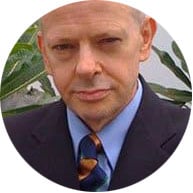 This prepositions list shows you all English prepositions and gives you example sentences for each one.
Prepositions can be divided into:
one-word prepositions (after, in, under)
complex prepositions (apart from, because of, in spite of)
This ebook lists almost all the one-word prepositions and most of the complex prepositions. Here's what it contains:
150 English prepositions, including…
94 one-word prepositions
56 complex prepositions
400 example sentences
200 quiz questions
illustrations
answers
This ebook is not a "dictionary of prepositions" because it doesn't give meanings, which you can find in any dictionary. What it does is to give you virtually all the English prepositions in one place and show you 400 example sentences showing prepositions in context. It also tests your understanding with 200 preposition quiz questions (answers supplied).
This ebook contains a list of most English prepositions in use today.
The first section lists "one-word prepositions" (for example before, into, on). The second section lists "complex prepositions" (phrases of two or more words that function like one-word prepositions, for example according to, but for, in spite of).
The name "preposition" (pre + position) means "place before". Prepositions usually come before another word, usually a noun or noun phrase:
noun
pronoun
noun phrase
gerund (verb in -ing form)
If a preposition does not come before another word, it is still closely linked to another word:
Who did you talk to?
To whom did you talk?
I talked to Jane.
Many prepositions can also be adverbs:
They are in the kitchen. preposition
Please come in. adverb
A few prepositions can also be conjunctions:
Everyone came but Tara. preposition
I asked her but she didn't answer. conjunction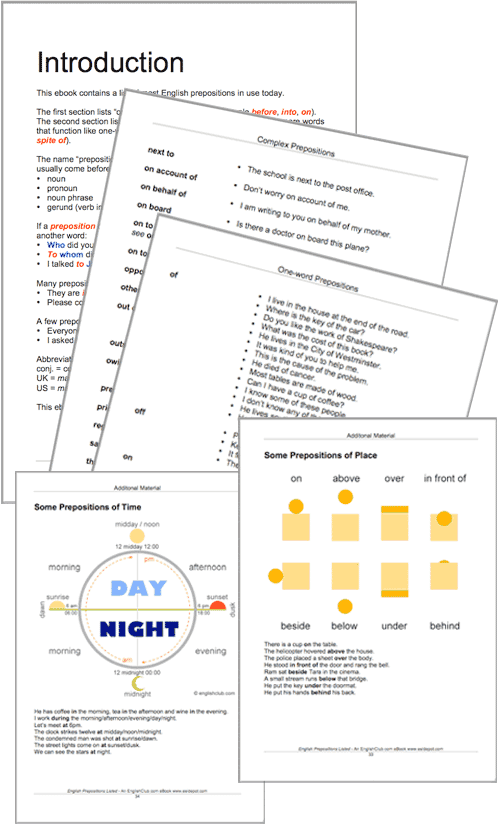 Abbreviations used in this ebook:
conj. = conjunction
UK = mainly British English
US = mainly American English
This ebook is written in British English.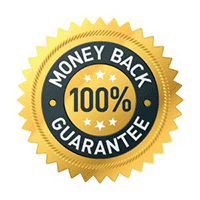 100% 60-day Money-Back Guarantee. We guarantee to refund your payment in full if you request a refund anytime within 60 days. No questions asked!
Runs on: Windows, Mac, Linux, iOS, Android
Format: PDF
Printable: Yes
Pages: 58
Filesize: 996kb
Publisher: EnglishClub
Download: immediate