Description
Pronunciation Power is the ultimate in English pronunciation learning technology for beginner to advanced students. There is no other product like it.
7000+ practice words
Thousands of practice sentences
Over 120 hours of training
Over 2000 photos and graphics
Animated lessons
1020 listening exercises
Hours of exercises for practising Stress, Timing, Articulation, Intonation and Rhythm (S.T.A.I.R.)
Exciting and interactive games
Interactive English Dictionary with translations in 12 languages
Pronunciation Power has many technologically advanced features that let you see moving pictures of the instructor's mouth, listen to the sounds made by the instructor and record your own voice to compare with the instructor's.
The ultimate in new English language learning technology:
Pronunciation Power teaches the 52 sounds needed to speak clear English
16 different interactive modules reinforce learning progress
Includes a 12-language English pronunciation dictionary
Each teaching module provides over 100 hours of training
PP1 is the most comprehensive English learning-system available on the market today
Pronunciation Power is not a single-theme program, but a suite of complementary yet independent modules with specific content and function. These modules have been professionally integrated to provide an effective approach to learning English. With Pronunciation Power learners get 16 different modules all presented and coordinated through one easy interface.
Special STAIR Exercises
S.T.A.I.R stands for:
Stress
Timing
Articulation
Intonation
Rhythm
These are the 5 essential components of good English pronunciation. Make sure people can understand your English by using the interactive S.T.A.I.R exercises in Pronunciation Power.
Award-Winning Features
Pronunciation Power is an excellent tool for you to learn the correct pronunciation of the 52 basic sounds of English. It has an easy design with numerous exercises for practice using visual and auditory feedback. The picture-dictionary teaches the meaning of unknown words and promotes improvement in your reading and spelling. Instructions and lessons are available in 12 different languages and you can choose which language to use. Teachers can also choose "English only".
For each of the 52 sounds there are four main components:
1. Lessons
animated side-view graphic of how the sound is made and front-view video of required lip movement
speech analysis – new innovative wave-form technology that allows you to compare your sound formation to the instructor's
2. Exercises – pronunciation practice through interactive exercises, including:
sample and comparative word exercises
phrase exercises (intonation, linking, stress and rhythm)
sentence exercises
listening exercises (sound recognition in words and word recognition in sentences)
3. Dictionary – this illustrated component aids in improving pronunciation, reading, vocabulary and spelling with features such as:
language of choice – instructions and root word translations in 12 different languages
1,700 pictures and graphics
listening and recording for all roots words, verb conjugations and nouns (+ plurals)
extensive searches based on: 52 sounds, 39 themes, alphabet, letter combinations, verbs and nouns
4. Games providing practice in listening, speaking and reading
Pronunciation Power contains hundreds of hours of instruction, a 3,300 word picture-dictionary (plus verb conjugations and noun plurals) and unlimited hours of interactive use. It allows you to learn at your own pace.
16 Different Modules
These 16 screenshots were selected from each of the different modules. All modules are fully interactive and designed around a variety of sophisticated techniques to train and reinforce the knowledge required to learn and speak effective English. This makes Pronunciation Power unique in the marketplace. If you are serious about learning English, Pronunciation Power is the total solution. Click on any screenshot to enlarge.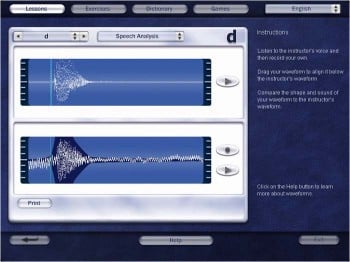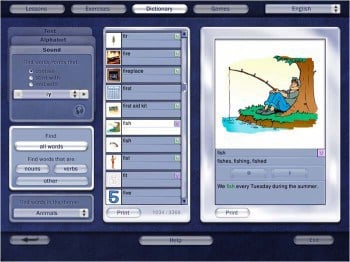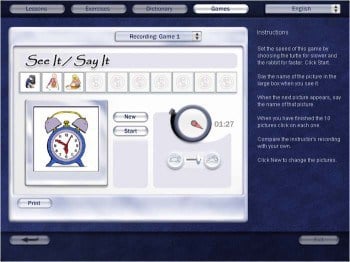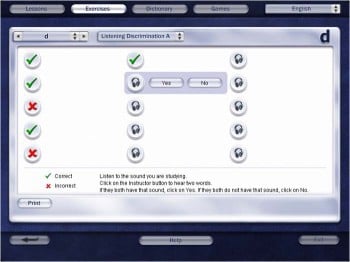 Multi-language Dictionary Included
Pronunciation Power includes an interactive English Dictionary that lets you:
listen to the words
see the pictures
record
playback
With translations and instructions in 12 languages: Arabic, Chinese, English, French, German, Korean, Japanese, Polish, Portuguese, Russian, Spanish, Vietnamese
The Dictionary contains:
3,300 Words
1,700 Pictures
Verb Conjugations
Noun Plurals
Frequently Asked Questions
How many sounds will Pronunciation Power teach me?
With Pronunciation Power you will learn the 52 basic sounds of clear English.
How many words can I practise in Pronunciation Power?
Pronunciation Power has over 8,000 words and over 3,000 sentences for you to practise.
How long is the program?
Pronunciation Power contains over 120 hours of instruction, and you can practise with the program for hundreds of hours.
Does Pronunciation Power "show" me how to make English sounds?
Absolutely yes. This is one of the program's many strong points. Moving pictures show you exactly how to move your mouth and tongue.
Does Pronunciation Power teach spelling?
Although not specially designed for it, Pronunciation Power teaches spelling indirectly and extremely effectively.
What level is Pronunciation Power for?
Pronunciation Power covers all levels, from Beginner to Advanced.
What age is Pronunciation Power for?
The program is easy to use for all ages – from 8 to 80!
Can I use it alone or do I need a teacher?
Pronunciation Power is very easy to use. It is designed for students to use working alone or with a teacher.
What accent does Pronunciation Power use? British or American?
Pronunciation Power uses mainly an American English accent. However, the accent is not a strong one, and could be best described as International English.
Who uses Pronunciation Power?
Pronunciation Power is used and recommended around the world by universities, colleges and language schools. It is also used by many thousands of individual users. See Reviews below for recommendations about Pronunciation Power.
Can I record my own voice?
Yes! This is another very strong point. You can record your voice and playback to compare it to the instructor's voice.
Will Pronunciation Power work on my computer?
Pronunciation Power works on most multimedia computers. It runs under Windows and Mac, and installation is very easy. You'll need sound and a microphone. Please see below for full system requirements.
System Requirements 
Windows: Windows XP, Windows 7, Windows 8, or 32-bit Windows 10; Intel Pentium 4 processor; 512MB of RAM; Microphone; Speakers
Macintosh: macOS v10.x; 512MB of RAM; Microphone; Speakers
What people are saying about Pronunciation Power
"A powerful interactive self-study tool that guides learners of the English language in improving their pronunciation through simple progressive stages. I give it a thumbs up."
David D.I. Kim, Korea TESOL Journal
"I like the programs and think my students will get a lot out of them – they're structured nicely and very user-friendly. Some students use them 2-3 hours straight or longer."
Jack Chen, University of Delaware
"Pronunciation Power is the only pronunciation software in our Macintosh-based language labs at this time. The interface is intuitive enough to follow without reference to any manual or other instructions; a prerequisite for programs in our labs. Simple access to playing native models, recording student production, and comparing the two make this program an effective tool for learning instead of an obstacle, as more complicated programs sometimes prove to be. The variety of minimal pair discrimination exercises for all 52 phonemes presented provides plenty of instruction, practice, and reinforcement for students looking to improve their listening comprehension and pronunciation."
John de Szendeffy, Boston University
"I would like to congratulate you and your design team; Pronunciation Power is an excellent teaching tool. It is also the program of choice by most of our students in our English Language Institute because of its ease of use, logical sequencing, variety and overall capacity of the program. We look forward to receiving your future products and ongoing updates."
William B. Stewart, President and CEO, The YMCA of Greater Vancouver
"Pronunciation Power gives the user a wonderfully exciting experience to learn on one's own."
Kathryn Chiu, Proctor and Gamble Corporate Training Group, China
"Pronunciation Power has built in steps to developing fluency, beginning with listening exercises which concentrate on receptive skills and building up to recording pronunciation exercises. Students can hear the sound replayed as often as necessary, and record their voices for comparison. A visual representation of the sound aids pronunciation. A variety of activities reinforce the target sounds. Instructors can listen to the recordings and provide feedback. Higher level students can cope well with the written descriptions of sounds. The sound analysis feature is unique and could benefit students at all points on the CLB spectrum. Rating: Excellent."
National ESL Software Inventory, Ottawa Board of Education
"Pronunciation Power is an excellent tool for students to learn the correct pronunciation of sounds as they are used in the English language. My students are extremely pleased with its easy to use and effective design. This software stands out as the best in its class and nothing compares in its price range. It is affordable, comprehensive and gives hours upon hours of solid practice. this products stands alone with its numerous lessons, exercises and visual feedback. the speech analysis lets learners see where they're going wrong, even if they can't hear it. Pronunciation Power is an outstanding piece of educational software, I'd recommend it for any second language learner."
Michael J. Galli, Metropolitan Separate School Board, Toronto