Birthday Vocabulary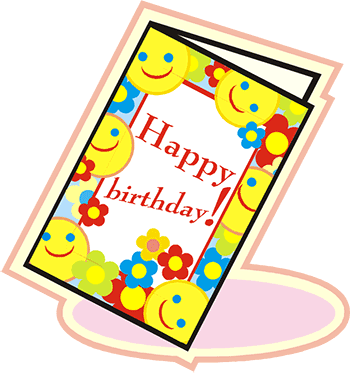 Your birthday is the anniversary of your birth. It is the same day every year:
On your birthday, your friends and family may send you birthday cards and birthday presents (gifts). You may celebrate your birthday with a birthday party, with a birthday cake, and with decorations like candles and balloons. Your friends may sing you a Happy Birthday song like this one:
Questions about Birthdays
When's your birthday?
What do you want to do for your birthday?
What do you want for/on your birthday? (gifts)
What did you get for/on your birthday? (gifts)
How was your birthday?
What did you do for/on your birthday?
How old are you now?
What age are you turning?
Birthday Wishes
Here are things that people write on birthday cards and presents, or in letters and emails, or just say in conversation:
Happy Birthday!
Best Wishes for a very Happy Birthday
We wish you a happy birthday.
Wishing you a happy birthday.
Have a great birthday!
Enjoy your special day!
Enjoy every moment.
May all of your birthday wishes come true.
Thinking of you on your special day.
Birthday Party Words
balloons
birthday boy / birthday girl
birthday cake
birthday card
birthday gift / birthday present
birthday invitation
birthday party
candles (on cake)
icing/frosting (on cake)
napkins/serviettes
ribbon
wrapping paper / gift wrap (for birthday gifts)
Note that your
birthday
and
birthdate
are not exactly the same thing. Your
birthdate
, or
date of birth
, is the actual date on which you were born:
When were you born? What's your birthdate?
What year were you born in?
My date of birth is 7th July 1997.
Write your full name, address and birthdate on the application form.