Italian Food Vocabulary
with illustrated vocabulary, word definitions, example sentences and quiz 🤔
Italian food has become one of the most world's most popular national cuisines. Italian restaurants can now be found in nearly all of the world's big cities, and famous Italian dishes like spaghetti and macaroni are cooked in home kitchens throughout the world. But the most famous Italian food of all is the pizza, especially the kind being sold in take-away pizza restaurants all over the world.
Pizza
Pizza originated in the Italian city of Naples in the late 18th century when someone tried putting a tomato topping on focaccia, an Italian flatbread that's still popular today. As other toppings were tried, new kinds of pizza appeared such as pizza margherita with its simple topping of tomato, mozzarella cheese and basil. Cured Italian meats were also tried and this led to meatier pizzas like pizza quattro stagioni with its mix of toppings made of salami, ham, olives, artichoke and mushrooms, and pizza capricciosa with baked Italian ham added to the tomato and mozzarella topping that most traditional pizzas are based on.
After American soldiers discovered pizza in Italy during World War Two, it became very popular in the USA. Demand for pizza steadily grew, and during the 1960s and 70s take-away pizza restaurants opened all over the USA. Since then American pizza companies have opened take-away restaurants all over the world, and this has led to the huge popularity of pizzas worldwide. They still sell traditional Italian pizzas like the pepperoni pizza and pizza marinara, but many of today's best-sellers are non-traditional pizzas like the Hawaiian pizza made with ham and pineapple and the Mexicana pizza made with Mexican-style ingredients such as bell peppers, ground beef and hot chilli peppers.
Pasta and pasta dishes
Many of the world's most popular recipes for home-cooked meals are also from Italy, especially those for various kinds of pasta. Some of the most popular pastas are spaghetti, macaroni and fettuccine, and home-cooked dishes like spaghetti Bolognese, macaroni and cheese and fettuccine Alfredo are popular worldwide not only because they're delicious, but also because they're so easy to make. For many pasta dishes, all you have to do is cook the pasta in boiling water and heat up a ready-made sauce or make a simple sauce like pesto. But some pasta dishes take more time and skill to make, and these include lasagne, a baked pasta dish in which sheets of flat pasta divide layers of meat, seafood or vegetables in a sauce.
If you go to an Italian supermarket, or if you eat in an Italian restaurant, you can find other kinds of pasta that are shaped like shells or tiny pillows. These are used to make small pasta dumplings with a vegetable or meat filling. They include tube-shaped cannelloni, square-shaped ravioli and ring-shaped tortellini. Like most pasta dishes, stuffed pasta dishes are usually served with a sauce of some kind.
Antipasto and main courses
Italian cuisine offers many dishes besides pizza and pasta, however. If you go to an Italian restaurant or trattoria for lunch or dinner, you'll probably start with an antipasto like bruschetta or with an Italian bread like focaccia seasoned with olive oil, salt and herbs. Or you might start with an Italian soup like minestrone or ribollita or with a pasta dish like gnocchi. For your main course you might have a dish made mostly of meat like ossobuco or scaloppine. If you're a vegetarian you can choose a main course like eggplant parmagiana or deep-fried rice balls called arancini that are stuffed with a filling of vegetables or cheese. Rice is also the main ingredient in risotto, a creamy dish in which rice is cooked in a meat, fish or vegetable broth. Another popular ingredient of many Italian meals is polenta. It's made from boiled cornflour and can be eaten as a porridge or a creamy side-dish or cooled and then sliced and baked or fried.
Italian desserts and coffee
After your main course, you'll definitely want to try one of Italy's famous desserts. The most popular include a very rich coffee-flavoured layer cake called tiramisu, a tube-shaped pastry with a sweet, creamy filling called cannoli, and a kind of sweetened cream thickened with gelatin called panna cotta. But if you're an ice cream lover, why not try the Italian-style ice cream called gelato?
You can then follow dessert with one of the many Italian coffees that are so popular all over the world these days. They include espresso, caffè latte, cappuccino, caffè macchiato, caffè mocha, and many others. These Italian-style coffees are usually made with an espresso machine that forces a high-pressure spray of very hot water through ground coffee beans.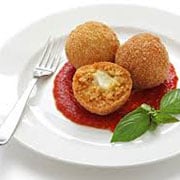 arancini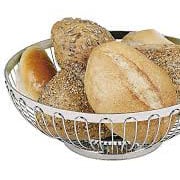 bread basket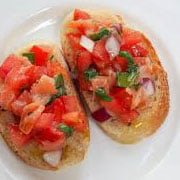 bruschetta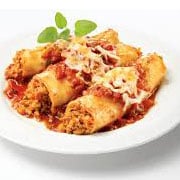 cannelloni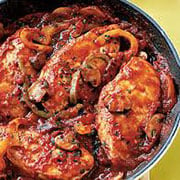 chicken cacciatore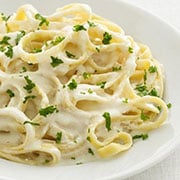 fettuccine Alfredo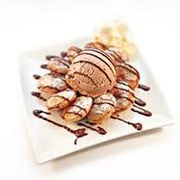 gelato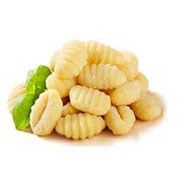 gnocchi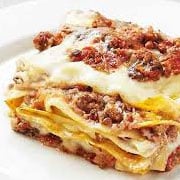 lasagne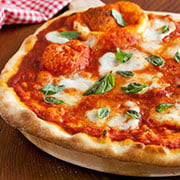 margherita pizza
or
pizza margherita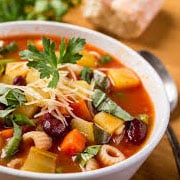 minestrone soup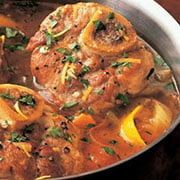 ossobuco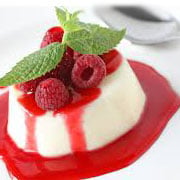 panna cotta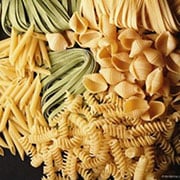 pasta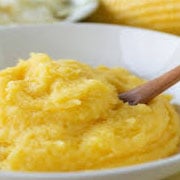 polenta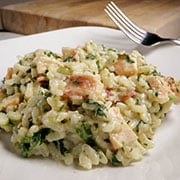 risotto
salami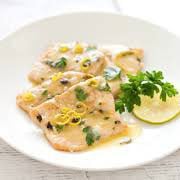 scaloppine and lemon sauce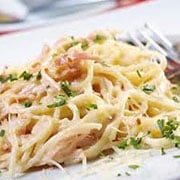 spaghetti carbonara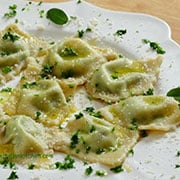 spinach and ricotta ravioli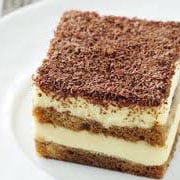 tiramisu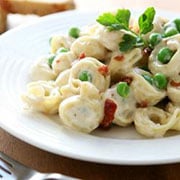 tortellini alla panna
or
tortellini with cream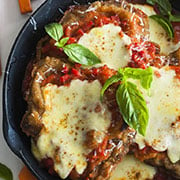 veal parmigiana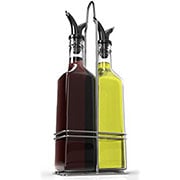 vinegar and olive oil
antipasto (noun): cold savoury appetizer or starter eaten at the start of an Italian meal - Let's order this antipasto plate with cold meats, olives and cheese.
arancini (noun): an Italian dish of fried rice balls with a savoury filling - This evening's special is arancini with a lobster filling.
bruschetta (noun): toasted bread and olive oil, often topped with garlic and tomato - Italian restaurants often serve bruschetta as a free antipasto you can eat while ordering.
cannelloni (noun): pasta tubes filled with a mixture of meat or vegetables and cheese - Our mum makes the best cannelloni in the village!
cannoli (noun): small deep-fried pastry tubes with a creamy filling of sweetened ricotta cheese - I'll have the cannoli for dessert, please.
espresso (noun): an Italian coffee made by forcing steam through ground coffee beans - Would you like an espresso after your meal?
fettuccine (noun): pasta stretched into long, flat strips like ribbons - I had the fettuccine and my friend had the lasagne.
focaccia (noun): oven-baked Italian flatbread - Have you tried one of our new focaccia sandwiches?
gelato (noun): Italian-style ice cream - Gelato is also the Italian word for ice cream, isn't it?
gnocchi (noun): small dumplings made from flour, potato, or semolina, often served with a sauce - We'll have spinach gnocchi with butter and sage for our starter, please.
lasagne (noun): a baked dish with sheets of flat pasta separating layers of ground meat or vegetables in sauce - If we go to an Italian restaurant someone always orders the lasagne.
macaroni (noun): short tubes of curved pasta, or a dish made with this - Did your mum make macaroni and cheese when you were a kid?
minestrone (noun): a thick Italian soup containing chopped vegetables and pasta - Should I have the French onion soup or the minestrone?
mozzarella (noun): a soft, white Italian cheese mostly used in salads and pizza - Do you have real Italian mozzarella made from buffalo's milk?
olive oil (noun): a cooking and salad oil that's made by pressing olives - Let's have some Italian bread and olive oil.
ossobuco (noun): a braised Italian dish of cross-cut veal shanks, vegetables and white wine - If you get veal shanks from the butcher, I'll make ossobuco.
panna cotta (noun): an Italian dessert made of sweetened, thickened cream - I love panna cotta with strawberry syrup topping.
parmagiana (noun): a dish of eggplant or meat slices cooked with a tomato cheese sauce - I'll have the veal parmagiana, please.
pasta (noun): fresh or dried wheat dough in many shapes such as long, thin spaghetti and short tubular macaroni - Italians have been eating pasta since the 12th century.
pepperoni (noun): a spicy Italian-style cured sausage made of beef and pork - Could you pass the pepperoni, please?
pesto (noun): a sauce made of garlic, pine nuts, Parmesan cheese, basil, salt and olive oil - My grandma kept her recipe for pesto a secret.
pizza (noun): a flat round base of dough topped with tomato, cheese and other ingredients that's baked in a special oven - Can you get a couple of pizzas on your way home?
polenta (noun): boiled maize flour or cornmeal that's eaten as porridge or cooled then fried or baked - I never saw polenta in England, but it's everywhere in Italy.
ravioli (noun): a small Italian dumpling made of pasta with a meat or vegetable filling - The ravioli with a crab meat filling sounds good.
ribollita (noun): a bread and vegetable soup first made by Tuscan peasants - In the past, ribollita was often made with leftover foods.
risotto (noun): an Italian dish of creamy rice cooked in a vegetable, meat or fish broth - Why don't you try this mushroom and chicken risotto?
salami (noun): a cured sausage made of beef or pork that's usually eaten cold in thin slices - Don't forget to put salami on the pizza, will you?
scaloppine (noun): a dish made by frying very thin slices of veal, pork or chicken - Let's have Scaloppine al Limone for a change.
spaghetti (noun): a pasta variety that's formed into long thin pieces like string - How long should I cook the spaghetti for?
tiramisu (noun): an Italian dessert of sponge cake soaked in coffee and brandy with powdered chocolate and mascarpone cheese - My favourite dessert is tiramisu, for sure.
tortellini (noun): small, ring-shaped pasta dumplings with a meat, cheese or vegetable filling - Do they sell tortellini at the supermarket?
trattoria (noun): a small, affordable Italian restaurant, often family-run - Let's have lunch at that little trattoria.