History of Drama Movies
This page looks at the vocabulary of Drama Movies through their history, people and styles. (Words in
bold
are listed in
Wordchecker
below.)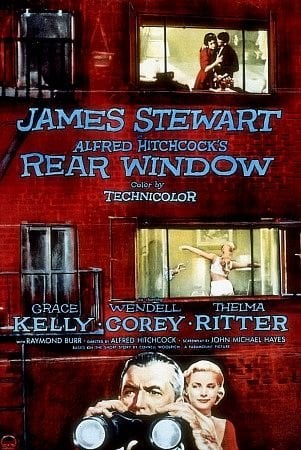 Drama and comedy were the earliest genres of cinema, and they're still the most popular genres today. Comedies entertain us by making us laugh, but dramas entertain us by telling interesting stories. A good drama does more than just tell a good story, however. It makes us care about the characters and feel many emotions. If something good happens we feel like smiling, if something sad happens we feel like crying, and if something bad is done to a character we like we might even feel angry. If we feel emotions like these we'll get involved in the story and find it more entertaining. But dramas can do even more than this. They can also make us think about important issues and teach us important lessons about life and how to live.
There are many different genres of drama and one of the most popular is the mystery genre. In this genre, suspense keeps us anxious while we watch what happens. A classic example is Alfred Hitchcock's Rear Window in which a photographer sees something suspicious through a neighbour's window and then tries to discover what's happened. In many mysteries a private detective is hired to help a client who's in trouble, as in The Long Goodbye and Chinatown. A similar genre is the police drama in which crimes are often investigated by police detectives. Two good examples are In The Heat of the Night about an African American detective who faces racism while investigating a murder, and Mystic River in which something terrible happens while police are trying to solve a serious crime.
Not all police dramas are mysteries, however. Some are about important issues like police brutality and corruption. The 2013 drama Fruitvale Station is based on the true story of an innocent young man who's beaten and then shot dead by rogue police officers on a train platform in San Francisco. Academy Award-winning police drama L.A. Confidential is based on a fictional story by crime writer James Ellroy about police corruption in Los Angeles. Many political dramas are also about corruption. For example All The President's Men is about corruption in American politics and the 2014 drama Leviathan is about a corrupt mayor in a small Russian town.
A popular genre that focuses on criminals rather than the police is the gangster movie. Francis Ford Coppola's famous gangster series that begins with The Godfather is about an Italian-American crime family while Martin Scorsese's Goodfellas is about low-level gangsters who work for the mafia. Movies about gangsters and other criminals can also be called crime dramas, and one of the most violent crime dramas is 1983's Scarface in which Al Pacino plays the part of a brutal cocaine dealer. One of the most realistic crime dramas is City of God, a powerful film about teenage drug dealers in a Brazilian slum, while dramas like Drugstore Cowboy and The Basketball Diaries teach us about the dangers of using hard drugs. But not all crime dramas are as serious as these. American director Quentin Tarantino has made highly-acclaimed crime dramas like Reservoir Dogs, Pulp Fiction and the Kill Bill series that mix drama, action and comedy in exciting new ways.
Other popular genres related to crime include the courtroom drama and the prison drama. 12 Angry Men and To Kill a Mockingbird are classic courtroom dramas, while more recent examples include The Verdict and A Time to Kill, one of many courtroom dramas based on the novels of John Grisham. Prison dramas tell stories about prisoners and their guards, and two of the most highly-rated are Cool Hand Luke starring Paul Newman and The Shawshank Redemption, an award-winning movie about an imprisoned lawyer who helps corrupt guards while planning his escape.
Movies about espionage and spying are also very popular. Good examples include The Conversation, Fair Game and A Most Wanted Man, a suspense-filled drama about an espionage agent who's investigating terrorism. Many action movies like the James Bond series are also about spying, but espionage dramas are usually more realistic than these action movies.
Most dramas about crime and espionage are pure entertainment, but dramas about serious issues like violence, racism, bullying and sexual harassment can teach us something important while they entertain us. Fritz Lang's terrifying movie Fury, and dramas like Wake in Fright and Straw Dogs, teach us about the dangers of mob violence, and in Sleeping with the Enemy and New Zealand's Once Were Warriors we learn about the problem of domestic violence. Dramas that teach us about bullying and violence in schools include Larry Clark's 2001 film Bully and Gus Van Sant's 2003 film Elephant in which boys who've been bullied take guns to school.
Dramas set in the workplace like The Salt of The Earth and Made in Dagenham show us workers being treated badly before they go on strike, while in North Country we see a woman fighting against sexual harassment in an iron mine. Many dramas have also been made about medical issues like mental illness, AIDS and abortion. In One Flew Over the Cuckoo's Nest Jack Nicholson plays a likable character who's being treated for a mental illness he doesn't really have. In Philadelphia and Dallas Buyers Club we learn about AIDS, and in Mike Leigh's Vera Drake and the award-winning Romanian film 4 Months, 3 Weeks & 2 Days we see what can happen when abortion is illegal.
But not all dramas are about serious topics like these. Many movies tell inspirational stories like the one in Sylvester Stallone's sports drama Rocky about an aging boxer with one last chance to become the world champion. Another uplifting movie is the British drama Billy Elliot about a young boy who wants to be a ballet dancer even though his father hates the idea. Other inspirational dramas about the arts include Lust for Life about Vincent van Gogh and 'Round Midnight about a jazz musician who finds success in Paris.
Romantic dramas like Before Sunrise and Samson and Delilah can also be uplifting, while others like Romeo + Juliet and Titanic begin with happiness and romance but end in tragedy. More and more dramas about same-sex romance are also being made, and one of the most famous is Brokeback Mountain about two American cowboys who fall in love. Others include the British film Weekend, the French film Blue Is the Warmest Colour, and an inspiring Brazilian drama about two teenage boys who fall in love called The Way He Looks.
Many dramas about friendship have also been made including 1997's Good Will Hunting, the Australian drama September, and an inspirational drama about a wealthy Frenchman and a poor young black man called The Intouchables. Many road movies are also about friendship like Gus Van Sant's 1991 drama My Own Private Idaho and 2004's The Motorcycle Diaries, a movie that follows Che Guevara and his best friend Mial as they ride their motorbikes through South America. Friendship is also a theme in many coming-of-age dramas like Stand By Me about a gang of teenage boys and Thirteen about a girl who gets into lots of trouble while she's growing up.
Another popular genre is the family drama. Some family dramas show the joys of family life, but most are about the problems and conflicts in dysfunctional families. Highly-rated examples include Robert Redford's Ordinary People, Mike Leigh's Secrets & Lies, and 2009 Academy Award winner Precious about the many problems faced by members of a dysfunctional African American family. A more uplifting family drama is the 2014 movie Boyhood in which we follow twelve years in the lives of a boy and his family.
Biopics about real people and docudramas about real events are also very popular, and good examples include Ray about the blind musician Ray Charles, The Insider about the tobacco industry's attacks on Dr Jeffrey Wigand, and a movie about gay activists who supported Welsh coal miners during a 1984 strike called Pride.
Some of the most highly-acclaimed dramas contain several plot lines related to different genres. In Robert Altman's classic movie Nashville there are plot lines about the country music business, plot lines about American politics, and plot lines about various romances. Other complex dramas that mix genres in this way include Paul Thomas Anderson's Magnolia, Paul Haggis's Crash and several movies by Mexican director Alejandro González Iñárritu including his 2000 drama Amores Perros and Birdman (or The Unexpected Virtue of Ignorance) which won the 2014 Academy Award for Best Picture.
Drama genres and recommended movies
Mystery: Rear Window (1954), The Long Goodbye (1973), Chinatown (1974), Blue Velvet (1986), Inherent Vice (2015), Pig (2021)
Police: In the Heat of the Night (1967), Serpico (1973), Cop Land (1997), L.A. Confidential (1997), End of Watch (2012)
Crime: Get Carter (1972), Scarface (1983), Pulp Fiction (1994), The Usual Suspects (1995), Traffic (2000), Widows (2018)
Gangster: The Godfather (1972), GoodFellas (1990), Miller's Crossing (1990), The Departed (2006), Gomorrah (2008), The Irishman (2019)
Courtroom: To Kill a Mockingbird (1962), The Accused (1988), The Verdict (1992), A Time to Kill (1996), Trial of the Chicago 7 (2020)
Prison: Cool Hand Luke (1967), Scum (1979), The Shawshank Redemption (1994), A Prophet (2010), Starred Up (2013)
Political: The Candidate (1974), All the President's Men (1976), The Ghost Writer (2010), Leviathan (2014), Vice (2018)
Espionage: The Manchurian Candidate (1962), The Conversation (1974), Fair Game (2010), A Most Wanted Man (2014)
Violence: Fury (1936), Wake in Fright (1971), Straw Dogs (1971), Once Were Warriors (1994), Elephant (2003)
Workplace: Salt of the Earth (1950), Glengarry Glen Ross (1992), North Country (2005), Made in Dagenham (2010)
Medical: One Flew Over the Cuckoo's Nest (1975), Dallas Buyers Club (2013), Still Alice (2015), The Father (2020)
Sport: Rocky (1976), Hoosiers (1986), Million Dollar Baby (2004), The Wrestler (2008), The Fighter (2010), Rush (2013)
Arts: Round Midnight (1986), Billy Elliot (2000), Mr Turner (2014), Loving Vincent (2017), Sound of Metal (2019)
Romance: Before Sunrise (1995), Romeo + Juliet (1996), Lost in Translation (2003), Samson and Delilah (2010), The Shape of Water (2017)
Same-sex: Brokeback Mountain (2005), Weekend (2011), The Way He Looks (2014), Moonlight (2016), Call Me By Your Name (2017)
Friendship: Midnight Cowboy (1971), Good Will Hunting (1997), Y tu mamá también (2001), The Intouchables (2011), Okja (2017)
Road Movie: Easy Rider (1969), My Own Private Idaho (1991), Thelma & Louise (1991), The Motorcycle Diaries (2004), Nomadland (2020)
Coming-of-age: Kes (1969), Stand By Me (1986), What's Eating Gilbert Grape (1993), Boyhood (2014), Babyteeth (2019)
Family: Ordinary People (1980), Secrets & Lies (1996), Precious (2009), A Separation (2009), The Florida Project (2017)
Docudrama: The Insider (1999), Erin Brockovich (2000), Fruitvale Station (2013), Pride (2014), Detroit (2018), One Night in Miami (2020)
Biopic: Iris (2001), Ray (2004), Capote (2005), Milk (2008), W. (2008), I, Tonya (2017), Ma Rainey's Black Bottom (2020)
Mixed genre: Nashville (1975), Magnolia (1999), Amores Perros (2001), Mulholland Dr. (2001), Crash (2004), Birdman (2014), Roma (2018)
biopic (noun): a film based on a real person's life - Have you seen that new biopic about Michael Jackson yet?
bully (verb): to scare or hurt someone weaker or less powerful - My daughter was being bullied by the other workers.
coming-of-age (adjective): to do with becoming an adult - I'm reading a coming-of-age novel called The Catcher In The Rye.
corruption (noun): illegal or dishonest activity by state officials - He made millions from corruption while he ruled the country.
courtroom drama (noun): a drama set in a court of law - My husband loves those John Grisham courtroom dramas.
crime drama (noun): a drama about crime and criminals - The Coen Brothers love making crime dramas.
docudrama (noun): a drama based on a real event - Are there any docudramas about that flood in New Orleans in 2005?
domestic violence (noun): violence among family members - Domestic violence causes many women to flee with their children.
dysfunctional (adjective): not working well, of relationships, families, etc. - I come from a dysfunctional family full of addicts and alcoholics.
espionage (noun): activity involving spies and spying - It's one of those espionage dramas, so we'll have to concentrate.
gangster movie (noun): a movie about a criminal organisation like the mafia - I like any films about crime, especially gangster movies about drug lords.
inspirational (adjective): giving inspiration or enthusiasm - He's one of the most inspirational leaders we've ever had.
investigate (verb): to try to find facts that lead to the truth - How many detectives are investigating the case?
issue (noun): an important subject that should be discussed - They discussed issues like climate change and inequality.
mob violence (noun): violence by a crowd of angry people - Mob violence against women is getting even worse in those countries.
mystery (noun): something you don't know - Where do my missing socks go? It's a mystery to me.
plot line (noun): a series of events in a story - If it's got too many plot lines, it'll be difficult to follow.
police brutality (noun): violent attacks on citizens by police - Why is there so much police brutality these days?
police drama (noun): a drama about police or a police force - Is it a real police drama, or one of those silly police comedies?
political drama (noun): a drama about politics and politicians - It's a political drama about corruption and the abuse of power.
prison drama (noun): a drama set in a prison or a jail - What's that old prison drama with Morgan Freeman called?
private detective (also "private investigator") (noun): someone who's paid to find out information - The woman hired a private detective to find out if her husband was cheating on her.
same-sex romance (noun): a romantic story about two people of the same sex - I don't think they made same-sex romances back then.
sexual harassment (noun): using sexual words or actions to upset or harass people - You can be arrested for sexual harassment, you know.
strike (noun): stopping work because of low pay or bad conditions - If they don't treat us fairly, we'll go on strike.
suspense (noun): excitement or anxiety caused by not knowing something - Alfred Hitchcock was a master of mystery and suspense.
suspicious (adjective): thinking someone might be guilty of something - The police were suspicious because of the way he was acting.
tragedy (noun): a very sad event or situation - The sinking of the Titanic was a tragedy.
uplifting (adjective): making you feel happy and hopeful - We thought it'd be depressing, but it was a really uplifting movie.
workplace (noun): the place where you work - There are lots of workplace comedies, but not many workplace dramas.