History of Dance Music
This page looks at the vocabulary of Dance Music through its history, people and songs. For other genres see
Popular Music Genres
.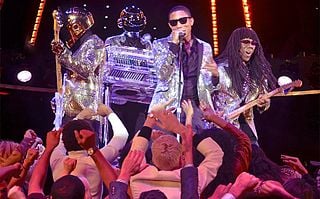 In the mid-60s, US soul singer James Brown developed a new style of music called funk. In soul music the melody and lyrics are central, but in funk the rhythmic groove is central. The main stress in a funk rhythm is on the first beat of the bar, called "the one", and a repeated pattern of drum beats and bass lines that begins on the one creates a groove. Riffs played by guitars, keyboards and horn sections can add to the groove, and vocal parts and raps can be added as well. A funk groove can continue for a long time without chord changes, and funk songs in the 60s often lasted for ten minutes or more.
As part of the civil rights movement, James Brown wanted African American people to feel proud of themselves, so he began writing songs like Say It Loud - I'm Black and I'm Proud, a top-ten hit in 1968. Other funk bands like the Temptations, Funkadelic and Sly and the Family Stone also became popular in the late 60s and early 70s. Meanwhile musicians in Washington D.C. were developing their own style of funk called go-go. Well-known go-go artists include Chuck Brown, Trouble Funk and Rare Essence, and to this day go-go bands still play live in Washington's dance clubs, as do funk bands in the clubs of New Orleans.
Another style of dance music that developed in the early 70s is afrobeat. It was first created by African musician Fela Kuti after he visited the US and saw funk and jazz bands perform. He returned home to Nigeria and, with his band Africa '70, started mixing the complex beats of African music with elements of funk, jazz and R&B. Afrobeat has become popular outside Africa in recent years, and has helped other styles of African dance music become popular as well.
Disco
in the early 70s nightclubs called discos were employing DJs to play dance tracks because it was cheaper than hiring a band. At first they played funk and up-tempo soul tracks, but in the mid-70s they started playing tracks with a new rhythm that was easier to dance to. It had a simple four-on-the-floor bass-drum beat with hi-hat on the offbeats. These songs were soon being played in discos all over the world, and a new genre called disco music was born. Artists like Donna Summer, Gloria Gaynor, and the Bee Gees had huge disco hits, as did a band formed by guitarist Nile Rodgers and bass player Bernard Edwards called Chic. With Bernard's funky bass and Nile's smooth rhythm guitar, Chic created a sound that's still popular today.
Like most disco artists, Chic released their singles in two versions; a short version for the radio and a longer twelve-inch single that was remixed for dance clubs. Most twelve-inch singles had a breakdown in the middle with extra percussion but no singing, and most dance remixes still have breakdowns today. In 1977 Italian producer Georgio Moroder used synthesizers to create Donna Summer's electronic disco hit I Feel Love, one of the first examples of a new genre called "electronic dance music", or EDM, that's been central to dance music ever since.
Georgio wasn't the only artist producing rhythmic electronic music, however. German group Kraftwerk had been making electronic pop music since the early 70s. They'd invented synthesizers with touch pads to create funky electronic rhythms and then added beautiful electronic textures and melodies. Kraftwerk's music has inspired countless EDM and hip hop artists and remains some of the finest electronic music ever made.
House
In the early 1980s a new style of disco called house became popular in the dance clubs of New York and Chicago. Like disco, house tracks had catchy melodies with lyrics about going out, having fun or making love. It had a pounding four-on-the-floor disco beat, but in house music synthesizers were used more than drum kits and other traditional instruments, although piano was still used in most house tracks. Classic New York tracks include Can You Party? by Royal House and C+C Music Factory's Gonna Make You Sweat (Everybody Dance Now). Chicago's house classics include Marshall Jefferson's Move Your Body and Can You Feel It by Larry Heard (a.k.a. Mr. Fingers).
In the late 80s big dance parties called raves became popular in Europe and the UK. DJs at these events often played the latest house tracks, and before long tracks like Chicago producer Steve Hurley's Jack Your Body were topping the charts. This led to local UK producers making house tracks of their own, and M|A|R|R|S had a huge hit in 1987 with Pump up the Volume, as did Coldcut with Doctorin' the House. A second wave of UK house began in the late 90s after Basement Jaxx's funky house track Red Alert topped the charts. Europe also produced big house hits like Pump Up The Jam by Belgium's Technotronic and Ride on Time by Italy's Black Box.
Techno
In the early 80s electronic instruments became widely available, and club DJs in Detroit began using them to create their own dance tracks. They loved funk and disco, but they also loved Kraftwerk's electronic sounds so they began using drum machines to create Kraftwerk-style electronic rhythms, sequencers to create bass lines, and synthesizers to add chords, melodies and other electronic sounds. By the late 80s this new style of EDM was being called techno. Classic examples of Detroit techno include Juan Atkins and Cybotron's 1983 track Clear, Derrick May's 1987 track Strings of Life and Inner City's top-ten hits Big Fun and Ain't Nobody Better.
A subgenre of techno called trance developed in Europe in the early 90s, followed in the 2000s by "vocal trance" and "uplifting trance". In trance, techno rhythms are mixed with layers of dreamy electronic sound, with most tracks building to a climax followed by a breakdown in which the beat stops but the dreamy electronic sounds continue. Examples of trance can be heard on Robert Miles' chart-topping 1996 album Dreamland.
Experimental EDM
In the late 80s musicians and producers began exploring various new forms of EDM. They created new styles like "acid house", a subgenre of house that produced hits like UK band 808 State's Pacific State. Other UK groups like LFO, Underworld and Orbital were creating new styles of their own, often influenced by post-punk or industrial music. Others like B12, The Orb, Leftfield and Aphex Twin were influenced by Brian Eno's ambient music. They added atmospheric waves of synthesized sound to electronic beats and created "ambient house" and "ambient techno". Experimental styles like these are often called "intelligent dance music" or IDM, a label that implies it's the kind of music you have to listen to closely to fully appreciate.
In the mid-90s a second wave of Detroit techno developed when EDM producers like Robert Hood and Carl Craig created a new style called "minimal techno". At the same time Kenny Dixon Jr. (a.k.a. Moodymann) developed a new style of sample-based house music. While minimal techno was usually sparse and purely electronic, Moodymann's house tracks were built by sampling soul, funk and disco records and adding the samples to synthesized house beats and other electronic sounds. Fine examples of Moodymann's music can heard on his 1997 album Silent Introduction and on more recent albums like Sinner and Taken Away. New York DJ Moby also used Moodymann-style samples on his hugely-successful 1999 album Play.
Big beat, DnB and Dubstep
EDM artists in the UK also began using samples in the 90s, and this led to a style called big beat. Big beat producers often sampled drum breaks as well as bass lines and guitar riffs, so their music didn't sound as electronic as most EDM. They also preferred complex funk and hip hop breakbeats to simple disco beats, and wrote catchy songs their fans could sing along to as well as dance to. Popular UK big beat artists include the Chemical Brothers and the Prodigy, a punk-looking band whose albums topped the charts worldwide in the late 90s.
Another style that developed in the UK in the 90s is drum and bass (or "DnB"). Most DnB features very deep bass sounds, jazzy breakbeats and a fast tempo of around 160 to 180 bpm. Highly-regarded drum and bass artists include Clifford Price (a.k.a. Goldie) and Roni Size & Reprazent. A new style that developed from DnB in the late-90s is dubstep. Like DnB, most dubstep uses breakbeats and is bass-heavy, but it's slower and has a darker, more ambient feel. Well-known dubstep producers include Skream, Burial and James Blake.
In the US, popular DJ Skrillex created an aggressive form of dubstep called brostep by mixing dubstep rhythms with monstrous sci-fi sound effects and dramatic drops. In EDM, a drop occurs when a contrasting section is "dropped" into a track and the music suddenly changes. Most brostep drops feature very low, heavy bass sounds, and they usually occur at the climax of a build. A good example of a brostep drop occurs at the 1:04 mark of Skrillex's Ragga Bomb, a track he produced with UK group Ragga Twins in 2014.
New Jack Swing and Dance Pop
Dance music has appeared in the pop music charts since jazz bands played swing in the 1940s and rock'n'roll songs topped the charts in the 50s. In the 60s songs like Chubby Checker's The Twist created new dance crazes, and in the 70s and 80s R&B artists like Michael and Janet Jackson, Rick James and Prince created funky dance tracks that topped both the dance and pop music charts. To this day Michael Jackson's 1982 album Thriller remains the best-selling album of all time, while his 1991 album Dangerous includes fine examples of a dance music style called new jack swing that dominated the charts and the clubs in the 1990s.
New jack swing is a mix of R&B, soul and rap music that's played mostly on traditional instruments, but since the late 90s most dance pop has been made on computers instead. Pop singers have worked with EDM producers to create tracks that mix elements of pop music and EDM, as Madonna did when she asked EDM producer Stuart Price to help her create her classic 2005 track Hung Up. The song combines a pounding disco beat with many EDM features, including a trance-like breakdown near the end. It was a huge hit, topping the charts in over forty countries, and is a good example of 21st-century dance music that mixes older styles like funk and disco with more recent EDM styles like acid house and trance.
After 2000
In the early 2000s new technology made it easier for artists to make high-quality electronic music at home and share it online. This allowed many new IDM artists to emerge like Nicolas Jaar, Actress and Four Tet. It also allowed new EDM producers to gain a following, and some of these went on to become big-name DJs like Tiesto, Deadmau5, Diplo, Skrillex, Armin Van Buuren, Zedd and Todd Terje. They played at huge dance festivals in the 2000s and 2010s that copied the raves of the 90s, but were run by big entertainment corporations rather than dance music fans.
During the 2010s EDM producers often invited well-known musicians and singers to feature on their tracks. French duo Daft Punk did this when they invited Chic guitarist Nile Rodgers and R&B singer Pharrell Williams to feature on several tracks on their album Random Access Memories including Get Lucky, 2013's biggest hit worldwide. More recently Scottish producer Calvin Harris asked singer Steve Lacy to feature on his 2020 techno track Live Without Your Love. With these and other talented artists like Jamie xx, Moodymann, Against All Logic and Kaytranada on the scene, lovers of dance music have plenty to look forward to.
Styles, artists and recommended dance albums
Funk: James Brown - Star Time, Sly & The Family Stone - Riot, Parliament - Mothership Connection
Go-Go: Chuck Brown - Bustin' Loose Afrobeat: Fela Kuti - The Best of the Black President
Disco: Chic - Risque, Bee Gees - Saturday Night Fever, Donna Summer - On The Radio
House: Fingers Inc. - Another Side, VA - 80s Chicago House Anthems, C+C Music Factory - Gonna Make You Sweat
Techno: Cybotron - Enter, Derrick May - Innovator, Inner City - Big Fun
US Experimental EDM: Robert Hood - Internal Empire, Carl Craig - Sessions, Moodymann - Sinner
UK Experimental EDM: Underworld - Dubnobasswithmyheadman, Orbital - Orbital, Orbital 2
Ambient IDM: Aphex Twin - Selected Ambient Works 85-92, Plastikman - Sheet One, Musik
Big Beat: The Chemical Brothers - Surrender, The Prodigy - Music for the Jilted Generation
Drum and Bass: Goldie - Timeless, Dubstep: Burial - Untrue, James Blake - Overgrown
80s-style Funk: Michael Jackson - Thriller, Rick James - Street Songs, Prince - One Night Alone... Aftershow
New Jack Swing: Guy - Guy, Janet Jackson - Rhythm Nation, Michael Jackson - Dangerous
2000s Dance Pop: Madonna - Confessions on a Dance Floor, Lady Gaga - The Fame Monster
2000s EDM: Daft Punk - Discovery, LCD Soundsystem - Sound of Silver, Luomo - Vocalcity
Later IDM: Actress - Splazsh, Nicolas Jaar - Nymphs, Four Tet - New Energy
10s & 20s EDM: Disclosure - Settle, Against All Logic - 2012 - 2017, Jamie xx - In Colour
afrobeat (noun): West African dance music that combines elements of Nigerian music and American funk, soul and jazz music - Afrobeat was invented by Nigerian bandleader Fela Ransome-Kuti.
ambient music (noun): peaceful atmospheric music that has a calming effect on listeners - Is it really ambient music, or just background music?
backbeat (noun): a beat counted as "two" or "four" in a 4/4 rhythm - Can you hear the snare drum playing on the backbeats?
big beat (noun): an EDM genre in which breakbeats, heavy bass, vocals and samples are used - Maxim loves those big beat tracks they're playing these days.
bpm (noun): "beats per minute" used as a measure of music's tempo or "speed" - The fastest drum and base tracks are around 160 bpm.
break (noun): a short section in which one or two instruments play alone - We sampled a snare-drum break from an old jazz record.
breakbeat (noun): a more complex beat than the simple 4/4 beat of disco - Hip hop and dubstep use breakbeats, not disco beats.
breakdown (noun): section in a dance track in which most instruments except for drums and percussion stop playing for a while - That disco track has a great breakdown in the middle.
chord (noun): three or more notes played together - Lots of great songs only have two chords, you know.
civil rights movement (noun): the struggle to end racism and injustice against African Americans in the USA - Martin Luther King led the civil rights movement in the 60s.
disco (also "discotheque") (noun): a nightclub in which DJs play dance music - The gay discos in New York in the 70s were fabulous.
disco music (also "disco") (noun): 70s-style dance music with a steady four-on-the-floor beat - My sister loves dancing to disco music.
DJ (or "disc jockey") (noun): someone who plays records at dance clubs or on radio - Do you like the tracks this DJ's playing?
drop (noun): a point in EDM when the rhythm and sounds suddenly change - If it's a really great drop, everyone goes crazy.
drum and bass (or "DnB") (noun): an EDM genre with breakbeats, heavy bass and a fast tempo - Let's make a drum and bass track.
drum machine (noun): an electronic instrument that makes sequenced drum sounds - Our drummer quit, so we're using a drum machine now.
dubstep (noun): a label applied to various bass-heavy styles that developed from 90s drum and bass - You can feel the bass vibrating inside you when DJs play dubstep.
EDM (or "electronic dance music") (noun): dance music made with electronic instruments and/or samples from older records - That band didn't start out playing EDM, did they?
four-on-the-floor (noun): a 4/4 rhythm with bass drum on the beat and hi-hat on the offbeats - Terry's sick of playing those four-on-the-floor disco beats.
funk (noun): rhythmic groove-based music that developed from soul in the 60s - I reckon Bootsy Collins was the best funk bass player ever.
go-go (noun): a Washington D.C. style of percussion-driven funk that's mostly performed live in dance clubs - Did you know that go-go became the official music of Washington D.C. in 2020?
groove (noun): a highly-rhythmic pattern repeated for a long time, esp. in funk music - Hip hop artists still sample James Brown's funk grooves.
hi-hat (noun): a pair of foot-operated cymbals that form part of a drum kit - Drummers play bass drum with one foot and hi-hat with the other.
house (noun): 80s dance music similar to disco but often with a more electronic sound - Those old house tracks from Chicago still sound great.
IDM (or "intelligent dance music") (noun): electronic music for listening to more than dancing to - If I'm stressed out, I put on some IDM and it calms me down.
new jack swing (noun): dance music of the 1980s and 90s that mixes elements of funk, R&B and hip-hop - My mum reckons new jack swing was the best dance music ever.
offbeat (noun): a beat between the main beats, often counted as "and" by musicians - Disco has hi-hats playing on all the offbeats.
pounding (adjective): having a very strong, loud and steady beat - Those pounding disco tracks are still great to dance to.
rave (noun): a large dance party held outdoors or inside a big building - Did you go to any of those raves in the 90s?
remix (verb): to make a new version of a recording by changing the balance and effects in the various channels - When he remixed our song, he made the bass guitar sound much louder.
sample (verb): to copy and save a short section of music from an existing record - We sampled a guitar riff from an old funk record and used it in our new single.
synthesizer (noun): an instrument that makes and combines electronic sounds - Matt played organ and synthesizer in Use No Hooks.
techno (noun): an EDM genre from Detroit that led to many subgenres - Which style of techno do you like the most?
texture (noun): the musical pattern created when different sounds are combined - The textures on this track are amazing.
track (noun): a recording of a song or piece of music - Their new album has some really great tracks.
trance (noun): a subgenre of techno in which dreamy synthesizer textures play over techno beats that build to a climax - Dad's dancing to his old trance records again!
twelve-inch single (noun): a high-quality 12-inch vinyl record with a longer version of an existing single - Most of those disco twelve-inch singles go for over ten minutes.