History of Rock Music
This page looks at the vocabulary of Rock Music through its history, people and songs. For other genres see
Popular Music Genres
.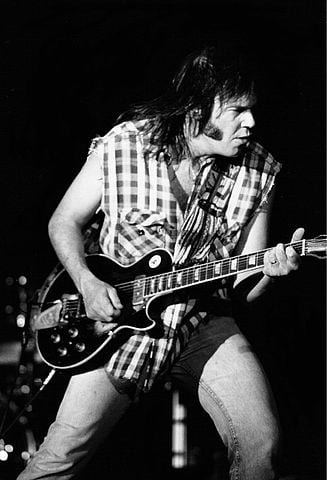 By 1960, rock and roll was losing both record sales and artists. Elvis Presley was in the army, Little Richard had quit rock and roll, and Buddy Holly and Ritchie Valens had died in a plane crash. But many young people were still listening to their rock and roll records, and some began exploring the music's origins. Young musicians bought blues and R&B records, studied the music, and soon learned to play it. Before long, they were combining these older styles with rock and roll to create a new genre called "rock music" or "rock".
Early British Rock
During the early 60s, two main styles of rock music developed in England. In London, young musicians were taught how to play R&B by older musicians in bands like Blues Incorporated and the Bluesbreakers. They taught the Rolling Stones' guitarist Keith Richards and Cream's Eric Clapton. They also taught Jimmy Page, who played lead guitar in the Yardbirds and then Led Zeppelin.
The style these musicians developed was much closer to R&B than that of England's other new style, called "Merseybeat". This style combined rock and roll beats with catchy melodies and vocal harmonies. The most successful Merseybeat band was the Beatles, who formed in 1960. After spending three years playing in small clubs in Liverpool and Germany, they met their record producer George Martin and recorded songs that went to the top of the UK charts like I Want to Hold Your Hand and She Loves You. The Beatles then toured the USA, and by April 1964 their songs held the top five spots on the US singles chart. Their success led to what's called the "British Invasion" when dozens of other British bands toured America, like the Who, the Kinks and the Rolling Stones.
Surf Music and Psychedelic Rock
While British rock music was developing in the early 60s, a style called "surf music" was developing in Los Angeles. American-Lebanese guitarist Dick Dale was creating an exciting new style of instrumental rock by mixing Middle-Eastern music with rock and roll. He used reverb to create a guitar sound that was also used by the Beach Boys, surf music's most successful band. The Beach Boys sang complex vocal harmonies in melodic songs like Barbara Ann and California Girls, but their biggest hit was Good Vibrations, a psychedelic rock song they released in 1966.
Surf music was very popular until the British Invasion in 1964. Once the Beatles had taken over the US charts and become the world's most popular band, they began changing the history of popular music. With the songwriting skills of John Lennon and Paul McCartney, together with George Martin's creative recording techniques, they began creating new forms of rock music that amazed musicians and music fans alike. They met folk musicians like Bob Dylan and began writing songs about social and political topics instead of teenage romance. They began listening to Indian music and using Eastern scales and instruments. They also used drugs like marijuana and the psychedelic drug LSD. They believed this made them more creative, and the style of music they were producing was soon being called "psychedelic rock".
The Beatles' experimentation and creative freedom led other bands to experiment in various ways as well. British bands like Pink Floyd and Cream began improvising on stage, and this jazz-like freedom was what a young American guitarist named Jimi Hendrix was looking for as well. While working in R&B bands around New York, his guitar playing was limited to traditional R&B riffs, but Jimi wanted to do more. He'd developed a brilliant blues-based guitar technique that involved the use of feedback and the wah-wah pedal, and he'd written powerful rock songs in which to use it. He couldn't find R&B musicians in New York who wanted to play his style of music, but after hearing British bands like Cream he knew where to find them. After arriving in London in late 1966, he soon found a bass player and drummer and formed The Jimi Hendrix Experience. After releasing the singles Hey Joe and Purple Haze, Jimi and his band went to the USA and performed at the 1967 Monterey Pop Festival. They played a wonderful set that amazed the audience, and Jimi's future success was assured.
Many other important rock artists also performed at Monterey, including Jefferson Airplane, the Byrds, Buffalo Springfield and Janis Joplin, one of rock's greatest singers. Elsewhere in California avant-garde musicians Frank Zappa and Captain Beefheart were creating some of the strangest rock music ever heard, while the Doors were playing a powerful blues-based style of psychedelic rock that found instant success when their 1967 single Light My Fire reached the top of the music charts. But psychedelic rock's time was coming to an end, and when the Beatles disbanded in 1970 and Jimi Hendrix, Janis Joplin and the Doors' singer Jim Morrison all died within a few months of each other, one of the greatest eras of rock music was over.
Hard Rock to Heavy Metal and Glam
During the late 1960s a new style called "hard rock" was developing. In the US city of Detroit, the Stooges and MC5 were creating some of the hardest, loudest and roughest rock music ever made, as were Neil Young & Crazy Horse in Los Angeles. These bands didn't sell many records, but they had a huge influence on the direction rock would take in the future. A hard rock band that did sell lots of records was the British group Led Zeppelin, who had seven number-one albums during the 70s. Other popular hard rock bands included Deep Purple, AC/DC, Guns N' Roses and Aerosmith.
In the early 1970s British band Black Sabbath helped to create another new style called "heavy metal". They mixed hard-rock guitar riffs and power chords with rolling drumbeats and a heavy bass sound. Singer Ozzy Osbourne's vocals, often about dark topics like war and death, were screamed over the music's thick wall of sound. Heavy metal is still popular today and its fans, mostly boys and young men, love nodding their heads and punching the air to its pounding beats. Some of the most popular heavy metal bands include the UK's Judas Priest, Iron Maiden and Motörhead and US bands Mötley Crue, Metallica and Megadeth. Dozens of subgenres like "rap metal", "nu metal" and "death metal" have also developed more recently.
By the mid-70s most of the mainstream rock produced by big record companies was either "soft rock" or "country rock", and most of it had lost rock's rebellious spirit and raw energy. The few exceptions included early prog rock bands like King Crimson and Pink Floyd and British glam artists like T-Rex, Queen, David Bowie and Roxy Music. The avant-garde music of German bands like Can, Neu! and Kraftwerk was also exciting, especially to fans of prog rock and glam, but most of the music on mainstream radio was neither interesting nor exciting. Rock music needed energizing, and before long it was.
Punk and Alternative Rock
In the mid-70s many young people were out of work and angry at the world. They called mainstream rock boring and rebelled by playing short, fast, noisy songs with titles like Blank Generation and No Future. Their songs and attitudes shocked older people, and before long their music was being called punk. It began as part of New York's underground art scene in 1976 with bands like the Ramones, Television, Talking Heads and Blondie. They were inspired by earlier proto-punk bands like the Velvet Underground, the Stooges and the Patti Smith Group, as were Australian punk bands like the Saints and the Birthday Party. Soon punk was happening in the UK too, led by the Clash, the Damned and the Sex Pistols. The Sex Pistols had spiky hair, torn clothes and bad teeth, and their music was loud and messy, but when their first album topped the charts in 1977, the original spirit of rock was reborn.
Punk changed everything. Anyone could form a band, and you could do whatever you like and still get the chance to perform. This led to an explosion of young bands making exciting new music. By the late 70s the best of these bands were being supported by punk fanzines and small record labels all over the world. Most of them no longer sounded like the first punk bands, however. They were expanding punk's sound by adding elements of rockabilly, reggae music, 60s avant-garde, or whatever else they wanted to try. Bands as varied as the Cure, Gang of Four, Devo, the Cramps, the Fall and Joy Division were all part of this post-punk explosion. By the late 80s, post-punk bands that had joined major record labels such as Depeche Mode, U2 and the Cure were being called alternative rock, while less mainstream bands like the Violent Femmes, the Pixies and Sonic Youth on smaller independent labels were called indie instead. By the late 80s, indie bands like Galaxie 500 and the Cocteau Twins were creating a mix of 60s psychedelic pop and atmospheric ambient music called "dream pop", while bands like My Bloody Valentine and Ride were creating a similar but more guitar-driven style called shoegaze.
Early in the 90s US bands like Nirvana and Pearl Jam were part of a Seattle-based punk revival known as grunge, while in the UK "Britpop" bands like Oasis, Blur, Pulp and the Verve were topping the charts. Other bands as varied as alt-rock experimentalists Radiohead, avant-pop minimalists Stereolab and rap-metal rebels Rage Against the Machine were creating exciting new styles of their own, as were artists like Tori Amos, Nick Cave and Polly Jean "PJ" Harvey.
New Styles since 2000
After the arrival of the Internet in the 1990s, musicians could explore the history of rock more easily than ever before. This led to many new styles in the early 2000s as artists mixed elements from previous periods in exciting new ways. The Strokes and the Hives revived New York post-punk while the White Stripes gave their blues-rock sound a rough punk edge and the Arctic Monkeys and Arcade Fire invented catchy new styles of indie rock. Early in the 2010s bands like Tame Impala and Beach House mixed 60s guitar rock and 90s shoegaze to create a dreamy new kind of psychedelic rock, while Sufjan Stevens and Bon Iver each found their own style of indie folk rock. Toward the end of the 2010s women like St Vincent, Angel Olsen and Lana Del Rey were creating much of the period's finest new music.
By the early 2020s politically-charged protest music was on the rise. Blues-rock artist Gary Clarke Jr sang about racism on his album This Land, Lucinda Williams berated far-right politicians on her blistering country-rock album Good Souls, Better Angels, and 60s legend Bob Dylan returned to protest music on Rough and Rowdy Ways, a folk-rock album that topped the charts in 2020. Meanwhile artists like Fiona Apple, Moses Sumney and Yves Tumor were creating music so original it was beyond definition. And as always, it's music like this that points the way forward.
Rock music styles, artists and albums
Rock'n'Roll: Little Richard - Here's Little Richard, Chuck Berry - Chuck Berry Is on Top
British Invasion: The Beatles - Revolver, Sgt Pepper's, Rolling Stones - Let It Bleed
Psychedelic: Jimi Hendrix - Are You Experienced?, The Doors - The Doors, L.A. Woman
Hard Rock: Janis Joplin - Cheap Thrills, The Stooges - Raw Power, Led Zeppelin - IV
Heavy Metal: Black Sabbath - Paranoid, Rage Against the Machine - self-titled, Evil Empire
Avant-garde: Beefheart - Clear Spot, Plastic Ono Band - Both 1970 LPs, Can - Ege Bamyasi
Prog: King Crimson - Court of the Crimson King, Pink Floyd - Meddle, Wish You Were Here
Glam: T-Rex - Electric Warrior, David Bowie - Ziggy Stardust, Roxy Music - For Your Pleasure
Proto Punk: Velvet Underground - with Nico, Modern Lovers - self-titled, Patti Smith - Horses
Punk: Ramones - Ramones, The Saints - (I'm) Stranded, Sex Pistols - Never Mind the Bollocks
US Post Punk: Television - Marquee Moon, Blondie - Parallel Lines, Pere Ubu - The Modern Dance
UK Post Punk: Joy Division - Unknown Pleasures, Closer, Gang of Four - Entertainment! , Wire - 154
80s Alt/Indie: U2 - War, Sonic Youth - Daydream Nation, Pixies - Surfer Rosa, Talk Talk - Spirit of Eden
Dream Pop/Shoegaze: Galaxie 500 - On Fire, My Bloody Valentine - Loveless, Spiritualized - Ladies...
Grunge/Britpop: Nirvana - Nevermind, Pearl Jam - Ten, Oasis - Definitely Maybe, The Verve - Urban Hymns
90s Alt: Primal Scream - Screamadelica, PJ Harvey - To Bring You My Love, Tom Waits - Bone Machine
2000s: Radiohead - In Rainbows, The Strokes - Is This It, Arcade Fire - Funeral, White Stripes - Elephant
2010s & 20s: Nick Cave - Ghosteen, Lana Del Ray - Norman F. Rockwell!, Fiona Apple - Fetch the Bolt Cutters
alternative rock (also "alt rock") (noun): non-mainstream rock music inspired by punk and post-punk - My sister likes pop music, but I like alternative rock.
avant-garde (adjective): new, unusual and experimental - Harry makes avant-garde electronic music in his spare time.
feedback (noun): high-pitched noise made when a microphone is close to a loudspeaker - How do you control feedback and make it fit the music?
glam (noun): an early-70s rock style in which performers often wore make-up, glitter and glamorous costumes - After his glam period, David Bowie went on to other styles.
grunge (noun): second-wave punk from US city Seattle that revitalized rock in the 90s - Kurt Cobain didn't invent grunge, but he perfected it.
indie (adjective): less mainstream or commercial; of music or artists released on small independent record labels - If you like indie music, check out Warp Records.
instrumental (adjective): played on instruments, without vocals - There's a long instrumental section in the middle of the song.
lead guitar (noun): a guitar on which melodic lines and solos are played - Who's playing lead guitar in your new band?
mainstream (adjective): widely-accepted and preferred by most people - Our gallery shows mainstream as well as avant-garde painters.
post-punk (adjective): a catch-all descriptive term for many new styles that followed 70s punk - Post-punk band The Police loved using reggae rhythms.
power chord (noun): a basic chord that can add power to music - The Kinks used lots of power chords in their song You Really Got Me.
producer (noun): someone who oversees the recording of music - Who was the producer on Nirvana's first album?
prog rock (abbrev. of "progressive rock") (noun): 70s style that went from experimental art rock to flashy displays of instrumental technique, often classically-influenced - Early prog rock bands were great, but the later ones were awful.
psychedelic (adjective): related to powerful mind-altering drugs like LSD - Lots of bands used psychedelic drugs in the 60s.
punk (noun): noisy, fast, often-messy musical style first heard in the mid-70s - Some of those old punk records are worth a fortune now.
reggae music (noun): a genre of music that developed in Jamaica in the 1960s - If you want to hear reggae music, try Bob Marley and the Wailers.
reverb (noun): an electronic sound effect similar to an echo - They used lots of reverb on those early Beach Boys songs.
riff (noun): a repeated series of chords or notes, esp. on electric guitar - Justin wants to learn some heavy metal riffs.
set (noun): a group of songs performed one after the other - How many songs were in the band's first set?
shoegaze (noun): alternative psychedelic rock in which effects pedals create dreamy walls of sound - Lots of bands are playing shoegaze these days.
tour (verb): to perform concerts in a series of cities or countries - Are Radiohead touring Europe this year?
wah-wah pedal (noun): a pedal pushed with the foot to electronically change a guitar sound - Listen to Shaft by Isaac Hayes if you want to hear what a wah-wah pedal sounds like.