North, South, East and West - Usage
Each of the points of the compass (north, south, east, west, south-east, north-west etc) can be:
noun - The sun rises in the east.
adjective - It is sunny on the east coast.
adverb - We drove east for 50 miles.
Look at some more example sentences:
Penguins live in the south.
noun
The wind is coming from the east.
He lives in the south-east of England.
He lives in South London.
adjective
The storm will reach the north-west coast tomorrow.
Polar bears live at the North Pole.
Penguins live at the South Pole.
Is the country South Africa in the south of the African continent?
adjective | noun
Our house faces south-west.
adverb
Our car broke down a mile east of the city.
He lives south of London.
The points of the compass are capitalized when they form part of a name, for example: South Africa, East Timor, North America, the South Pole, Northwest Territories
In the picture below, notice the important difference between "in the south" and "to the south" or just "south":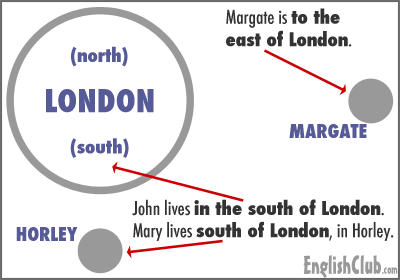 Here are some more examples:
Paris is in the north of France.
Sweden is north of France.
Belgium is to the north of France.
Canada is north of the USA.
The USA is north of Mexico
Mexico is south of the USA.
Moscow is in the west of Russia.
Europe is west of Russia.
Europe is to the west of Russia.
Shanghai is in the east of China.
Japan is east of China.
Japan is to the east of China.