Prepositions beginning with D
One-word prepositions
despite
We went swimming despite the cold water.
He passed the test despite being ill.
down
They ran down the hill.
The post office is down the road.
They have had many wars down the years.
during
He fell asleep during the meeting.
I want to go swimming during the weekend.
I was bored during the whole film.
Complex prepositions
depending on
We'll play tennis tomorrow, depending on the rain.
due to
The cancellation was due to the rain. There was no other reason.
---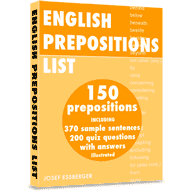 For a full list of 150 prepositions, try this ebook,
English Prepositions List
by EnglishClub founder Josef Essberger.
includes one-word and complex prepositions
370 example sentences
200 quiz questions with answers
immediate download to your computer
read on your computer or print out on paper
works on Windows or Mac