Prepositions beginning with E
One-word prepositions
except
You can have any colour except blue. There is no more blue.
They all came except Stephen. He didn't want to come.
excepting
I can eat anything excepting pork. It makes me sick.
Excepting Jo, everyone was present. No-one knew where Jo was.
excluding
It costs $70, excluding $10 for delivery. (Total = $80.)
We open every day excluding Christmas Day. On Christmas Day we have a holiday.
Complex prepositions
except for
Everyone was present, except for Mary. She stayed at home.
---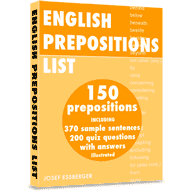 For a full list of 150 prepositions, try this ebook,
English Prepositions List
by EnglishClub founder Josef Essberger.
includes one-word and complex prepositions
370 example sentences
200 quiz questions with answers
immediate download to your computer
read on your computer or print out on paper
works on Windows or Mac