Prepositions beginning with G
One-word prepositions
given
He is in very good health, given his age. He's at least 95.
Given the time, you ought to leave now.
gone (mainly British English)
It's certainly gone 11 o'clock. It must be 11.30.
He's gone 50. He must be nearly 60 years old.
---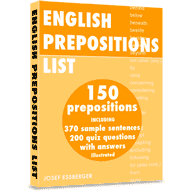 For a full list of 150 prepositions, try this ebook,
English Prepositions List
by EnglishClub founder Josef Essberger.
includes one-word and complex prepositions
370 example sentences
200 quiz questions with answers
immediate download to your computer
read on your computer or print out on paper
works on Windows or Mac