Prepositions beginning with L
One-word prepositions
less
like
She is like her sister.
She sings like a bird.
It's not like John to complain.
Do it like this.
I feel like swimming.
It looks like rain.
I want something cold, like iced-coffee.
---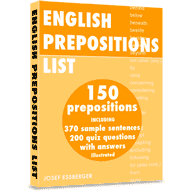 For a full list of 150 prepositions, try this ebook,
English Prepositions List
by EnglishClub founder Josef Essberger.
includes one-word and complex prepositions
370 example sentences
200 quiz questions with answers
immediate download to your computer
read on your computer or print out on paper
works on Windows or Mac