Prepositions beginning with S
One-word prepositions
save (formal)
All save Mrs Jones were present.
saving (formal)
Saving yourself, nobody thanked me.
since (also conjunction)
I haven't seen Josef since Monday.
Mr Brown has worked in a bank since 1985.
Complex prepositions
save for
Everyone came, save for Lek who had to work.
---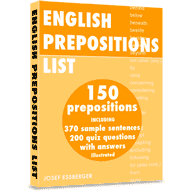 For a full list of 150 prepositions, try this ebook,
English Prepositions List
by EnglishClub founder Josef Essberger.
includes one-word and complex prepositions
370 example sentences
200 quiz questions with answers
immediate download to your computer
read on your computer or print out on paper
works on Windows or Mac