Prepositions beginning with V
One-word prepositions
versus
He was the judge in the case of Gore versus Bush.
We should choose peace versus war.
via
We flew from Paris to Bangkok via Dubai.
Complex prepositions
vis-à-vis (from French)
I prefer Jaguar cars vis-à-vis BMW cars.
I need to speak to you vis-à-vis your homework.
---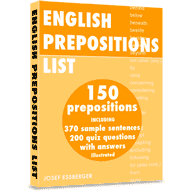 For a full list of 150 prepositions, try this ebook,
English Prepositions List
by EnglishClub founder Josef Essberger.
includes one-word and complex prepositions
370 example sentences
200 quiz questions with answers
immediate download to your computer
read on your computer or print out on paper
works on Windows or Mac