World Cup 2014 Brazil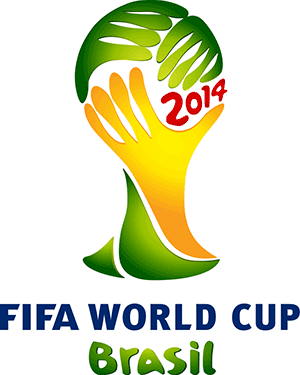 The 20th FIFA World Cup was held in Brazil from June 12 to July 13, 2014. It was the second time the tournament had been held in Brazil. The first time, in 1950, is remembered for the huge number of passionate football fans who crowded into Brazil's massive stadiums, making it one of the most exciting and atmospheric World Cups ever. But the 1950 World Cup ended in disappointment for Brazilian fans when their team was defeated 2-1 by Uruguay in the final match. The memory of that loss has haunted Brazilians ever since, and they hoped that winning the World Cup in their own country in 2014 would help to erase those painful memories. But they knew that winning wouldn't be easy.
Host Cities and Stadiums
In 2003 FIFA announced that the 2014 World Cup would be held in South America, and in 2007 Brazil was named the host nation. Brazil's stadiums didn't meet FIFA's requirements at the time, but the Brazilian government promised to have suitable stadiums ready in time for the tournament. After many problems, including delays and a series of accidents in which eight workers died, 12 stadiums were eventually completed in the 12 host cities of:
Belo Horizonte
Brasilia
Cuiaba
Curitiba
Fortaleza
Manaus
Natal
Porto Alegre
Recife
Rio de Janeiro
Salvador
Sao Paulo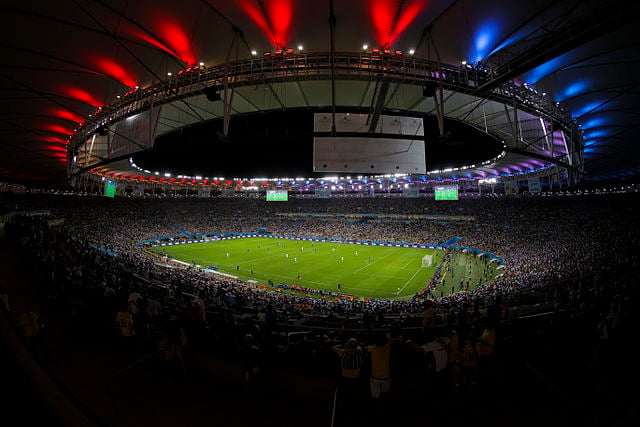 2014 World Cup Final being watched by 74,738 spectators at the Maracana Stadium in Rio de Janeiro (Photo: Danilo Borges / Wikimedia commons / CC BY 3.0)
7 new stadiums were built for the tournament, and 5 old ones were upgraded. The total cost was around US$3.5 billion. The biggest was the Maracana Stadium in Rio de Janeiro, where a huge crowd of 199,854 spectators had watched the final match in 1950. The 2014 final was held at the same venue, although only 74,738 spectators were able to attend as the standing-room areas that had made such a huge attendance possible in 1950 had been banned by FIFA and replaced with corporate boxes and seats.
Tickets
FIFA printed around 3.5 million tickets for the 64 matches they had scheduled for the 2014 World Cup. Of these, around 2.4 million were allocated to corporate sponsors, media organizations, FIFA affiliates, VIPs, etc. This left just over 1.1 million tickets for members of the general public, with 400,000 of these reserved for Brazilians. During the 2010 World Cup in South Africa, thousands of seats were left empty when corporate ticket-holders and VIPs didn't bother to go. At the same time, thousands of ordinary South Africans were unable to buy tickets to World Cup matches in their own country. This created a lot of bad publicity, and FIFA made sure there were far fewer empty seats in 2014.
Match Officials and Goal-line Technology
The FIFA Referees Committee appointed 25 referee trios and 8 support duos to officiate at the 2014 World Cup. Each trio included a referee and two assistant referees. The match officials were from a total of 43 countries, and the Final on July 13 was refereed by Italy's Nicola Rizzoli.
During the 2010 World Cup, match officials made some crucial errors that resulted in legitimate goals being disallowed. Officials ruled that certain shots on goal hadn't crossed the goal line, and yet within seconds television viewers around the world saw replays that clearly showed the ball over the line. This forced FIFA to accept the need for goal-line technology, and it was used at the World Cup for the first time in 2014.
Official Logo, Mascot, Ball and Instrument
The design for the 2014 World Cup logo was chosen by a group of VIPs and celebrities that didn't include a single graphic designer, but did include a supermodel, a pop singer and a writer. The winning design was widely criticized for its poor quality and because it looked like a "facepalm". The 2014 World Cup mascot, a cartoon armadillo called Fuleco, was well-received, however, especially among children who said he was cute and cheeky.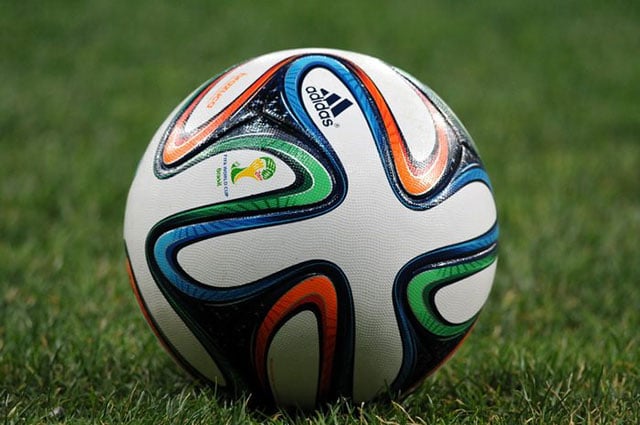 Adidas Brazuca, official ball of FIFA World Cup 2014 (Photo: Ilya Khokhlov / CC BY-SA 3.0)
The official 2014 World Cup ball was the Adidas Brazuca, covered in colourful swirls, and the official World Cup instrument was a small plastic percussion instrument called the caxirola, designed in close consultation with FIFA. Unfortunately the caxirola, which looked like a hand grenade, was banned from the World Cup after hundreds were thrown by angry fans during testing.
Qualification
A total of 32 teams competed in the 2014 World Cup Finals, with all except the host country's team having earned their place by qualifying. Teams from 203 countries took part in the qualification process by competing in one of six World Cup qualification tournaments that began in June 2011 and ended in November 2013. Of the teams that eventually qualified, four were from Asian countries, four were from North and Central America, five were from Africa, six were from South America, and thirteen were from Europe, including first-time qualifier Bosnia and Herzegovina.
Matches and Results
The format consisted of a group stage, a knockout stage, a third-place play-off and the World Cup Final. In the group stage teams were in eight groups of four, and the 48 group-stage matches were played from June 12 to June 26. The two teams at the top of each group at the end of this stage progressed to the next stage, the knockout stage. These teams were Algeria, Argentina, Belgium, Brazil, Chile, Colombia, Costa Rica, France, Germany, Greece, Mexico, Netherlands, Nigeria, Switzerland, United States and Uruguay.
The eight matches in the first knockout round, known as the "round of sixteen", were played on June 28 to July 1. The teams that won their matches and progressed to the quarter-finals were Argentina, Belgium, Brazil, Colombia, Costa Rica, France, Germany and Netherlands. The four quarter-final matches were then played on July 4 and 5, with the winners being Argentina, Brazil, Germany and Netherlands.
The first semi-final match, between Brazil and Germany, was held on July 8. Brazilian fans packed the stadium in Belo Horizonte, hoping to see their team win the match and qualify for the World Cup Final. But Brazil's talented young striker Neymar wasn't playing due to injury, and nor was their captain and central defender Thiago Silva. Without Thiago Silva to organize their defence, Brazil was unable to stop Germany's powerful attacks. Brazilian fans watched in shock and disbelief as the German team scored five quick goals before half time, and went on to win 7-1. It was the host country's worst defeat since 1920, and it ended Brazil's dream of winning a World Cup in their own country for the first time.
In the other semi-final on July 9, Argentina and Netherlands played a tense match in which no goals were scored until the penalty shoot-out, which Argentina won 4-2. The next match was the third-place play-off between Brazil and Netherlands held in Brasilia on July 12. Despite the return of their captain Thiago Silva, the Brazilian team lost 3-0.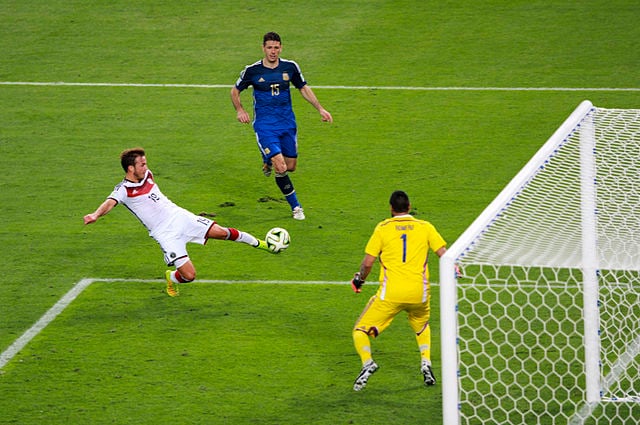 Mario Goetze scores the winning goal for Germany in the 2014 World Cup Final (Photo: Danilo Borges / Wikimedia Commons / CC BY 3.0)
The 2014 World Cup Final between Argentina and Germany was held at Maracana Stadium on July 13. It was another very tense match, and it looked like being decided by a penalty shoot-out until German striker Mario Goetze scored the winning goal with a powerful left-foot shot near the end of extra time. Germany had won a well-deserved 1-0 victory, and the team was presented with the World Cup trophy for the fourth time in its history.
Awards
A number of awards were presented after the World Cup Final. These included the Golden Ball award for best player, presented to Argentina's Lionel Messi, the Golden Boot award for top goal-scorer, won by Colombia's James Rodriguez for scoring 6 goals, and the Golden Glove award for the tournament's best goalkeeper, awarded to Germany's Manuel Neuer. The Best Young Player Award was presented to France's Paul Pogba, and the FIFA Fair Play Trophy was won by Colombia.
Watching the 2014 World Cup
FIFA sold the rights to broadcast World Cup matches to media companies all over the world. In some countries, matches were broadcast on free-to-air TV and money was made by showing advertisements. In other countries, media companies charged people money to watch matches on cable television or via mobile devices, tablets, game consoles, etc. But however they viewed the World Cup, nearly a billion people watched the same spectacle, and shared a similar range of emotions, at exactly the same time, making it one of 2014's most unifying global events.
passionate (adj): having very strong feelings about something - Dad's usually very calm, but he can get quite passionate when he's watching sport.
atmospheric (adj): having a powerful mood or atmosphere that everyone can feel - Wow! That was one of the most atmospheric concerts I've ever been to.
standing room (n): area in a stadium where spectators are standing - The atmosphere in the standing-room sections was amazing.
corporate box (n): private room from which company managers and guests watch an event in a stadium - Our corporate boxes have air-conditioning and staff who serve food and drinks.
scheduled (for) (v): arranged to happen at a certain time - The meeting has been scheduled for next Monday morning.
banned (by) (v): not allowed or permitted - Smoking in public buildings has been banned by the government.
allocate (to) (v): to give, or make something available, to particular people or groups - More places in universities should be allocated to students from poor families.
VIP (Very Important Person) (n): a rich, powerful or famous person who gets special treatment - Why do they give away so many tickets to rich VIPs?
(the) general public (n): ordinary people who aren't members of special groups or the upper classes - Our best seats are for VIPs, not members of the general public.
legitimate (adj): acceptable or genuine - The players have made some legitimate complaints about the refereeing.
replay (n): video or digital footage that's shown soon after it was recorded - Why don't referees like replays being shown on big screens in stadiums?
logo (n): symbol of a company, organization, event, etc. - Don't you think our company needs a new logo?
facepalm (n): gesture of embarrassment or dismay made by covering one's face with one's hand - Have you seen those pictures of stockbrokers doing facepalms in 2008?
mascot (n): a person in a costume, or a cartoon image, that represents a team, an event, etc. - Our team's mascot has always been a tiger, so we've got lots of tiger costumes.
format (n): overall plan or design of an event, a program, a magazine, a tournament, etc. - Music festival organizers usually keep the same format year after year.
play-off (n): extra match played when teams or players share a place at the end of a tournament - Having a play-off is better than finishing with two teams in equal third place.
progress (to) (v): to move to the next stage, level, round, etc. - How many teams will progress to the knockout round?
spectacle (n): large-scale event that excites people who see it - The opening ceremony at the Beijing Olympics was an amazing spectacle.
unifying (adj): making people feel part of a group, or part of the whole of humanity - Sport is a unifying force that brings together people from very different backgrounds and cultures.