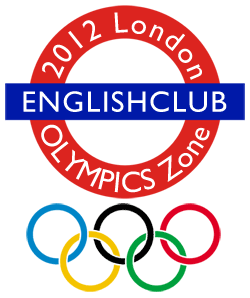 2012 London Olympics

Sports
Olympic Sports
Since the Olympic Games were revived in the late 1800's, the number of sports included has increased greatly. In the 1896 Athens Olympics only 9 sports were included; athletics, cycling, fencing, gymnastics, shooting, swimming, tennis, weightlifting and wrestling. But in the 2012 London Olympics, 26 sports are included: aquatics (swimming and diving), archery, athletics (or "track and field"), badminton, basketball, boxing, canoe and kayak, cycling, equestrian, fencing, football, gymnastics, handball, hockey, judo, pentathlon, rowing, sailing, shooting, table tennis, taekwondo, tennis, triathlon, volleyball, weightlifting and wrestling.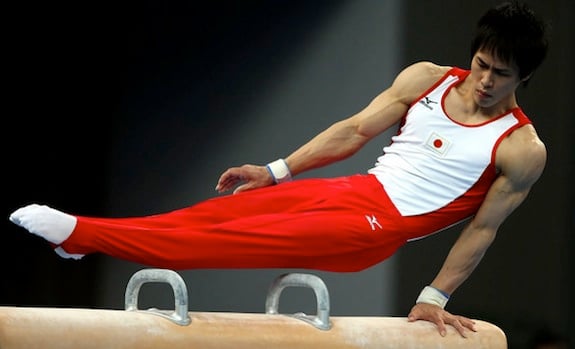 Japanese gymnast Hiroyuki Tomita at the 2008 Beijing Olympics
Most of these sports are well-known, but one of the less well-known is equestrian, in which riders on horseback compete in three different events; dressage, show jumping and eventing. Equestrian is the only Olympic sport in which men and women compete against each other as equals. Another less well-known sport is pentathlon, in which athletes compete in several events: swimming, fencing, equestrian (show jumping only), pistol shooting and cross-country running. Pentathlon originated as a way of testing some of the skills needed by late 19th-century soldiers in Europe. Another Olympic sport that involves more than one type of activity is the triathlon, in which competitors complete a 1.5km swim, then a 40km bicycle ride, followed by a 10km run. Unlike the pentathlon, in which points are scored in each event, the triathlon is a race to the finish line, with athletes starting the next activity as soon as they finish a previous one.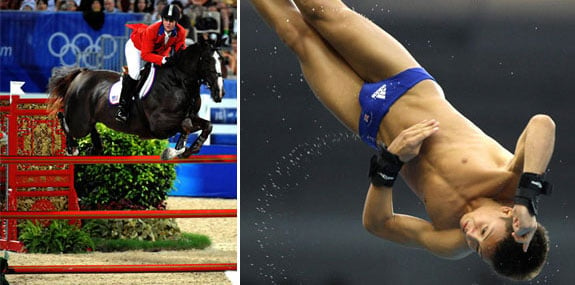 Left: Equestrian competitor
Right: British diver Tom Daley
The list of sports included in the Olympic Games has often been changed by the International Olympic Committee (IOC), with members regularly voting on whether to include or exclude particular sports. For example, while baseball and softball were part of the 2008 Beijing Olympics, they are not being included this time. And while golf and rugby are not included this time, they will be included in the 2016 Rio de Janeiro Olympics. Squash has never been played at the Olympics, but there's a good chance it will be included in the 2020 Olympics for the first time, and while cricket has only been played once at the Olympics, in Paris in 1900, fans and players are hoping that it, too, will be included again in the near future.
Paralympic Sports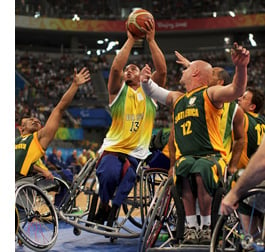 Soon after the London Olympics comes to a close, the 2012 Summer Paralympic Games will begin. Athletes with physical or intellectual disabilities will compete for Paralympic medals in the following 20 sports: boccia, football (5-a-side), football (7-a-side), goalball, paralympic archery, paralympic athletics, paralympic cycling, paralympic equestrian, paralympic judo, paralympic powerlifting, paralympic rowing, paralympic sailing, paralympic shooting, paralympic swimming, paralympic table tennis, volleyball (sitting), wheelchair basketball, wheelchair fencing, wheelchair rugby and wheelchair tennis.
Wordchecker
revive (verb): to bring something or someone back to life
The Shakespeare Theatre Company is going to revive its production of Macbeth.
kayak (noun): a small canoe that is partly covered
We spent all afternoon paddling our kayaks down the river.
fencing (noun): the sport of fighting with a long thin sword
Fencing is still quite popular in some parts of Europe.
pentathlon (noun): a sport that combines competitions in five different sports
Can you remember which sports are included in the pentathlon?
triathlon (noun): a sport that combines competitions in three different sports
You have to be very fit to complete a triathlon.
dressage (noun): a set of controlled movements that a horse and rider perform
It must take a long time to train a horse for dressage.
show jumping (noun): a sport in which a horse and rider jump over a set of fences
Show jumping looks like fun, but it also looks a little dangerous.
eventing (noun): equestrian sport that includes dressage, cross-country and show jumping
My wife is competing in this year's national eventing championships.
boccia (noun): a wheelchair sport similar to bowls or lawn bowling
Do you know the rules of boccia?
goalball (noun): a team sport for blind athletes
We're going to watch my cousin play goalball tonight.
Quiz
Popular Olympic Sports
Athletics

Badminton

Basketball

Boxing

Figure Skating

Football

Hockey

Skiing

Tennis
Other Popular Sports
Baseball

Cricket

Golf

Rugby

Squash
More Sports Vocabulary
Sports Vocab List
Sports Vocab Quiz
Sports Fact Quiz
Sports Idioms
More Sports Idioms
Sports Idioms Quiz 1
Sports Idioms Quiz 2