2012 London Olympics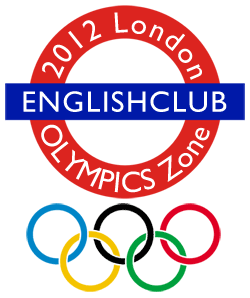 The 2012 Summer Olympic Games are being held in London, United Kingdom, from 27 July to 12 August. Around 10,500 athletes representing 204 nations and territories are competing in 302 events covering 26 sports at what is officially known as The Games of the XXX Olympiad.
Bid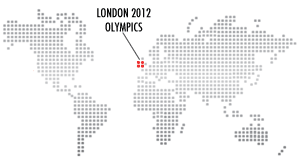 London won the right to stage the 2012 Olympics after competing against strong bids from New York, Madrid, Paris and Moscow. London also hosted the games in 1908 and 1948, making this year's event the third time the games have been held in London since the modern Olympics began in 1896. The motto of this year's Olympic Games is "Inspire a Generation".
Visitors
People from all over the world are visiting London for the Olympics, and they'll be among over 500,000 spectators expected to attend. Over 9,000,000 seating tickets have been sold, with prices ranging from around $30 for standard seats at regular events to around $3,000 for the best seats at the July 27 Opening Ceremony.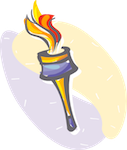 Opening Ceremony
The Opening Ceremony begins with thousands of athletes marching into the Olympic Stadium behind their national flags. A spectacular show follows that culminates in the arrival of the Olympic Torch and the lighting of the Olympic Cauldron. The lighting of this flame marks the official start of the London Olympics, and for the next 16 days the world's top athletes will be competing with all their might for one of over 4,000 Olympic medals on offer.
Closing Ceremony
After all the events have been held, and all the medals have been awarded, the Closing Ceremony will take place on August 12. At the end of this ceremony the flame in the Olympic Cauldron will finally be extinguished, and the games will be over.
Paralympic Games
Not long after the London Olympics are over, the 2012 Summer Paralympic Games will begin. The Opening Ceremony will be held on August 29 and the competition will continue for the next eleven days, until the Closing Ceremony on September 9. Around 4,200 athletes, each with some form of physical or intellectual disability, will be competing in 503 events covering 21 sports. Around 150 countries are sending athletes to compete in the London Paralympics, and over 1,000,000 seating tickets are expected to be sold.
Wordchecker
motto (noun): a short statement that expresses an aim or a belief
Our school motto is "Carpe Diem", or "Seize the Day" in English.
spectator (noun): someone who is watching a public event, such as a sports event
After scoring, Ronaldo waved at the spectators sitting behind the goal.
spectacular (adjective): very impressive
Sydney's New Year's Eve fireworks display was really spectacular this year.
culminate (in) (verb): to finally end with a certain result, or in a certain way
All our training and hard work culminated in a victory at the Olympics. 
cauldron (noun): a large round metal container, often used for cooking
We cooked the soup in a huge cauldron that hung over the campfire.
might (noun): power or strength
We pushed the rock with all our might, but it wouldn't move.
extinguish (verb): to put out a fire or a flame
It took the firemen over an hour to extinguish the fire.
disability (noun): a condition that limits the use of part of the body or brain, often caused by accident or illness
Many people live normal lives despite having a disability.
London 2012 Olympics Quiz
Venues and Village
Olympic Park
Many of the events in the 2012 Olympic and Paralympic Games are being held at Olympic Park in Stratford in the east of London. Olympic Park covers an area of 500 acres (200 hectares) and features the newly-built Olympic Stadium, the London Aquatics Centre, the Basketball Arena, the London Velopark, and the Riverbank Arena. The 80,000-seat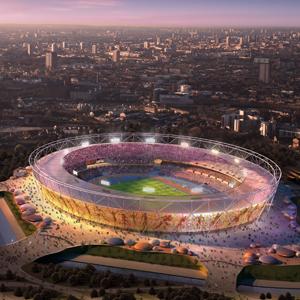 Olympic Stadium (seen left), built at a cost of over $1,000,000,000, is where the track-and-field events, as well as the opening and closing ceremonies, are being held. The swimming and diving events are being held in the 17,500-seat London Aquatics Centre, built at a cost of over  $500,000,000 and housing two 50-metre pools and a 25-metre diving pool. The 12,000-seat Basketball Arena is hosting the basketball and handball events, while field hockey is being played in the 15,000-seat Riverbank Arena. The London Velopark features a 6,000-seat velodrome for the indoor cycling events, a 6,000-seat outdoor BMX track, as well as a one-mile road course and a mountain bike track. Olympic Park is also the location of the Olympic Village where nearly 18,000 athletes and officials are being housed in 3,300 apartments, each featuring a TV, internet access and a private courtyard. The Olympic Village also features a huge dining room that can feed up to 5,500 hungry athletes at any one time.


London Aquatics Centre (left), Olympic Stadium (background, right) and Water Polo Arena (foreground, right). The strange-looking tower in the centre is the "ArcelorMittal Orbit" observation platform.
The Three Zones
Olympic Park is located in the Olympic Zone, one of three zones in London in which events are being held. The other two zones are the River Zone and the Central Zone.
The River Zone is located on both sides of the River Thames in the Thames Gateway area. The venues in this zone include ExCel (Exhibition Centre London) where boxing, fencing, judo, table tennis, taekwondo, weightlifting and wrestling are being held, Greenwich Park where the equestrian events are being held, North Greenwich Arena (also known as the O2 Arena) where the gymnastics events are being held, and the Royal Artillery Barracks where the shooting events are being held.


The third zone, known as the Central Zone, covers much of central and west London, and includes venues such as Wembley Stadium where the finals of the football competitions are taking place, Wembley Arena (badminton), Wimbledon (tennis), Earls Court Exhibition Centre (volleyball), and Lord's Cricket Ground (archery).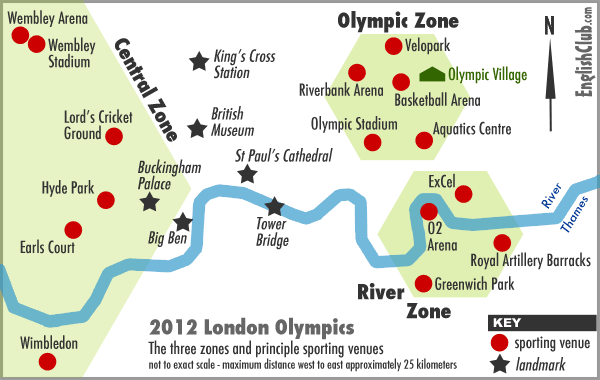 Several events are being held outside London, including canoeing and rowing on Dorney Lake in Buckinghamshire, sailing at the Weymouth and Portland National Sailing Academy on the south coast of England, and many of the football matches.
Wordchecker
venue (noun): the place where a sporting event or a concert is being held
The venue for this concert can hold around 50,000 people.
stadium (noun): a large sports ground surrounded by seats for spectators
Have you been to the new football stadium yet?
aquatics (noun): sports played in or on water
Our sports program includes tennis, athletics and aquatics.
arena (noun): a large building with tiered seating for sports events or concerts
We're meeting at the basketball arena at 7 o'clock.
velodrome (noun): a place with a racetrack for cycling
Is the cycling team training at the velodrome tonight?
house (verb): to give someone a place to stay, or to provide space for something
The government should spend more money on housing the poor.
zone (noun): one of several areas a place is divided into
How much does a train ticket for zones 1 and 2 cost?
equestrian (adjective): related to riding horses
My daughter loves horses, so she wants to see the equestrian events.
barracks (noun): buildings in which soldiers live
The main army barracks are near the centre of the city.
academy (noun): a school or college that teaches a particular subject or skill
Do you really want to apply for a place in the police academy?
London 2012 Olympics Venues Quiz
Sports
Olympic Sports
Since the Olympic Games were revived in the late 1800's, the number of sports included has increased greatly. In the 1896 Athens Olympics only 9 sports were included; athletics, cycling, fencing, gymnastics, shooting, swimming, tennis, weightlifting and wrestling. But in the 2012 London Olympics, 26 sports are included: aquatics (swimming and diving), archery, athletics (or "track and field"), badminton, basketball, boxing, canoe and kayak, cycling, equestrian, fencing, football, gymnastics, handball, hockey, judo, pentathlon, rowing, sailing, shooting, table tennis, taekwondo, tennis, triathlon, volleyball, weightlifting and wrestling.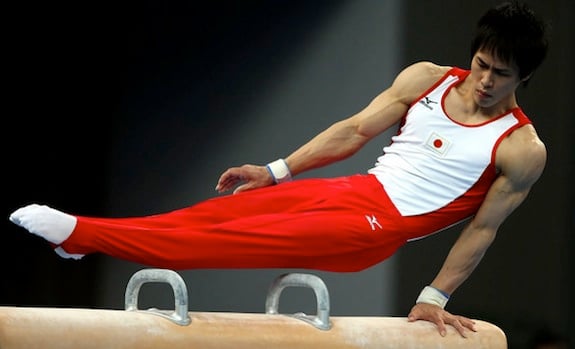 Japanese gymnast Hiroyuki Tomita at the 2008 Beijing Olympics
Most of these sports are well-known, but one of the less well-known is equestrian, in which riders on horseback compete in three different events; dressage, show jumping and eventing. Equestrian is the only Olympic sport in which men and women compete against each other as equals. Another less well-known sport is pentathlon, in which athletes compete in several events: swimming, fencing, equestrian (show jumping only), pistol shooting and cross-country running. Pentathlon originated as a way of testing some of the skills needed by late 19th-century soldiers in Europe. Another Olympic sport that involves more than one type of activity is the triathlon, in which competitors complete a 1.5km swim, then a 40km bicycle ride, followed by a 10km run. Unlike the pentathlon, in which points are scored in each event, the triathlon is a race to the finish line, with athletes starting the next activity as soon as they finish a previous one.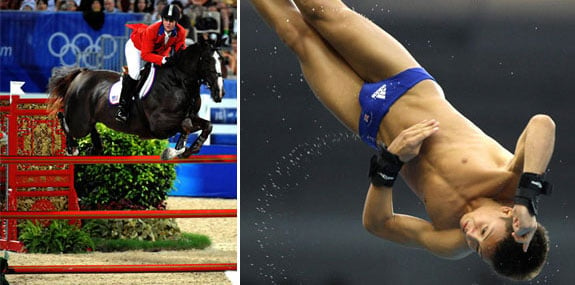 Left: Equestrian competitor
Right: British diver Tom Daley
The list of sports included in the Olympic Games has often been changed by the International Olympic Committee (IOC), with members regularly voting on whether to include or exclude particular sports. For example, while baseball and softball were part of the 2008 Beijing Olympics, they are not being included this time. And while golf and rugby are not included this time, they will be included in the 2016 Rio de Janeiro Olympics. Squash has never been played at the Olympics, but there's a good chance it will be included in the 2020 Olympics for the first time, and while cricket has only been played once at the Olympics, in Paris in 1900, fans and players are hoping that it, too, will be included again in the near future.
Paralympic Sports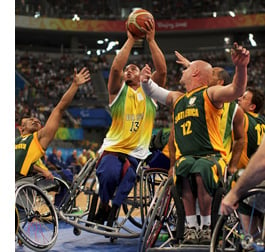 Soon after the London Olympics comes to a close, the 2012 Summer Paralympic Games will begin. Athletes with physical or intellectual disabilities will compete for Paralympic medals in the following 20 sports: boccia, football (5-a-side), football (7-a-side), goalball, paralympic archery, paralympic athletics, paralympic cycling, paralympic equestrian, paralympic judo, paralympic powerlifting, paralympic rowing, paralympic sailing, paralympic shooting, paralympic swimming, paralympic table tennis, volleyball (sitting), wheelchair basketball, wheelchair fencing, wheelchair rugby and wheelchair tennis.
Wordchecker
revive (verb): to bring something or someone back to life
The Shakespeare Theatre Company is going to revive its production of Macbeth.
kayak (noun): a small canoe that is partly covered
We spent all afternoon paddling our kayaks down the river.
fencing (noun): the sport of fighting with a long thin sword
Fencing is still quite popular in some parts of Europe.
pentathlon (noun): a sport that combines competitions in five different sports
Can you remember which sports are included in the pentathlon?
triathlon (noun): a sport that combines competitions in three different sports
You have to be very fit to complete a triathlon.
dressage (noun): a set of controlled movements that a horse and rider perform
It must take a long time to train a horse for dressage.
show jumping (noun): a sport in which a horse and rider jump over a set of fences
Show jumping looks like fun, but it also looks a little dangerous.
eventing (noun): equestrian sport that includes dressage, cross-country and show jumping
My wife is competing in this year's national eventing championships.
boccia (noun): a wheelchair sport similar to bowls or lawn bowling
Do you know the rules of boccia?
goalball (noun): a team sport for blind athletes
We're going to watch my cousin play goalball tonight.
London 2012 Olympics Sports Quiz
---
Researched and written for EnglishClub by Matt Errey
---