2014 Sochi Winter Olympics
See
Wordchecker
below for vocabulary and example sentences.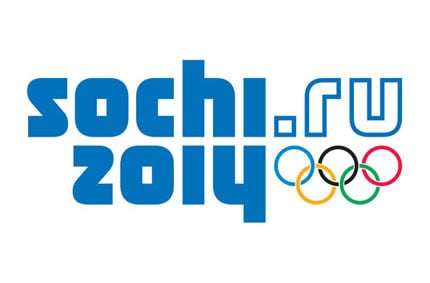 The 2014 Winter Olympics, officially known as the XXII Olympic Winter Games, were held in Sochi, Russia, from February 7 to 23. A total of 2,873 athletes representing 88 nations competed in 98 events in 15 sports.
Sochi
Sochi, chosen in 2007 to be the host city, is a resort on the east coast of the Black Sea in Krasnodar Krai in south-west Russia. Its beaches, parks and subtropical climate attract over 2,000,000 visitors each year, providing employment for many of the 350,000 people who live in Sochi.
Costs and Venues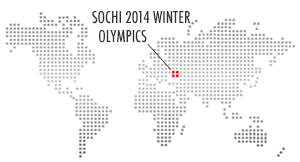 The previous Winter Olympics in Vancouver, Canada, had cost 8 billion dollars to stage. The organizers of the Sochi Winter Olympics were given a budget of 12 billion dollars, but they eventually spent over 50 billion dollars, making the event the most expensive in Olympic history. Most of the money came from the Russian federal budget. Some of the money was used to improve local infrastructure, and some was used to build venues and housing for athletes and officials, but critics claim much of the money was stolen by corrupt politicians and government officials. These claims were strongly denied by the Russian President Vladimir Putin.
Many of the venues built for the games were in Sochi Olympic Park, including the 40,000-capacity Fisht Olympic Stadium where the opening and closing ceremonies were held, the Bolshoy Ice Dome and Shabaya Arena where ice hockey matches were played, the Adler Arena Skating Center where speed skating events were held, and the Iceberg Skating Palace where figure skating events were held. A media centre and an Olympic village were also in this area. Other sports like skiing, ski jumping, snowboarding and bobsleigh were staged near Krasnaya Polyana, a popular winter resort in the Western Caucasus Mountains 60 kilometres inland from Sochi. A second Olympic village and media centre were also located there.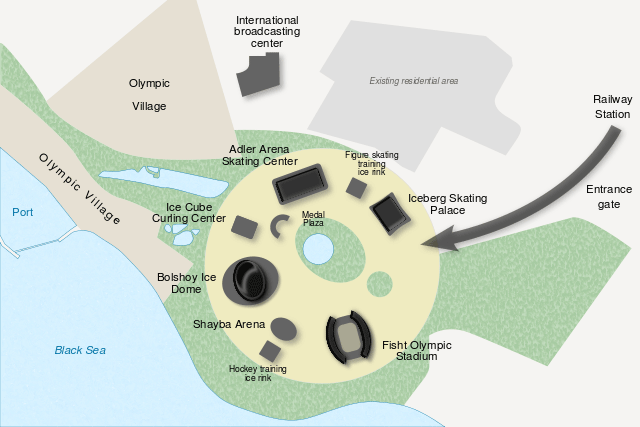 Map of Sochi Olympic Park and surrounding areas (NB: some events took place in the mountains 60km inland). © Sémhur / Wikimedia Commons / CC-BY-SA-3.0 (or Free Art License)
Sports and Medals
The Sochi Winter Olympics featured 25 skating events, 60 skiing events, 9 sledding events and 4 team events, making a total of 98 events for which gold, silver and bronze medals were awarded. They included three events held at the Winter Olympics for the first time; ski slopestyle, snowboard slopestyle and snowboard parallel slalom. By the end of the Games, Russia had won the most medals (33), followed by the United States (28), Norway (26), Canada (25), Netherlands (24), Germany (19), Austria (17), France (15), and Switzerland (11). The Sochi Winter Olympics were a great success, with athletes and visitors being very impressed with the venues, the facilities and the competitions.
event (n): a particular contest in a sporting programme - The ice dancing competition is always one of the most popular events.
budget (n): the money available for organizing or running something - Our school has an annual budget of around a million dollars.
infrastructure (n): structures needed for transport, energy supply, communications, etc. - We need to develop our country's infrastructure.
venue (n): the place where a sporting or cultural event is held - Are you sure this venue will be big enough for our concert?
corrupt (adj): greedy, cunning and thieving, esp. of politicians and government officials - Even if corrupt politicians are caught, they rarely go to jail.
media centre (n): a place with facilities for reporters and others who work for the media - Our media centre has state-of-the-art telecommunications equipment.
sled (n) (also "sledge" or "sleigh"): something you can sit on that slides over snow or ice - Arctic explorers transported all of their supplies on sleds.
slopestyle (n): an event in which mid-air tricks are performed on skis or a snowboard - Some of these new tricks in the slopestyle events are incredibly difficult.