2016 Rio Olympics
The biggest Olympics ever! Read about the sports, venues and top athletes. With vocab and a fun Rio quiz!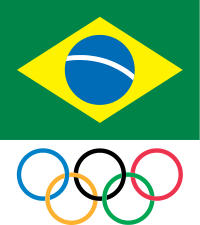 South American cities had made many bids to host the Olympic Games, but they'd always been beaten by cities in Europe, North America or Asia. But in 2009, a South American city's bid won for the first time. Brazil's Rio de Janeiro defeated strong bids from Chicago, Madrid and Tokyo to win the right to host the 2016 Summer Olympics, officially known as the Games of the XXXI Olympiad (31st Olympiad). The Games will be held from August 5 to August 21. Nearly 11,000 athletes from 206 countries will compete, including athletes from Kosovo and South Sudan for the first time. The official motto of the Rio Olympics is Live your Passion and the official mascot is a cute cartoonish animal called Vinicius.
Picture (above right): Logo of the Brazilian Olympic Committee (Public Domain)
Sports and Venues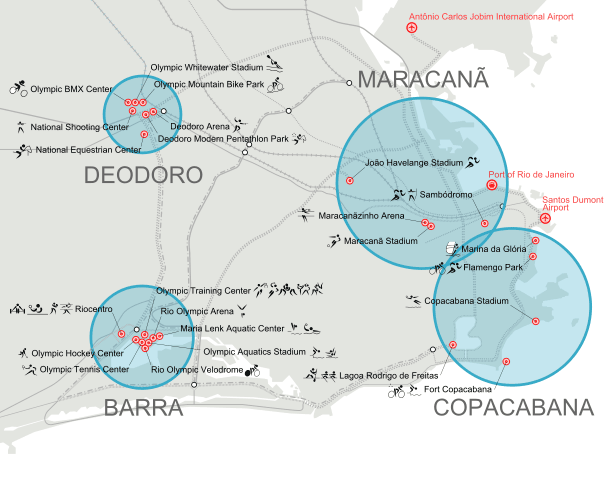 Map showing venues for the 2016 Summer Olympics © Felipe Menegaz (CC BY-SA 3.0)
Athletes will compete in 306 events covering 28 sports, including golf and rugby for the first time in many decades. The events are being staged in venues located in four districts of Rio de Janeiro. Many events are being held in Barra da Tijuca district where the newly-built Barra Olympic Park features the Olympic Aquatics Stadium for swimming and water polo, the Rio Olympic Arena for gymnastics, the Rio Olympic Velodrome for track cycling, and the Olympic Tennis Center. Barra Olympic Park is also hosting diving, basketball, judo, taekwondo, wrestling, fencing and handball events. Nearby, the Riocentro is hosting weightlifting, table tennis, badminton and boxing, and golfers will be competing at the newly-built Olympic Golf Course. The Olympic Village, where athletes are being housed, is also in this district.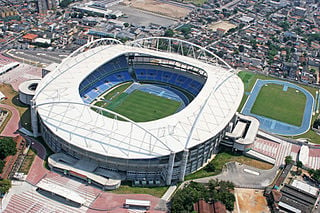 In Maracanã district the João Havelange Olympic Stadium is hosting the athletics tournament and Maracanã Stadium is hosting the opening and closing ceremonies as well as the men's and women's football finals. Right next to the Maracanã Stadium is the Maracanãzinho Arena where the volleyball tournament is being held. Sambódromo, where Rio's legendary Carnival parade is held every year, is hosting the archery tournament and the start and finish of the marathons.
Picture (above right): João Havelange Olympic Stadium in Rio de Janeiro (Public Domain)
Rio's famous Copacabana beach in Copacabana district is hosting the beach volleyball tournament, while nearby Fort Copacabana is hosting the triathlon and the longest of the swimming events. The rowing and sailing tournaments as well as a number of canoeing events are also being staged in Copacabana.
Deodoro Olympic Park in the district of Deodoro is hosting rugby sevens, shooting and hockey, and nearby X-Park is hosting mountain bike, BMX bike, and canoe slalom events. The Olympic Equestrian Centre, where all the equestrian events are being held, is also in this district.
Athletes to Watch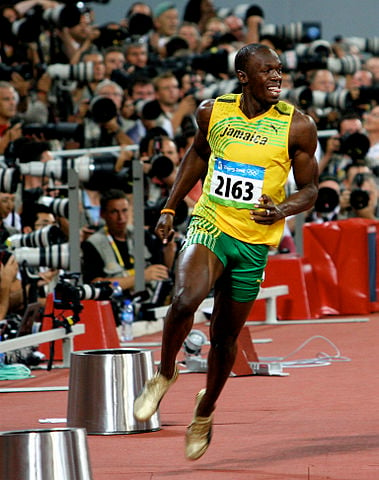 The most famous athletes expected to compete at the Rio Olympics are US swimmer Michael Phelps, who will be trying to add to his record 18 Olympic gold medals, and Jamaican runner Usain Bolt who will be trying to win the 100 and 200 metre sprints for a record third time. Younger athletes to watch include gymnasts Aliya Mustfina and Yana Kudryavtseva from Russia and Giarnni Regini-Moran from the UK, swimmers Matheus Santana from Brazil and Katie Ledecky from the USA, Chinese diver Si Yajie, Colombian track cyclist Fernando Gaviria, Dutch BMX cyclist Niek Kimmann and Brazilian archer Marcus Vinicius D'Almeida.
Jamaican sprinter Usain Bolt after winning his first 100m gold medal at the 2008 Beijing Olympics. Photo: Richard Giles (CC BY-SA 2.0)
Torch Relay and Opening Ceremony
After the Olympic torch is lit at Olympia in Greece, birthplace of the Olympics, it will travel around Greece before being taken to Brazil for the Olympic torch relay. The torch will be passed to over 12,000 runners on its way from Brasilia to Rio's Maracanã Stadium where it will light the Olympic cauldron on August 5 during the opening ceremony. The ceremony will also feature a parade of athletes and a spectacular show about the history and culture of Brazil. During the next sixteen days thousands of athletes will see their dream of competing at the Olympic Games come true, and millions of people all over the world will gather in front of TV screens to cheer them on and share the excitement of the 2016 Rio Olympics.
aquatics (noun): water sports like swimming, diving and water polo - Our program includes gymnastics, athletics and aquatics.
arena (noun): a place with tiered seating for public events, esp. sports - We're meeting in the basketball arena at 7 o'clock.
bid (noun): an offer to buy or do something - They made a bid to stage all of Kendrick's concerts.
cauldron (noun): a large metal pot, esp. one used for cooking - Let's cook the vegetables in that big cauldron over there.
equestrian (adjective): related to horse-riding - My daughter loves horses, so she wants to see the equestrian events.
event (noun): a particular contest in a sports tournament - The most popular events are 100 metre finals.
fencing (noun): the sport of duelling with light thin swords - The swords they use in fencing are called "foils", aren't they?
host (verb): to hold an event to which people are invited - Has an Indian city ever hosted the Olympic Games?
house (verb): to give someone a place to stay - The government should spend more money on housing the poor.
mascot (noun): a person in a costume, or a cartoon image, that represents a team, an event, etc. - The team's mascot is a tiger.
motto (noun): a phrase that expresses an aim or a belief - Their school motto is "Carpe Diem", or "Seize the Day".
spectacular (adjective): very impressive - The fireworks display was really spectacular this year.
stadium (noun): a large sports ground surrounded by seats for spectators - The new stadium can hold about 50,000 people.
stage (verb): to organise and hold an event like a play or a sporting contest - We've never staged a rock concert here before.
tournament (noun): an organised series of contests in a particular sport or game - I'm playing in a chess tournament next week.
triathlon (noun): an athletics event that combines running, swimming and cycling - You have to be really fit to finish a triathlon.
velodrome (noun): a place with a track for racing on bicycles - Is the cycling team training at the velodrome tonight?
venue (noun): the place where a sporting event or a concert is being held - They had to build a lot of new venues.