TV Series Vocabulary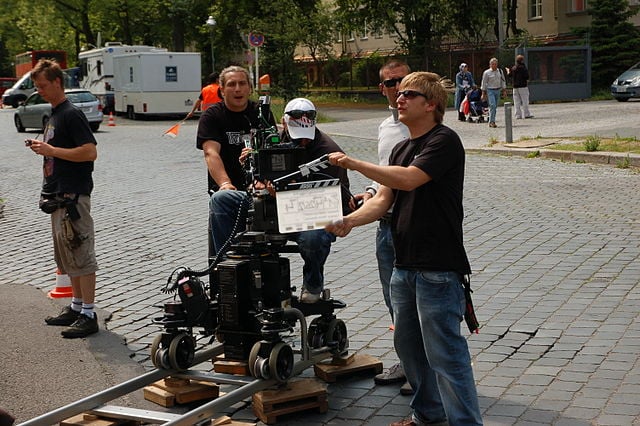 One of the most popular ways of relaxing at the end of each day is to watch television. We can watch the news or a show about current affairs, a sitcom or a reality TV show, or we can watch our favourite sports or a movie. But the kind of show that many people enjoy watching the most is called a series. This is the kind of show that tells a story over many episodes, like Game of Thrones and The Walking Dead.
Photo: Production of German TV series Flemming, June 2009 (Ralf Roletschek / GFDL 1.2)
When television was first broadcast in the 1950s it was free-to-air, so anyone who had a TV could watch. They could watch public television on a state-owned channel like the BBC or PBS, or they could watch commercial television on a privately-owned channel that showed commercials during the shows. To find out which TV shows each channel was broadcasting, viewers had to check the TV schedule in a newspaper. In most countries, there were only four or five channels to choose from, but in the 1980s more channels became available when cable TV was launched. This meant viewers could pay to have a cable connected to their home that brought lots of new channels. These included sports channels like ESPN, news channels like CNN, and also channels like HBO that showed movies and TV series.
We can still watch free-to-air or cable TV, but now we can also buy boxed sets containing all the episodes of a TV series, or we can pay to have a series streamed via the Internet. Before boxed sets and streaming TV, we'd often have to wait a whole week for the next episode of a series to be shown, but now we can watch episodes at any time. We can even watch a whole season, or a whole series, in one or two days if we want to. For learners of English, watching a series like Breaking Bad or Downton Abbey is not only great entertainment, it's also a great way to improve your English.
If you'd like to watch a TV series in English, checkout out our Recommended TV Series.
BBC (noun): British Broadcasting Corporation, a public broadcaster of radio and television programs in the UK. - The BBC has some really interesting current affairs shows.
boxed set (also "box set") (noun): a collection of TV series episodes, music albums or movies on a set of DVD or Blu-ray discs - I just bought a boxed set of the first five seasons of Doctor Who!
broadcast (verb): to send television or radio signals over the air - Most television stations didn't broadcast in colour until the 1960s.
cable TV(noun): television channels that paying customers receive via coaxial or fibre-optic cable - When we first got cable TV in 1983, we watched lots of music videos on MTV.
channel (noun): a public or private broadcaster of TV shows - Let's change the channel and watch something else.
CNN (noun): Cable News Network, a private cable TV news channel - CNN was one of the first 24-hour cable channels that only showed news.
commercial (noun): an advertisement on television or radio - If a TV channel shows too many commercials, not many people will watch it.
commercial television (noun): private television companies that make money by showing commercials - My dad hated commercials, so we never watched commercial television.
current affairs (noun): political, economic and social events that are current, or happening now - We usually watch a current affairs show after the nightly news.
episode (noun): one part of a TV series, usually 30 to 60 minutes long - How many episodes are there in the first season of Game of Thrones?
free-to-air (adjective): can be watched for free by anyone with a television set - Before cable television appeared, all television broadcasts were free-to-air.
HBO (noun): Home Box Office, a private cable TV channel that shows movies and TV series - John and Liz love watching movies, so they don't mind paying extra for HBO.
PBS (noun): Public Broadcasting Service, a public broadcaster of radio and television programs in the U.S.A. - Did you watch that show about Martin Luther King on PBS last night?
public television (noun): free government-funded TV channels that don't usually show commercials - There are some really good shows on public television in Australia.
reality TV (noun): a form of television in which members of the public are shown in competitive situations - Some of the most famous reality TV shows include Big Brother, The Voice and Survivor.
season (noun): a set of related episodes shown over one single period of weeks or months - Did you think the second season of Downton Abbey was as good as the first season?
series (noun) a television show that tells a story over many episodes or seasons - The best series I've seen recently is called Top of the Lake.
show (noun): a programme on television or radio - Did you watch that show on the BBC last night about the history of India?
sitcom (or "situation comedy") (noun): a TV series about a group of people who keep getting into comical situations - Julie's all-time favourite sitcoms are The Big Bang Theory and Modern Family.
the news (noun): a television or radio broadcast with the latest news and current events - When I was a kid, we watched the news on Channel 2 every night at 7 o'clock.
Recommended TV Series
Teen & Young Adult
Stranger Things (US 2016-) - Netflix series in which friends and family of a missing boy face supernatural forces when trying to find him
Sex Education (US 2019-) - Netflix series about an unofficial high school sex therapy clinic run by a sex therapist's son
It's a Sin (UK 2021) - top-rated series about four young men who become flatmates in London just as the AIDS crisis is emerging
Skins (UK 2007-2013) - BBC series about a group of teen friends, with episodes telling the story of each in turn
Queer as Folk (UK 1999-2000) - award-winning series about a teenage boy in Manchester, England, who's exploring the city's gay scene. A US version soon followed.
Comedy
The White Lotus (US 2021-22) - HBO mini-series set in a Hawaiian resort in which staff try to please even the rudest and craziest of guests
Reservation Dogs (US 2021-22) - FX series about Native American teenagers battling boredom on an eastern Oklahoma reservation
Atlanta (US 2016-22) - FX comedy starring Donald Glover as the part-time manager of a hip hop artist in Atlanta, USA
Fleabag (UK 2016-19) - British comedy about a young woman who finds the norms of adult behaviour almost impossible to follow
Fawlty Towers (UK 1975-79) - Monty Python's John Cleese plays a socially clumsy hotel manager who keeps embarrassing his wife, staff and guests with his neurotic behaviour. Widely-regarded as one of the funniest comedies ever made.
What We Do in the Shadows (NZ 2016-22) - FX series that looks like a documentary series about old-world vampires in today's world, but is really a very funny "mockumentary"
Crime & the Law
The Sopranos (US 1999-07) - highly-rated HBO series about an Italian-American crime boss who seeks counselling for work-related mental health issues
Line of Duty (UK 2010-19) - Long-running British series about a police unit that investigates corruption within the police force itself
Breaking Bad (US 2008-13) - AMC series about a chemistry teacher who manufactures drugs for a major drug dealer. Followed by the excellent spin-off Better Call Saul.
Luther (UK 2010-19) - BBC series about a brilliant but troubled homicide detective with a talent for catching serial killers
True Detective (US 2014-19) - HBO series in which each season follows a different pair of homicide detectives
Happy Valley (UK 2014-22) - BBC series about a police sergeant dealing with serious crimes while facing her own personal issues
Fantasy & Science Fiction
Game of Thrones (US 2011-19) - HBO fantasy about battles for power among elite families in a land that faces terrible threats from beyond its borders
Shadow and Bone (US 2021-22) - Netflix fantasy set in a divided world in which a young woman realizes she has a power that could shape the future
Black Mirror (UK 2010-22) - Netflix anthology series set in various possible future worlds made hellish by new technology
Dr Who (UK 1963-2022) - classic sci-fi series about a "time lord" who protects humanity from an endless series of threats
Star Trek (US 1966-2022) - sci-fi series about the Starship Enterprise and its crew as they explore and defend our corner of the universe
Twin Peaks: The Return (US 2017) - sequel to surreal 1990 series about disturbing events in a small US town driven by eccentric characters and supernatural forces
Historical Dramas
The Crown (UK 2016-22) - Netflix series that follows the British royal family during the reign of Queen Elizabeth II
Downton Abbey (UK 2011-16) - British series about an upper-class family and their working-class servants in early 20th century England
Wolf Hall (UK 2015) - BBC series about power struggles in England in the 1520s when King Henry VIII was on the throne
Rome (UK 2005-7) - BBC series about life in ancient Rome that combines stories of soldiers and their families with those of wealthy elites and the emperor himself
Deadwood (US 2004-6) - HBO series set in a corrupt and lawless US town in the late 1880s
Band of Brothers (US 2001) - HBO series about U.S. soldiers fighting fascists in Europe during World War 2
Politics & Power
Succession (US 2018-22) - HBO series about power struggles within a family that controls the world's biggest media empire
Total Control (Aust 2019) - ABC series about an indigenous woman in the Australian parliament who upsets the political establishment
Show Me a Hero (US 2015) - HBO series about a progressive US mayor who faces powerful opposition to his public housing project
House of Cards (US 2013-18) - Netflix drama about a ruthless couple who will do anything to get into power in the US government
The West Wing (US 1999-2006) - award-winning NBC series about a well-meaning President and the challenges he faces
The Wire (US 2002-08) - HBO series in which corrupt politicians and police make drug addiction, gang violence and street crime worse than ever while supposedly fighting a "war on drugs"
Social Issues
Dopesick (US 2021) - Hulu series that dramatizes the true story a greedy family that marketed addictive pain-killers to millions of Americans
Small Axe (UK 2020) - Amazon series in which British director Steve McQueen portrays racist mistreatment of West Indians in England from the 60s to the 80s
Pose (US 2018-2021) - FX series set in New York's drag ball scene of the 1990s in which glamorous trans queens compete for top honours
Treme (US 2010-13) - HBO series set in New Orleans after Hurricane Katrina almost destroyed the city and its unique musical and cultural heritage
Angels in America (US 2003) - TV adaptation of a stage play about New York's AIDS crisis, starring Meryl Streep, Al Pacino and Emma Thompson
Documentary Series
Planet Earth II (UK 2016) - one of the many highly-acclaimed BBC wildlife series narrated by Sir David Attenborough
Cosmos: Possible Worlds (US 2020) - astrophysicist Neil deGrasse Tyson presents the latest theories of the nature of our universe
The Untold History of the United States (US 2012-13) - Oliver Stone's 12-part series in which he challenges standard text-book versions of US history
63 Up (UK 2019) - latest part of a BBC series begun in 1964 with Seven Up in which 14 seven-year-olds were interviewed. They were interviewed again every seven years to create a series that documents their lives from childhood to middle age and beyond where possible.
The Adventure of English (UK 2002) - series about the history of the English language (freely available on YouTube)
See also:
7 Best TV Shows to Learn English